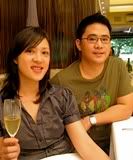 Aaron's family's company (ADP Industries, Corp.) imports and distributes an assortment of products, one of which is wine. As regards wine, they represent locally, among others, the Freixenet group which includes their cavas and the Rene Barbier line. As such, they get offers to distribute wine from all over and receive bottles for sampling and evaluation. The day after I arrived from the Alabang Group's annual HK eating expedition, I had lunch at
Sala
with him, his better half, Jo, J-Lab and Arnie to taste and evaluate 4 Côte de Nuits reds by a new negoçiant,
Maison Olivier Bernstein
.
While waiting for Arnie and Johnny R, we started off with a well-chilled bottle of...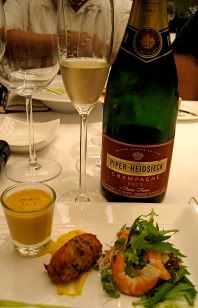 Piper Heidsieck Champagne Brut NV
- J-Lab's bottle of course. Like Bernd, no meal is complete for him without some bubbly. Because the Twice Baked Prawn and Goat Cheese Soufflé was, for some reason, not available that day, I had the bubbly with
a starter of
Trio of Corn and Sweet Shrimp Bisque, Sweet Shrimp Beignette with Corn Purée and Sweet Shrimp and Corn Salad
instead.
The champagne was appetizingly dry, presenting clean, lively and mildly yeasty/bready fresh green apple and Korean Iya pear notes. It's mousse was fine and it had a very pleasant character in its lightish frame. Very charming, and very good price-to-quality ratio (QPR) at only around P1800 per bottle from Forth & Tay. At said price, it is an absolute no-brainer to purchase in my book.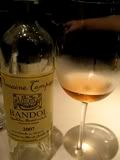 Arnie finally arrived shortly after J-Lab announced that Johnny wouldn't be able to join us that lunch. Miguel was supposed to join us as well but couldn't due to marathon board meetings. I then opened a bottle of
2007 Tempier Bandol Rosé
for the Palileos to try out. I've written about this favorite rosé of mine so many times, there's no need to belabor the issue.
In any event, we proceeded to the reds and our respective main courses. Because we were having young reds from good Côte de Nuits appellations, Aaron and I had the
Sous-Vide Squab with Seared Foie Gras, Horseradish Potato Purée and Port Wine Jus
as a backdrop for the wines, while the others had what appeared to me as a
wiener schnitzel vom schwein
(i.e., a wiener schnitzel made with a pork cutlet instead of the traditional veal).
All 4 reds were premier crus from 3 different villages in the Côte de Nuits, all vintage 2007, all made by Maison Olivier Bernstein
.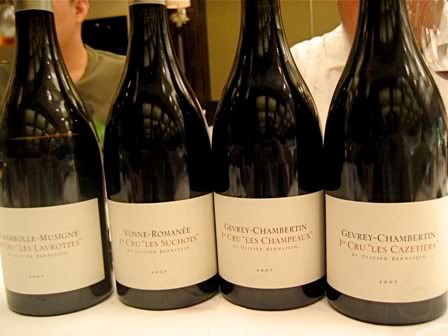 Upon J-Lab's inquiry as to the tasting sequence of lighter to heavier, I recommended that we start with the Chambolle Musigny, followed by the 2 Gevrey Chambertins, and the Vosne-Romanée last.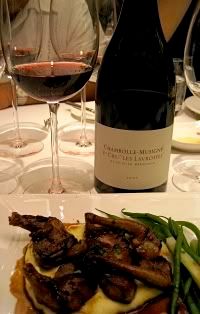 Chambolle-Musigny Les Lavrottes
-
I've mentioned before
that "Chambolle Musigny is a town in Burgundy's Côte de Nuits; its red wines famous for being ethereal, graceful, elegant and never cumbersome or heavy - compared to, say, the generally more masculine, richer, heavier wines of nearby Morey-St-Denis (situated slightly northwest)."
In comparison to the following reds of this lunch, the above distinction/characterization holds true. Though it was the lightest framed and presented a graceful, feminine character, it had good concentration, adequate depth and a definitive push to its red-spiced cherry, raspberry, slight undertones of liquid blackcurrant, violets and mere hints of toasty oak.
There is a nice and food-friendly fruity-freshness and acid lift to this youngster and I liked it best as a pairing to my rich and boldly flavored main course - it cut the richness and refreshed my palate nicely. My second favorite red of the lunch.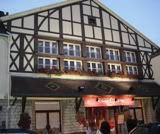 Gevrey-Chambertin Les Cazetiers
- Gevrey-Chambertin is the largest Côte de Nuits appellation, the highly regarded premier cru vineyards of Les Cazetiers just a stone's throw southward from those of Les Champeaux (wherefrom the next wine hails), bordering the even more famous Clos St-Jacques on the latter's north side. I've mentioned before that I stopped by the town of Gevrey a couple of times in October 2007, the longest was when my wife and I walked around the area around the Place de Mairie and the 13th-century church, stopping by at Domaine Heresztyn's and Leclerc's shops, before having an early dinner at Chez Guy, well-recommended to us by Anne Gros.
This, among the other reds of the lunch, was the most uncooperative in the sense that it did not seem to want to open up and show what it's got, so to speak. Initially, it showed good promise on its nose and palate, but, instead of opening up, it seemed to clamp down tighter after just a few minutes and just acted burly and sullen. I'd hazard it has good structure and depth, but probably is going to sleep ahead of the others. This was not showing well at this point, but I wouldn't write it off. It strikes me as a wine that inherently needs more age to show properly.
Gevrey-Chambertin Les Champeaux
- The 6.7 hectare premier cru vineyards of Les Champeaux are the highest elevated in Gevrey, with southern exposure, situated at almost the northernmost tip of the appellation, bordering little-known Brochon, south-southwest of Dijon. "Champeaux", as far as I can tell, is a place in Normandy and, per research, metaphorically means "liberty", or, literally, "campus" or "battlefield".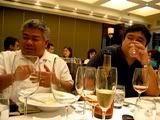 Much more approachable than the grumblingly austere Cazetiers at this point, this presented to me aromas of slight eucalyptus ("mint" said another), whispers of pine needles over wild strawberry, cherry, some raspberry and plum. The fruit, in general, possessed a slightly baked/dried aspect to them. In the mouth, it had a nicely rounded middle (probably due to the oak ageing), fair depth and a nice earthiness to its nicely concentrated, slightly sweetish red fruit. I quite liked it, my 3rd favorite red of the lunch.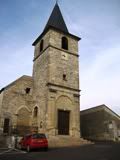 Vosne-Romanée Les Suchots
- Vosne-Romanée is a sleepy little town in the Côte de Nuits, its unassuming facade broken by houses bearing the names of the elite of Burgundy such as Leroy, Gros, Engel, etc. A couple of hundred meters behind the place de Mairie lie the grand cru vineyards of DRC-DRC, DRC La Tâche, Échézeaux, Romanée St-Vivant, etc., as well as the premier crus Suchots, Les Reignots, Les Malconsorts, etc. My wife and I spent several late afternoons strolling past these vineyards and around the sleepy town in October of 2007, the picture on the right I took of the town's chapel.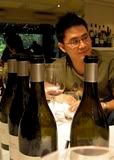 This was by far my favorite red of the lunch. Fuller and heftier than the rest, its deeper, darker molten red and black fruit were complexed by violets, some vanilla, barest hint of clove and topnote whispers of Asian spice. Healthy extraction and concentration, velvety tannins, confident and definitive finish, it quietly commanded more attention than all the other reds. Very good wine. Definitely a pleasure to drink even in its youth. My, and, as I recall, clearly, everyone else's favorite red of the lunch.
Many thanks, Aaron, for a most interesting and enjoyable wine lunch. I hope our respective feedback and notes prove helpful to you.