Last Friday, 22nd January 2010, was at Boozze's and Margarita's place. Sandy, a longtime, SF-based friend, is in town so B & M graciously hosted a dinner for her. It goes without saying that they, as always, served copious quantities of top-of-the-line
Dry-Aged US Prime Grade Black Angus Rib-Eye Steaks
, among other dishes.
A lot of time was spent catching up over bottles of white wine and various pica-picas (jamón, cheeses, etc.).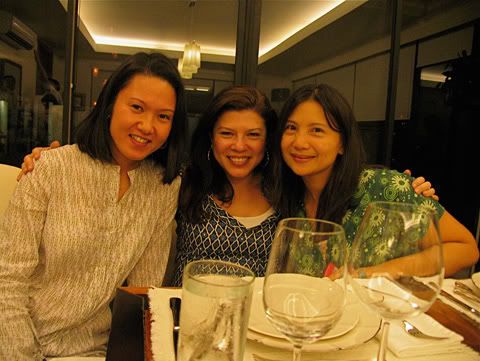 The inseparable trio I used to call "The Agustinettes" in college: Sylvia, Sandy & Maricel.
The Guys: Tonji, Willy, Kenny & Toñico.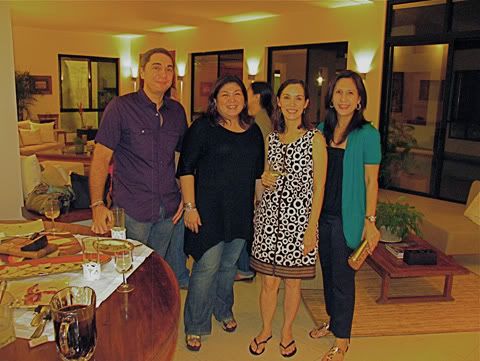 Toñico with Minnie, Margarita and Yvonne.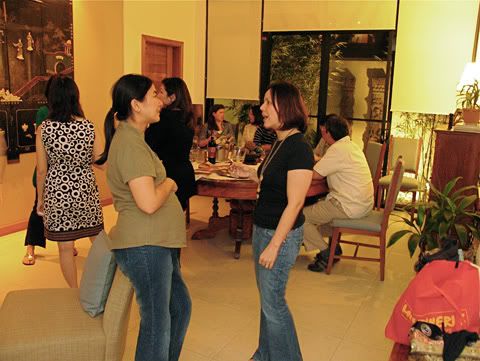 My wife with her cousin, Lisa (Kenny's wife).
During this time, Boozze was already busy in the kitchen firing up his specialty steaks.
This fellow really has it down to a science. He made it look effortless.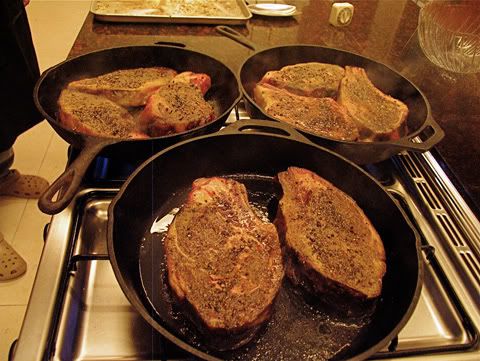 Seared in heavy, cast-iron pans and popped into ovens cranked up to full.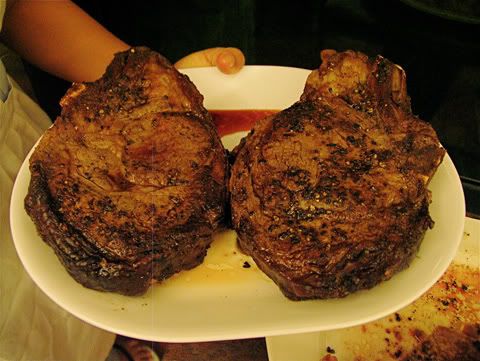 Thick, juicy, tenderly yielding but with just enough resistance to keep it from being mushy. Perfection. Be still my heart.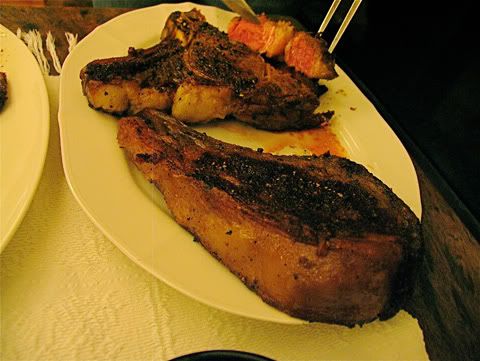 I'm salivating as I write.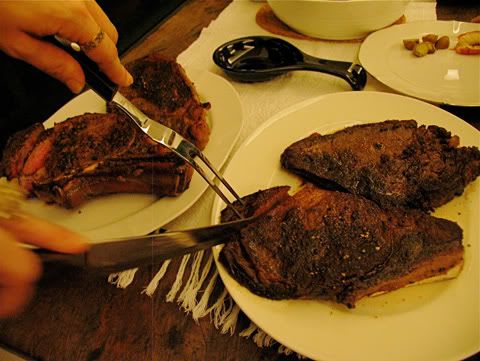 Ever the considerate host, Boozze also cooks some a little more for the ladies (and Willy), while he and I ravage the bloodier ones.
We then all moved to the dining room where the evening's hosts put the finishing touches on their dishes...
...a freshening toss of the
Baby Arugula with Cherry Tomato Salad
(simple, delicious, simply delicious)
...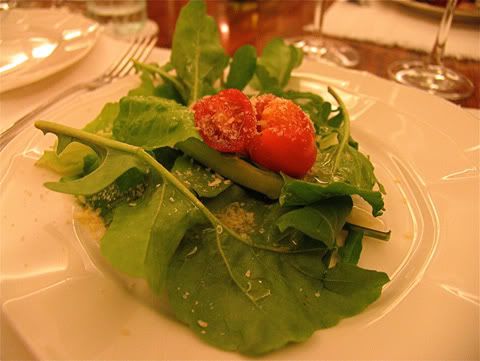 ...a final drizzle of truffle oil on the
Spinach & Mushroom Ravioli with Tomato Sauce
(a recipe from Giada, per Margarita).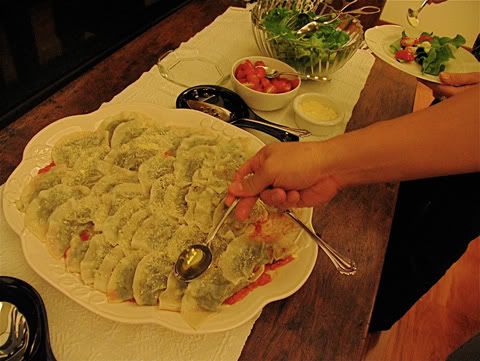 Marge's
Baked Prawns
, were already fine on their own. Confident in their fresh goodness.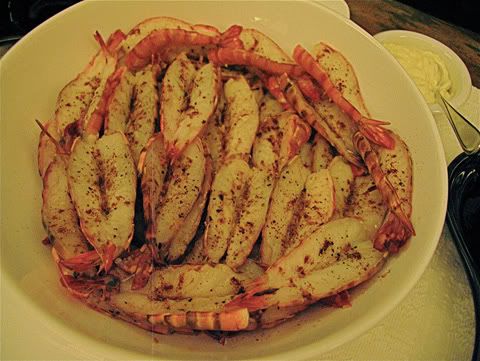 I
love
the way these are
just barely
cooked - this is the way I, my dad and brother prefer our shellfish. With glasses of Marg's
2007 Marqués de Cáceres Viura Blanco
(sorry, no photo of the bottle), it was sheer heaven. I've written about this a few times before and have
recently described it
as "fresh, light, dry with a touch of white florality and bright, moderate acidity and an appetizing bitterish almond finish (which is why it is usually taken as an apéritif with toasted almonds in northern Spain)." Superb pairing for shellfish dishes.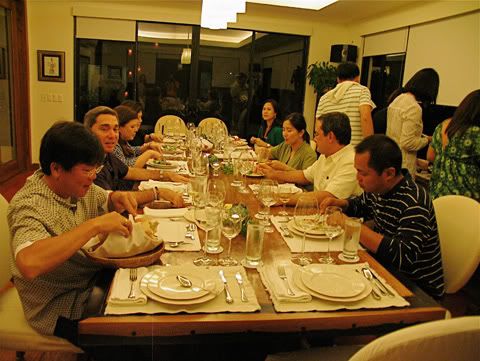 With the steaks, we had
1999 Bodegas Olarra Cerro Añon Rioja Gran Reserva
(from me, of course, decanted for around 1½ hours before service) and
2004 Château Lascombes
(from Kenny).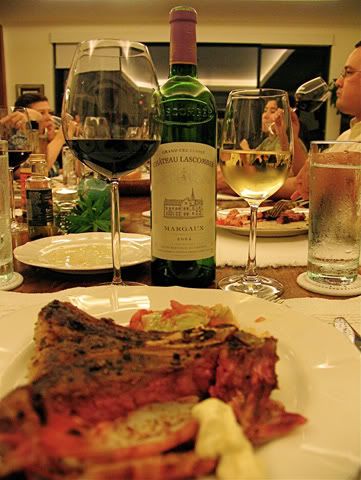 Coincidentally, we had these exact same two reds at our group's past
Christmas Dinner at The Goose Station
barely over a month ago. My notes from then, still very applicable, are quoted below in red:
1999 Bodegas Olarra Cerro Añon Rioja Gran Reserva - my bottle, of which I, unfortunately forgot to photograph. I've written about this a few times, the last being at a WSCP event on the 28th October 2009. Last night's bottle I decanted for around 1-½ hours before serving.

Willy admired its "complex nose" and noted scents of licorice, violets, cedar and vanilla in its dark fruit. On the palate, he described this shades-over-medium body Rioja as "complex and graceful". I couldn't have put it better myself. I purchased the last case of this from Terry's Selection. JC de Terry now has a new vintage of this wine available, but I've yet to try it out.

2004 Château Lascombes - Kenny's bottle. This is only the 3rd vintage of the new owner/management of Lascombes that I've tried (though I've had many of its older vintages). Since the new owner/management took over in 2001, the wines of this 2nd growth from Margaux have shown generous toasty new vanilla/oak in its low-acid, concentrated/extracted ripe dark fruit, cassis, dark plum, bit of cherry, bit of chocolate, cedar, gravel and "tar". Maculine, a bit top-heavy for me, but still quite enjoyable.

Willy opined that it was somewhat Napa-reminiscent, and I agreed it was quite modern. Many liked this and Willy noted that it's modern slant helped it pair well and stand up to with our steak main courses topped with thinly-sliced, crunchy onion rings.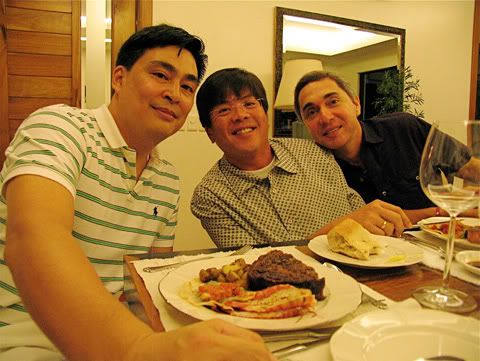 Desserts were
Margarita's Tiramisu
and
Sylvia's Apple Pie
. Unfortunately, the hordes got to them with their forks before I could with my camera. We adults were not the only ones enjoying ourselves, mind you. That day being our hosts' youngest's birthday, the children joined us for the traditional candle-blowing and singing the birthday song. Sylvia led the singing of the extended, disco version of "Happy Birthday".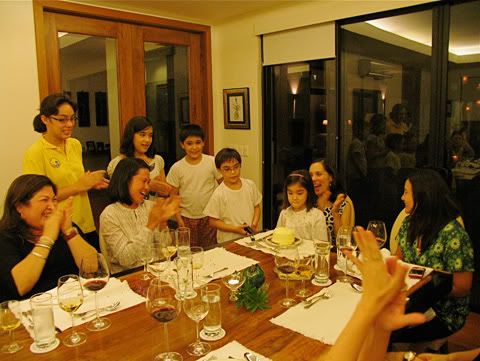 The sleepy little celebrant seemed slightly bemused at all the noisy adults, but she took it all in stride. That husky little fellow with the glasses looking on is my godson.
We lingered over more stories and jokes, the wines having taken their toll.
That is, until our hosts pulled us some coffees and double espressos. Such great fun being with old friends; always a great pleasure and a great comfort. The superb food and wines certainly don't hurt.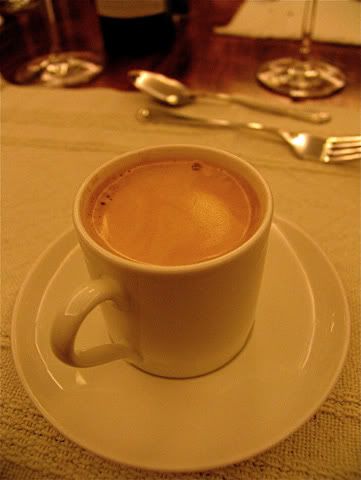 Until the next!