Lunch on Friday, 18th December 2009, was the Usual Suspects' Christmas Lunch at old favorite
Je Suis Gourmand
. As we were planning via e-mail over a week ago, I suggested a German Christmas meal of whole roast goose with dumplings and red cabbage (this is what Tito Hans, Mrs. Doc's late father, used to make for family Christmas lunches and I really miss them). Everyone was enthusiastic and I was tasked to arrange the menu with JSG chef Marc Aubry. That was really easy as Marc is so versatile - a few text messages was all it took.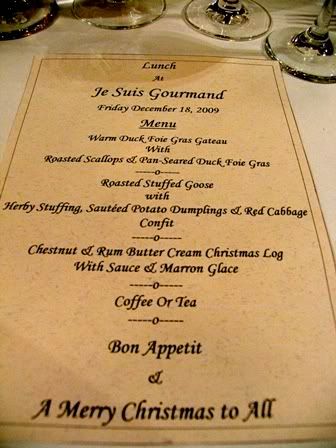 We were complete by a little past 1pm due to the season's traffic. We were 9 in all with a great deal of bottles and big appetites.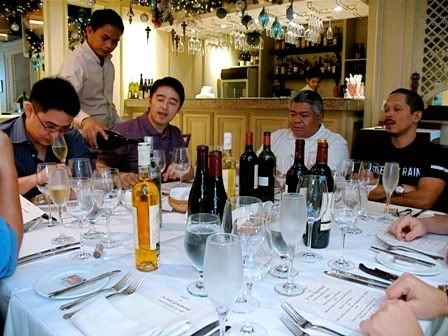 We started off with glasses of J-Lab's
Piper Heidsieck Cuvée Rare Champagne NV
. I had this a little over a month ago at
our vintage Port dinner at Ciçou on the 10th November 2009
:
Piper Heidsieck Cuvée Rare NV - J-Lab's bottle. Very nice in a straightforward, bready and evidently tropical-fruited way. More of a rounded and pronounced middle than the previous bubbly, the fruit notably riper and sweeter, the feel is creamier as well. Not as fresh, clean, edgy, minerally or complex as the '99 DP, but more amiable and readily pleasing. Very nice non-vintage. Doc liked it as did I.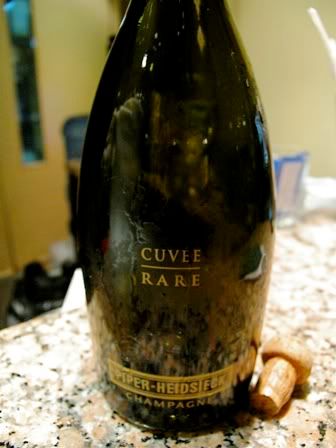 Consistent with that last bottle. Very nice - its sweetish fruit and creaminess made it pair well with the first course of
Warm Duck Foie Gras Gâteau with Roasted Scallops & Pan-Seared Duck Foie Gras
. Miguel, Rene, Santi and I had this dish by Marc at
our 2008 Christmas lunch
and I wanted the others to try it. Naturally, we who had had it before were more than willing to enjoy it anew.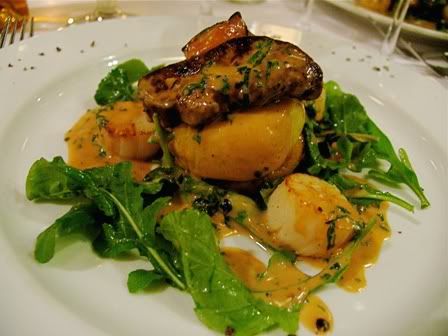 It's a good thing we decided to forego our usual starters of
escargot bourguignonne
, roasted bone marrow, etc., as this was quite a hefty/hearty first course - sinfully indulgent foie-on-foie. Absolutely delicious, the scallops adding a nice, somewhat smokey counterpoint to the fatty goodness; the arugula lending a somewhat guilt-suppressing textural contrast.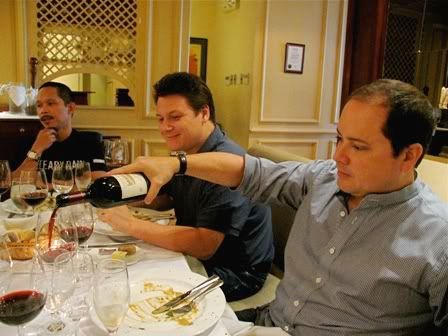 Rene must have inhaled his, because I just took 2 bites and, by the time I turned to him, his plate was clean and was busy pouring the first of the reds. Within a few minutes, Marc presented to us our main course before carving, uttering the classic line...
"Gentlemen, your goose is cooked!"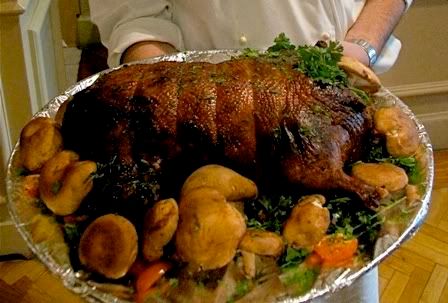 Roasted Stuffed Goose with Herby Stuffing, Sautéed Potato Dumplings and Red Cabbage Confit
As mentioned earlier, we had a lot of reds (we always do, so I now tend to think more of bringing whites or dessert wines when eating with these fellows), but J-Lab brought, what was for me, by far the best (as well as the regional/traditional) pairing wine for this absolutely delicious goose: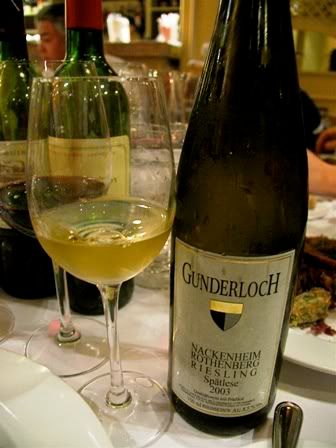 2003 Gunderloch Nackenheim Rothenberg Riesling Spätlese
- J-Lab's bottle. I immediately recalled that I had tried the 2005 version of this wine at
a Riesling Dinner at Lemuria
on the 24th March 2009. This subject, more mature version was similar in its sweet peach, candied apple and honey-lemon drop notes, but cleaner, purer and more focused and lifted by brighter acidity and minerality. There were notes of honeysuckle as well in the nose. Excellent, excellent pairing - certainly one of the best wine pairings I've had this year - if not
the
best.
It reminded me of the plum sauce ubiquitously served with roast goose in Hong Kong; and, with the giblet gravy, reminiscent of foie gras and sweet wine.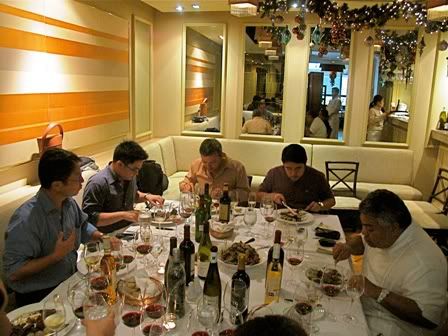 The reds, however, were each events in themselves.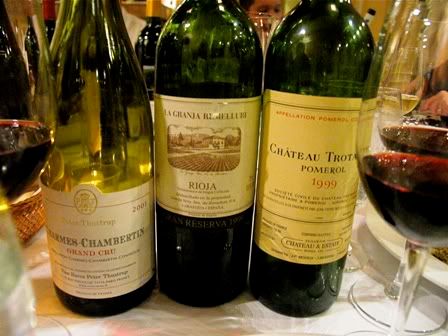 1999 Château Trotanoy
- (pronounced: "trot-tahn-nwah", softly rolling the "r") The Stockbroker's bottle, the bottle that won the crown for the Vigneron at the Grand Crew's recent
Blind Bordeaux Challenge XIV
. My notes then were as follows:
Wine #4: This wine took the longest to open, but, when it did, it just kept gaining darkly quiet, smoldering power, depth, body and roundness. Rich, deep, complex, dark plum, cherry, cassis, violets, leather, spice - what struck me most about this wine was its astounding balance of power and elegance. I had no choice but to rank this the best wine of the Challenge. It was the Vigneron's 1999 Château Trotanoy.

Again, a wine that makes one sit up and take notice. Again, very impressive in itself and especially for the vintage.
1999 La Granja Remelluri Rioja Gran Reserva
- El vino de Miguel, naturalmente; one I've been wanting to try for a while. Notes of somewhat smokey cedar, blackberries, dark cherry, bit of dark plum, licorice, hint of cigar ash, underlying tobacco leaf, slightly creamy vanilla/oak with a topnote of orange peel. Soft, smooth, medium-bodied, fair structure, nice balance. The structure could be firmer, but I enjoyed this and it was very easy to drink.
2001 Peter Thustrup Charmes-Chambertin Grand Cru
- Keiichi's bottle, purchased in Tokyo. Charmes-Chambertin is a grand cru in Gevrey-Chambertin, the wines of which are known more for finesse than heft and muscle; I am not familiar with this producer. This wine showed mild cherry, bit of cola, damson, bit of raspberry and violets. Medium-bodied, average structure, decent finish. Nice, for sure, but it didn't make a big impression.
The next, for me, was the red wine of the lunch - the only fully mature Bordeaux on deck.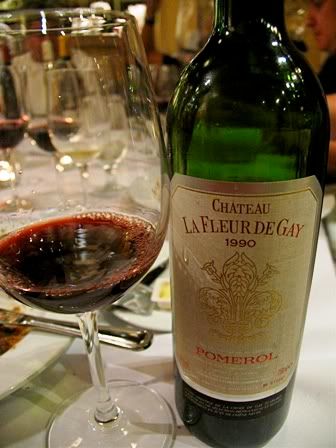 1990 Château La Fleur de Gay
- Aaron's bottle, a generous treat for us all. Notably ripe, velveteen dark plum, black cherry, hint of kirsch, raspberry, mocha, smokey camphor, cedar, subtle dark minerals, underlying leather, violets. Nice concentration and extraction, but not over-done. The fruit is deeply-veined, indicating older vines. Admirable harmony, a bit low in acid but that, I find, is a vintage trait. Over-all balance superior. I enjoyed this wine a lot. Thanks, Aaron.
Lest I be misunderstood, this was, by no means, a quiet or somber lunch. The guys were a riot - J-Lab seated between "Boom-boom" Greg and the Stockbroker's staccato laughter, he feared for his eardrums, and, perhaps, his sanity as well...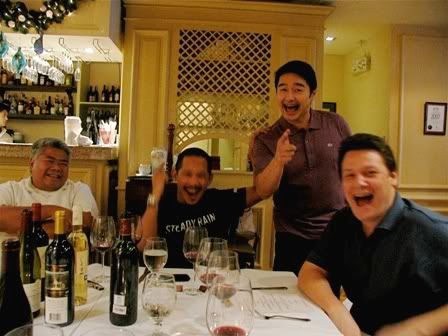 ...and with good reason.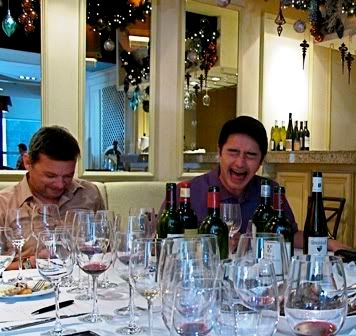 The
Cheese Course with Walnuts
followed, with which I had the rest of the '01 Charmes-Chambertin and the last of the '99 Remelluri Gran Reserva, the latter going nicely enough with the
Tomme de Savoie
.
Yet another red was opened...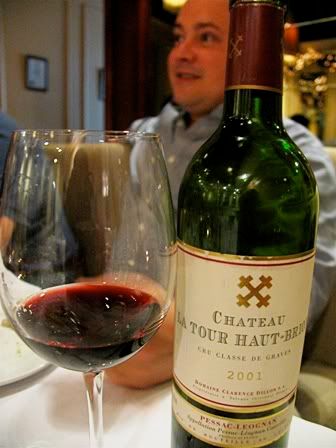 2001 Château La Tour Haut-Brion
- Rene's bottle. I heard that the vineyards of this estate have been folded into those of of La Mission Haut-Brion. A quick check showed that the label was discontinued after 2005 and the fruit from the vineyard has since been used in making the second wine, La Chapelle de La Mission Haut-Brion.
Good enough in structure, slightly over medium-bodied, this presented black currant, a dash of cassis, minor cherry and raspberry, all infused by bit of "tar", dark gravel and hints of dried herbs and violets. Decent length. Very correct and shows typicity.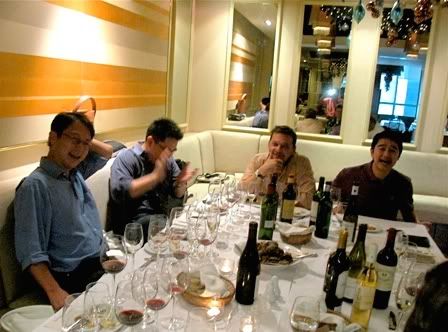 All shamelessly bloated with the food and all the wines, some of us asked for a short break before dessert. Marc obliged and I took this as an opportunity for a cigarette break. We returned for another gastronomic indulgence of...
Chestnut and Butter Cream Christmas Log with Sauce & Marrons Glacés
This was absolutely rich, creamy and delicious. We intrepid fellows who finished this generous helping truly lived up to the restaurant's name as dyed-in-the-wool gourmands. With this I paired...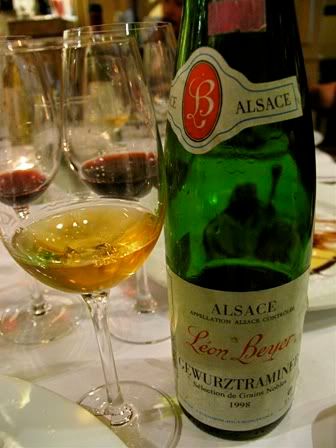 1998 Léon Beyer Gewürztraminer Sélection de Grains Nobles
- My bottle. I brought this wine specifically for this dessert as I recall my 2004 Weinbach Gewürztraminer Furstentum Ventanges Tardives paired well with this same dessert during
last year's Christmas dinner at JSG with Rocky & Apple
. Though Beyer really has a drier style than Weinbach, I figured a Sélection de Grains Nobles ("SGN", botrytised, the equivalent of a German auslese) would have enough "oomph", flesh and sweetness to stand up to our indulgent
Bûche de Noël
.
This was actually a pretty darn good wine (if I do say so myself) with sweet, vaguely spiced, honeyed lychee, peach and slight apricot with, towards the back and in the finish, a base of slightly candied orange rind. However, as noted by J-Lab, and I agree, it simply lacked the stuffing to stand up to this opulent dessert. Oh, well...sometimes the runner stumbles.
In any event, alone, it added a sweet note to yet another fun and wine filled lunch with this happy group. A million thanks to Marc yet again, for always masterfully accommodating my many special requests - and, to the Usual Suspects, as I will be unable to join you for the Christmas dinner on the 21st, I'd just like to say I have thoroughly enjoyed eating, drinking and laughing with you all this year; and, cannot wait until the next.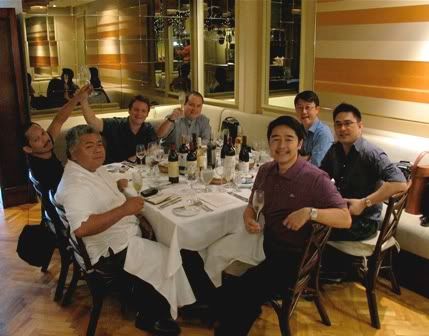 Have a very merry Christmas!!!