The 31st May 2010 was at Boozze's place for his and Berck's birthday dinner for their EO forum (Catha & I were invited because I used to be one of the members of this group). We were 9 in all as Santi, Maite, Lisa, Tisha and Pam didn't make it. There were assorted pica-picas waiting for us when we arrived..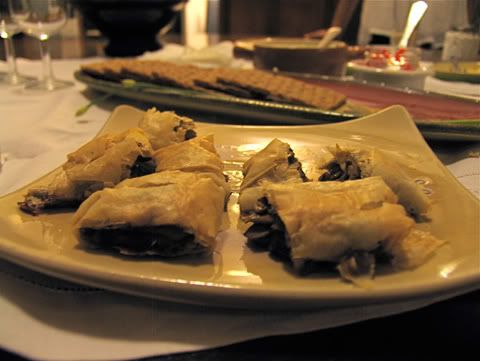 I recall some
Mushroom-Stuffed Phyllos
, with some
Mascarpone & Red Lumpfish Caviar Canapés
. With these, we had glasses of chilled
2008 Errázuriz Max Reserva Chardonnay
. I've recently written about this wine relative to
the Alabang Group's May 2010 birthday dinner
whereat we paired said wine with Boozze's specialty
Cedar-Planked Salmon atop Roasted Leeks
(which was also served during the subject dinner). My notes from that evening were as follows: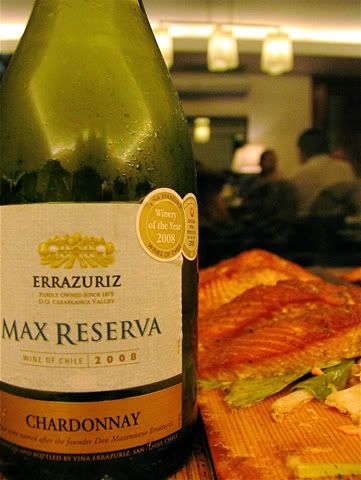 Tonji's bottles, from D.O. Casablanca Valley, Chile. The aromas were leesy/creamy vanilla/oak-touched, very ripe, lightly-baked apple, pear, hints of Mexican mango and sweetlish lemon custard. In the mouth, Tonji noted that it was similar in style to the bigger, hefty, low-acid, buttery, oaky California chardonnays. I agreed it was indeed cut from the same cloth, but not over-the-top. It did go well enough with the cedar-planked salmon though.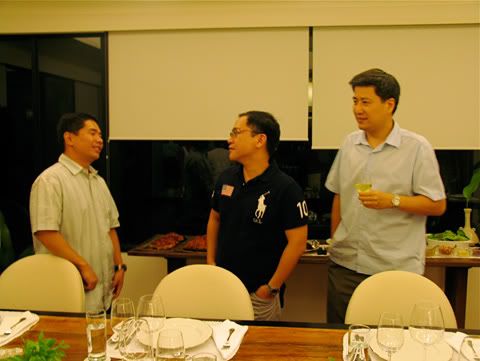 After cocktails, we moved to the dining room for some of Boozze's patented
Rib-Eye Steaks
, the afore-mentioned
Cedar-Planked Salmon atop Roasted Leeks
,
Marge's Garden Salad
and a platter of
Fresh Asparagus
.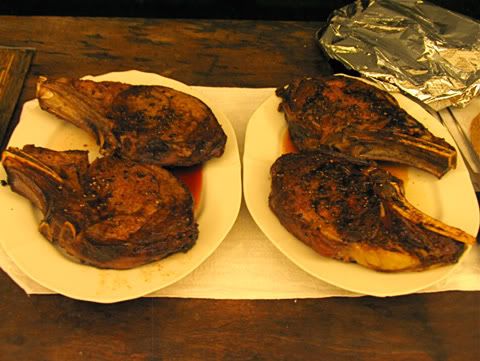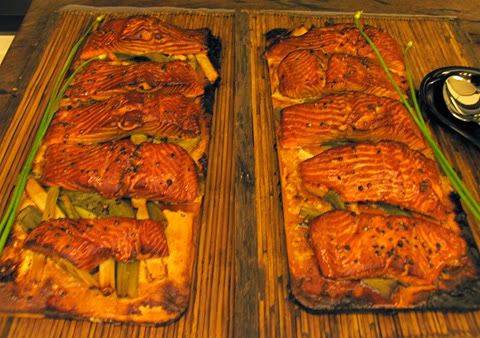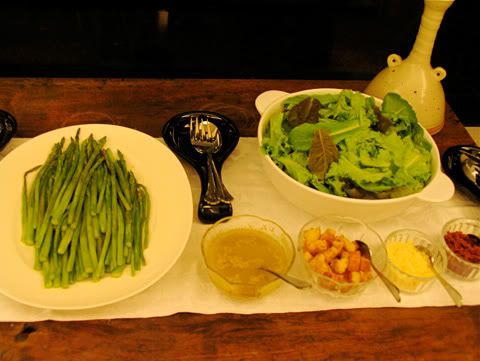 Camaraderie, of course, was in no short supply.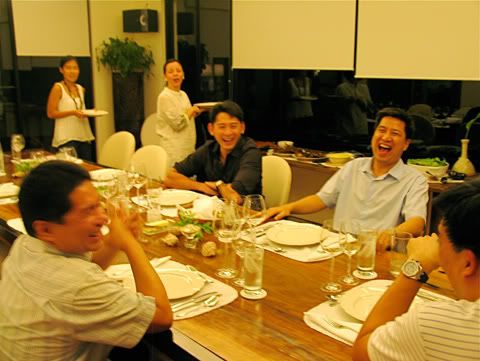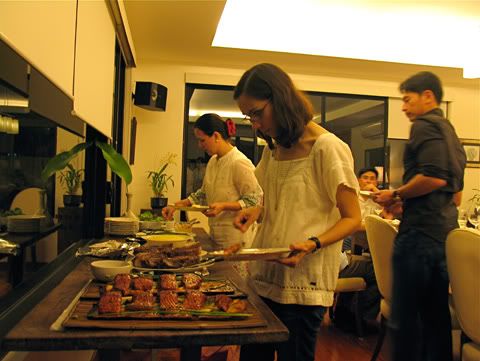 Steak time! With this was paired...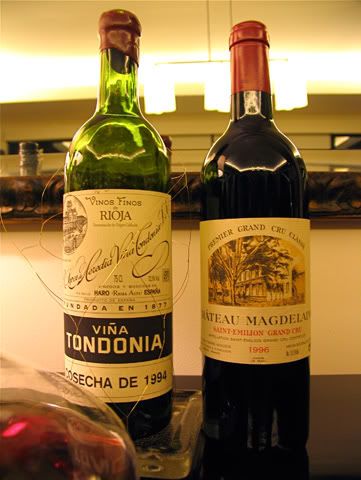 1994 Bodegas R. López de Heredia Viña Tondonia Gran Reserva
- My bottle, brought home with me from my recent trip to la Rioja. This was just released while we were there, and only to the Corte Inglés group. Per the Bodegas' export officer, no stocks were yet available on the international market as of a month ago. I had opened a bottle of this recently at
a López de Heredia mini-vertical dinner at La Tienda
which was organized by fellow Rioja
aficionados
, Miguel & Aaron. I didn't decant that last bottle, my notes as follows:
1994 López de Heredia Viña Tondonia Gran Reserva - My bottle. Many consider 1994 as one of the best years for Rioja for the decade. A fairly dry winter, slight cold in April, a friendly summer with just enough fattening rain in September brought ripe grapes in the first 2 weeks of the latter month.

Obviously the youngest of the bunch, just newly-released by the winery to Spain's Corte Inglés shops at almost 16 years from vintage. Alongside the '81 and '91, this comes off as lusher, bolder and even comparatively slightly hard and over-eager (it's very young of course), but it's remarkably sturdy structure, deep and quietly powerful darkly spiced fruit are undeniable. I believe this will grow up to be similar to the 1991. We will see. Great potential in this.
This time, I decanted the subject wine for almost 1½ hours before service. The result was even more impressive. A perfumed bouquet of violets, cedar and aged balsamico laced sweetish scents of darkly spiced Riojan fruit and moderate oak - not yet as fully integrated and seductive as that of the 1991 version, but I, again, believe that it will get there in a few years.
Mirrored on the palate, it was firmly structured with quietly confident yet discreet power, still quite youthful, just a shade over medium-bodied, well-focused, with underlying hints of leather. Not quite as open as its nose seemed to foreshadow, this should put on some more weight and come together more in around 4-6 more years and continue to improve for many, many more years.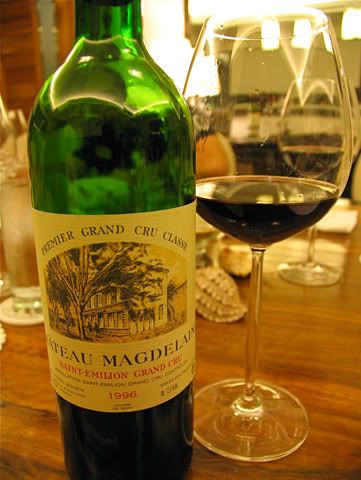 1996 Château Magdelaine
- Don's bottle, a premier cru class "B" from St-Emilion, owned and run by the JP Moueix group. I remember Dorothy confirming Don's recollection this was purchased in Hong Kong. This struck me as a more traditional style of St-Emilion (a good thing for me to be sure, nothing at all like the many berry/vanilla/oak/chocolate milkshakes with no sense of place being churned out from that appellation more and more these days): Medium-bodied, fairly structured, with soft plum, cherry, kirsch, slight raspberry, violets, loam, cedar, whisper of ceps, discreet underlying tobacco and a whisper of tar. The oak is, thankfully moderate and well-integrated.
Harmony and balance are achieved well enough; the only thing I can say is that there seems to be a slight touch of greenness to the fruit that I've found in some 1996 St-Emilions. Still and all, it was quite pleasant and I would never refuse a glass (or three) of this if offered.
Many thanks, guys, for still inviting me though I've been out of EO for a couple of years now. Then, as now, it was a great pleasure to share your company.