A little over a week after
Rene's birthday dinner
, he hosted a lunch for the Usual Suspects (sans Aaron who was abroad at the time , and Keiichi, who, though now Tokyo-based, will always be one of the group). Lucky us, the meal was again prepared by Tita Bella, Rene's doting mom-in-law.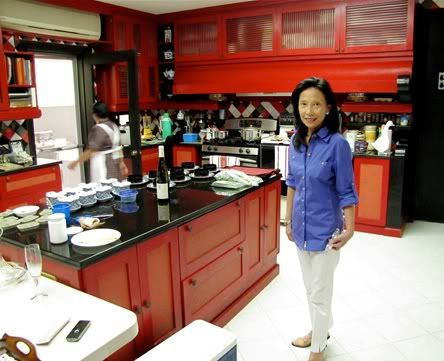 Ever girlishly svelte, Tita Bella is cool, composed and collected in her immaculate kitchen - one wouldn't guess she's just minutes away from preparing a multi-course meal for a pack of hungry wino-gourmands. I'd be pulling out my hair from tension if I were in her position.
As we trickled in, Rene popped open some bright, linear, tartly citrus-fruited
Champagne Veuve Clicquot Ponsardin Brut NV
.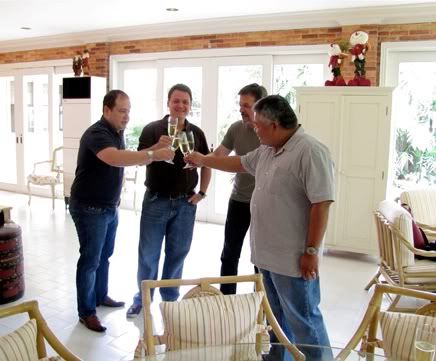 Rene, Miguel, Johnny & J-Lab
J-Lab, myself & Miguel.
By the time all the other guys had arrived, Rene opened up another bottle of champagne.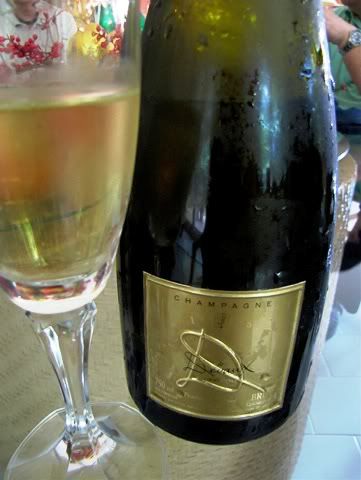 Champagne Devaux Grande Reserve Brut NV
- J-Lab's bottle. I know he opened one of these before, but when escapes me now and, after 1-½ hours of traffic on the way home, I've not the will to search through my notes. Rounder, less severe, creamier and softer fruited than the previous bubbly, this had a "pillowy" middle and showed more pinot noir characteristics (e.g., a faint milkiness to the fruit). "A bit short" noted J-Lab, but, for me, as a welcome glass with which to ease into lunch, this was more than acceptable.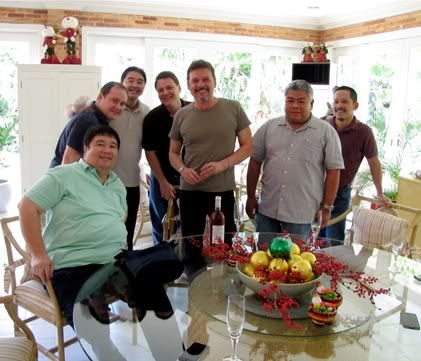 Arnie, Rene, Greg, Miguel, Johnny, J-Lab & the Stockbroker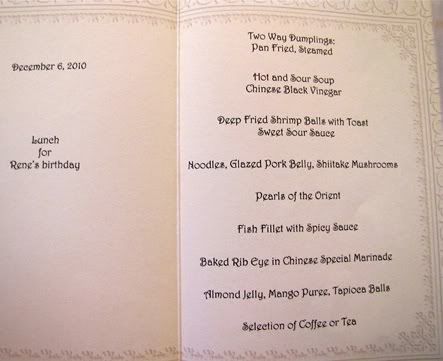 The Menu
We eventually made our way to the dining room and seated for lunch...and what a feast it was.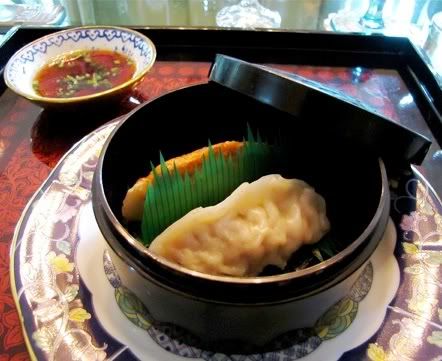 Two-Way Dumplings: Pan-Fried & Steamed
I adore well-made steamed dumplings, and these were certainly well-made - not at all greasy inside, the pork mixture stuffing lightly herbed and seasoned. Though I do not normally go for gyoza or other similar dishes, I found myself jockeying for more from the extra platter on the lazy Susan. The dipping sauce, unlike most of those served in restaurants, was light, graceful, pure, clean - subtly enhancing the dumplings instead of dominating them.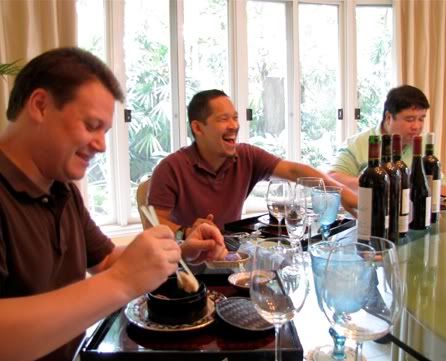 Tita Bella always has extra servings and I assumed Arnie, Johnny and Greg who had not been in her home before would be too shy to grab more before I could, but I was mistaken. Arnie and Greg, fast learners, beat me to the last couple of pieces. With these we had...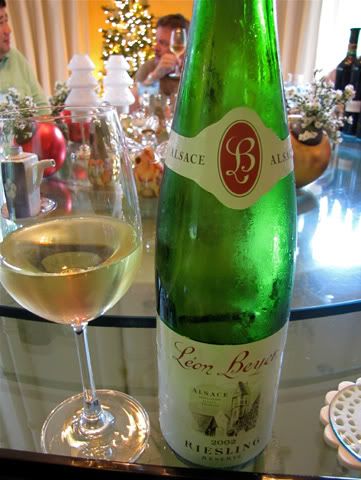 2002 Léon Beyer Riesling Reserve
- My bottle, one I opened with Rene and Miguel over 2 years ago at one of the last of Sunshine & Rob's last Gourmandise dinners. In the traditional Beyer style, this was a virtually bone-dry riesling showing tense and somewhat severe, white pear, hint of white grapefruit, dry stone fruit and citrus, permeated with a general fruit pit character (also noticed by Arnie and Johnny). The
goût de pétrole
was there, but quite subtle. Arnie noted, and I agreed, that this was a good pairing with the dumplings.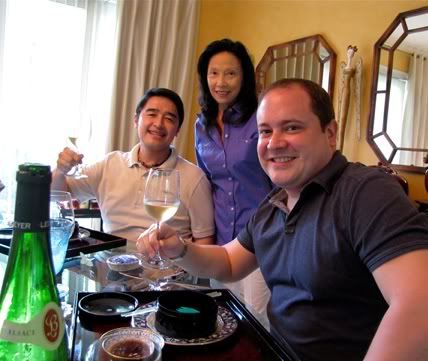 Next was the soup course of...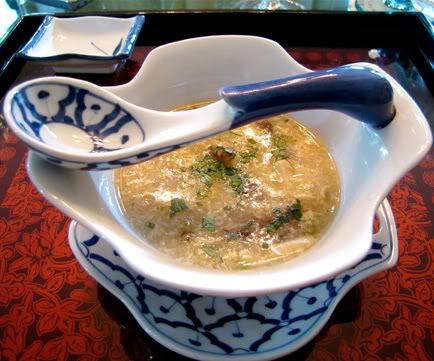 Hot & Sour Soup with Chinese Black Vinegar
. I wish all hot and sour soups could be made this way - well-balanced, the interplay of heat and acid precise and harmonious - nothing jutted out and the attack on the palate firm but not shocking. Lots of succulent slices of mushrooms in this. I had a second bowl.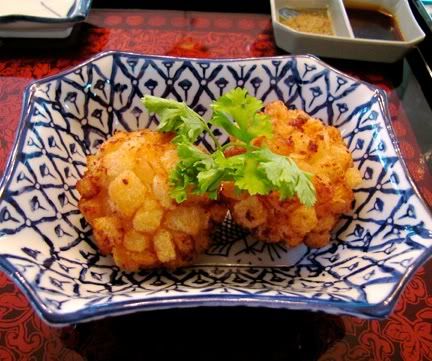 A dish of
Deep-Fried Shrimp Balls with Toast and Sweet & Sour Sauce
followed. Again, though deep-fried, there was not at all any greasiness, whether within or without. The sauce had more depth than its simple name suggests, as well as a whisper of earthiness. Tiny pinches of the 5-Spice powder that came with it added an exotic and coyly suggestive dimension of flavor. Everyone had extra helpings. I managed to snatch only one extra piece of this. Miguel and Arnie were quicker to the draw.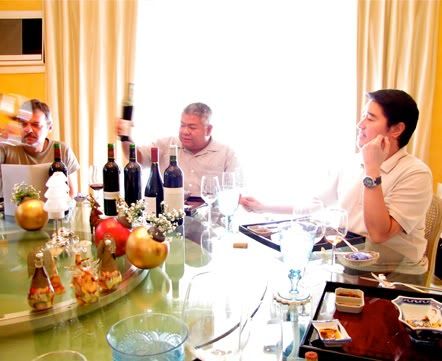 In the meantime, 3 vintages of
La Rosée de Pavie
had been opened - I recall 2003 and 2005, but the third vintage escapes me.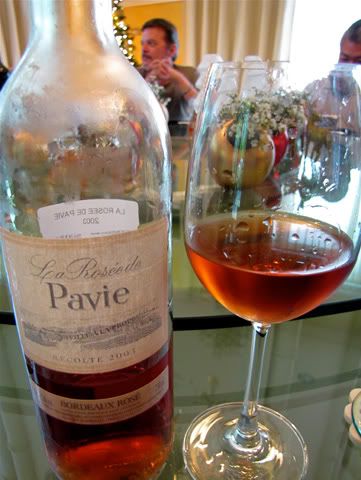 I only got to try the 2003 and 2005, and managed to get a shot of only the 2003. I tried a few of Perse's rosé and all merely 1 or 2 years from vintage. They are quite pleasant and quite hefty for rosé, especially rosé from Bordeaux. As with most rosés, even those of Tempier, I prefer them younger, leaner and fresher. I drank down my pours of both, however.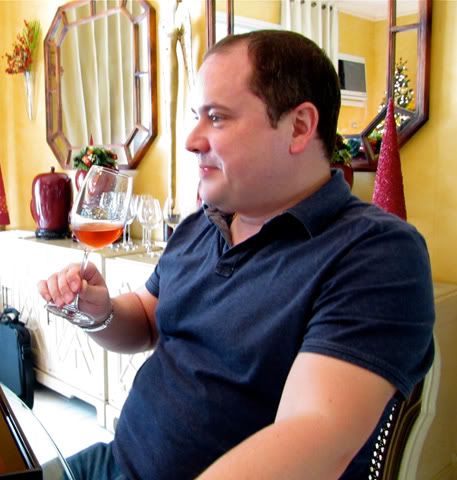 The 2nd-time-around Birthday Boy.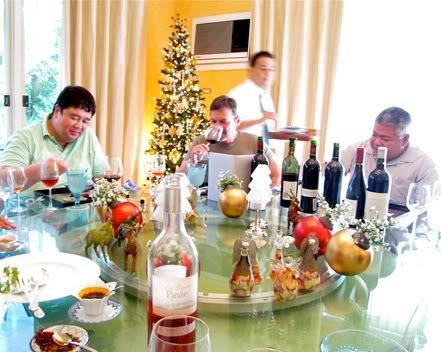 Because of the generous extra portions on hand for the taking, I started glancing at the menu occasionally in order to pace myself. I counted 5 courses to come, so I figured I'd start slowing down and avoid multiple servings thereafter. I didn't turn out that way.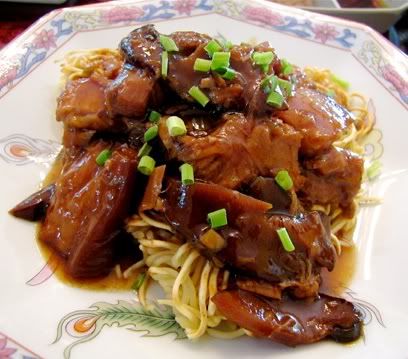 Noodles with Glazed Pork Belly & Shiitake Mushrooms
No sooner had I made the silent vow, this dish shattered it. I am a sucker for pork belly, and this was absolutely melt-in-your mouth, the sauce decadently rich and earthily, sweetishly sticky (Tita Bella's version of
humba
, Rene said). I gobbled silently...and had a second helping, my justification being that I'd skip dinner that night (it actually turned out that way). By then, four bottles of the red line up had been pouring.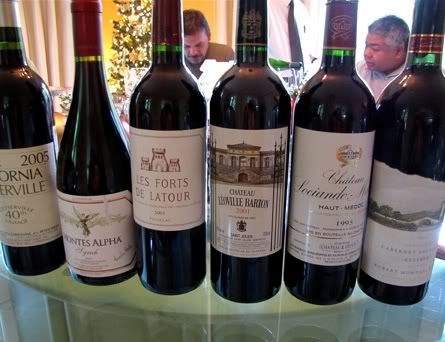 Noticing that I was focused on the food, Rene thoughtfully made sure I got pours of some reds as I, honestly, didn't pay them much attention (admittedly, I'm no big fan of having reds with Chinese, Japanese, Vietnamese or Thai cuisine).
2001 Les Forts de Latour
- Rene's bottle, a wine of which I bought a couple of cases at a measly US$30-something/bottle several years ago (shockingly/currently offered by Flickinger's at US$250/bottle). This was a bit tightly wound at first and needed around 20 or so minutes in glass to come around. Commanding, masculine, loamy, solid, cedary, tar and black gravel infused dark fruit complexed with mushroom, moderate dark minerality, old leather, walnut skin and slight violets. Solid structure, good bones. Very nice, as I remember it.
2001 Château Léoville Barton
- Greg's bottle. Not as full and finer-boned as the preceding wine, this seemed comparatively/slightly linear but neater and with a classic, austere cut to its over medium-bodied gravel, tar, wood spice, dried herbs infused black cherry over cassis, cedar and leather. Very neat and nicely poised. Firm acidity and structure. Everything tucked in neatly. A dapper wine. Good show from St-Julien.
1995 Château Sociando-Mallet
- Rene's bottle. I'm pretty sure I've had this before, but I cannot seem to find any of my own notes on it. In any event, this, as I recall, was notably heftier, fleshier and less austere in fruit than the '01 Léoville Barton and with less acidity. Not as big-boned as the '01 Les Forts, but more than the '01 Léoville Barton. Slight sanguine topnote, licorice, brown spice, cedar, violets, cassis, black cherry, slight raspberry, tobacco, bit of gravel and loam. Well put-together, Sociando always seems to punch above its weight class - and it was one of the more notable 2009s I got to try in Bordeaux this past March as well.
I actually got to try a bit of the Stockbroker's
1992 Mondavi Cabernet Sauvignon Reserve
later in the meal, but I was too overwhelmed by then to do it justice of taking proper mental note. The guys seemed to like it though.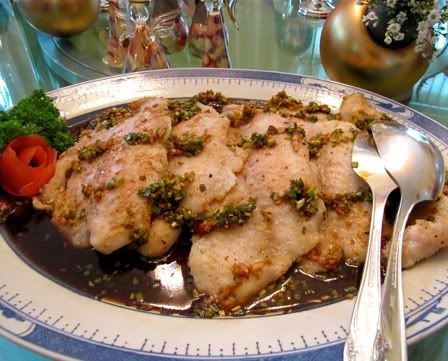 The
Fish Fillet with Spicy Sauce
and
Pearls of the Orient
followed in tandem. The lightly salty and nicely piquant sauce drizzled over the pearly rice grains revitalized my already flagging appetite - a viagra for the stomach, if you will. Stuffed though I was after my double helping of noodles and pork belly, I roared through the helpless fish and 2 cups of the fragrant rice. I wished for more of my dry Beyer riesling, but it was long gone by then.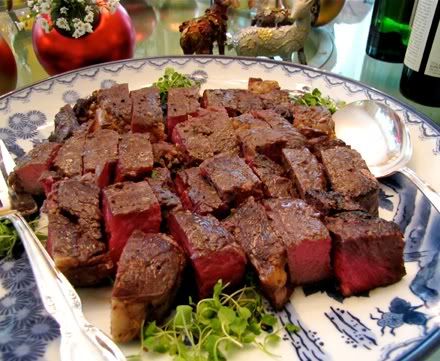 This was a killer -
Baked Rib-Eye in Chinese Special Marinade
- the very first time, I believe, that I've ever had a baked rib-eye and I have no idea what was in Tita Bella's special Chinese marinade. All I can tell you is that I grabbed more than my fair share of this, throwing all caution to the wind and kicking prudence to a roadside gutter. I knew I was way deep into over-indulgence by then, but long past caring. It was that good.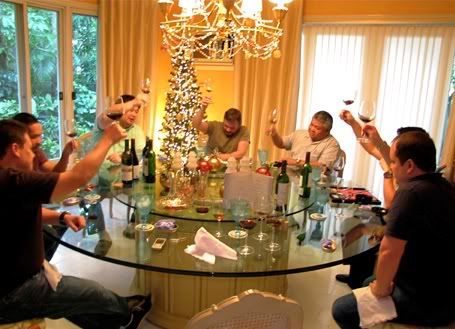 So much so as to later inspire an uncharacteristically somber toast to the (by then absent) chef.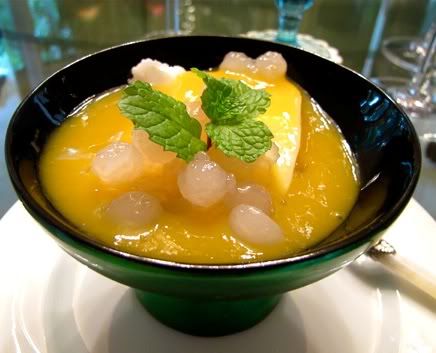 Dessert was
Almond Jelly, Mango Purée & Tapioca Balls
- at once refreshing, rich, yet gentle on the now distended bellies in attendance. I can still feel on my palate the gently firm yet yielding texture of the almond jelly - not at all like and infinitely more interesting than the ones ubiquitously served in Chinese restaurants.
So blissfully groggy from the food was I, it was all I could manage to have one final glass of champagne with Miguel and Rene as we, the last, lingered until dusk. Happy birthday yet again, Rene, and, to Tita Bella, a world of thanks for yet another stunning feast. I didn't have dinner that night and wasn't even hungry the next morning. Calories be damned. This is what makes life enjoyable.