The 21st December 2010, Catha and I had our annual Christmas dinner with Rocky & Apple Villadolid who are always in Manila for the holidays. Though I am usually the one who chooses the venue (or cooks for them at home), this year, Apple wanted to try the cuisine of Manila's master of all things Spanish, Juan Carlos "JC" de Terry at
Terry's 2º Piso
.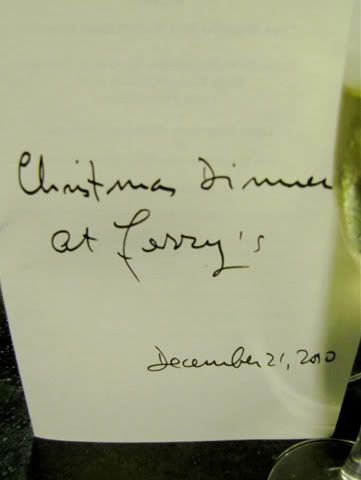 A few quick calls to JC, and it was all set up. Aside from requesting for the large
chuletón Vasco
(which needs a couple of days' notice to be prepared), I asked JC to surprise us with the rest of the dishes.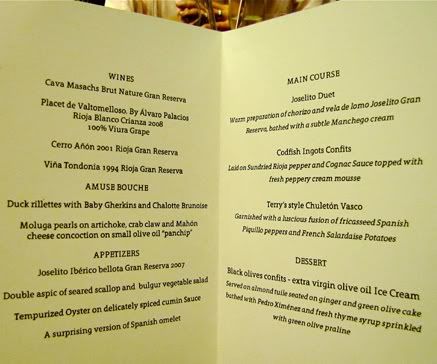 Slightly delayed due to the usual Christmas traffic on SLEX, Catha and the Villadolids arrived ahead. JC jokingly told me that they had already been waiting for 2 hours. Apple mentioned that JC also teased them by acting surprised at seeing them, saying "Your dinner is tomorrow, right?" They actually believed him for a second, until they saw the above-depicted menu at our table. Complete at last, the parade of dishes began with 2 amuse bouches.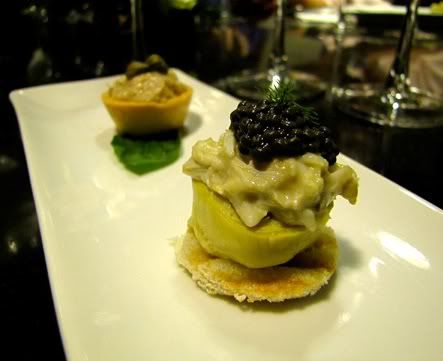 Moluga Pearls on Artichoke, Crab Claw & Mahon, and, Duck Rillettes with Baby Gherkins & Charlotte Brunoise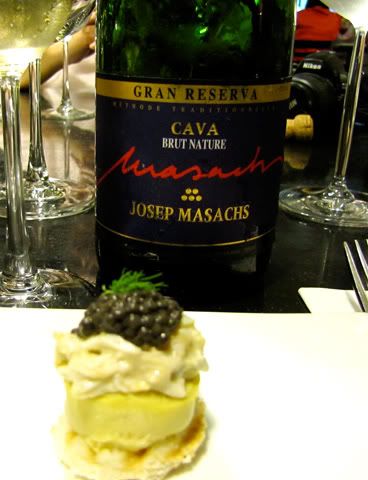 We had these with a bottle of
Josep Masachs Cava Brut Nature Gran Reserva
- Bright, crisp, dry, light, with sharply focused and lemon-citrus-slight grapefruit flavors, this light, lemon-gold cava showed exceptional clarity and very fine, persistent mousse. I continued with this cava through the first 3 appetizers, transitioning on the 3rd to a Riojan viura.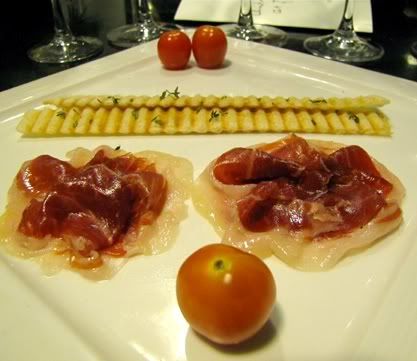 Josélito Ibérico Bellota Gran Reserva 2007
(yes, Josélito gran reserva jamón is by vintage).
Apple and Rocky were happy to have some Ibérico de bellota, mentioning that their 2nd daughter absolutely adores this very special jamón. Lusciously rich, silken goodness, I always love this ham. JC explained that one must choose this by vintage because, the quality of the ham depends on the weather's effect on the quality and quantity of acorns (i.e.,
bellota
) upon which the black-hoofed Iberian pigs feed on - especially during the montanera stage roaming free at the sprawling dehesas.
Apple & Rocky
I loved that this luxury jamón was served simply with thin, corrugated sheets of toasted bread and fresh, small tomatoes (a de-constructed version of the
pan con tomate
with which such fine ham is traditionally served in Spain) - allowing us to adjust the amount thereof with the ham with each bite.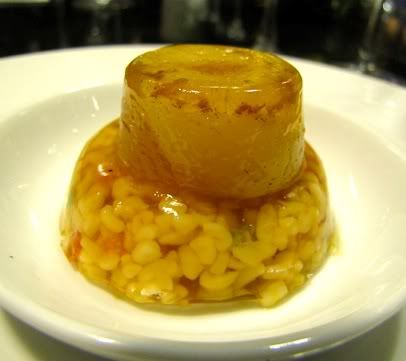 Double Aspic of Seared Scallop & Bulgur Vegetable Salad
The Moorish-influence bulgur vegetable salad (a.k.a.,
tabbouleh
) was, almost surely, a little tribute to JC's youth spent in his hometown of Cadiz where his family owned and ran sherry and brandy producing Bodegas Terry for hundreds of years. Light and refreshing, with a nice play on textural contrast, this slightly chilled "meaty" scallop dish was a graceful transition to the next appetizer - this time hot.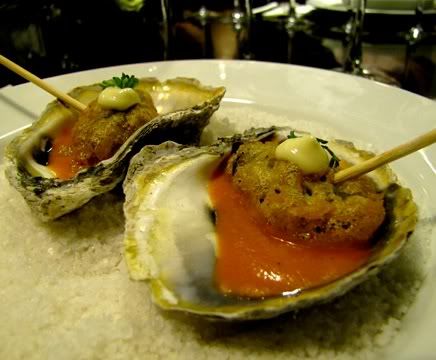 Tempurized Oyster in Delicately Spiced Cumin Sauce
Catha and Apple absolutely adored this dish, the former exclaiming that these were the best oysters she'd ever had. We all loved it and were sorely tempted to ask for additional helpings, but thought better of it as there were many dishes to come. The dish was perfectly executed - the batter light and crisp, the oysters still very rich, plump and bursting with their natural juices inside. Heavenly.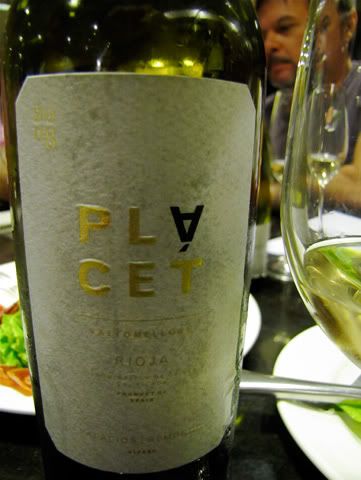 (File photo)
By the time, JC had already begun pouring a bottle of the
2008 Palacios Remondo Plácet
, an excellent, complex, 100% viura crianza
that Johnny, J-Lab, Miguel and I so enjoyed during our recent tasting-dinner with JC
. Definitely a cut above all other viuras I've had thus far - but, then, that is nothing surprising when it come to the wines from grupo Alvaro Palacios.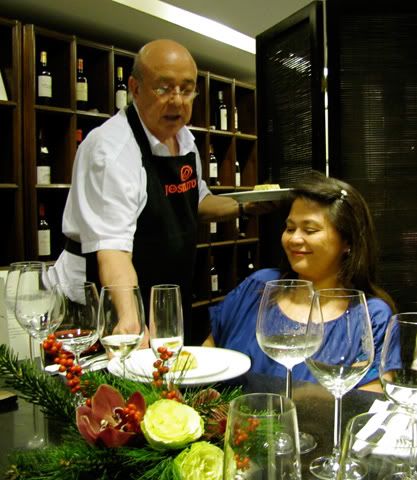 JC personally serves Apple the 4th appetizer course.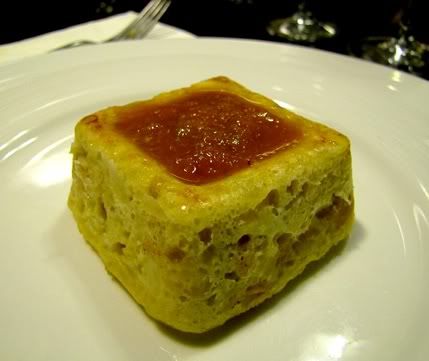 "A Surprising Version of Spanish Omelet"
Nothing more Spanish than the traditional
tortilla de patatas
. JC's version, however, has hidden within a small "gift" of a piquillo pepper stuffed with a tuna belly-bechamel sauce. A pleasant surprise indeed!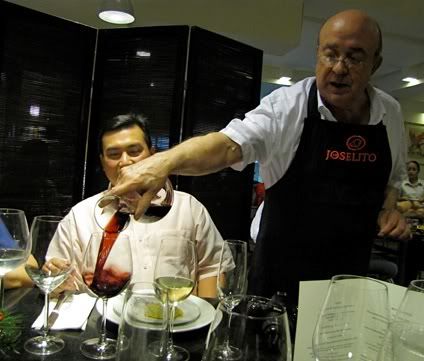 JC pours for Rocky...
2001 Bodegas Olarra Cerro Añon Rioja Gran Reserva
- I first tried the 2001 vintage (an excellent one for Rioja, by the way) of this wine during
a dinner at home for Sandy and her folks
on the 27th January 2010. This bottle, however, was opened by JC to slowly breathe for several hours and decanted for over an hour before service.
Warmingly comforting, well-rounded, a shade or two below full-bodied and nicely balanced, this is a typical old-school Rioja with notes of somewhat creamy oak and oak spice nuances seamlessly blended into the precisely ripe and concentrated dark cherry, raspberry, with underlying new leather, slight licorice and violets. Rocky liked this a lot, as did I.
This was a warm dish featuring a duet of
Josélito Chorizo and Vela de Lomo Gran Reserva
, gently bathed with a flourish of manchego cream. They tasted as lovely as they looked.
In the meantime, JC had been in the kitchen to personally attend to our next dish - the second of our 3 main courses. I was able to sneak a photo of him at work.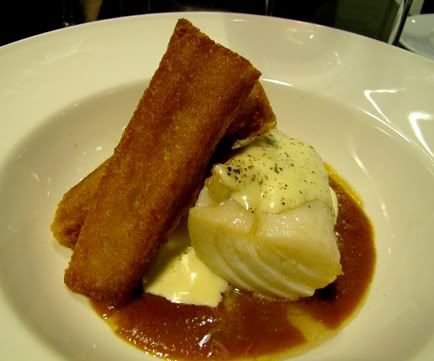 No Spanish meal could also be complete without a bit of
bacalao
(salt-preserved cod). The fish's texture was perfect and the sun-dried Riojan pepper & cognac sauce deeply savory and complex. The bacalao itself was a bit saltier than usual, however, so, being hypertensive and sensitive to salt, I thought it prudent not to finish the entire generous serving.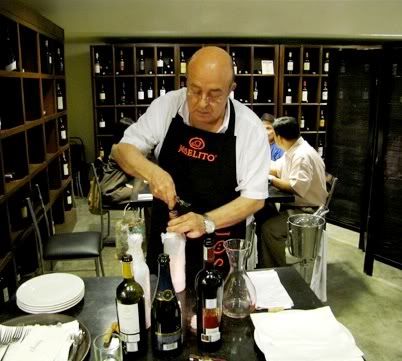 A few minutes earlier, JC slowly and expertly opened my bottle of
1991 R. López de Heredia Viña Tondonia Gran Reserva
. How many opportunities does one have to have a PhD in oenology acting as sommelier? Not often, I'll tell you that - except at Terry's. As I and Aaron import these wines and I've already written about them repeatedly, I shall refrain from further doing so. I will, however, comment that this bottle wasn't the freshest one of these I've had. It happens, however, with all aged wines that there is a degree of bottle variance.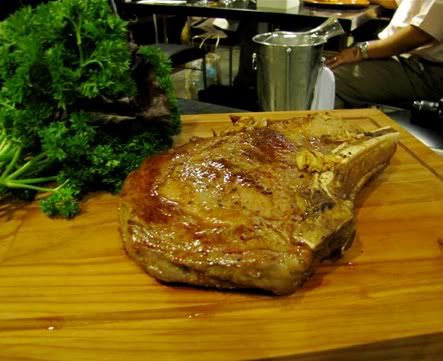 JC's version of
Chuletón Vasco
arrives...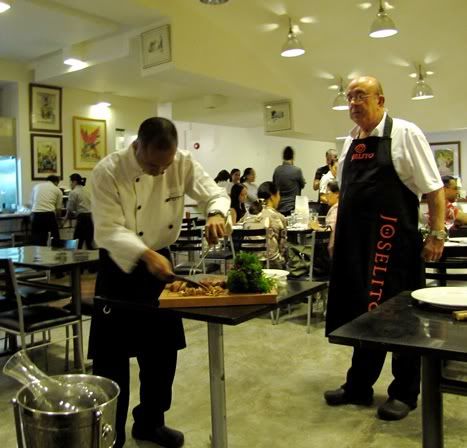 ...carefully carved and sliced under his watchful eye...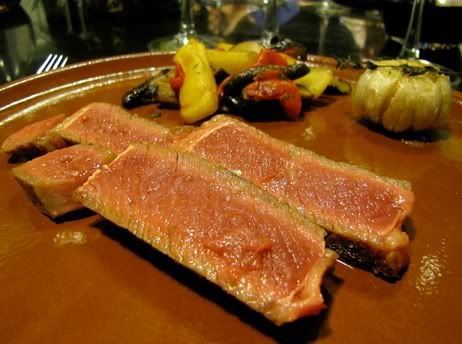 ...garnished with Spanish fricasseed Piquillos Peppers, French Salardaise Potatoes & Whole Roasted Garlic.
The steak was juicy, tender - yet just firm enough to make you feel like you were having a real man's steak. It had a rustic, intensely beefy flavor reminiscent of the French
charolais
beef - but more tender and juicier. Loved it as always.
This was followed by dessert. I always look forward to JC's dessert creations as they are always so very intricate and complex...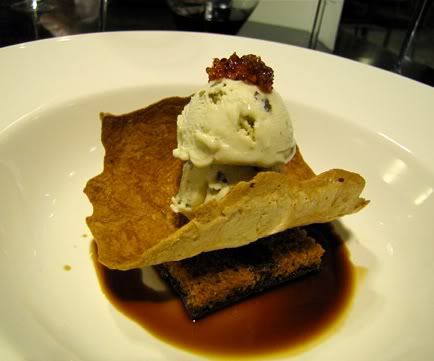 ...and it was no different that night:
Black Olive Confits-Extra Virgin Olive Oil Ice Cream served with Almond Tuile atop a Ginger and Green Olive Cake Bathed with a Pedro Ximénez-Fresh Thyme Syrup, Sprinkled with Green Olive Praline
. This was truly a symphony of flavors and textures in perfect harmony.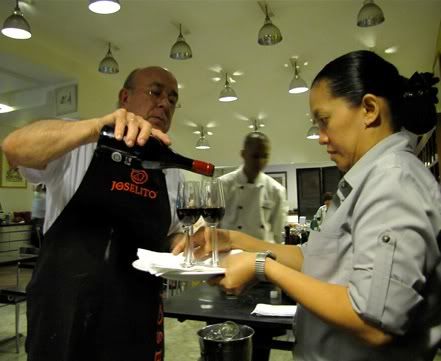 Adding an extra special kick to an already special dessert, this was masterfully paired with...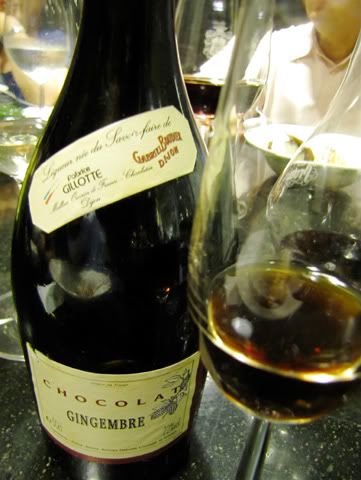 A
Ginger-Chocolate Liqueur
by famed
chocolatier
Fabrice Gillotte
and liqueur producer
Gabriel Boudier
(both based in Dijon). The marriage was complete, complex and a perfect match. Words fail. You simply must try this yourself to know...
...as we, fortunately, were able to that night.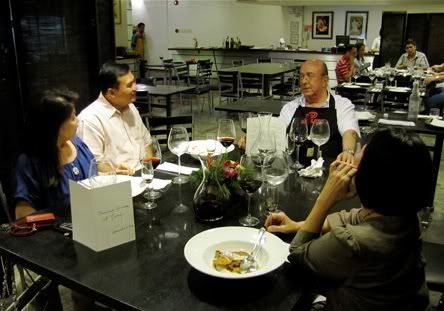 A busy night's service of a full house over, JC finally gets to relax and share some stories with us.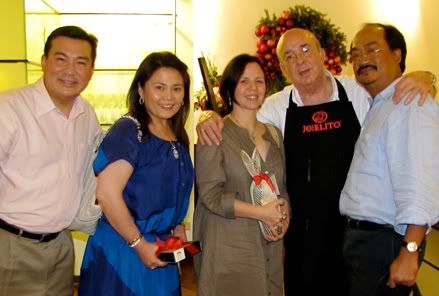 Another masterpiece of a meal greatly appreciated by us all. It was wonderful to be able to spend time with Rocky & Apple again this Christmas season. It was all the more memorable because of all of JC's efforts and prodigious talent. Many, many thanks to all, and Merry Christmas!