Over a week ago, JC de Terry asked me to put a small group together to taste some small-production Tasmanian wines which the winery sent over for evaluation. I sent a few texts out to some friends much more experienced with new world wines than I - J-Lab and Johnny said they were in. Thus, sometime last week, we met at
Terry's 2ºPiso
. I arrived early, and, not having had lunch, I had my usual "Don Quijote" bocadillo (jamón Serrano, manchego, extra-virgin olive oil and freshly marinated crushed tomatoes) and a glass of rosado.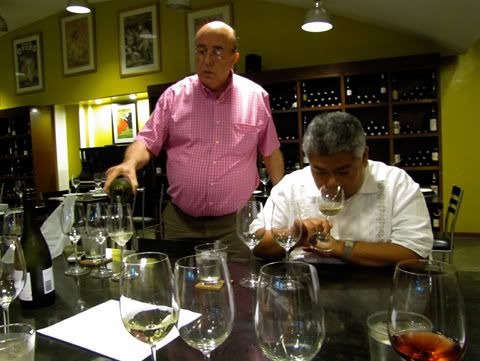 After around 30 minutes, J-Lab and Johnny arrived. JC followed from a meeting shortly after. We didn't waste any time, immediately commandeered a bigger table and got down to business.
We were to taste 4 wines from Sugarloaf Ridge, a boutique winery located in cool climate south east Tasmania, overlooking Frederick Henry Bay.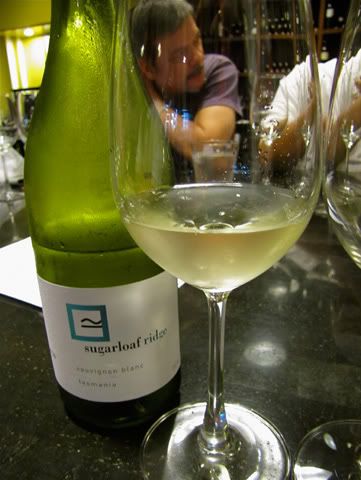 2010 Sugarloaf Ridge Sauvignon Blanc
- This was, for me, the best of the 4 from the winery. Sweet, somewhat creamy ripe, wild-honeyed passion fruit and guava. Much, much subdued gooseberry, grass and grapefruit and fleshier compared to the sauv blancs of Marlborough, NZ. Bright, nicely curved and fresh, I found it quite pleasant. Upon inquiring as to its probable retail price, J-Lab and I were shocked to find out it was relatively expensive for a new world sauv blanc. Though not much in gross terms, I noted that it was more expensive than the Raimbault Pineau Sancerre and Pouilly-Fumé that JC carries (which Miguel, Rene and I really like and regularly buy). J-Lab said he'd probably buy it at up to P800, but not much more than that.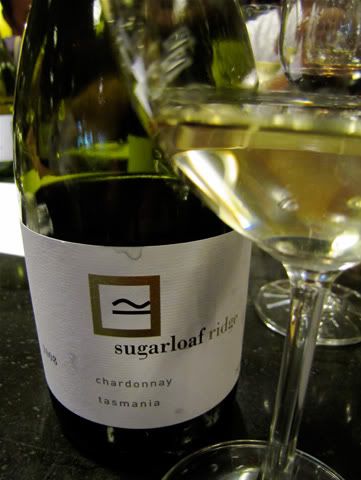 2008 Sugarloaf Ridge Chardonnay
- Bit of toasty oak on the green apple, lime and citrus nose. Good purity and sharp focus, but the citrus/lemon/lime notes were far too aggressive for me.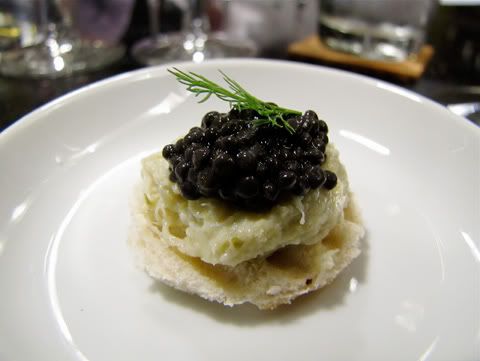 We were each then served an
amuse bouche
of crab and caviar - which we liked so much, JC gave us another round.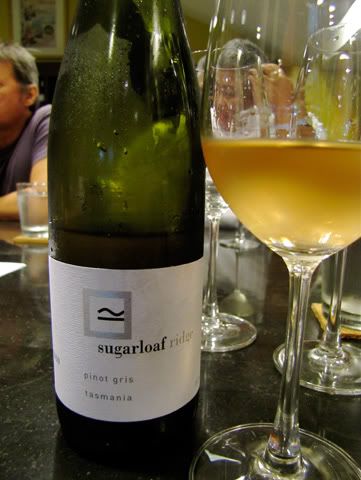 2010 Sugarloaf Pinot Gris
- All of us tasting are quite familiar with pinot gris. While I am much more familiar with pinot gris from Alsace, I have, occasionally, gotten to try some from the new world. This particular one, we noted, was unusually dark golden for a just-released vintage. The best I can describe the nose and flavors is "nondescript". This was, by far, the strangest pinot gris all of us tasted. Nobody liked it, to say the least.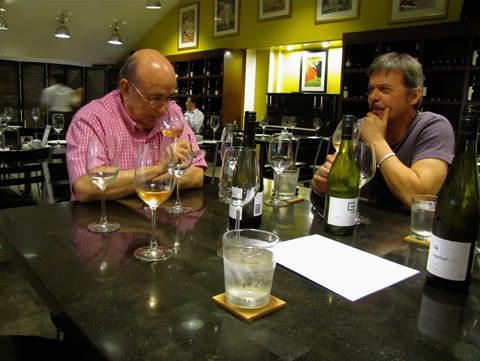 Johnny: bothered and bewildered, but obviously not bewitched.
Miguel had then joined us, and JC started breaking out his own wines and more food...much to our great delight.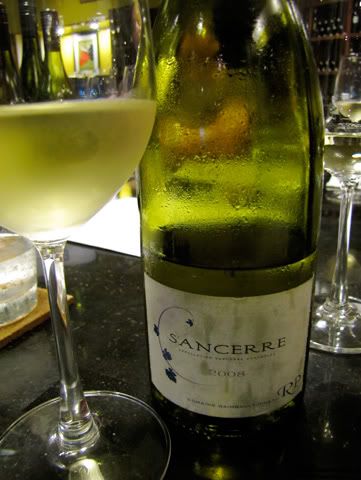 2008 Raimbault Pineau Sancerre
- Lovely wine. My favorite expressions of sauvignon blanc are definitely from Sancerre and Pouilly-Fumé, though I do also like the ones I've had from Grgich Hills (Napa Valley). Pure, focused, tense, excellent acidity (firm, bright, crisp, but not sharp), very mild gooseberry, gentle grapefruit, faint mandarin orange, harmonious. Loved it...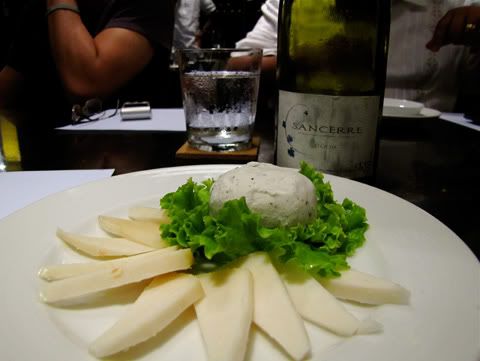 ...especially when paired with a couple of excellent specimens of chèvre from JC. These favored sauv blancs from the eastern Loire are regionally paired with goat's cheese - and with good cause.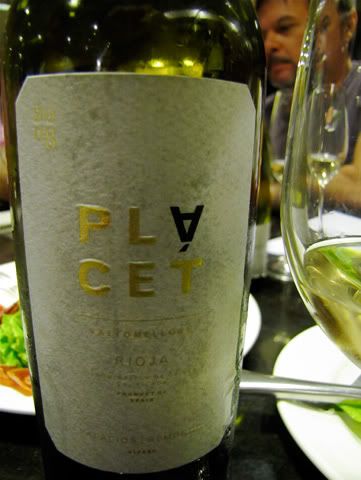 2008 Plácet Rioja Blanco
- Produced by Palacios Remondo, part of Spain's renowned Alvaro Palacios group. Probably the most complex viura I've had. Notable balance and harmony in its citrus, mild lemon, leesy touches of moderate vanilla/oak. This made Johnny, Miguel and I stand up and take notice. With the following dishes, it went very well. I recall either Miguel or Johnny (possibly both) called this their wine of the night.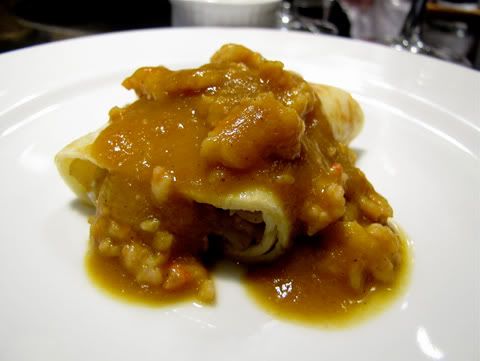 One of the few vegetarian dishes I would actually order myself.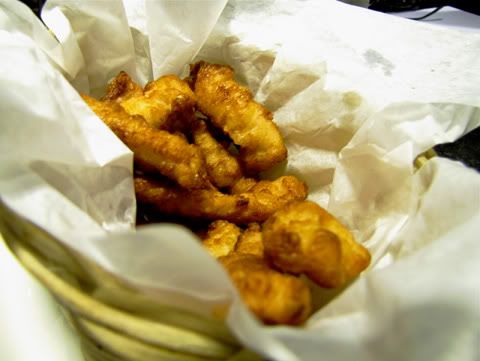 Deep-fried sea bass, crisp outside, so moist & juicy inside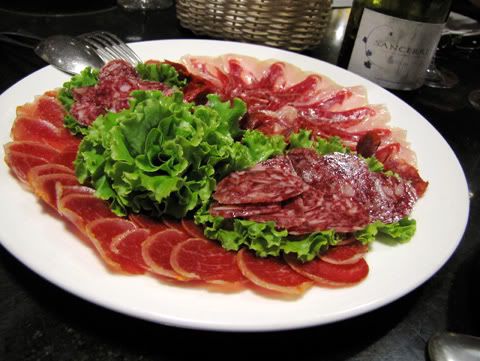 An awe-inspiring platter of cold cuts.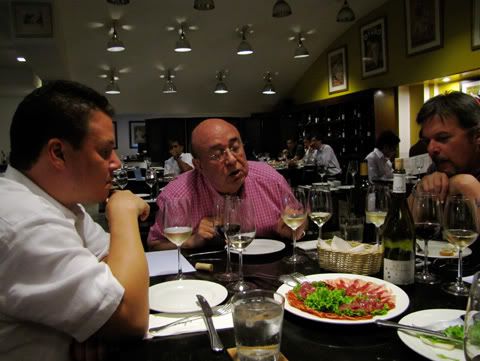 Silent reverence....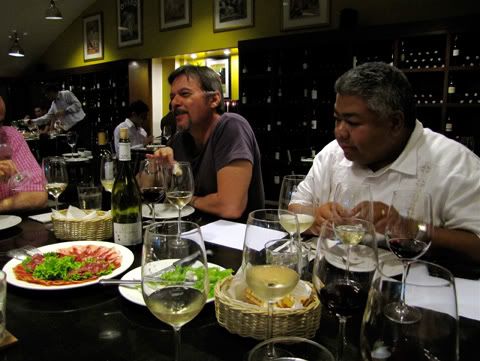 ...and irrepressible desire.
We then tasted the
2008 Sugarloaf Pinot Noir
(which I, unfortunately, forgot to take a solo photo of). It had a pervasive and persistent aroma of rusty water to it that I immediately noted. JC and J-Lab agreed. After several minutes, the rust subsided but was still there. J-Lab commented on how very dark it was for a pinot noir. JC commented that some rouges from Nuits-St-Georges can get as dark. Very deep, dark, concentrated, candied fruit. Vaguely spicy, quite minerally. Cola, noted J-Lab. A few minutes later logs of wood emerged; too much for my taste. J-Lab said he found it an interesting pinot noir though.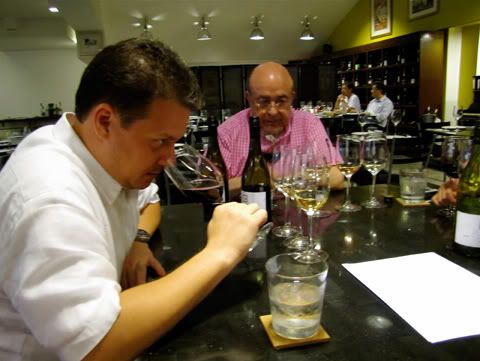 Miguel takes a whiff.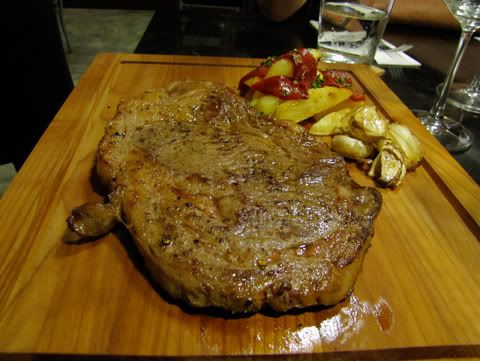 Chuleton time! With fries, roasted garlic and piquillos to boot!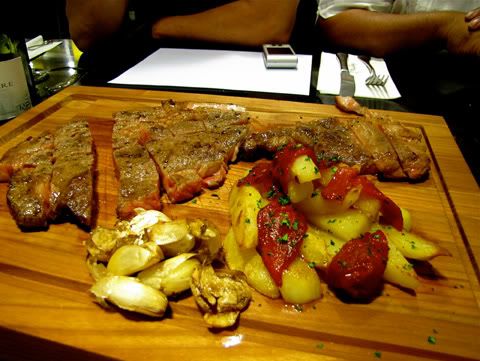 Johnny hogged the roasted garlic.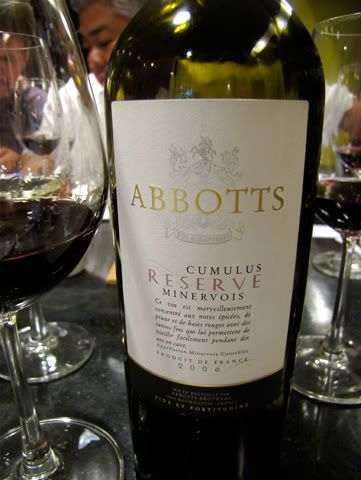 2006 Abbotts Cumulus Reserve Minervois
- From the Minervois appellation in far southern France Languedoc Roussillon region, close to the Spanish border. The wines I've tried from there I have generally found too ripe-roasted and alcoholic for my tastes - but not this one (maybe the vintage speaks here?). Deeply-veined, moderately spicy berries. Judicious use of oak (probably very little new). Slight pepper, blackberry, cassis, raspberry liqueur, moderate oak and related spice. Neat and clean. Very nice in itself and excellent with the chuleton. At a mere P830/bottle, it is a no-brainer buy and enjoy with grilled steaks.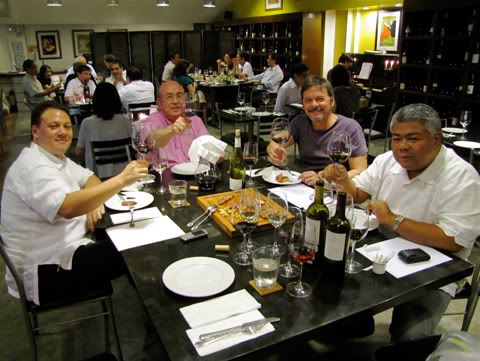 ¡Un millón de gracias de nuevo, JC, y hasta la proxima!