Since Doc & Tina would be spending the holidays in Canada, we, together with Mich & Ron (my sis-in-law and bilas) and others got together for dinner at
Masseto
a few days ago. Since several people were riding with me, I had to switch cars on the way and forgot my camera in the first car. Thus, I had to take photos with my phone camera - so please excuse the very poor quality of the shots.
We were around 45 minutes late due to Christmas traffic on SLEX (crawled until Sucat) so the others started ahead. Once I got in, Doc had me poured some welcome bubbly.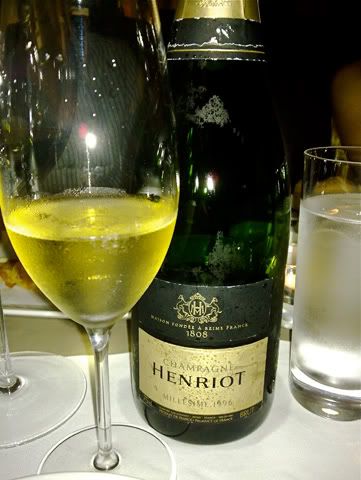 1996 Champagne Henriot
- Doc's bottle, the 4th I've enjoyed from him since the 20th May this year. My notes have always been consistent:
Excellent, full, hefty, robust, yet lively, vibrant and light-footed fruit vintage Champagne from an excellent year. Founded in 1808, Champagne Henriot, to this day, is family-owned and run. Notable ripeness, complexity, indulgent layering and lovely, bracing acidity make for an impeccably balanced and impressive champagne. This bubbly calls to mind wild honey (in the nose), lightly spiced, fat pears, apple, moderately dried apricot and citrus, fresh brioche and hints of underlying milkiness and white chocolate (the latter two from the pinot noir most likely). Excellent verve in this. Love the weight and roundness. Undoubtedly one of the best champagnes I've had the past year together with Bernie's 1988 Dom Pérignon.
Along with 3 or 4 shared appetizers, I ordered the Rib-Eye Steak (again properly rare).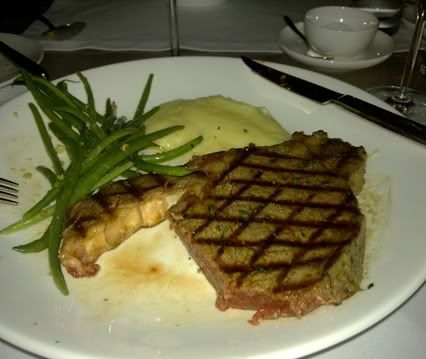 With my steak, Doc had me poured some red blind.
Mystery Red
- Doc's bottle. Lots of mint on the bouquet. Sweet cedar, cassis, bit of dark plum, black cherry, slight kirsch, underlying pencil graphite shavings, bit of violets. Past mid-mouth, it expanded with milk chocolate notes which continued on the confident finish. Just a notch or two under legitimate full-bodiedness. Clean and neat. Nicely streamlined. I guessed it to be a Pauillac from 1990. Because of the prominent chocolate notes, I specified it to be a 1990 Château Mouton Rothschild (which was lighter than the usual solidly full-bodied Mouton style when I last tried it). Doc then had the waiter show me the bottle.
It turned out to be a
1989 Château Grand Puy Lacoste (Magnum)
. I got the appellation (i.e., Pauillac) correctly, but missed the vintage by 1 year and got the producer wrong (in Pauillac, Grand Puy Lacoste is approximately 2-½ kilometers south of Mouton Rothschild).
Interestingly, I had the same wine blind just over a month ago (but in the regular 750ml format) at
Bordeaux Challenge XVII
, during which I also guessed it to be a Pauillac from 1990 (again getting the appellation correctly and missing the vintage by 1 year). That time, however, I didn't get the prominent milk chocolate note.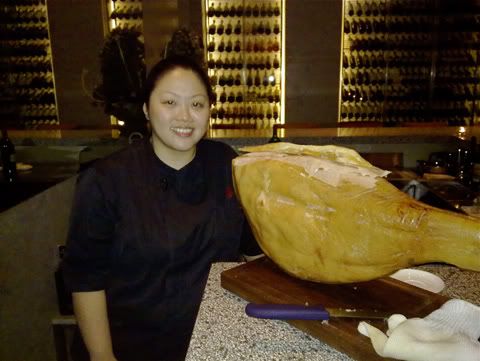 Later that evening, I photographed Tippi with her new stock leg of silky-meaty D.O.
Jamón de Trevélez
which she sources from Terry Selection. I recounted to her that I was with JC de Terry at a function
at the

Casa Llotja del Mar

(Barcelona), on the 24th March 2010
...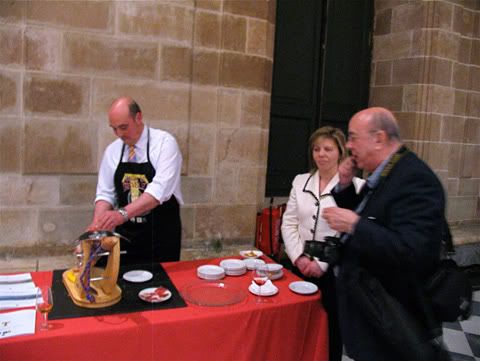 ...during which 5 of Spain's most famous jamón D.O.s were represented with patas galore. When we met the producers of jamón de Trevélez (the pig is white-hoofed, unlike the black-hoofed Iberian pigs used in making jamón Ibérico de Bellota) and tasted their ham, JC was immediately impressed and made an appointment to visit their farm in the mountainous region of far southern Spain right then and there.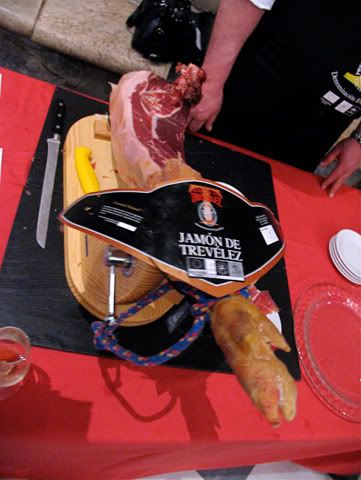 The rest is history.
I thereafter opened a bottle of
2001 Bodegas Protos Gran Reserva*
, my Christmas gift from JC. A few notches over medium-bodied, this has a marked elegance in its smooth, velvety, deeply-veined black cherry, cassis, slight dark raspberry, whispers of licorice and underlying café crème, new leather and vanilla bean notes. I sense that this relatively youthful Ribera del Duero gran reserva, though already quite impressive, is still developing and will gain even more weight, complexity and even a bit more muscle in approximately 2-3 more years.
*
This is currently available at Terry Selection, but I don't know its price (one doesn't ask that of a gift).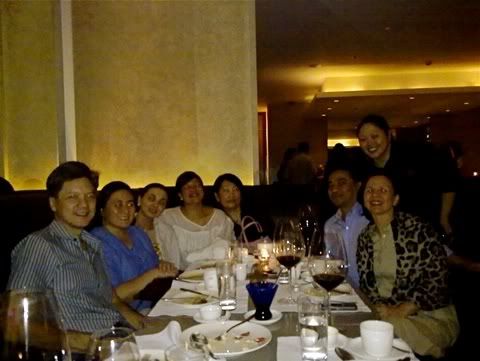 Ron, my bilas (seated 2nd from the right), treated us all to dinner. Thanks, Ron! Again, Merry Christmas to all!!!