A few weeks ago, while discussing the impending closure of old favorite
Je Suis Gourmand
over a bottle of nice Burgundy rouge at PWX, the Stockbroker suggested that we shut down the restaurant for a BYOB private dinner in the restaurant's honor. I thought it was a brilliant idea and said so. He then asked me to set it up, so I called Marc a few days later and did just that for last Monday, the 13th December 2010.
I wanted to limit attendance to 50 people at most, preferably only the long and/or loyal JSG patrons who happen to be wine lovers as well. I then set aside a table of 10-12 for the Stockbroker and e-mailed the invitations. Responses were quick and eager - without even asking what the menu would be. Within 2 days, I stopped adding people when the number reached 48. In the meantime, Marc came up with a menu of old reliable JSG favorites and several dishes from my many past special requests. As a bonus, Marc ordered flown in from Brittany some
moules de Bouchot
.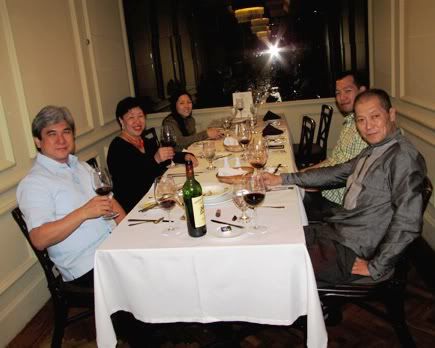 I reserved Bernie Sim his own long table at the function room for his family and Oscar Ong...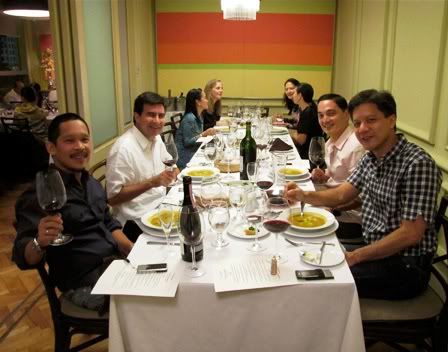 ...and the other for the Stockbroker et al. in the same area.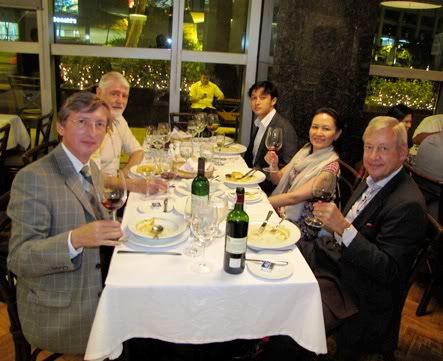 The table nearest Bernie was for fellow IWFS members. Manfred Rode arrived with Chinggay, as well as one of their sons. Othmar Ober & Bill Stone joined them.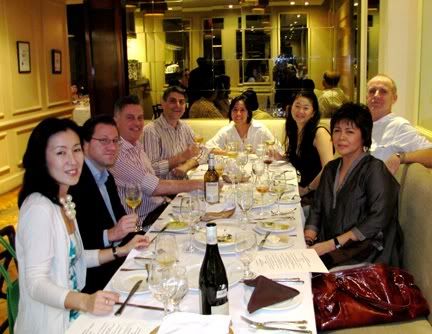 Jérôme Phillipon took over the entire inner bar area, reserving 2 tables for his party of 10. Richard & Yuki Joye (from the left) joined them for the evening's festivities.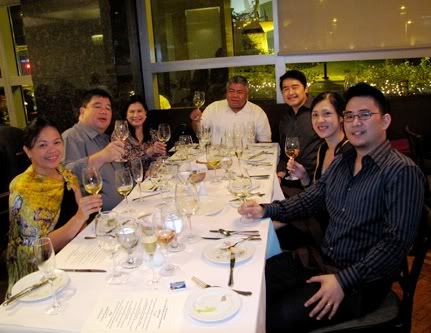 Of course, several of the Usual Suspects were there as well, with their table next to mine. Above, clockwise from the left, are Marly, Arnie & Helen, J-Lab, Greg and Aaron & Jo.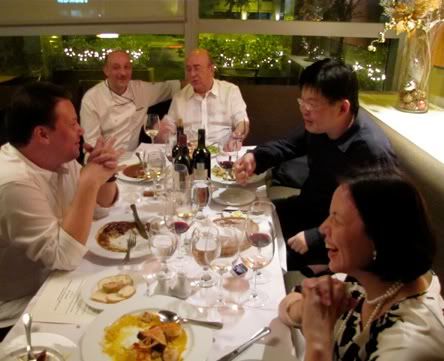 At my table were Miguel & Ria, JC, Johnson and Catha. Marc joined us later in the evening.
At the center of the tables:
Homemade Duck Foie Gras Terrine with Toasts
Baked Escargot Bourguignonne on Garlic Bread
(
sans
shells for dining ease)
Sautéed Portobello Mushrooms with Egg "En Cocotte" & Cream
-----o-----
Mediterranean Fish Soup with Rouille, Croutons & Cheese
Or
Duck Foie Gras Gateau with Grilled Scallops & Foamy Peppered Tarragon
-----o-----
Fresh French Bouchot Mussel Marinière with Fries
Or
Grilled Trio of Seabass, Scallops & Prawns with Tomato Basil Coulis & Tomato Parmesan Risotto
Or
Grilled Trio of Lamb, Sausage, Chop & Tenderloin Served with Steamed Vegetable Couscous & Thyme Garlic Jus
Or
Pan-Seared US Beef Onglet with Roasted Shallots, Fries & Salad
-----o-----
Chestnut & Dark Rum Cream in Puff Pastry with two Sauces & Ice Cream
-----o-----
Coffee or Tea
As I've photographed all the appetizers countless times, I need not post any by now. Besides, I was too engrossed with my old favorites to remember to take any. JC, Johnson, Miguel & I
each
ordered the
moules de Bouchot
for our main course and doubled up with yet another - Miguel, Johnson and I choosing the
trio of lamb with couscous
, while JC went for the
beef onglet
(rare).
I had brought, among others, 2 magnums of
2009
Domaine Tempier Bandol Rosé
, so our table started with that for the appetizers - especially for the escargots.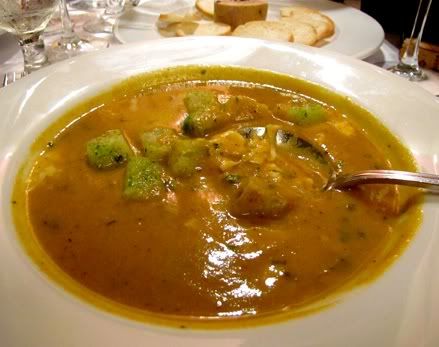 My first course was the
Mediterranean Fish Soup with Rouille, Croutons & Cheese
. This is actually Marc's own version of the Tuscan fish stew called
cacciucco
. Hearty and flavored with savory anchovies, this could actually be a meal in itself if served in a regular portion (or to people less gluttonous than I).
With the
moules de Bouchot marinière with frites
(which I dove into before I could photograph), I opened a bottle of
2009 Bruno Giacosa Roero Arneis
(which I also forgot to photograph). This was my last bottle from a batch Miguel brought in for me from southeast Piedmonte. I last opened a bottle of this over
lunch at Caffé Caruso on the 26th September 2010
. My notes then are still applicable:
Not locally available, Miguel got me some bottles of this last time he was in Italy. I love this stuff with antipasti and certain pastas ever since I tried the 2005 version from the Stockbroker over lunch at Pepato back in late January 2009. "Arneis" is the grape (a.k.a., nebbiolo blanco) and "Roero" is the hilly area in Piedmont (northwest of Alba) wherefrom hails this wine.

Slight hints of cool limestone and seashell infuse bright, vibrant, mild grapefruit, bit of pear, apple, citrus with an appetizing bitter-almond nuance....Love it.
Interestingly, JC mentioned that he used to bring in Roero arneis wines, but stopped because they were a bit difficult to sell. That's such a pity since these dry and very food-friendly wines are natural pairings for our local fresh fish and shellfish dishes.
Next came my 2nd main course of
Grilled Trio of Lamb, Sausage, Chop & Tenderloin Served with Steamed Vegetable Couscous & Thyme Garlic Jus
.
With this we eventually finished both my magnums of
2009 Domaine Tempier Bandol Rosé
- From the far southeastern coast of France's Provence-Alpes-Côte d'Azur region, this domaine has been owned by the Tempier family since 1834. All my friends know how much I love this rosé, one I never hesitate to buy in any vintage. Gracefully complex notes of redcurrants, bit of peach, slight lavender,
garrigue
with a seamlessly smooth, subtle minerality. JC obviously liked this a lot, as did Miguel, Catha and I.
With the lamb loin, it was fine and cooled the palate of the megrez sausages' heat as well (
nb
: Sometime in 2005, while researching pairings for a Morocccan themed dinner Carlo Miguel executed for the Alabang group, I learned that rosé is what is typically and regionally served with couscous and spicy lamb stew).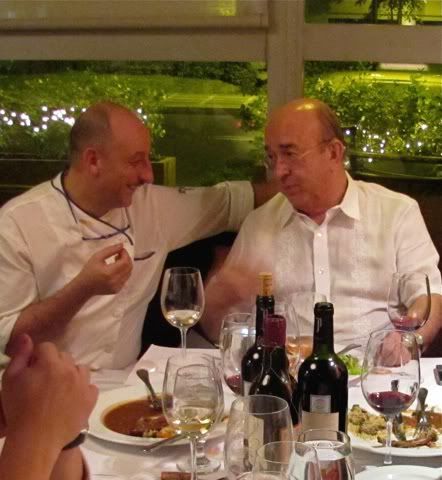 Marc & JC
I got to have several reds as well - a glass of
2002 Château Malescot-St-Exupery
from Bernie, a 1
998 Guigal Côte Rôtie Brune et Blonde
from Arnie, a good pour from Miguel's
1991 López de Heredia Viña Tondonia Gran Reserva
, etc. - all wines I've had a few times and have written about before, so there is no need to repeat myself except to note that the '98 Guigal Brune et Blonde has mellowed a great deal since last I had it and I'd suggest those who still have bottles of this should drink up now and soon.
A wine that I've not had before that I got to try was the
2007 Protos Crianza
- brought by JC de Terry who carries the Protos line. Notably rich and hefty in mellow, lightly spicy dark red fruit with a healthy dose of creamy oak and a slight touch of underlying coffee grounds. Acid is just slightly on the low side for me, but, in all, I liked this wine. Johnson and Catha liked it too. JC, Miguel and I agreed that this tastes more like a reserva than a crianza. Should be a pretty good deal then price-wise.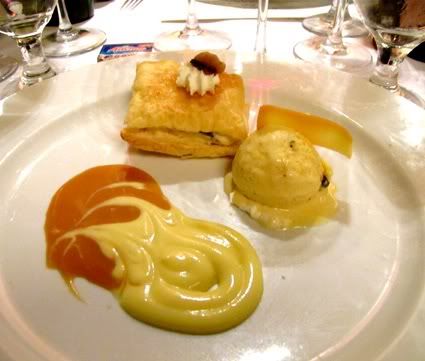 The dessert of
Chestnut & Dark Rum Cream in Puff Pastry with two Sauces & Ice Cream
was light-footed and refreshingly cool, the pastry very light and flaky. Johnson really liked this as he favors flaky pastry desserts. Aaron then poured me a glass of fresh, hefty, rounded, somewhat candied-fruited with underlying café crème
Krug Brut Champagne
.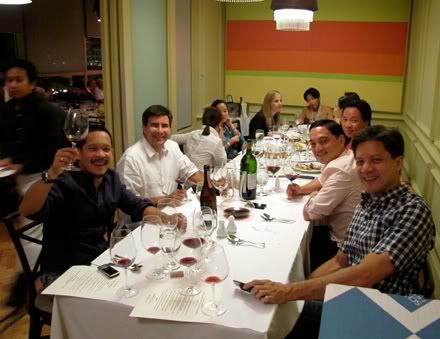 I then resumed table-hopping, photograph-taking and noted that the over-all tone of the dinner had become more jovial and boisterous...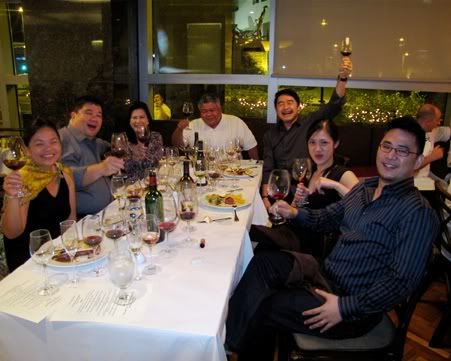 ...as well it should. After all, we were not only saying goodbye to an old favorite, we were also celebrating the coming opening of a new one - as Marc had announced that he will be opening his own restaurant at the same site sometime in March 2011. "Even more French", he assured us. I can't wait.