Saturday, the 16th July 2011:
I was supposed to spend noontime onward with Sandy. I got up around 6am, washed up and decided to walk to the old
Pinecrest Diner
on Geary corner Mason (around a mile away on foot). Unfortunately, I discovered that I had left all my money and my credit card case in the pair of pants I wore the night before. Fortunately, I discovered that before I ordered and ate my food - otherwise, Sandy would have received a very early and very rude awakening for her to bail me out.
My efforts and appetite frustrated, I trudged back to the hotel and had a distressingly healthy breakfast of a
Fruit Platter, Yoghurt and Coffee
. A bit later, I hopped on a cab to
K&L Wines
' SF branch for some bottles of Bdx rouge and champagne. Lady Luck was apparently sleeping in that morning as it took me half an hour to get a cab back to the hotel - and, by then, my left arm was cramping up holding my bottles.
Sandy picked me up just before 1pm, parked her car at her friend's place near the
Ferry Building
and we hoofed it from there to take in the
Saturday Farmers' Market
. After wandering around looking at some wines and all the local food products, the aromas of the food got the better of me so we hopped on a bus bound for Haight Street - destination: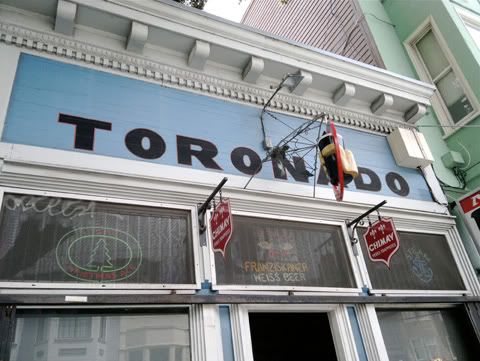 The Toronado
, a famous bar that Jimmyton told me not to miss so I could get some Pliny the Elder on tap. Jim knows full well how badly I fell for Pliny the Elder ever since he brought some home for us to try during
Russian River Night at The Tasting Room
. Before entering the bar, though...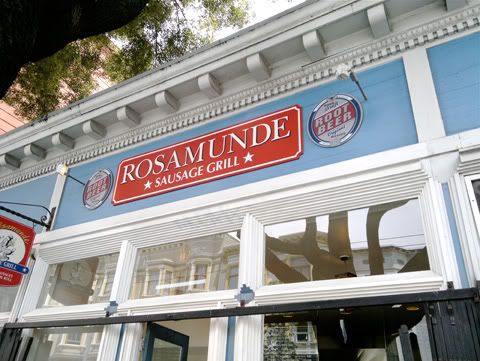 ...Sandy got us a couple of
Bratwurst & Sauerkraut Sandwiches
at the equally famous
Rosamunde Sausage Grill
next door. Brats in hand, we entered the bar,...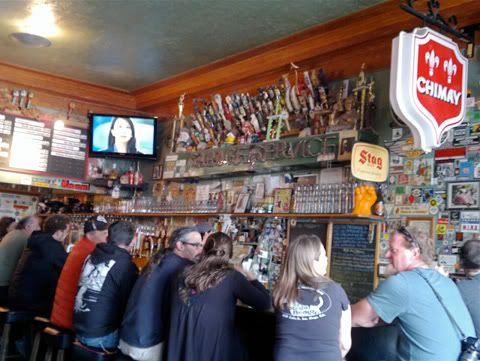 ...settled at a table near the entrance (which table Sandy had to wipe down) and Sandy grabbed us a couple of pints of my much anticipated
Pliny the Elder
on tap (she really spoiled me that day, I tell you).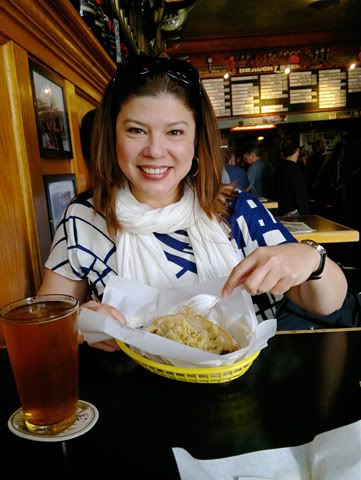 Sandy makes for a great beer & sausage sandwich model, doesn't she?
Sandwiches and a second round of PtE done, we wisely didn't go for a third (we were to meet some of her friends later at another bar), took a cab back to where she was parked and headed to her place on Russian Hill for some coffee and a short breather. After around an hour, we walked over to
Saloon
, the oldest bar in SF per Sandy, to watch her guitarist friend play there.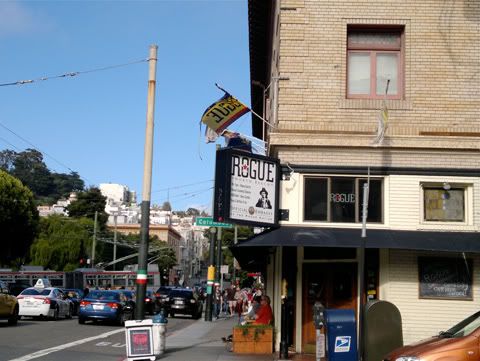 On our way, we passed by a Rogue Bar so I just had to stop briefly to get a shot of it for Jim;
after all, I get all my stock of Rogue Dead Guy & Double Dead Guy from him.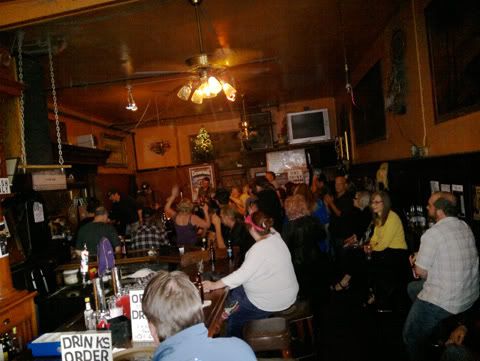 At
Saloon
, the band was already heating up the place and her friends bought me a few rounds of beer. I tried to reciprocate, but the bar wouldn't take my money for some strange reason (I suspect Sandy and/or her friends had something to do with that). In the photo above, people were dancing to the band's cover of the Stones' Sympathy for the Devil (the lady in the yellow sweater seated on the right side of the bar was a dead ringer for Diane Keaton). The set over, we spent a few more minutes chatting with her friends and then made our way to dinner.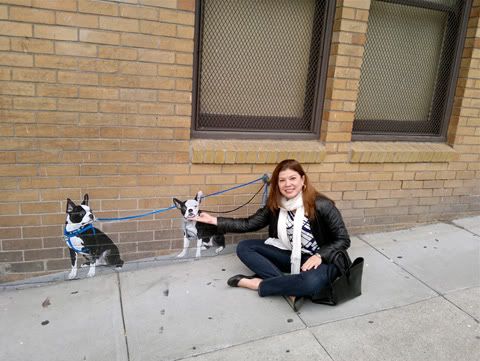 Sandy posing beside a really cool street mural of a pair of Boston Terriers.
We thought to take a chance getting into
Restaurant Gary Danko
though we had no reservations, even just bar seating (I understand it could take up to 3 months or so just to get a table there), failing which, I figured we'd go back to
Zarzuela
for more Spanish food. As luck would have it, we briefly stopped by one of Sandy's regular bars and the owner told her that one of their mutual friends now works at Gary Danko's. Chances looked better for us getting in then.
When we finally got there, a young Asian-looking lady immediately greeted Sandy and assured us of eventual seats at the bar. Flutes of complimentary rosé bubbly then suddenly appeared in our hands. Sandy's connected in this city, I tell you. Well, it wasn't too long before we were seated and going over the menu.
We were set on getting the 5-course Summer Tasting Menu with wine pairing - that is, until the bartender/bar manager warned us that the portions thereof were much more substantial than "tasting portions" as we know them. Because of the warning, coupled with all the beers that day, we wimped out and just went for the 3-course menu and a couple of half bottles of wine (a white and a red).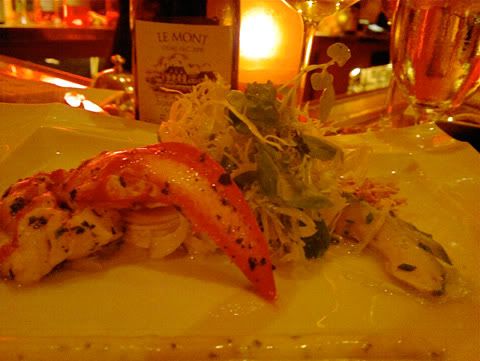 We both started with the
Lobster Salad with Asian Pear, Mango, Avocado, Cashews and Lime Cilantro Rémoulade
. This was very nice, light and refreshingly playful. To pair, I chose the
2008 Domaine Huet Vouvray Le Mont Demi Sec
because I so enjoyed the 2008 Huet Le Haut-Lieu Demi-Sec
during lunch with Domaine Huet proprietor Anthony Hwang this past 16th May 2011
. I actually had the 2008 Le Mont Demi Sec earlier this year
at the Stockbroker's tasting
at Masseto, and figured that the Le Mont, being heftier and buttressed with more toasty leesy notes, would do well with the lobster - and that it did.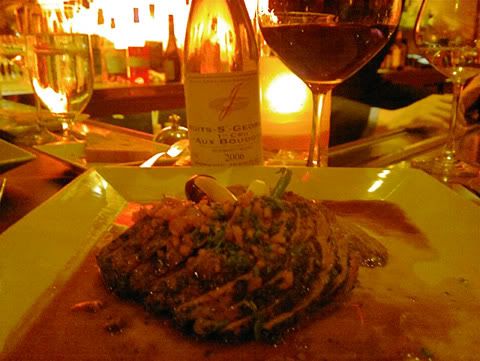 Lemon Pepper Duck Breast with Duck Hash, Bacon Braised Endive and Brandied Cherries
for my main course...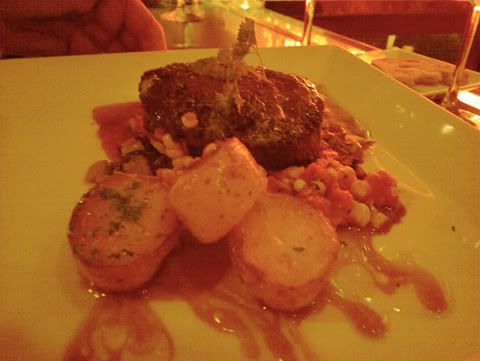 ...
Seared Filet of Beef with Potatoes Panadera, Swiss Chard, Cassis Glazed Shallots and Bordelaise Butter
for Sandy.
With our main courses, we had a bottle of
2006 Domaine Jean Grivot Nuits St-Georges Premier Cru "Aux Boudots"
- This is a charmingly precocious 1er cru NSG (then, again, during my barrel tastings of some 2006 Côte de Nuits in Burgundy in early October 2007, I already found the wines generally precocious). With a bit of time in the glass and some swirling, it showed nicely spiced, fresh dark cherry, hint of kirsch, raspberry, bit of violets and slight underlying minerality. A notch or two over medium-bodied now, this had a slight chewiness and rustic feel to it once it started expanding. Still quite young, it is already enjoyable, particularly with the duck.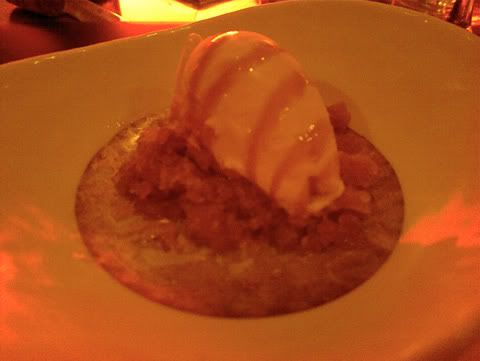 This was an extra dessert one of the Filipino cooks sent to each of us in appreciation of the Tagalog jokes Sandy passed along to him through one of the waitstaff. By this time, the sadly amusing, rather weird lady seated beside me had, thankfully, already left.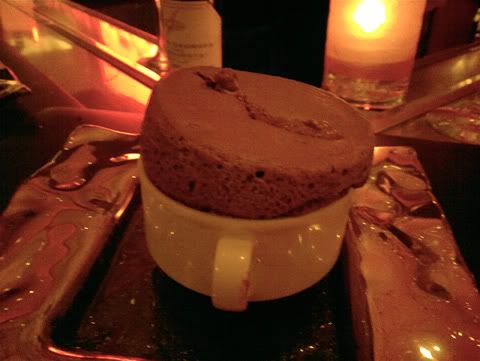 A
Baked Chocolate Soufflé with Two Sauces
for each of us for dessert.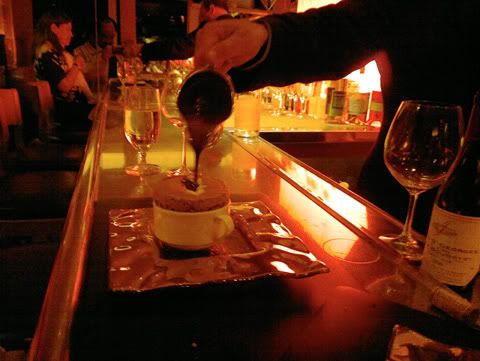 They certainly weren't stingy with the chocolate sauce...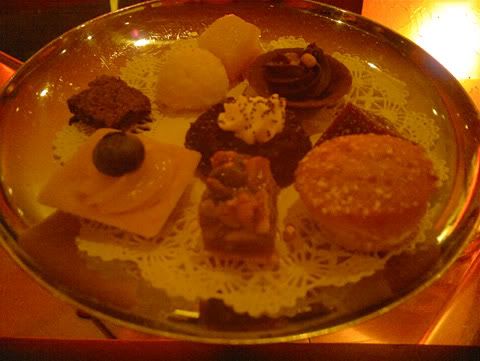 ...or the
Petits Fours
either. I was too stuffed by then and wouldn't dare venture a single bite more lest I emulate Mr. Creosote.
We then hopped into a cab, hailed by a couple of pinoy doormen. I dropped Sandy home and headed back to the hotel for a much-needed rest. It was a great Saturday in SF spending time with Sandy. Thanks a lot, Sands. We'll see you in Manila in October!