Last night, Wednesday the 18th November 2011, was The Manila Gentlemen's Club Annual General Meeting and President's dinner. Club president Aled Morris organized the food and graciously offered his home as the evening's venue. The evening's menu was prepared and executed by young South African
Chef Hylton Le Roux
through his new venture,
Pi Catering
. Hylton's resumé is, indeed, impressive, including stints as chef de partie at no less than Restaurant Gordon Ramsey and Heston Blumenthal's Fat Duck. We were only 7 in all, but that was fine for a quorum.
As with any civilized evening, things started off with glasses of bubbly. For this evening, I chose to serve
Champagne Ayala Brut Majeur
- Hands-down the very best deal in the country for a non-vintage champagne;
available at Premium Wine Exchange for only P2300/bottle retail
. Fresh, creamy fruit, notable focus, vivacity, fine mousse, mid-palate and balance. Can't go wrong with this, especially at its very reasonable price. The 2 bottles were quickly emptied.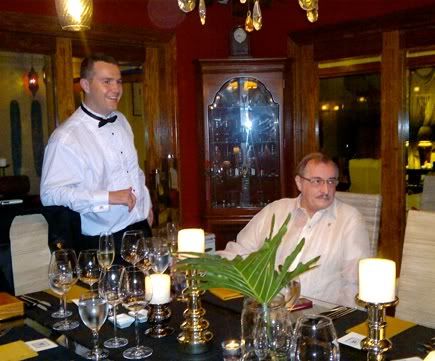 Aled Morris & Robert Burroughes.
John Harvey, Don Gaffney & Richard Everingham.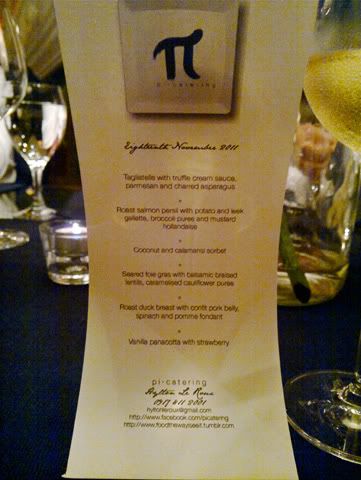 The Menu
The first course was a superb
Tagliatelle w/ Truffle Cream Sauce, Parmesan & Charred Asparagus
. No fake synthetic "truffle oil" here; Hylton used an oil with real truffle bits, and the difference was evident in that the pungency and flavors were natural and subtle and not "trying hard" exaggerated. This, as well as the second course of...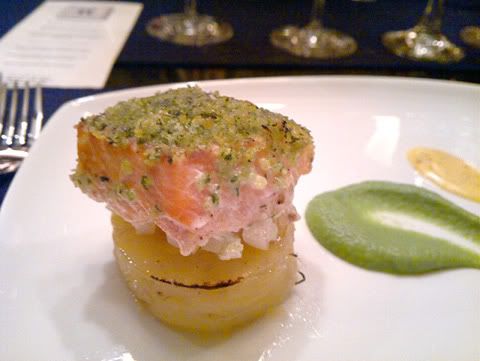 ...Roast Salmon Persillade atop a Potato & Leek Gallette w/ Broccoli Purée & Mustard Hollandaise were paired with...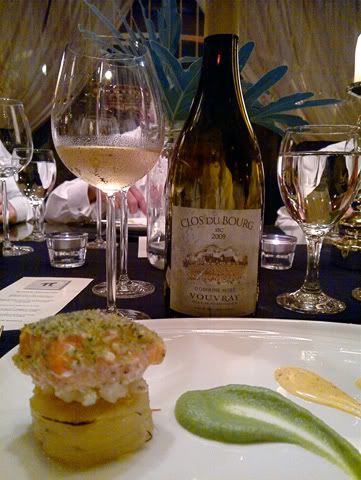 2009 Domaine Huet Vouvray Clos du Bourg Sec
- I've had this twice before, the first time was
at a Huet tasting at Masseto on 6th January 2011
where it was pretty much unanimously chosen as the favorite of the Huet Secs served that evening. Last I had it was on the 6th May 2011, again at Masseto,
during a lunch in honor of Huet proprietor Anthony Hwang
. My most recent notes are as follows:
With the Sole, Brown Butter Lemon Sauce & French Beans, we had the 2009 Huet Clos de Bourg Sec. I've had this before at Jojo's Huet Tasting early January of this year during which we had it alongside the 2009 Le Haut-Lieu Sec and the 2006 Huët Vouvray Le Mont Sec. My notes then were as follows (vis-à-vis the 2009 Le Haut-Lieu Sec):



2009 Huët Vouvray Clos de Bourg Sec - There was pretty much a consensus that this was the most favored Sec at this point, with Sevrine, Felicia, Barbara, J-Lab, Richard and myself giving it our nods as such. Notably fleshier, rounder, moderately softer and not as piercing, dry or challenging as the 2009 Le Haut-Lieu. More widely accessible too, I'd wager.


The subject wine was a fine match for the dish. While the 2009 Le Haut-Lieu may have been an acceptable match for the Sole per se, the beurre noisette would have called for something with a little more roundness and heft, which the subject Clos de Bourg aptly supplied. The wine's stony tension and rounded heft played nicely with the nutty browned butter. I had 2 glasses with this course. Lovely.
Last night, it was its usual zingy, racy, vibrantly-fruited self. Dry yet with good fruitiness, remarkably bright, crisp, focused and exhilarating. It's mouth-wateringly captivating acidity gave good (and needed) cut to the pasta's creamy sauce; while the fruitiness served as a refreshing foil to the truffle-earthiness. With the salmon, it being a naturally fatty fish, the wine worked equally as well.
The subject wine's balance and food-friendliness have always made me smile. The others were quite vocal in appreciation as well, punctuated by the 2 bottles quickly running out after the first course amid requests for more. Run, don't walk, as this is readily available at Premium Wine Exchange at a mere P1,400/bottle at full retail.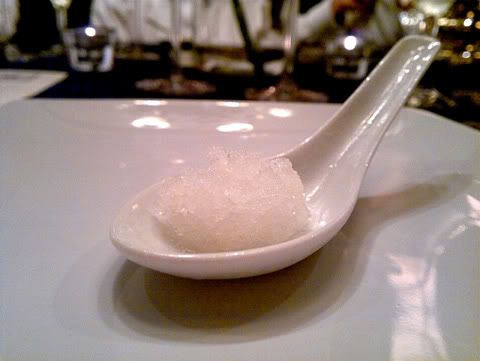 Coconut & Calamansi
(Philippine lime)
Sorbet
. I usually avoid having sorbets before a flight of reds because of many Manila chefs' recent fascination with aggressively using basil, cassis or calamansi in them - which simply ruin my palate for the reds. This one, however, was gently flavored, with the coconut nicely blending with and easing the calamansi; and, at the same time, refreshed the palate without leaving a strong and disturbingly long after-taste.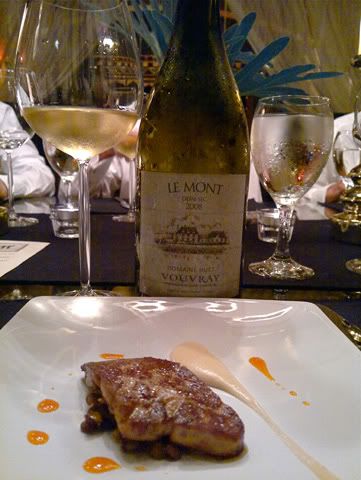 With the delectably earthy and indulgent third course of
Seared Foie Gras w/ Balsamic-Braised Lentils & Caramelized Cauliflower Purée
was paired
2008 Domaine Huet Vouvray Le Mont Demi Sec
. I first had this
during dinner with Sandy at Restaurant Gary Danko at the tail-end of a working trip to SF this past July
. My notes then were as follows:
We both started with the

Lobster Salad with Asian Pear, Mango, Avocado, Cashews and Lime Cilantro Rémoulade

. This was very nice, light and refreshingly playful. To pair, I chose the

2008 Domaine Huet Vouvray Le Mont Demi Sec

because I so enjoyed the 2008 Huet Le Haut-Lieu Demi-Sec during lunch with Domaine Huet proprietor Anthony Hwang this past 16th May 2011. I actually had the 2008 Le Mont Demi Sec earlier this year at the Stockbroker's tasting at Masseto, and figured that the Le Mont, being heftier and buttressed with more toasty leesy notes, would do well with the lobster - and that it did.
For the same reason as above did I choose this wine to pair with Hylton's foie gras dish, and, indeed, it had the right structure, body, comparatively sweeter/richer fruit and acid cut for the dish. Home run here if I do say so myself. Loved it. Available at Premium Wine Exchange for P2000/bottle full retail.
Our fourth and main course was
Roasted Duck Breast w/ Confit Pork Belly (topped w/ Home Made Chicharron), Spinach & Pomme Fondant
. Fantastic. I must mention that the pomme fondant had a perfectly balanced deep, discreet smokiness and gentle caramelization. Enchanting. With this, we had three Tuscan reds.
2003 Marchesi Antinori Pian delle Vigne Brunello di Montalcino
- This wine spoke of its vintage: comparatively big, mouthfilling, concentrated, lushly full, soft, very ripe (nearing raisined) dark fruit, sweetish, low acid and, I felt, a bit higher than usual in alcohol. A bit of flamboyancy here. With the sweetish pipe tobacco, oak-related vanilla and cocoa notes that infuse the forward, big, warm, soft, very ripe fruit, it is reminiscent of the modern/New World style - which should readily please those partial to the same. Available at Bacchus International.
2004 Marchesi di Frescobaldi CastelGiocondo Brunello di Montalcino
- With approximately an hour and a quarter's decanting before service, it had a nice masculine bent to it. Structure was firm, maybe just a notch or three over medium-bodied, the fruit neat, self-possessed and proper, bit of dried herbs and violets under there. The mid-palate left a little to be desired, but, in my opinion, this is because the wine is still quite young. That said, this was more my style than the previous wine, and I expect it will gain weight and be more ready in around 3-4 more years. Notable structure and balance. Available at Forth & Tay for P3100+/bottle at full retail.
The
2005 Antinori Badia a Passignano Chianti Classico
I was not able to get to that evening; or if I did, I do not recall now what it was like. All bottles were drained by the time the cigars were brought out. Available at Bacchus International.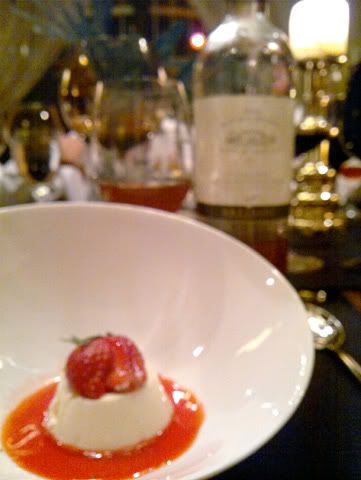 Dessert was a neat
Panna Cotta w/ Strawberry
- please forgive the lousy photo as I was already a bit tipsy by this time and didn't remember to check or take a safety shot. This was paired with...
2001
Tenute Marchese Antinori Vin Santo del Chianti Classico
- Moderately sweet, raisined sultanas, bit of honey, slight vanilla and an intriguing breath of oxidation. Quite nice, actually, and it was, for me, a hand-in-hand match for the panna cotta.
Hylton joins us for the discussion of the dishes.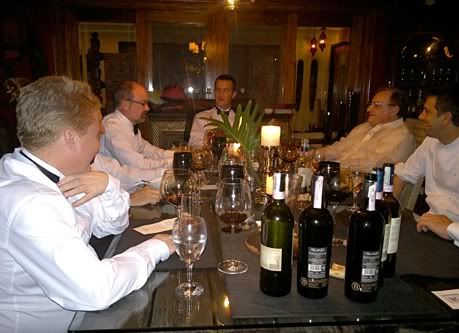 Aled was re-elected as club President; John as Cigar Master & I as Wine Master. Richard is now Food Master, giving up the club Secretary position to Robert. Don, with his background in finance is now club Treasurer. We wound up with a bottle of port donated by Robert and some Cuban puros chosen and sourced by John:
Hoyo de Monterrey Epicure #2
. Excellent draw, burn, smooth creamy smoke and a slightly dryish woody finish. Thereafter, Aled started opening some of his bottles of Marqués de Riscal Rioja Tinto Reserva. Thoroughly enjoyable evening.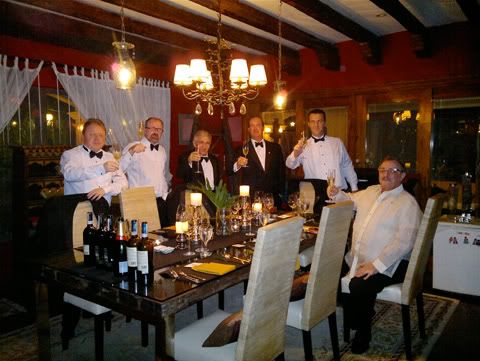 Until the next!