Dinner of Tuesday, the 19th June 2012, was back at
Mamou Too!
, this time in belated celebration of Aaron's recent birthday. He treated us all to dinner and, among others, a couple of special bottles of red for the steaks. We were six in all: Aaron, J-Lab, Jojo, Miguel, Rene, & myself. Due to horrible EDSA rush hour traffic, I arrived almost half an hour past the appointed time and missed Aaron's opening salvo of
Freixenet Reserva Real Cava
(so no photo of that).
Not to worry, though. I still got a good couple of glasses of bubbly from J-Lab's lively, creamy-fruited, champagne-esque 2007 Bründlmayer Brut. Very gulpable; and gulp, indeed, I did. An apéritif friendly 11% abv by its light-footed, though hefty, creamy apple and pear with minor notes of peach and a slight haricot vert nuance.
A couple of orders of our favorite Spaghetti alla Bottarga.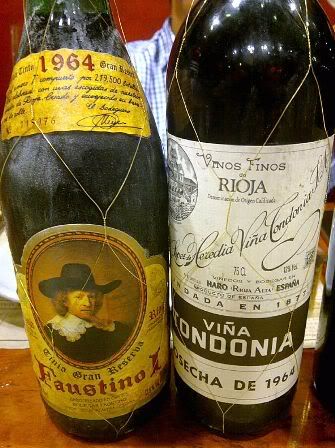 Both bottles from Aaron.
The aged wines were left to Jojo's surgical skills.
The prized bottles for the evening were two traditional Riojan gran reservas from a legendary vintage, no less than: 1964 Bodegas Faustino Faustino I Gran Reserva, and, 1964 Bodegas R. López de Heredia Viña Tondonia Gran Reserva.
1964 Bodegas Faustino Faustino I Gran Reserva - As serene, refined, and Burgundian as ever in its bouquet and flavors. Sous bois, slight ceps, balsamico, slightly spiced strawberry, dark red cherry, plum, violets, cedar, hint of well-worn leather on a silky, medium-bodied frame. Beautiful.
1964 Bodegas R. López de Heredia Viña Tondonia Gran Reserva - Stunning by all accounts. A few shades heftier in body than the preceding wine, and more savory in character. Incredibly complex, balanced, and elegant with added layers continuously unfolding. Walnuts, whispers of oxidation, old leather, mushrooms, lavender, cedar, hint of nutmeg, violets, in its dry, savory fruit, and it didn't seem to stop there. Superb, amazing. Words fail.
We had the above wines with the Fuet & Grana Padano instead of with the below-depicted charred slabs of rich beefy goodness which we figured would over-power these beauties.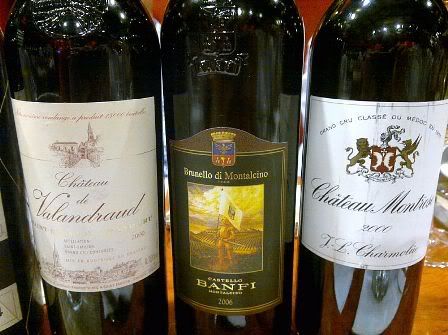 With the steaks, we had 3 younger, more robust reds:
2000 Château de Valandraud - From the Jojo. Rich, full-bodied, big tannins velvety soft, well concentrated and extracted, very ripe black cherries, dark raspberries, kirsch, underlying chocolate and loam with healthy doses of licorice and vanilla. Robust and unabashedly flavorful yet well-balanced, it was more than a good match for the steaks.
2000 Château Montrose - From Rene. Macho Bordeaux from the get-go. Typical firm structure one expects from Montrose, but with the richer, riper, fuller fruit that marks vintage 2000. Though still young, it is already starting to show some development in its emerging earthy, leathery and sanguine nuances. Smoothly muscled red. Very good now, and I'd imagine this to be superb in another 10-15 years and hold for another 10+++. It certainly has the structure and stuffing for it.
2006 Castello Banfi Brunello di Montalcino - From Miguel. From a highly lauded vintage of the Tuscan region, there is a general theme of torrefaction to this young bruiser. Smoke, tobacco, coffee grounds and oak related spice to its herbaceous, somewhat closed dark fruit. Acidity is healthy. This is probably asleep. Either that or my palate was already tired.
The above
1989 Pichon Lalande
(from Jojo) and the
1989 Rauzan-Ségla
(from me) were left for another day. The Birthday Boy and Jojo both had early commitments the following morning so headed home after dinner, while the rest of us headed off to Bar "M" for some single malt nightcaps...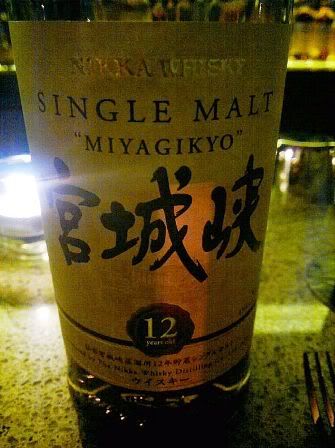 ...where J-Lab Miguel, Rene had doubles of this Nikka Miyagikyo 12 Years Old...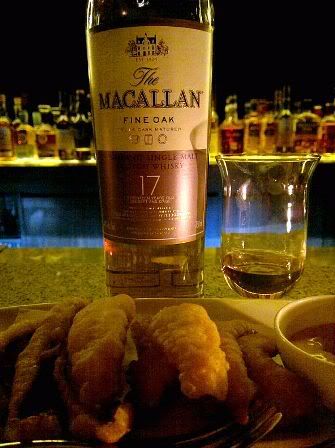 ...while I had a couple of the Macallan 17 Years Old Fine Oak. Eric & Cinthy Recto, et al. happened to be there as well - finishing off dinner from Masseto with some champagne no doubt - and sent us complimentary dishes of hot-from-the-kitchen Anchovy Pizza and Fish Fingers. Thanks, Eric!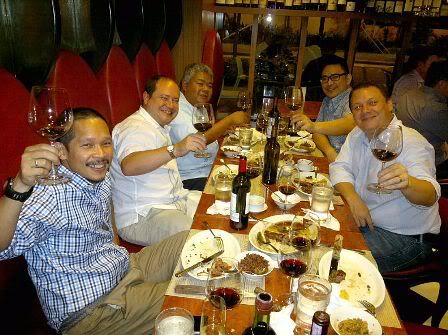 Yet another excellent night of fine food, wine, and friends, with a kicker of fine single malts (not too much) for good measure. Life is good, indeed. Happy birthday, Aaron! Again, many thanks! Until the next!