Friday the 1
st
to Sunday the 3
rd
June 2012, Catha and I were at
Amanpulo
for a
Commanderie de Bordeaux
Manila weekend event
, and, on the last day, decided to extend until afternoon of Monday the 4th. This is an account of what turned out to be one of the most relaxing, laid-back vacations I've ever had.
Friday, the 1st June 2012.
We arrived Friday noon, skipped the pizza lunch and opted to have lunch at the Main Clubhouse, on the lanai near the pool. Let's just say that we should have joined the others for pizza instead.
At the Main Club's lanai.
The pool where I did my morning laps.
The pathway leading up to our Beachfront Casita.
The hammock which we never used since we'd lounge on the beach...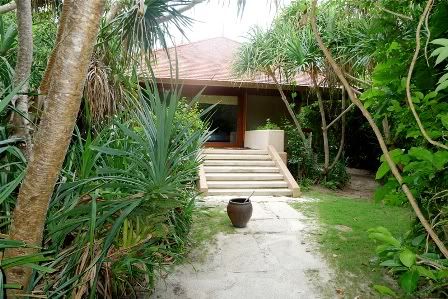 Beachfront Casita 16, our little home away from home for 4 days and 3 nights.
Fifty one persons in all attended including guests of honor, château owners Olivier and Anne Bernard of Domaine de Chevalier (Pessac-Léognan), Patrick Maroteaux of Château Branaire-Ducru (St-Julien), and Count Stephan von Neipperg of La Mondotte, Château Canon la Gaffelière (both St-Emilion), Château d'Aiguilhe (Côtes de Castillon), etc., all generously accommodated by Endika Aboitiz and Lindy Castillo in their respective villas. Including Edouard Miailhe of Château Siran (Margaux), the
Bordeaux
château owners were four strong.
Some other foreign attendees were Commanderie Asia Grand Maître Vincent Cheung, Singapore Maître Wong Kok Leong, Commanderie Shanghai Founder Andrew Bigbee, and
Hong Kong
's multi-lingual wine expert and globe-trotting
bon vivant
Wilson Kwok (who I usually manage to bump into during wine-related trips to HK and even in Bordeaux).
The Manila Chapter was ably represented by founding trustees Felicia Atienza, Edouard Miailhe, Bernie Sim, Ivan Ramos, yours truly, local ranks bolstered by members Miguel Aboitiz, Cecilio Pedro, Robbie Delgado, Gigi Montinola, David Ong, Romy Sia, Karen Davila, Chut Cuerva and, of course, Lindy Castillo, who, with better half, Steve, hosted a lavish closing lunch for all at Villa No. 5. Given Amanpulo's restful and romantic air, dinners by Enderun-Ducasse Chef Marc Chalopin, along with the pairing wines, it was no surprise that most all the Commandeurs made certain that their respective life partners joined in the grand event.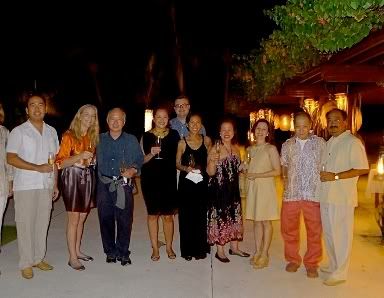 L-R: Chut Cuerva, Sevrine Miailhe, Robbie Delgado, Sam Eduque, Edouard Miailhe,
Felicia Atienza, Lucy Sim, Catha, Bernie Sim, and yours truly.
Dinner
at the Main Clubhouse kicked off with 7pm poolside cocktails, during which everyone, draped in their summer's best, enjoyed delectable hors d'oeuvres with an endless stream of vibrant, toasty, creamy
Champagne Pol Roger Brut Réserve
through the kindness of Romy Sia of Wine Story.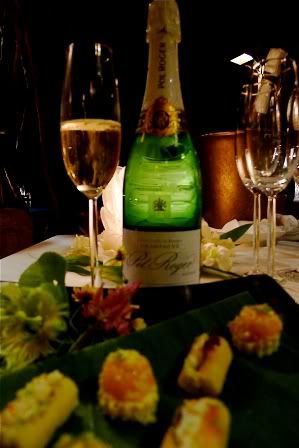 Bubbly and hors d'oeuvres.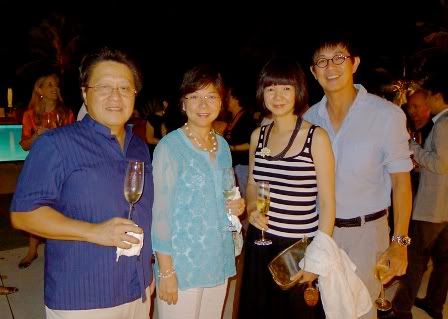 Cecilio & Irene Pedro with Mawen & David Ong.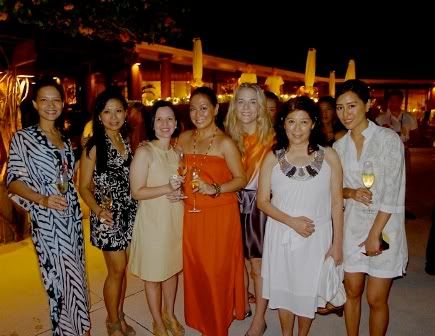 L-R: Barbara Aboitiz, Sheila Ramos, Catha, Karen Davila, Sevrine Miailhe,
Helen Delgado, Vicky Delgado.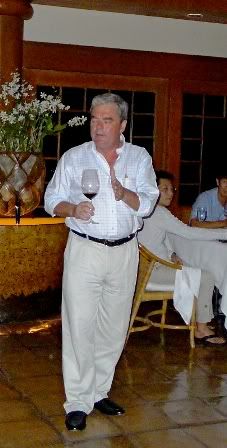 Olivier Bernard of Domaine de Chevalier makes some opening remarks.
The first course was
Potato Gnocchi, Confit of Tomatoes with Black Truffles
paired with the roasted-ripe, dried herbs-inflected, full-bodied, and vintage-typical, yet somehow deftly balanced
2003 Domaine de Chevalier
. Sorry, no photo of that dish as it came out too dark to be of any use.
The second course of
Beef Tenderloin Rossini-Style
with Creamy Celery Mousseline
featured two rouges, namely, the masculine, classically structured, elegant and refined
2001 Branaire-Ducru
, and the warmly expansive, lightly spiced, violet and cedar laced
2000 Siran
.
With the
Pont-l'Évêque
cheese course, all reveled in the
1998 Canon-la-Gaffelière
's earthy, complex, pipe tobacco-touched dark, softly ripe raspberry-plum depths. Dessert was a superb
Tropézienne Brioche with Citrus Fruit Custard
, counter-pointed with a precise and polished
2002 Guiraud
(a respected Sauternes estate part-owned by Stephan), followed by
Madeleines
and
Financiers
.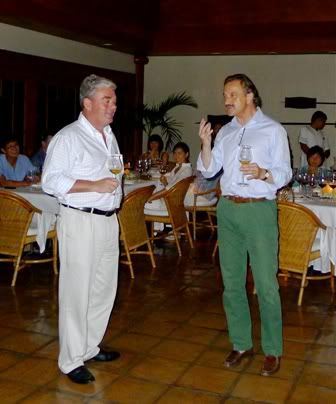 Olivier Bernard in an impromptu wine skit with Count Stephan von Neipperg.
Maître of Asia Vincent Cheung offers a toast to Stephan von Neipperg as Endika Aboitiz looks on.
L-R: Olivier Bernard,

Singapore Maître Wong Kok Leong, Sheila Ramos,
myself, Lucy Sim, and Catha.
Saturday, the 2nd June 2012.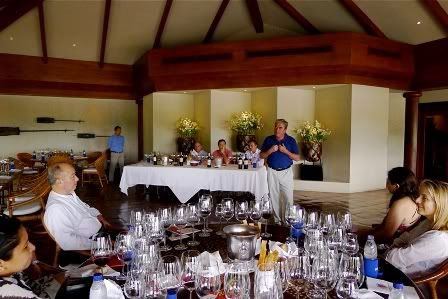 Saturday was a wine-filled day, with a morning
Wine Tasting Master Class
conducted by the four château owners,...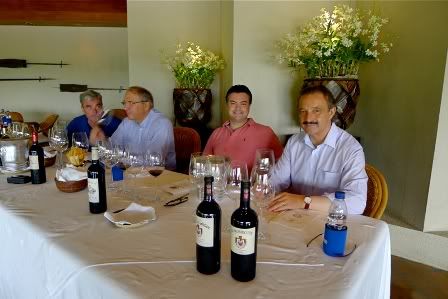 L-R: Olivier Bernard, Patrick Maroteaux, Edouard Miailhe, and Stephan von Neipperg.
Karen Davila with Robbie Delgado at the Master Class Tasting.
The beachfront Lagoon Club.
...and, thereafter, a Vietnamese lunch at the Lagoon Club during which I focused on the cool, crisp and refreshing Bordeaux blancs (
2002 Domaine de Chevalier Blanc
and
2010 Le "G" de Guiraud
) and rosé (
2011 Rosé de Chevalier
) which were more suited for daytime beach drinking, especially with Vietnamese cuisine., having a glass of
2004 d'Aiguilhe
only with the meat course.
Gigi Montinola and Kim Atienza landed just in time for lunch.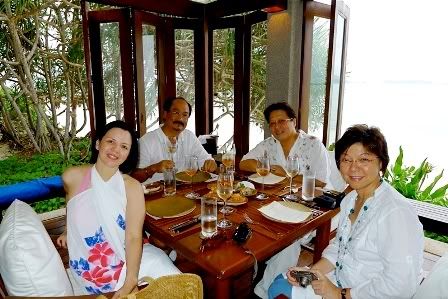 Catha & myself with the most charming Celio & Irene Pedro.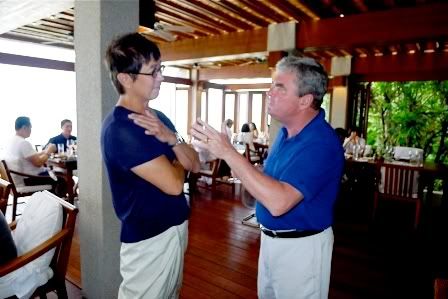 CAV owner David Ong discusses wine with Olivier Bernard.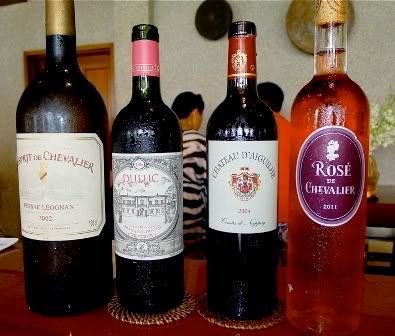 2002 Esprit de Chevalier Blanc, 2006 Duluc de Branaire-Ducru, 2004 Château d'Aiguilhe, 2011 Rosé de Chevalier.
2010 Le "G" de Guiraud with Fresh Vietnamese Spring Rolls.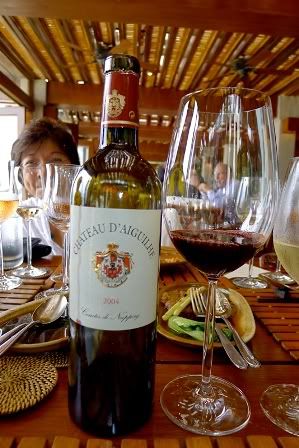 The only red I had that lunch was the properly reserved 2004 Château d'Aiguilhe...
...with this well-executed, very tender beef course.
Edouard Miailhe, Wilson Kwok, Patrick Maroteaux, and Vincent Cheung.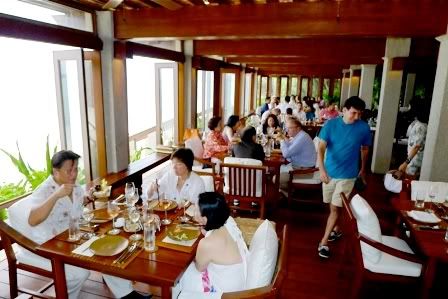 The Commandeurs hard at work.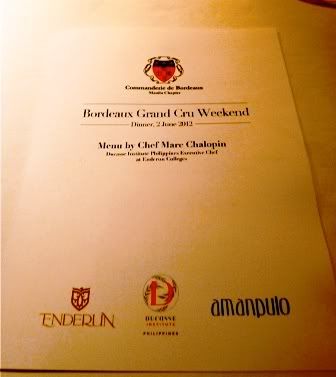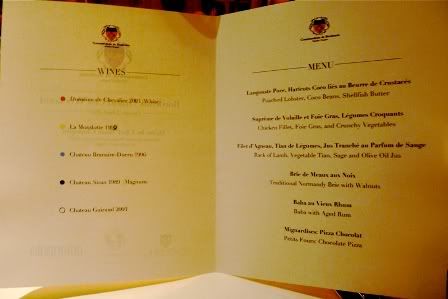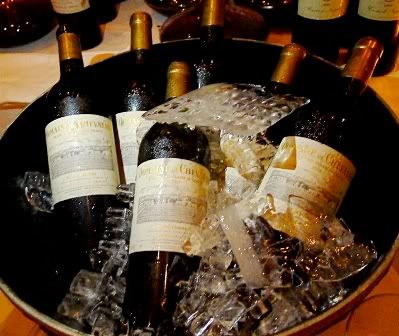 2003 Domaine de Chevalier Blanc kept well chilled.
Dinner
was back at the Main Clubhouse for a certified bacchanalian banquet beginning with a magnificent dish of
Poached Lobster on Coco Beans with Shellfish Butter
. Superb alone, and elevated even more by the seductive, pillowy-fruited, minerally, complexly Burgundy-reminiscent
2003 Domaine de Chevalier Blanc
. Olivier is proud of his white wines, and with every good reason to be. Bravo.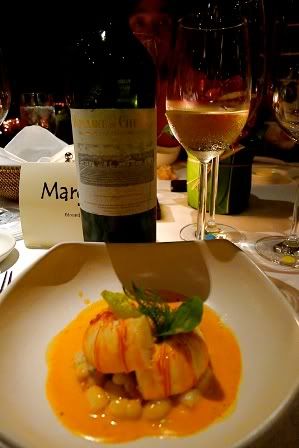 A match made in heaven.
Kim Atienza, Vicky & Ricky Delgado, and Catha.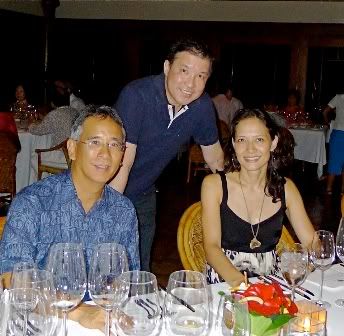 Gigi Montinola, Romy Sia, and Barbara Aboitiz.
The fowl course of
Chicken Fillet, Foie Gras and Crisp Vegetables
tied in well enough with the young yet poised
1999 La Mondotte.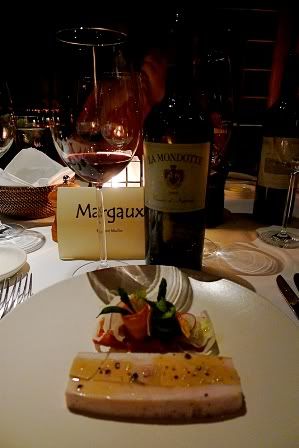 I at first thought the pairing strange, but was pleasantly surprised that it worked.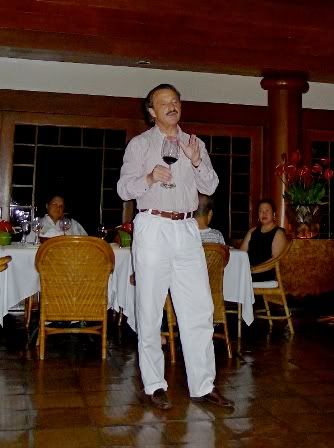 Stephan gives us the history of La Mondotte.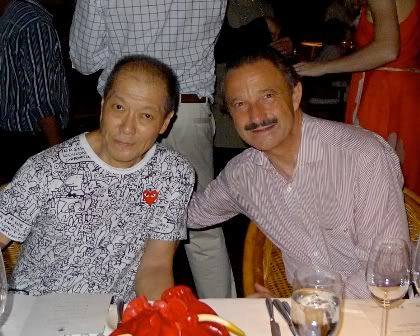 Bernie & Stephan.
The meat course of
Lamb Rack Medallions, Vegetable Tian with Sage and Olive Oil Jus
was expertly cut and contrasted by the classical styled, finely structured, balanced and harmonious
1996 Branaire-Ducru
.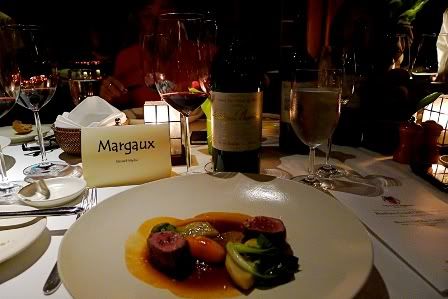 The 1996 Branaire-Ducru was my favored red of the evening.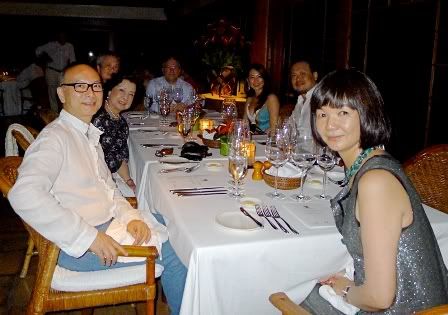 Wilson Kwok, Wong Kok Leong, Patrick Maroteaux, Andrew Bigbee, and Mawen Ong, among others.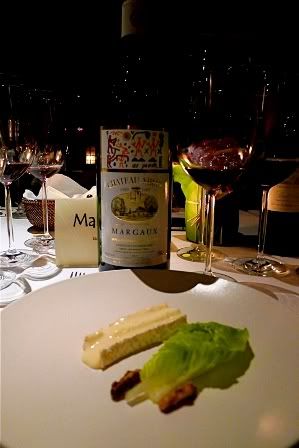 The
1989 Siran
, being the oldest wine of the meal, was, in Bordelaise fashion, served with the cheese course of
Normandy Brie de Meaux with Walnuts
.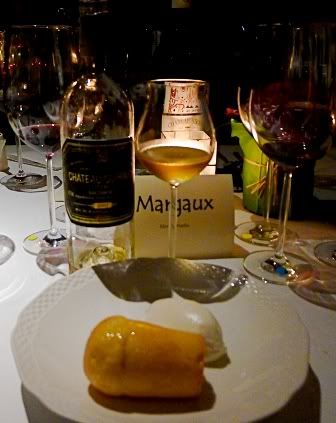 Dessert of
Baba au Vieux Rhum
paired with a hefty, honeyed, caramelized, slightly tobacco-nuanced
2003 Guiraud
ended dinner with a sweet note; the chef pushing the envelope by rebounding with a sinfully rich and delicious
Chocolate "Pizza"
by way of
petits fours
.
The guests of honor and Lindy & Steve received thank-you gifts.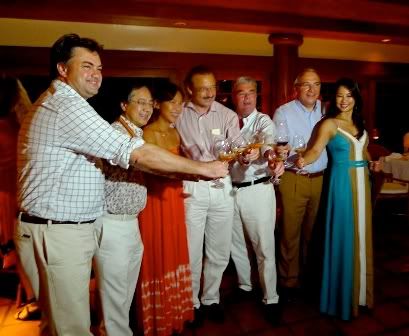 Bordeaux, Toujours Bordeaux!
Sunday, the 3rd June 2012.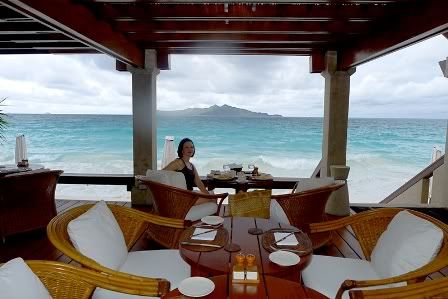 Breakfast at the Beach Club.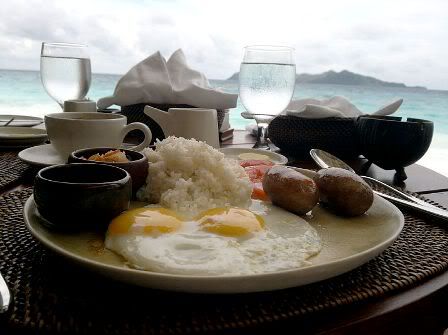 Nothing beats a weekend Filipino breakfast of Longanisa, Fried Rice & Eggs.
Sunday was highlighted by a day-long relaxed, casual, and most convivial wine lunch at Villa No. 5, all the food generously hosted by Lindy & Steve.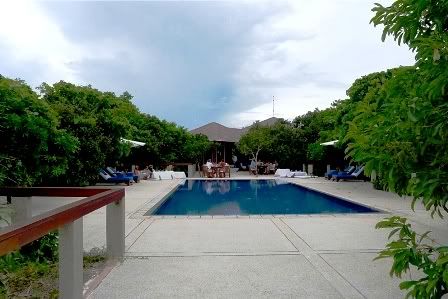 Villa No 5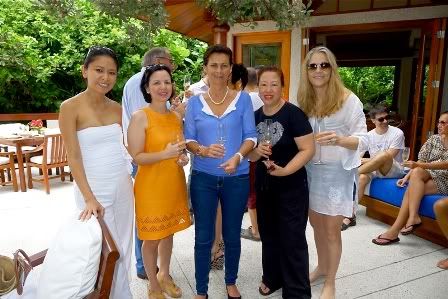 Lindy, Catha, Anne Bernard, Lucy, and Sevrine.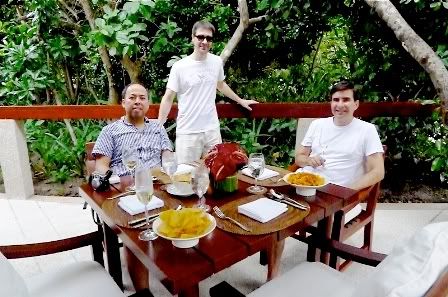 Chut Cuerva, Steve, and Miguel Aboitiz.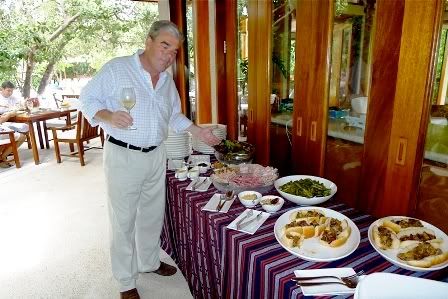 Olivier surveys the buffet table.
The buffet table heavily laden with platters of
Pasta al Pesto
,
Salad Greens with Walnuts, Dried Figs and Chèvre
, an
Assortment of Cold Cuts
, highly praised
Angus Steak Sandwiches
, and delectable cookies for dessert seemed endlessly replenished.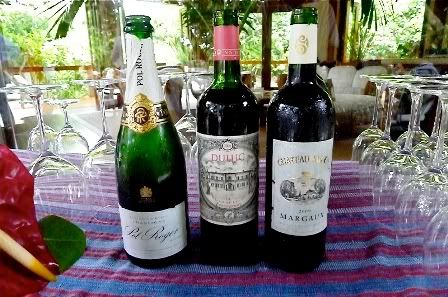 With these delights, we enjoyed, among others, more
Champagne Pol Roger Brut Réserve
,
2006 Duluc de Branaire-Ducru
, and
2002 l'Esprit de Chevalier Blanc
, a magnum of which I commandeered and unabashedly drank down with Miguel Aboitiz.
Miguel caught in the act behind the bottle.
The 6pm flight left for
Manila
burdened with tipsy Commandeurs, leaving Catha and I, and Lindy and Steve for one last day on the island paradise.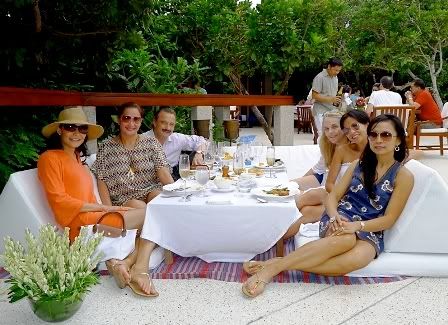 Barbara Aboitiz, Sam Eduque, Stephan von Neipperg, Sevrine Miailhe, Felicia Atienza, and Ines Ramos.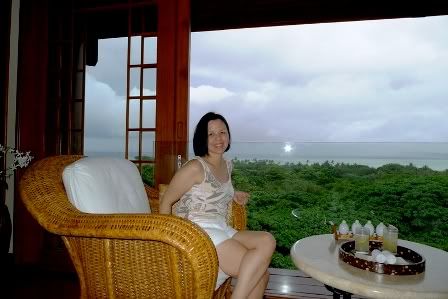 Late that afternoon, Catha and I had nice, long massages at the Spa, followed by a light dinner at the Main Clubhouse of Pad Thai for Catha, while I had a platter of Tuna Sashimi and a bowl of Ramen. No more wine for me during dinner; I just had one Asahi beer.
Monday, the 4th June 2012.
After a late breakfast at the Main Clubhouse, I skipped my morning laps at the pool and we just lounged around the Casita's lanai...
...while finishing off the magnum of
2010 Domaine Tempier Bandol Rosé
I had brought along to the Vietnamese lunch. Edouard was a bit miffed that I opened and shared (with whomever asked) a non-Bordeaux rosé at a Commanderie event (though I did try to be discreet about it) - but, hell, nobody can tell me what to drink or where, and I paid the corkage on it anyway. Besides, nobody else seemed to bat an eye except him, so that's his problem.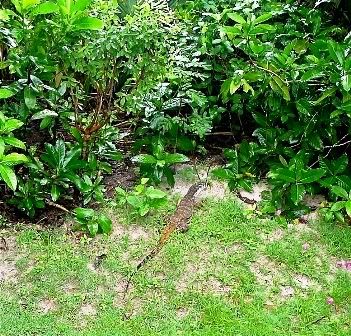 A small bayawak (local monitor lizard) in the bushes beside the casita.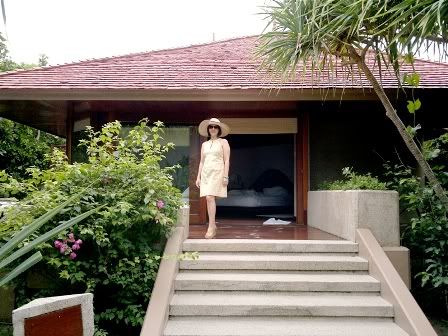 Catha takes a parting pose before we leave our weekend home.
Since the latest flight back to Manila was at 2:30pm and I had work to catch up on, we checked out of the Casita at a little past 1pm to settle the bill.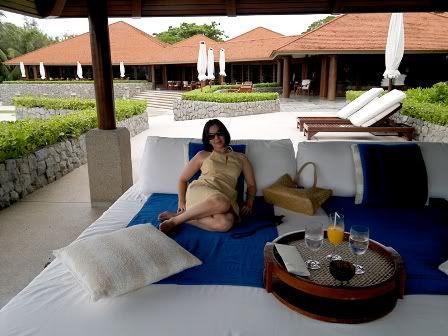 We skipped lunch before the flight, and, instead, had some drinks at a poolside cabaña.
Days later as I reminisce, comes to mind the Commanderie motto "
Bordeaux
, Toujours Bordeaux", roughly meaning "
Bordeaux
, Always Bordeaux". With approximately 102 regular bottles plus 15 magnums put to rest that weekend (not even counting the many bottles of champagne donated by Romy), I believe we lived up to it.
Until the next!