The evening of 7th June 2012 was spent at
Caruso Ristorante Italiano
(I still call it by its old name "Caffé Caruso") along Reposo St., Makati, for an International Wine & Food Society Philippines Branch ("IWFS") dinner with
Elisa Scavino
of
Azienda Agricola Paolo Scavino
. The Scavino estate is located in the small comune of Castiglione Falleto, in hilly Langhe, province of Cuneo in the Piedmont region of Italy.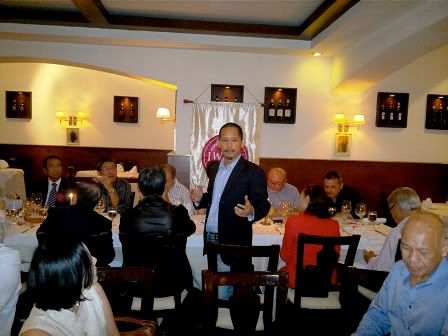 IWFS Director, Jojo Madrid, gave a background on the Scavino wines...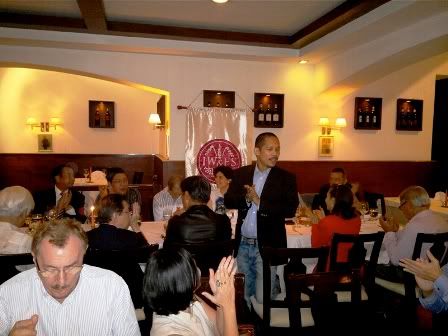 ...and then formally introduced Elisa - whom we greeted with warm applause.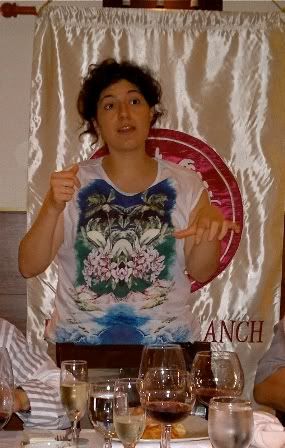 Elisa Scavino
As Elisa regaled us eloquently with the history and philosophy of her family's estate - one founded in 1921 by her grandfather, Paolo, now run by her father, Enrico, in collaboration with her and her sister, Enrica, -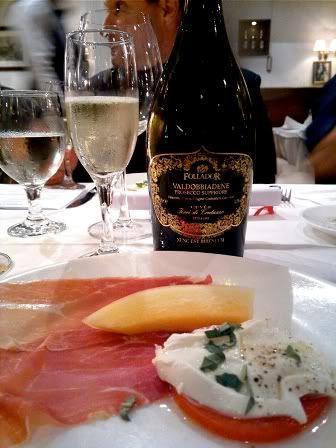 ...we enjoyed some remarkably ripely fruited
(for a prosecco, that is),
amiably plump, nicely rounded, eminently drinkable Follador Prosecco Cuvée Torri di Crezzado (I swear there was some lightly dried yellow apricot in there somewhere) with a refreshing antipasto of Prosciutto di Parma con Melone & Mozzarella di Bufala alla Caprese. I loved this pairing - simple, honest, and delicious.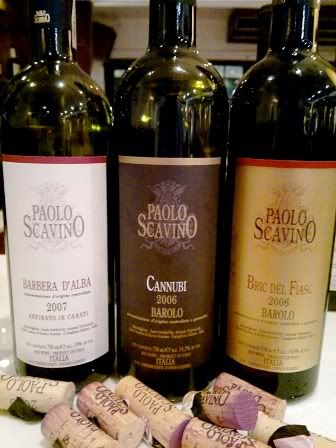 The evening's reds.
The first red was also poured with the antipasto course: 2007 Paolo Scavino Barbera de Alba - a fresh, medium-bodied, fairly structured Barbera d'Alba with a mocha nuance and other light oak-related touches in its mixed berry aromas and appetizingly dry, cherry-and-violet flavors. Relatively clean lines, decently focused, with precise acid balance. Good, if rather straightforward; it was, however, overshadowed by its "bigger brothers".
I do not know if this was really meant for the antipasto course, but, if so, it was mismatched as it went far better with the pasta course - particularly the red-sauced one. For roast chicken and/or tomato-based pasta courses, this would do quite nicely.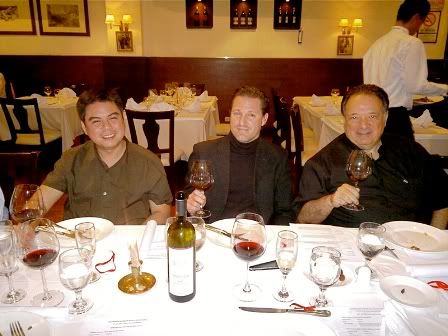 L-R: Mark Abada, Richard Joye, and Guido d'Argensio.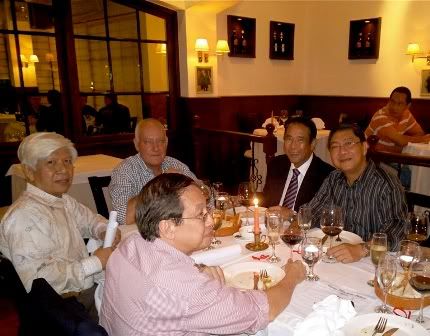 Clockwise from left: Ernie Fajardo, Lawrie Martin, Noel Laman, Richard Dalao, and Mon Diokno.
Chef Colin Mackay of the deservedly famous Sala, Sala Bistro, and People's Palace, happened to be dining at Caruso that same evening and stopped by our table to say hello. I hope someone thought to send him a glass or two.





The two Barolos then followed. Very briefly, Barolo is the most famous Italian red; it hails from the Piedmont region, its DOCG limited to 11 towns (and parts thereof). The authorized growing zones are limited to the 11 communes of Barolo, La Morra, Castiglione Falletto, Serralunga d'Alba,

Grinzane Cavour,

Monforte d'Alba (its northern half), and parts of Novello, Verduno, Cherasco, Diano d'Alba, and Roddi. Made from the late-ripening nebbiolo grape, old-school Barolo is masculine, rigidly structured (quite tannic when young) - it requires extended ageing - patience reaping its just rewards. I, personally, favor Barolo with slabs of charred red meat and game because of its sturdy backbone, healthy acidity, and confident/bold flavors.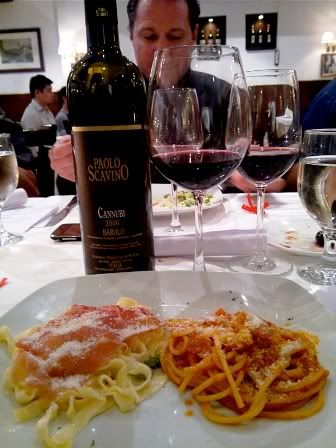 With the pasta course of Tagliatelle alla Crema di Tartufo e Prosciutto di Parma & Spaghetti alla Amatreciana was served the 2006 Paolo Scavino Barolo Cannubi - Surprisingly lush and open for a Barolo so very young, its rather soft and somewhat compote-like fruit was comfortably warm, deep, rich, concentrated and expansive from the attack. Vanilla, pipe tobacco and underlying chocolate are nicely woven in, violets and new leather peeking out every so often. This was a definite crowd-pleaser (due to its easily approachable lushness and fruit character, no doubt) - proclaimed by all I asked as the favorite wine of the evening.

Though I wondered where Barolo's tannins, tar, rigid backbone and remarkable acidity were, I could not help but, at that moment, be wholly disarmed by this charmer - and joined the others in singing it praise.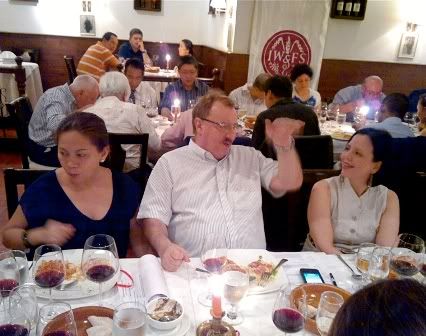 Jen & Robert Burroughes with Catha.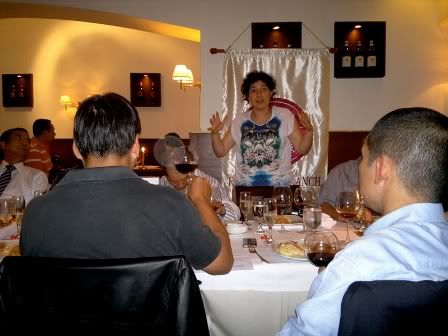 Elisa elaborates on her wines...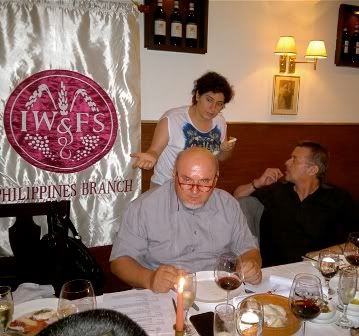 ...and answers the questions of inquisitive members.
(Elisa with Johnny Revilla and Luciano Zanirato)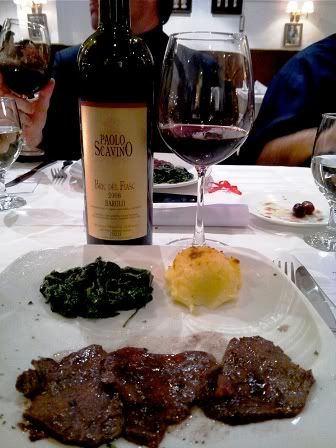 The meat course of
Tagliata di Manzo al Rosmarino
was then served with the
2006 Paolo Scavino Barolo Bric dël Fiasc
- Catha almost immediately proclaimed this her favorite, citing its beautiful nose - wherein I found the familiar Barolo scents of roses and light smoke. The rigid structure and acidity of Barolos I have come to know were apparent on the palate - the underlying tar and dried herb-infused (thyme? oregano?) wild cherry as well.
Although, as I mentioned to Elisa, I found the wine still youthfully closed (as any traditional Barolo deserves to be at shy of 6 years from harvest), the superb structure, acidity and noteworthy typicity and "sense of place" are all quite evident. I think this will age beautifully. I'd venture it is definitely something for a Barolo aficionado's cellar.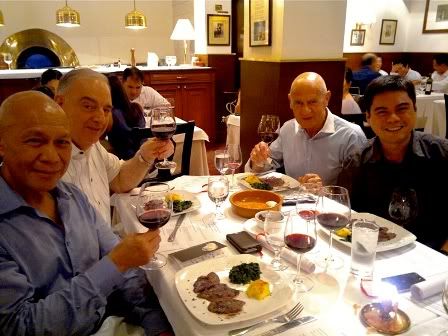 L-R: Freddie Pio de Roda, Brendan Egan, Markus Ruckstuhl, and Mark Abada.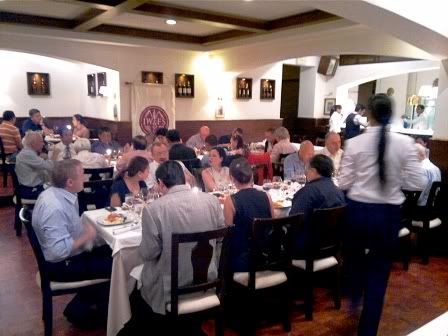 The IWFS hard at work.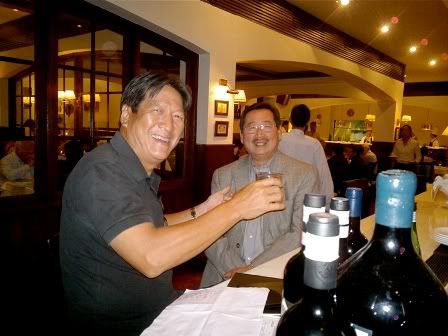 Ed Lee and Eddie Yap at the bar, the ever-present glass of after-dinner scotch in Ed's hand.
Dinner was eventually brought to a sweet end by Caruso's
Panna Cotta
, the same dessert I and Catha always have whenever there. Of course, we also had our usual double espressos after, which, though slightly burnt this time, I still found better than 90% of the espressos around town.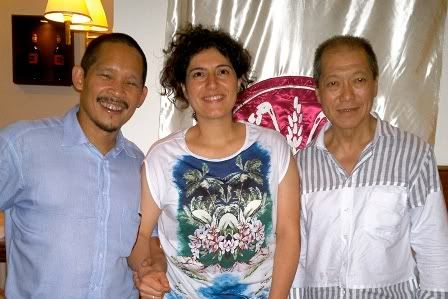 Jojo Madrid, Elisa Scavino, and Bernie Sim.
It was yet another excellent IWFS evening of fine wine and food and friends. I only hope that Jojo's
Premium Wine Exchange
has these wines available already. As always, until the next!