This past May was a particularly busy month for work. Good thing there were many occasions to celebrate as well. Aside being my brother's and my birthday month, SF-based college gang-mate, Sandy Klar, was in town for vacation. She, as well as Apple & Rocky Villadolid, always entertain us when we are in SF, so, naturally, we are all too willing to reciprocate and relish the opportunities to get together and catch up.
Friday, 18th May 2012.
Dinner was at
The Goose Station
since I found out that Sandy hadn't been there yet.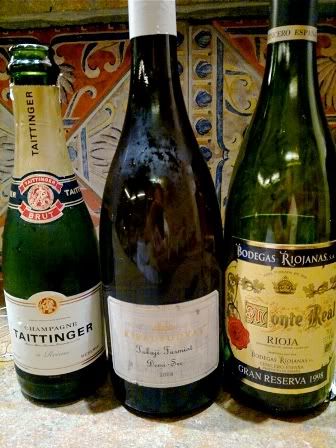 For Sandy, Catha & I, I brought a champagne (375ml), a demi sec Hungarian furmint and, of course, a gran reserva tinto Riojano. We had the Champagne Taittinger Brut NV with the initial "Snacks" of: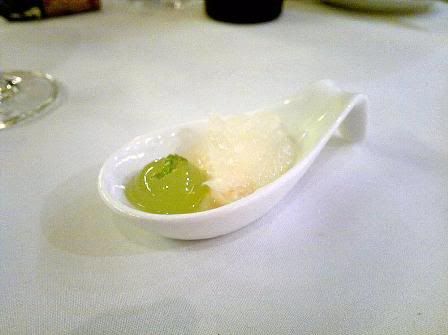 Lychee Mojito Amuse Bouche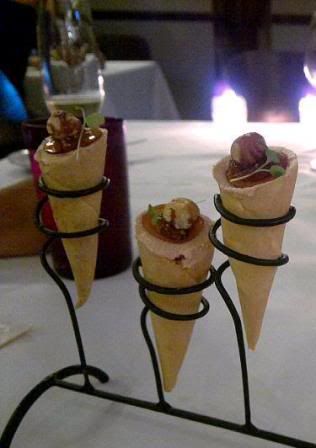 Foie Gras Cones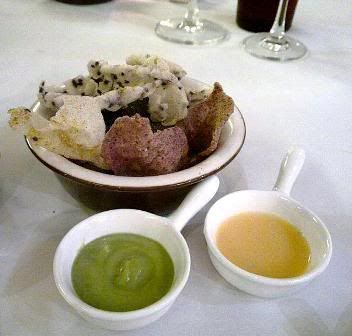 Rice Cracklings with Avocado & Sinamak Dip
...and leading in to the first of many courses.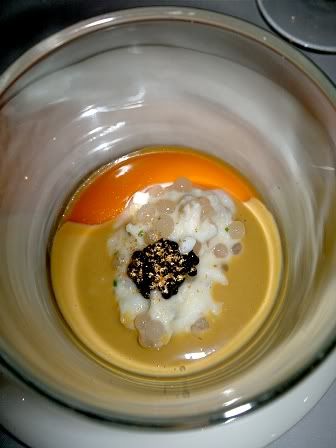 Caviar Parfait - Cauliflower Panna Cotta, Crab Jelly, Tapioca & Crab "Salad",Sea Urchin, and Avruga Caviar
With the above-depicted
Caviar Parfait
, I had switched to the
2008 Királyudvar Tokaji Furmint Demi Sec
- I first tried this around a year ago
during a family dinner at Champêtre
. My notes from that dinner are still applicable, to wit:
"2008 Királyudvar Tokaji Demi Sec

- Very pure, well-focused, well-defined flavors of cold stoney, slightly off-dry/lightly honeyed pear, peach, with whispers of flowers and banana. Super clean, excellent freshness, crisp acidity and over-all balance. Excellent wine crafting here; so refreshing and food friendly."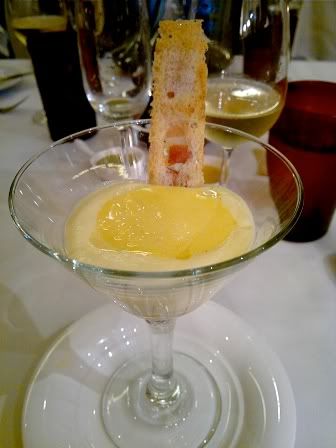 Next was one of The Goose Station's most loved signature dishes:
Eggs Benedict with Bacon Tuille.
Everyone I know who has tried this has loved it, Catha no exception.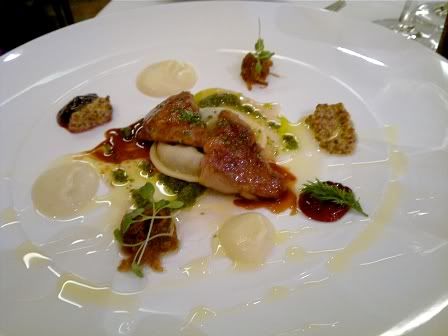 Foie Gras with Ravioli with which the demi sec's crisp off-sweetness went very well per Catha.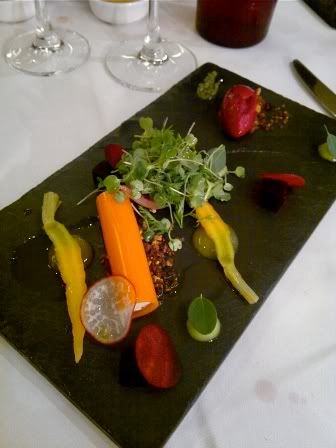 For a bit of healthy, entertaining eating, Sandy and I each had the creative Garden Salad.
The deliciously earthy, teeth-staining Fiduea Negra.
A precisely-executed, flavorful Duck Confit.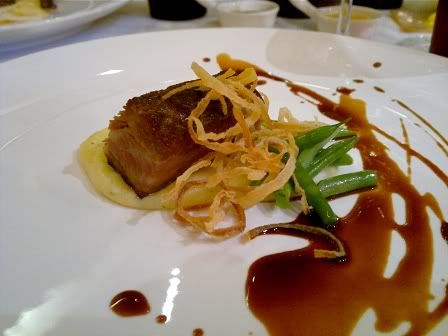 Melt-in-your-mouth 24-Hour Steak.
With the duck and meat courses, we switched to the
1998 Bodegas Riojanas Monte Real Gran Reserva
- a complex, lush and softly-fruited Riojan tinto gran reserva from a traditional producer. Nuances of worn leather, balsamico, violets, oak spice, and cedar are seamlessly woven in the slightly over medium-bodied dark, almost confited cherry, raspberry and underlying dark plum. Although Aaron and I distribute this wine in Manila, I am at liberty to write about it now since we already sold out of this several months ago.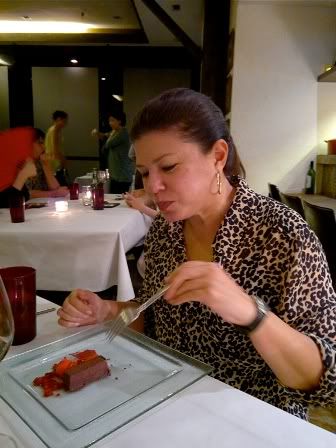 The Dark Chocolate Bar with Raspberry Coulis for dessert...
...and Assorted Mini Macarons as mignardises, followed by double espressos.
Thereafter, the three of us moved to the
Mandarin Oriental Manila's Martinis Bar
where Sandy and Catha respectively enjoyed a few
Calamansi
and
Lychee Martinis
. Since nobody wanted to share a bottle of champagne with me, I opted to have a nightcap of a double
Macallan 12 Year Old single malt
. I had warned them that the martinis are pretty strong in this bar, but I guess they figured "what the hell" and got pretty tipsy (well, Catha fell asleep in the dressing room back home). Nice night!
Friday, 25th May 2012.
The next Friday, Catha and I, together with our old college groupmates Tonji & Sylvia (who had just arrived from NYC) and Maricel, took Sandy to a
yakiniku
dinner at
Urameshi-ya
in Little Tokyo. Alex, the alcohol demon, joined us too.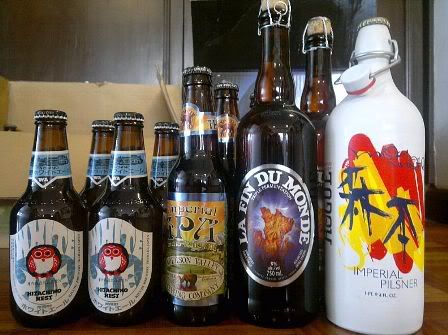 For a summer's yakiniku dinner, I lined up these craft beers from
Global Beer Exchange, and figured we'd order the sakés from the list.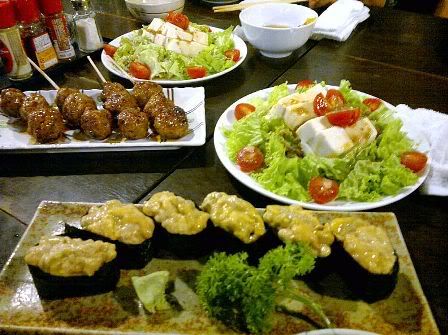 We generally let Alex do all the ordering as he is by far the most familiar with the offerings of Little Tokyo's many restaurants (from which one can cross-order). To start, we had some very fresh
Uni Sushi, Grilled Beef Balls, and silken, tangy, refreshing Tofu Salad. As regards the yakiniku dishes...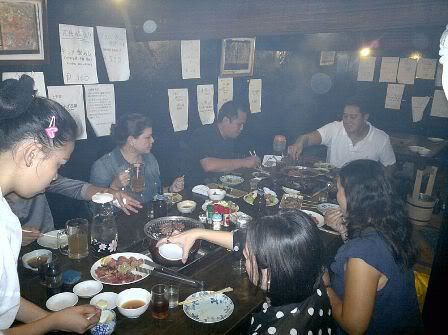 Alex took charge of the grilling for the guys, while one of the waitstaff grilled for the ladies.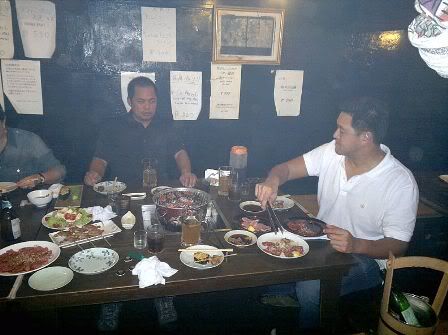 Unfortunately, the restaurant was low in stock of our favorite Jyo Karubi (fatty Beef),
so Alex ordered some others instead.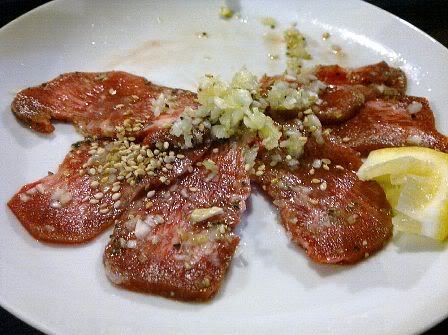 Delectable and tender Beef Tongue.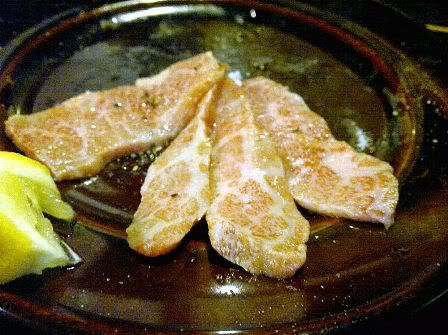 Incredibly buttery-soft Kobe Beef.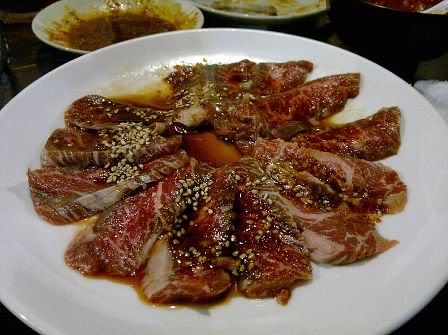 One of the few orders left of Jyo Karubi.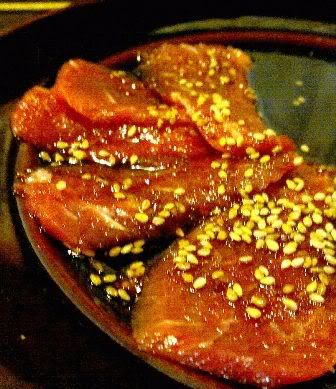 This is the "not-so-fatty-beef". Acceptable. Not bad. Flavor was good enough.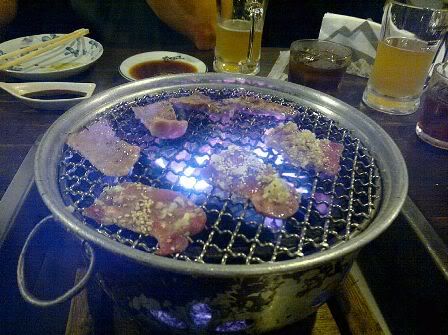 Grilling time.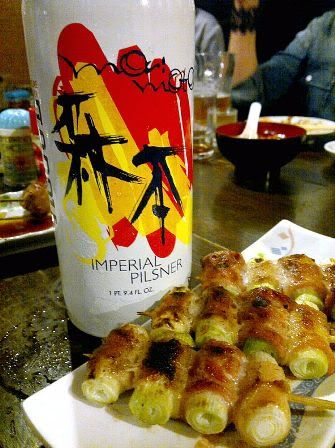 Rogue Morimoto Imperial Pilsner with delicious Grilled Leeks Wrapped in Bacon. The bottles of saké we got, I've forgotten the names of.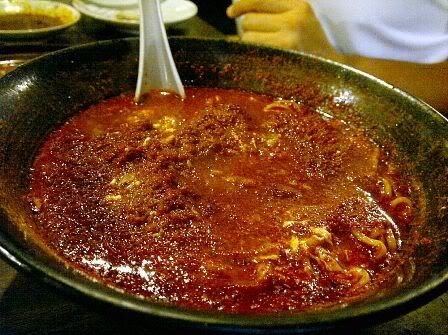 Bowls of Emma Ramen - Level 20 Spiciness.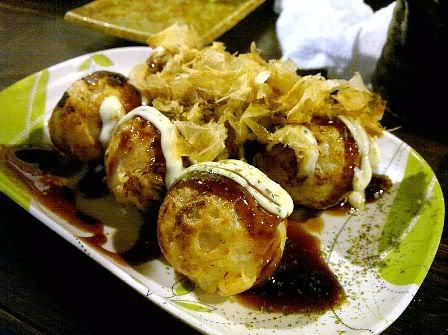 Real-deal Takoyaki, not anything like the crap sold in malls and groceries.
Grilled Enoki Mushrooms Wrapped in Bacon - fantastic!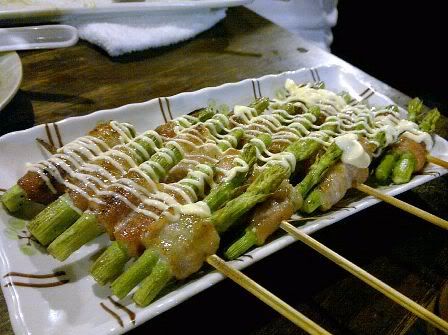 Grilled Asparagus Wrapped in Bacon - Sarap!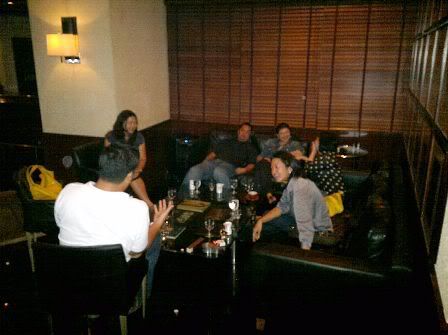 Thereafter, we moved over to the
Mandarin Oriental Manila's Kiplings Cigar Bar
for some Cuban
puros
and many, many glasses of 18 and 21 Year-Old single malts from Alex's personal stash there.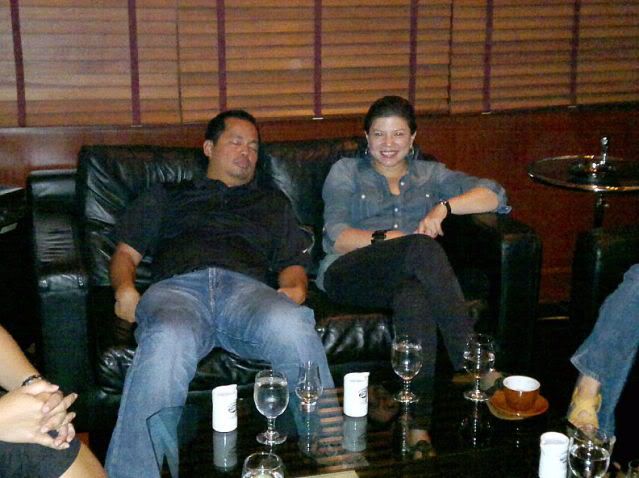 Tonji eventually succumbed to jetlag - but, just as well, as he woke up later on refreshed and, consequently, became the designated driver (while Sylvia wound up as the designated drunk, heh heh heh).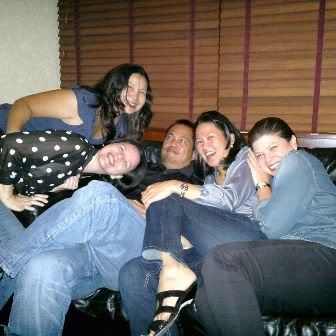 Great night! Until the next, Sandy! Come back soon!!!