Last night, Thursday the 28th June 2012, was the
WSCP's 3rd Annual BYOB (Bring Your Own Bottles) Wood-Fire Pizza, Pasta, Etc. Dinner
at Chef-Patrón Gene Gonzalez's San Juan landmark,
Café Ysabel
.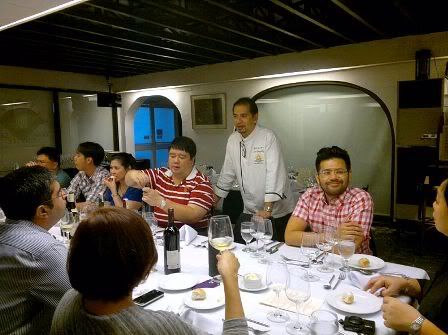 Gene Gonzalez makes the welcome & opening address.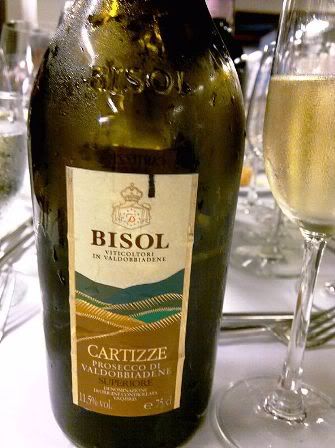 To start, the ever-reliable Bisol "Cartizze" Prosecco di Valdobbiadene Superiore (from me).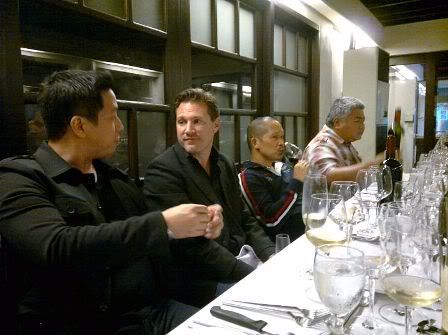 L-R: Gino Garcia, Richard Joye, Jojo Madrid, and Jay Labrador.
This is a creamier-fruited, pillowy, easily approachable, style of prosecco (100% glera, from northern Italy's DOCG within Veneto) available at Bacchus Int'l. Ripe pears, apple, hints of peach and a suggestion of haricot vert. Dangerously drinkable and very affordable - a great combination for a pre-dinner drink.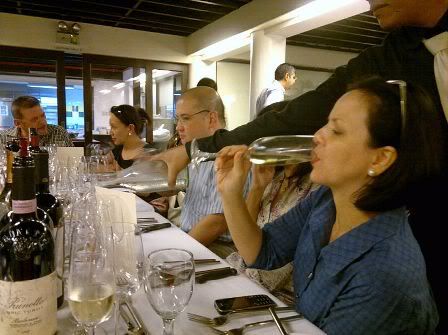 L-R: Johnny Revilla, Anita Lee, Eric Kahn, and Catha.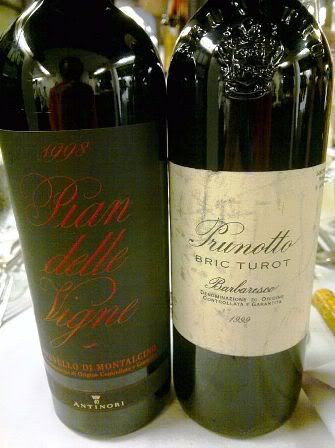 Aside from the prosecco, I brought along a red each from Tuscany and Piedmont.
1998 Antinori Pian delle Vigne Brunello di Montalcino
- In the usual hefty, full-bodied, very ripe, darkly concentrated and extracted style of Antinori (which Richard also noted). Quite nice, comes off a bit modern and a shade low on acid; no surprises here but undeniably pleasant. Chocolate and vanilla line its loamy, sweetly ripe, unctuous fruit. Unlike its 2001 counterpart, the 1998's dark fruit is already quite soft, less stiff in structure, and good to go popped-and-poured (the 2001 needs aeration and a Mamou dry-aged rib-eye). I also sent "Papi" Greg Clavano, Gino Garcia, Wil Lee, and Sanju & Cutie Gopaldas glasses of it and they all said they liked it. Catha liked it as well. Crowd pleasing style, for sure. I reserved a glass of this for the beef belly main course.
1999 Prunotto Bric Turot Barbaresco
- This needed time in the glass to open up as it was initially a bit tight and unyielding on the palate. After around an hour, it opened up with a moderately perfumed nose of rose, violets, cedar, leather, dried oregano, and slight "tar" - all mirrored on the palate in its firmly structured, slightly over medium-bodied dark red, somewhat pruney fruit. Very good acidity. This needs food (as Gino Garcia also noted), but, alone, it comes off as quite elegant, if a tad severe.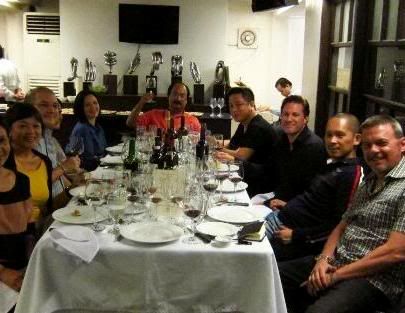 Our table (photo by Cyrene de la Rosa).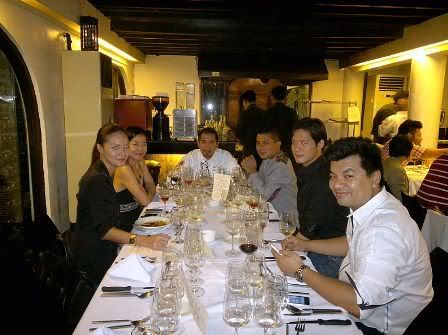 Gene's table; his son, Gino (bottom right), was flying solo last night sans China.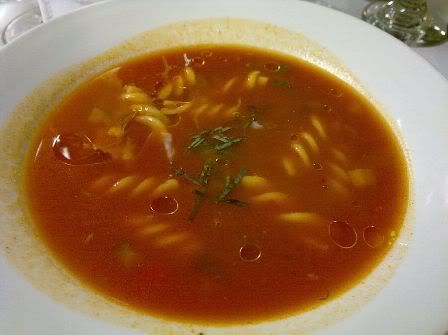 A nice, light Tomato Pasta Soup w/ Fresh Basil.
One of the several bottles Jojo Madrid brought (I tried only this one) was a
1997 Antinori Tignanello
- Well-structured, notably more old-school than the above-discussed 1998 Antinori Pian della Vigne BdM. The firmer structure is probably in the cabernet sauvignon component which also makes its presence known in the cassis that underlays the sangiovese. Discreet, licorice, cocoa, coffee grounds, tobacco and leather are seamlessly woven in. Very nice indeed.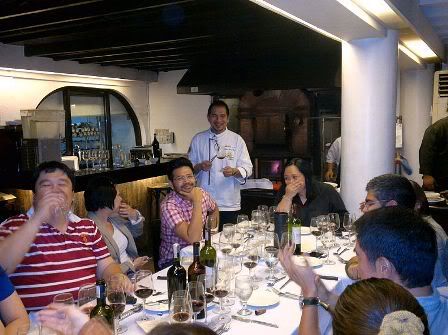 Gene light-heartedly introduces the dishes...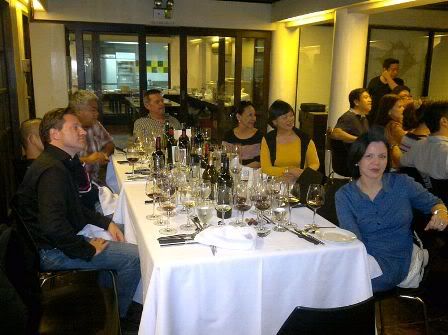 ...as everyone listens intently...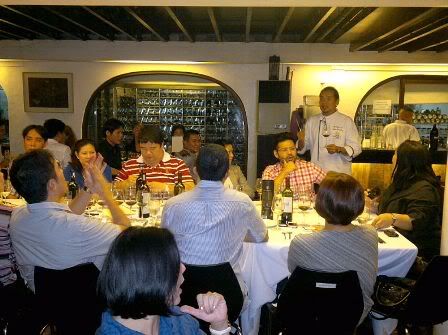 ...except Arnie who is engrossed in his wines.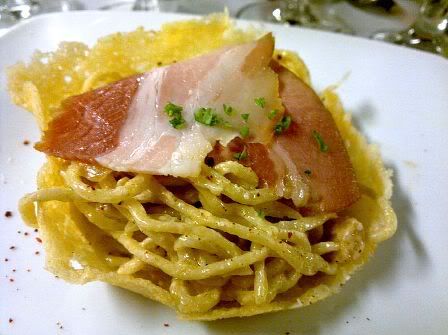 Pasta Trentissimo Anniversario

: Handmade Spaghetti on a Parmesan Basket flavored with Mushroom, Pecorino, Pepperoncino and a whiff of Truffle. Nice

!

I wanted another helping but saved space for the other dishes.
Eric let me taste this
2009 Château Hospitalet
, reminding me that I had tasted it a while back - I didn't remember it at all, but that's normal for me these days as my memory isn't what once it was and I try so many wines. From its hotly ripe, mocha laced nose of pungent, peppery, sweetly spicy, gamey, minerally, roasted-ripe red and black fruit, I surmised it to be from southern France (which it is) and with a good dose of mourvèdre.
Pleasant enough nose if one gets by the heat, at this point the middle and depth I found a bit lacking - which added age will probably remedy. Due to its mourvèdre gaminess, I jokingly compared it to a pretty lass who hadn't bathed, which the wine's seemingly unconscious slight raunchiness called to mind.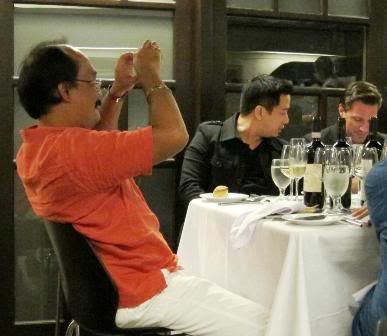 Me taking photos (by Cyrene de la Rosa - thanks, Cyrene!).
This
2007 Fontodi Chianti Classico
was from Wil Lee - Smooth, medium-bodied, neat, compact, poised wine. Comes off as older-school style. Properly reserved, more classic than many Chianti Classicos I've had of late. Nice, food-friendly, if a bit straightforward. Time will tell if this will gain complexity.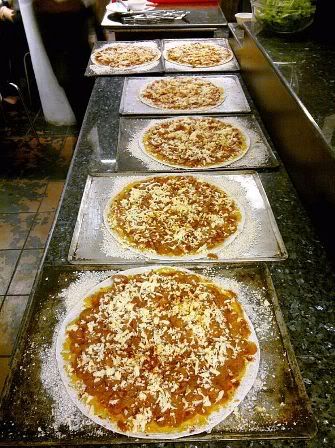 Pizzas waiting their turn in Gene's wood-fire oven.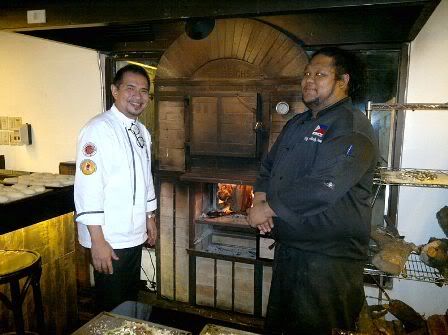 Chefs Gene and Mark wait for proper pizza temperature to be achieved.
While we were waiting for the pizzas, Gene had served some specially-made
Pan de Sal
. Lovely, lovely pan de sal - nicely chewy inside, slightly sweetish, served finger-burning hot (the way bread should be). Johnny showed me how delicious it was with Gene's mascarpone butter sprinkled with a bit of salt. Fantastic. Cyrene and I couldn't stop eating them! We thought to filch some to take home for breakfast the next day, but they had disappeared too quickly.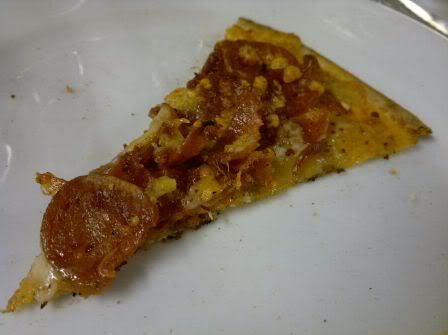 Voila! Double Pepperoni Pizza!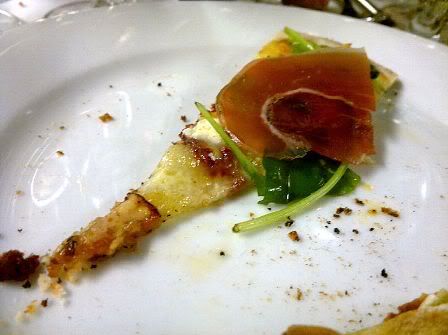 Bobby Chinn's Bruschetta of Goat Cheese, Arugula Prosciutto and Red Wine Onions Pizza.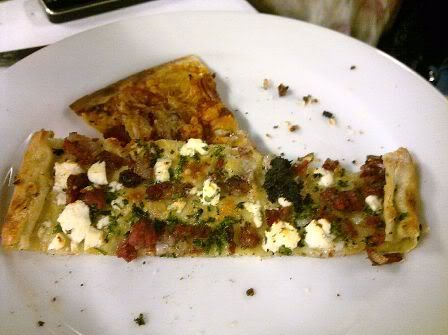 Turkish Pride Lamb Sausage Pizza.
This
2009 Domaine Faiveley Monthelie Premier Cru Les Duresses
was from Wil's lady friend, Jean. Still exceedingly young and tight, it displayed nice, fresh aromas of pine needles, ripely sweet cherry, raspberry, damson and a bit of violets. Gino Garcia mentioned he smelled cola as well but I didn't get that - but, then, I didn't start sniffing or tasting until around 45 minutes after Bodjie poured me a taste. In the mouth, it is still tightly wound and not very giving. Judgment reserved, save that the aromas do show good promise.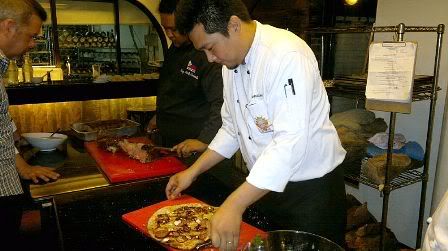 More pizza on the way!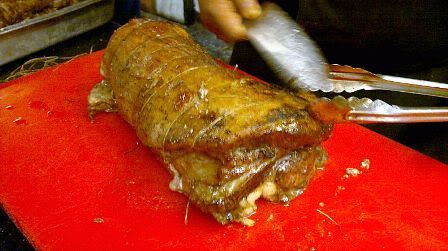 One of 2 huge slabs of fire-roasted beef belly...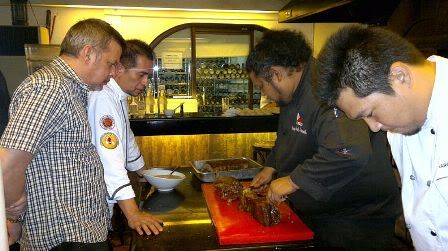 ...which is sliced under Gene's and Johnny's watchful eyes.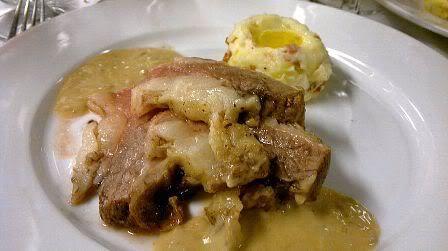 Slow Caimito-Roasted Beef Belly with Roasted Onion Sauce, Potatoes Colcannon Coupe Sulipan.
With the beef belly main course, aside from the glass of '98 Antinori Pian delle Vigne BdM I had saved from earlier, I had some of Richard's
1992 Marqués de Griñon Dominio de Valdepusa - Heavily muscled this was, but in a quiet way - a strong-but-silent type, to be sure. Commanding, concentrated, ripe dark fruit, crème de cassis, with some licorice, and neatly woven oak spice. Full-bodied. Strong structure. First time I've had this bottling from Marqués de Griñon. Never even knew it existed. Stood up easily to the rich beef belly, which, Gino noted, over-powered even the firm '99 Prunotto Bric Turot Barbaresco.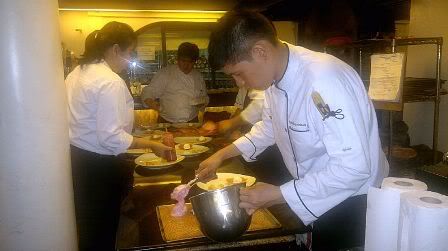 Dessert being prepared. Good thing Cutie called me over to take some shots of this.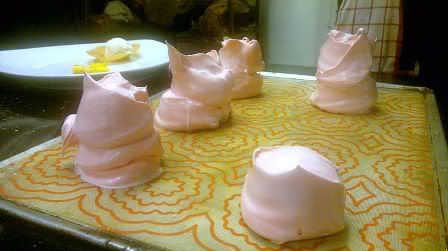 Meringue awaiting the oven.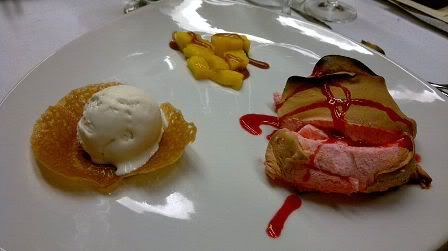 Freshly Baked Meringues with Mango, Raspberry Sauce and Carabao Milk Ice Cream.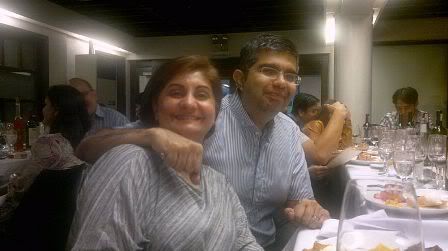 Cutie & Sanju Gopaldas.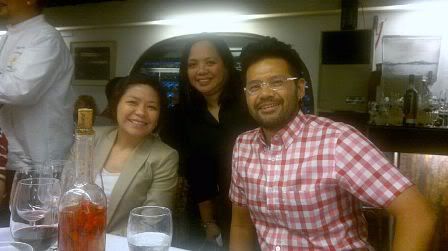 Cyrene dela Rosa flanked by Paul & Daphne Syjuco.
With the dessert, J-Lab poured us some of Cyrene's bottle (no photo as I forgot) of
González Byass
Apostoles
Palo Cortado Viejo 30 Años - Nicely dry palo cortado viejo showing smooth
rancio, walnuts, slight caramel and apricot with typical oxidative notes. Lovely as usual, and in better shape than the last bottle I tasted from.
Gene starts to unveil the fruit course of...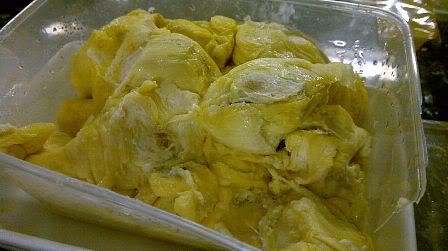 ...fresh Durian, the powerful pungency of which was a bit much for Catha.
We, thus, took our leave shortly thereafter, as, anyway, we had eaten and drunk our fill and it was a long way home - plus, my allergy and sinuses had been bothering me increasingly throughout the evening. In any event, it was a fun night. Cin cin! Until the next!