Monday, the 11th June 2012, saw a battle of beer titans at
Mamou Too!
between Russian River Brewing Co.'s Pliny the Elder Double (a.k.a., Imperial) India Pale Ale and
Ballast Point Brewing Co.'s Sculpin India Pale Ale. The right and honorable panel of 5 judges were no less than Global Beer Exchange's proprietor & Beertender Jim Araneta; fine wine, beer, and single malt triathlete Alex Tiu; fellow IWFS member and Usual Suspect Richard Joye; Gilmore Wine & Spirits founder & CEO Mags Villafuerte; and, of course, yours truly.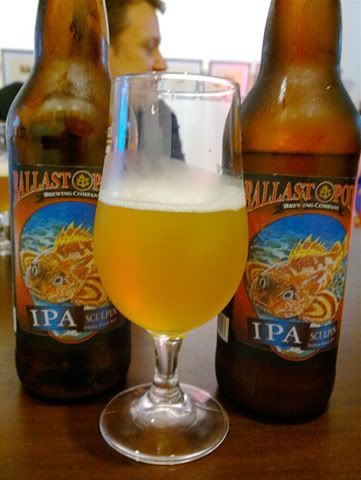 Ballast Point Brewing Co.'s Sculpin India Pale Ale
, on the one hand, is exclusively distributed by Jim, an IPA marked by its bright freshness, pure, clean, vibrantly cool and robust flavors, thrilling hoppiness, wonderful balance and long, confident finish. It is a happy drink, one that I immediately took to when I first tried it
a little over a year ago - Thursday, the 28th April 2011 to be exact - at Jim's now-closed but fondly missed Tasting Room
. For what it is worth, the
Sculpin is, per Jim, the No.1 highest rated IPA by the beercentric Beer Advocate web community
.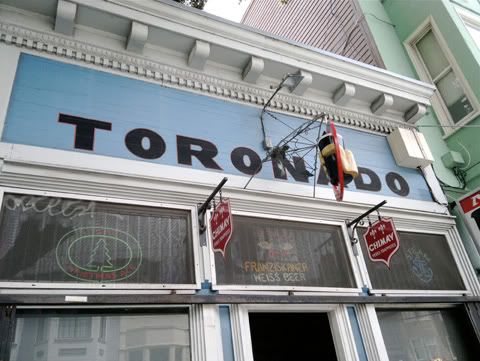 Russian River Brewing Co.'s Pliny the Elder Imperial India Pale Ale
, on the other, is an extremely difficult to source Imperial IPA, not distributed locally (and probably never will be as it is not even distributed in the east coast). Superbly crafted, small production, it enjoys cult status in the USA, and I've loved it ever since I first tried it courtesy of Jim
on Thursday, the 23rd June 2011 at one of our regular sessions at his Tasting Room
, so much so, that I have flown in whatever few bottles I can order online from California. I've also been fortunate enough to have had a couple of pints of Pliny the Elder on tap
at the Toronado in San Francisco on Saturday, the 16th July 2011
. As far as Imperial IPAs go (generally bigger, heftier, and more robust than IPAs, with abv breaching 7.5%),
Pliny the Elder is, as I understand, also rated No.1 by Beer Advocate
.
Nb
:
IPAs, and I2PAs for that matter, are ideally consumed as fresh as possible. They do not do well with age.
It just so happened that a couple of weeks ago Jim got in his new batch of fresh Sculpin, while I had a few bottles of fresh Pliny the Elder in my stash at home. There was no choice in the matter, we simply had to have them side-by-side. Thus, we arranged to meet at Mamou Too! at around 6:30pm for the momentous match.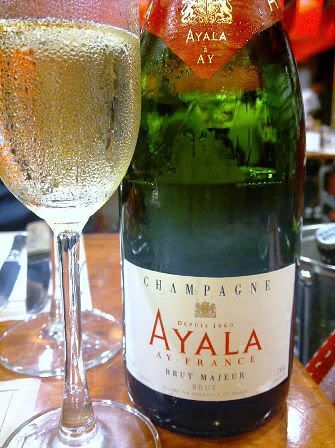 Champagne Ayala Brut Majeur from me to warm up our palates...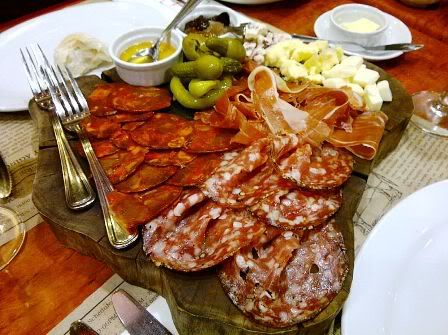 ...with a Charcuterie Platter to keep things interesting.
Some Healdsburg Salad para healthy, of course...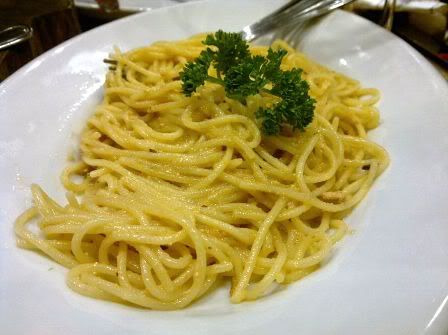 ...and some of my favorite Spaghetti alla Bottarga for our session's needed energy.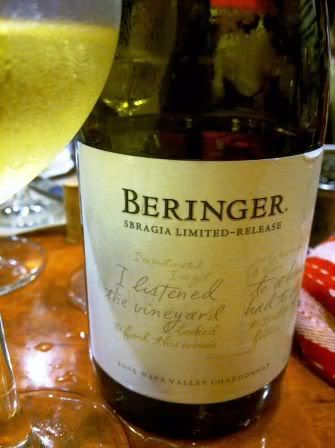 For the pasta, some 2007 Beringer Sbragia Limited Release Chardonnay from Alex. Lovely Napa chard this, one of Catha's favorites.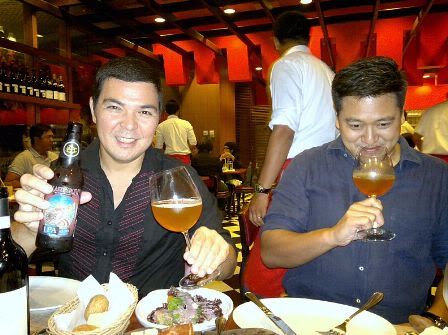 Here we go! Ballast Point Sculpin IPA two months from bottling date.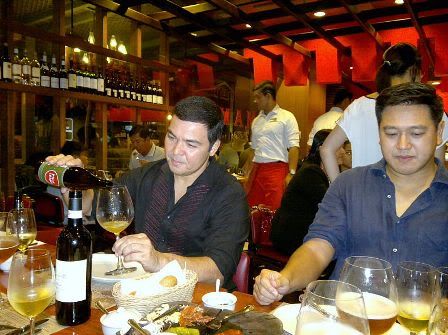 ...versus Russian River Pliny the Elder I2PA one month from bottling date.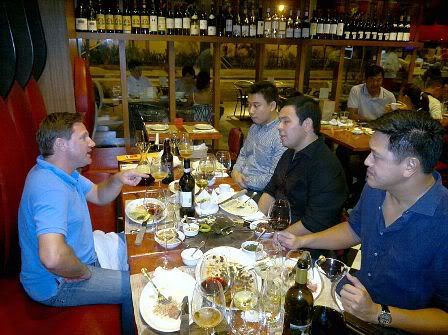 The judges deliberate on the matter.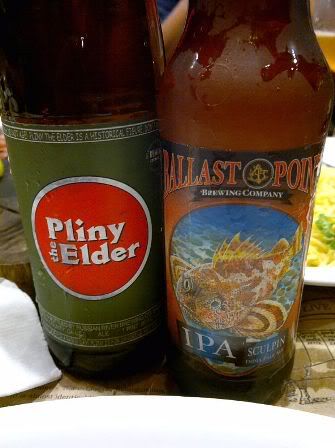 My own verdict was that the Sculpin, though a month older from bottling date, stood out more in freshness, florality, and flavor (purity, focus, vibrancy, and balance). Jim, Alex, Richard, and Mags all concurred for reasons of their own.
Both are great beers, no doubt about it. Before trying them side by side, Pliny the Elder was my favorite beer of all; but, having them head-to-head that night, the Sculpin was the clear winner.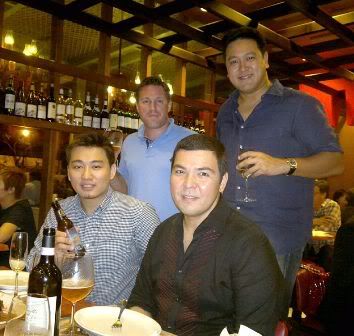 So Ordered!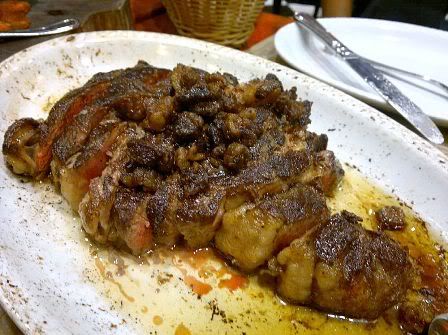 Large, grilled USDA Prime Grade Rib-Eyes were also So Ordered!
We had a couple of reds with these - a 2004 Château Pichon Lalande from Alex, and a 2005 Prunotto Barolo Bussia from Richard - both of which I forgot to take photos of, unfortunately. No notes on those two young but nice reds - that night was all about beer for me.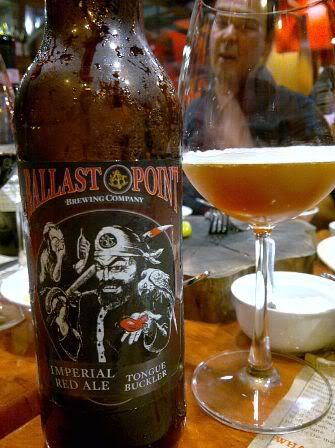 There were other beers, of course, one of which was Jim's new Ballast Point Tongue Buckler Imperial Red Ale - also robust, moderately hoppy, with underlying well-rounded toasty malt. Quite nice with the rich steaks. I'd like to try this again very soon so I can pay more serious attention to it.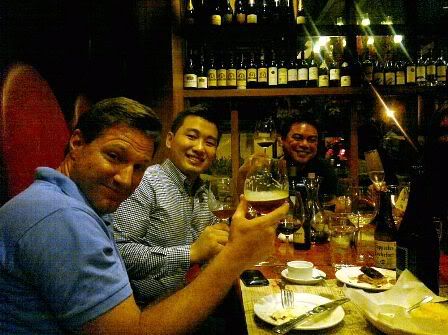 Mags opened several of his Trappist ales as well, but I cannot remember all of them except that at least a couple of them were from Rochefort, one of which was the
Rochefort No. 10
. By then, Mark Abada, who also happened to be having dinner there, joined us.
Cheers!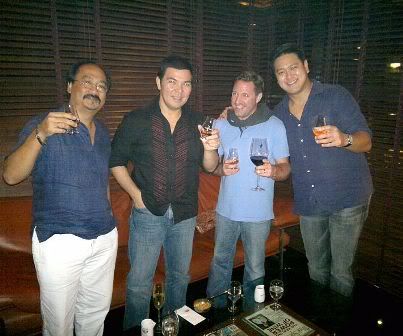 Cigars, more wine and some single malts at Kipling's thereafter.
Until the next!!!