Dinner of the 14th May 2012 was back at Malou's Mamou Too!, organized by the Stockbroker, all the wines for which came from his vast collection. We were 8 in all; aside from the night's impresario, in attendance were Bernie Sim, Freddie Pio de Roda, J-Lab, Johnny Revilla, Rene Fuentes, Richard Joye, and I. Early on, I informed all that I had only 1½ hours for dinner as I had to attend a sudden work-related meeting, so that may have increased the pouring pace.
Due to unusually light Makati traffic, Johnny and I arrived early (i.e., 5:30pm, while dinner was scheduled for 6pm) but Malou
immediately
led us to our reserved private room to cool off with a
bellini
each while we waited for our host and the other guests.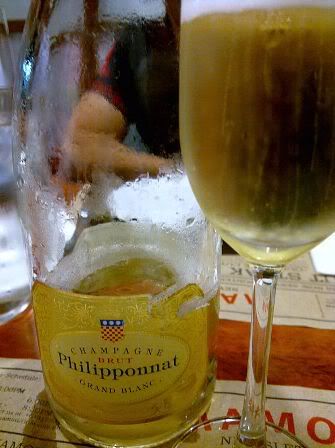 Once the Stockbroker arrived, he kicked things off with a couple of champagnes: the toasty, yeasty, lip-smackingly dry and razor-focused 2004 Philipponnat Brut Grand Blanc...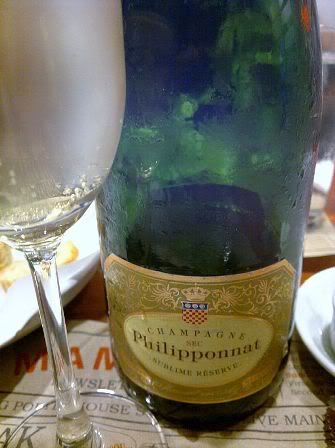 ...and the rounder, heftier, comparatively creamier 2002 Philipponnat Sublime Reserve Sec (which Richard and I preferred). I had the bubblies with my starter of Healdsburg Salad and Spaghetti alla Bottarga, both of which I forgot to photograph in my haste.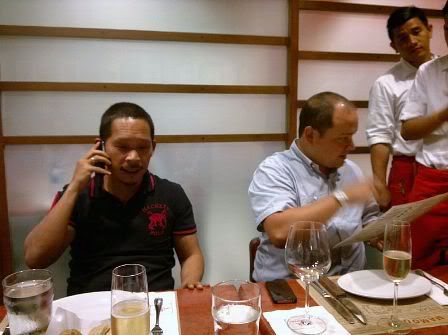 The Stockbroker working the phone. Do we have night trading these days?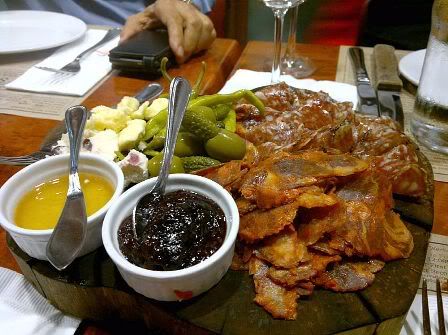 With the bubblies, Malou had sent over a complimentary platter of charcuterie. Thanks, Malou!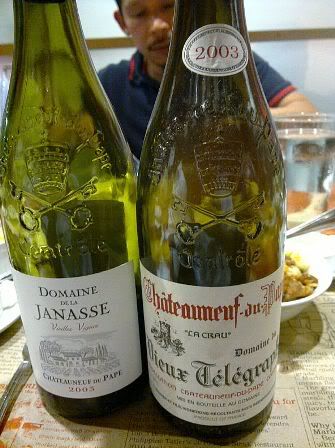 The Stockbroker had the first 2 bottles of his reds served as the main courses started hitting the table: 2003 Vieux Télégraphe "La Crau" Châteauneuf du Pape (one of my 2 favorite reds of the evening) and 2003 Domaine de la Janasse Châteauneuf du Pape, which, unfortunately, was

corked

. The Stockbroker then promptly opened a 2000 Domaine de la Janasse Châteauneuf du Pape which also turned out to be

corked

. Tsk, tsk, tsk. What is happening to Janasse?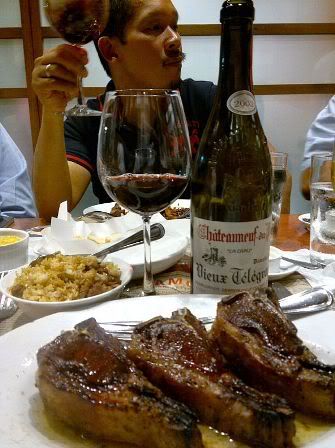 I had the 2003 Vieux Télégraphe "La Crau" Châteauneuf du Pape with my Grilled Lamb Chops w/ sides of Lamb Rice & Creamed Corn (no dry-aged steaks were available tonight, and Alicia Sy had beaten me to the last of their lobsters earlier in the day). Loved the lamb, though, and the accompanying wine as well - its stylish anise-and-garrigue infused dark red fruit was mellowly warming and already soft despite its youth. Comfortable and precocious wine already showing a bit of complexity with a bit of air. Nice pairing too. Acidity is a bit low, but good enough to keep it in balance.
A pair of 1998s - a Côte du Rhône and another Châteauneuf du Pape.
I've pretty much been a fan of the 1998 Château de Beaucastel ever since I first tried it from Vancouver Vince during an incredible wine dinner at the old Restaurant Ciçou back on the 17th February 2009, and it is coming along very well. Mellower, the fruit not as eager beaver as back then, but already showing some moderate complexity in its confidently ripe blackberry, black cherry, dark raspberry, violets, underlying meatiness, and calm, well-woven-in garrigue and oak-related notes of dark chocolate, licorice, and vanilla. Quite lovely now, but surely has many, many years ahead of it. This and the
2003 Vieux Télégraphe "La Crau" Châteauneuf du Pape
were easily my two favorite wines of the night.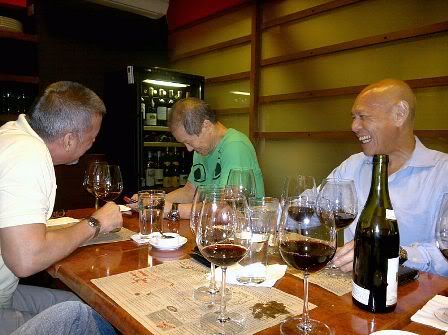 Johnny, Bernie, and Freddie laugh it up.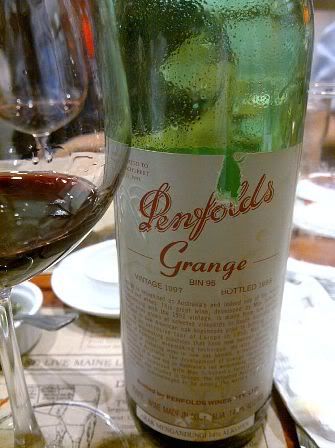 The Stockbroker next served a 1997 Penfolds Grange. Johnny, Freddy, and Rene obviously loved this. Personally, though this is only the 3rd vintage of Grange I've ever had (the other 2 vintages being the 1991 and 1996, all from the Stockbroker), honestly, this type/style of wine is not to my taste (so I gave it a couple of sips and turned my glass over to J-Lab who seemed to be enjoying it a lot - more for him, and he was happy). I have always found Grange exceedingly blocky, over-ripe, almost syrupy, ham-handedly over-oaked and overly alcoholic. Even when served blind, I do not favor it - but that's just me. I am aware it appeals to very many who are more than willing to pay its price, but I'm not one of them.
Several other bottles of reds were served which I didn't have the time to enjoy since I had to leave for my meeting. The Stockbroker has always been a very generous fellow.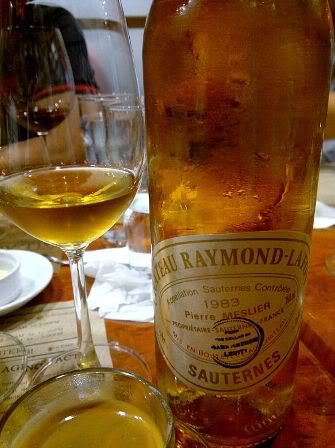 With my usual Mamou dessert of Pecan Pie w/ Schlag, I enjoyed a served the 1983 Château Raymond Lafon - moderately sweet, good acidity makes it taste fresher than I expect from a 29 year-old from this producer. Quite good as it balanced off the rich, sweet pecan pie and its accompanying whipped cream. Our evening's wine host also served a 2001 Château Rieussec, but I had already left for my meeting by then.
Many thanks again for the wines, bud! Cheers, and, until the next!