My backlog's been building up lately. Couldn't seem to find the time to post. Today, my regular Saturday golf game was cancelled due to bad course conditions, so here we go.
Monday of August 27th was a holiday. It also happened to be Catha's birthday. She had earlier chosen
Sala Restaurant
as the venue for her birthday lunch (we celebrated with our parents & siblings the day before) and invited her father to join us.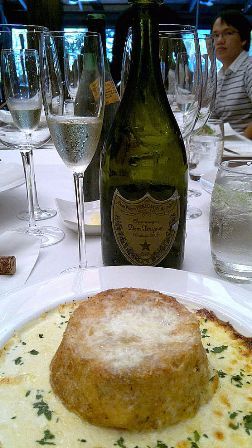 2002 Dom Pérignon with Twice-Baked Prawn , Feta, & Dill Soufflé.
As regular readers may have noticed, I've lately been pulling out the
2002 Dom Pérignon
as a champagne of choice. I've found it to be, though barely 10 years from harvest, quite an openly pleasing, precocious charmer. With some breathing time in bucket, it shows moderately creamy and toasty nicely ripe chardonnay, slight brioche, a developing biscuit nuance, and discreet underlying white chocolate (the pinot noir influence I'd say). It's medium-bodied to me as far as champagnes go, with a pleasantly rounded mid-palate. Not a particularly deep or notably complex vintage of DP (well, not yet anyway), but definitely readily pleasing. Very enjoyable.
Those who had soup had either the Pea & Basil Soup...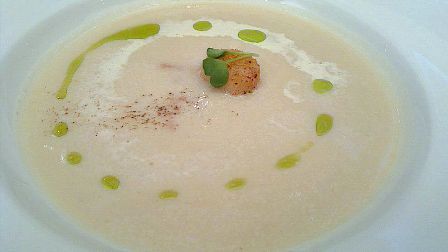 ...or the Scallop & Celeriac Soup.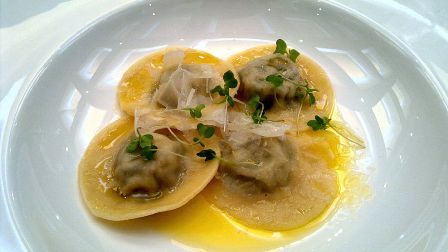 Ravioli of Portobello, Ricotta, Parmesan & White Truffle Oil...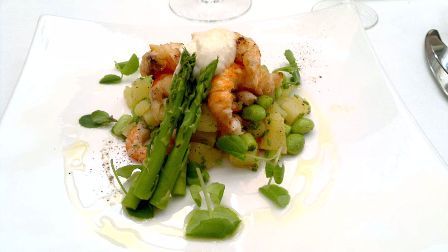 ...and Lobster Tail Salad were among the other 1st courses we had.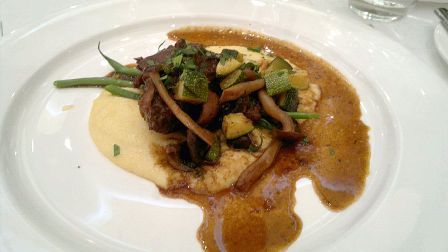 Main courses were Braised Veal Cheeks w/ Clapshot* & Enoki Mushrooms...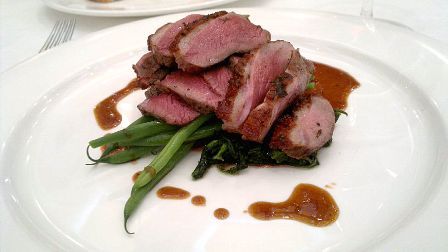 ...Roasted Magret de Canard...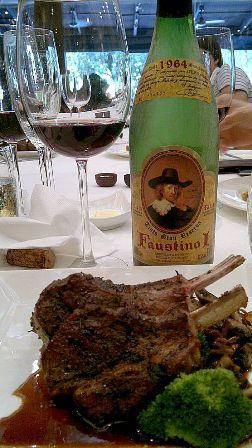 ...and, for me and Joaqi, an order each of the
Dry Rubbed & Grilled Lamb Cutlets w/ Mushrooms, Grilled Polenta, Garlic Confit, & Sweet Vermouth
. With the main courses, I opened a birthyear wine for Catha -
1964 Bodegas Faustino Faustino I Gran Reserva
. Since Aaron and I, due to regular customers' requests, are again making this available, I must forego reviewing it. Suffice it to state that this is a special wine that connoisseurs of fine, aged, traditional tintos Riojanos know, appreciate and cherish. The fact that I opened one for my wife's birthday shows what I think about it.
*
Clapshot is a Scottish version of mashed potatoes
(Chef-Proprietor Colin Mackay hails from Scotland)
, the recipe of which includes onions and mashed turnips.
By way of desserts, we had...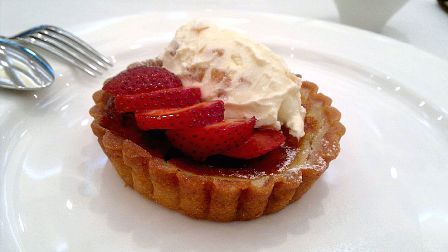 Crème Brûlée Tart w/ Strawberries & Chantilly...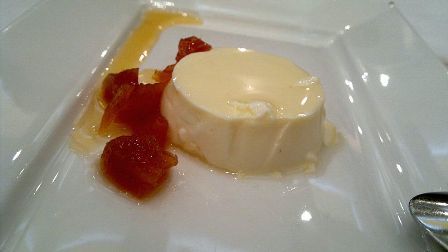 ...Orange Blossom Panna Cotta...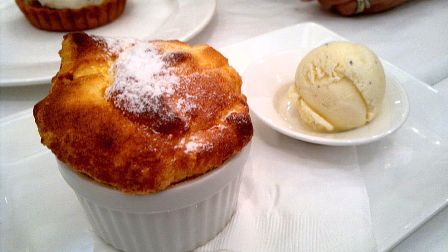 Grand Marnier Soufflé w/ Ice Cream...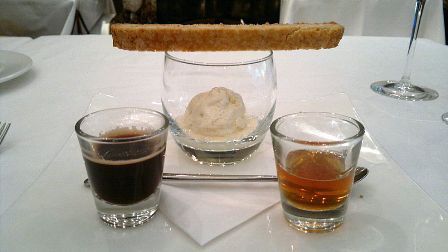 ...Affogato al Caffé w/ Sala Biscotti...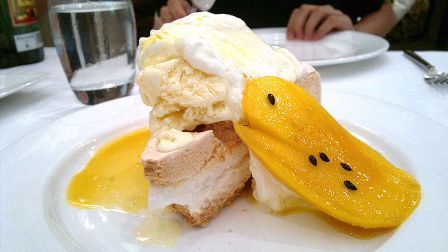 ...and Colin's signature Mango & Passionfruit Pavlova of course.
Happy birthday again, Cats. Many more to come. Until the next...