Acquaintances sometimes express surprise when they find out I enjoy alcoholic beverages other than wine. While it is true that I drink wine most of the time, I have been enjoying craft beers more and more over the past couple of years, and, though I do indulge in whiskey on the odd occasion, those occasions have tended to get, well,...too fun, as of late (read: Alex Tiu's fault).
To begin with, since I was much younger, I looked to whiskey (and other hard drinks, excepting cognac and brandy) for oblivion rather than taste. And so it was this past Thursday, the 13th September 2012, when all three beverages of choice came together in unplanned devastating amounts.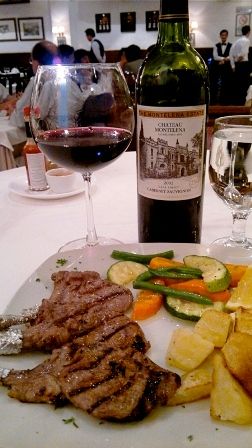 After a long working day, I called Alex for a quick dinner at
Ristorante Caruso
before we were to meet up with Jimmyton , Miguel,
et al.
at Jim's
Global Beer Exchange
Tasting Corner at l'Incontro. Alex arrived as I was halfway through my usual Campari Soda aperitivo. We then halved a
Pizza Napoletana
between us for our first course, and, thereafter, had a platter each of
Grilled Lamb Cutlets, Roasted Potatoes and Vegetables
, with which we enjoyed...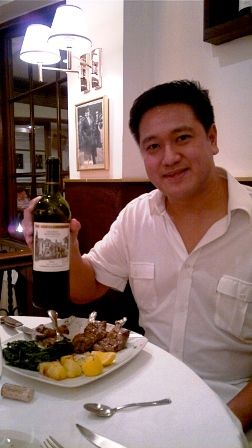 ...Alex's bottle of
2002 Chateau Montelena Estate Cabernet Sauvignon
- Sweetly
truffled, deeply ripe, crème de cassis, licorice, pinch of sweet pipe tobacco, chocolate. A very stylish, showy Montelena. Expansive. Generous. Full, pliant body. Molten tannins. Ready and eager to please. It didn't last long between us - but, then, again, nothing really does when Alex is in charge of the pouring.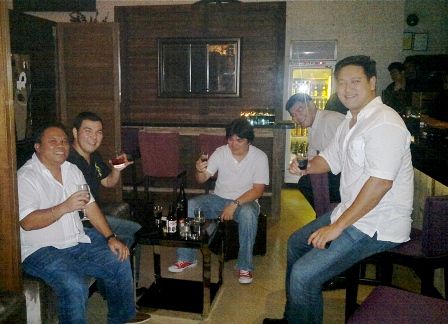 We then crossed the street to Jim's Tasting Corner at l'Incontro to meet up with the guys for some smooth, just off-dry, and, consequently, easy to slug down Rogue Single Malt Whiskey and various craft ales,
among which were
...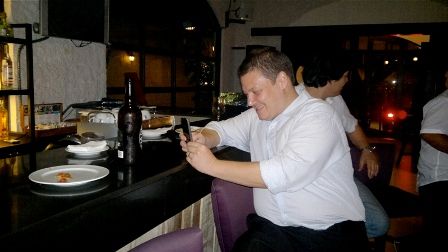 ...Unibroue La Fin du Monde which Miguel was finally able to try, and...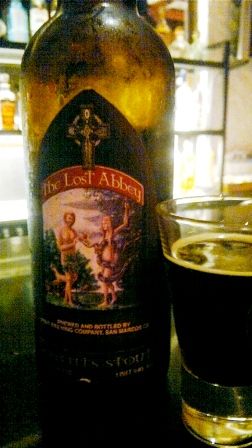 ...The Lost Abbey Serpent Stout from Jim's personal stash. In Jim's own words: "Very deep, viscous, syrupy, hindi pang araw araw" ("not for everyday drinking"). I slugged down my share all too quickly.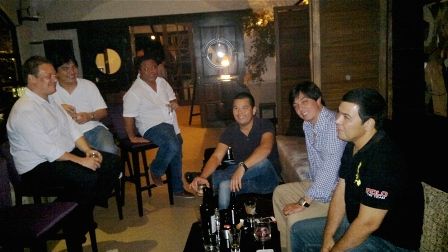 The Araneta boys were out in force that night, the get-together occasioned by Jim's brother, Frank's, being in town from Barcelona. Naturally, their other brother, Iñaki, was also there, as was their cousin Santi as well.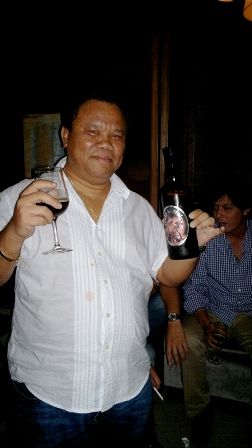 Others there were longtime friend Edwin Hermoso, and, the night's impresario, Bert Buenavista, who treated everyone at l'Incontro that night, plying us all with bombers of, among several others, Unibroue Maudite and Trois Pistoles. Later on, upon Santi's suggestion, we moved on to Draft in The Fort.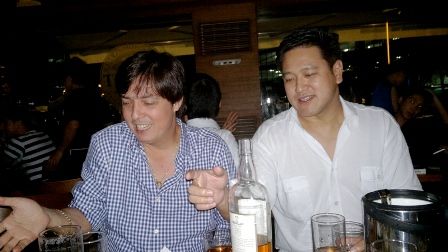 Santi + Alex + single malt = a dangerous combination at best.
Thereat, burgers, fries, chicken wings, etc. were ordered, as well as some beers, and, of course, at Alex's behest, a couple more bottles of single malt - a Glenmorangie 12-Years Old, and, thereafter, a liter of Macallan 15-Year Fine Oak if (by now hazy) memory serves.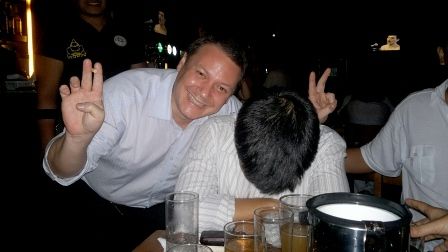 We were all in various stages of tipsy and drunk by then. Poor Edwin thought to shift down to some white ale, but Alex spiked his mug with single malt, resulting in Edwin having to take a quick, recuperative nap on the table (as Miguel clowns around). Way too much fun that night, such that I was unable to focus on work the next day. The only consolation was that Alex felt just as debilitated (or so he claimed).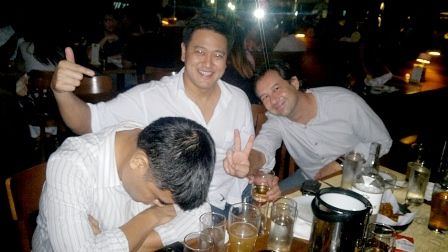 Alex: "Mission accomplished". Until the next!