Juice.Ph
, a web-based and print-based lifestyle magazine, recently held a
3-day "Battle Beer"
tasting event (29-31 August) involving at least 35 beers from around the world (all or mostly available in Manila I perceive). This past Friday afternoon, the 31st August 2012, I (through Jim Araneta's intercession) and 11 others made up the panel of judges for the third and final day of the event; the venue being
Theo & Sam Zaragoza's home
(Sam is involved with Juice.Ph and her family business, while Theo is a chef/
food stylist
who, as I understand, concentrates on corporate events, but also does private dinners for friends when he has the time).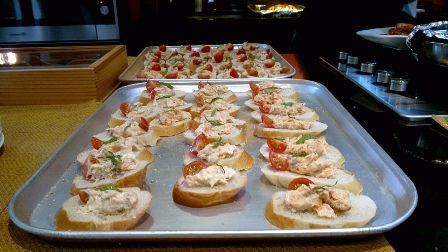 Theo churned out an endless stream of pica-picas for the tasting's duration.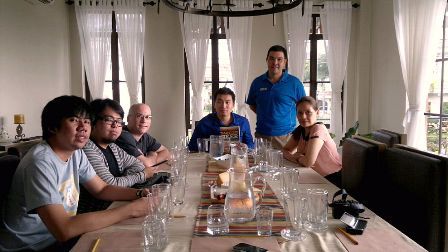 Beer judges Raffy Taruc, Kiyo Miura & Mario McDermott with Mags, Jim, & Ella.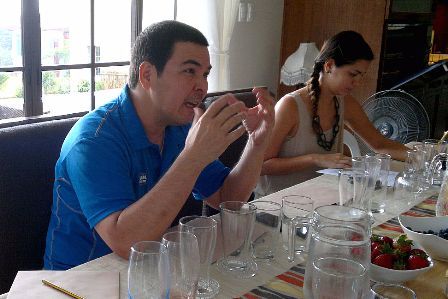 The tasting began with Jim's opening statements on the objectives, criteria, parameters, & rules...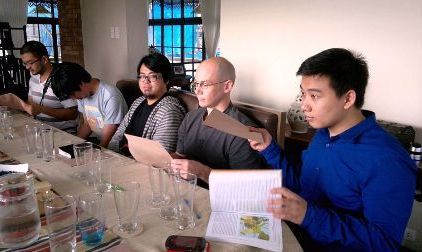 ...by which the judges would abide for purposes of consistency.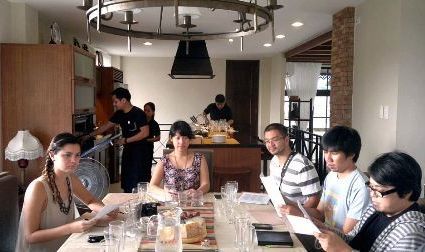 In the background, Theo organizes the pica-picas as Battle Beer begins.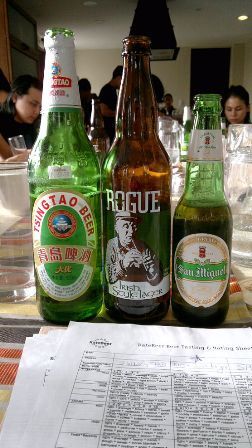 Round 1: a triple threat match of lagers.
Tsingtao
- Although I readily and happily have this beer during Cantonese meals, when had sans food and/or side-by-side the other two lagers on deck, the Tsingtao was comparatively too light both in body and flavor. I ranked this 3rd Place, though, among the three, it would still be my beer of choice for casual Cantonese cuisine.
San Miguel Premium All Malt
- Markedly deeper in flavor, rounder in body, and better on the nose than the Tsingtao, I ranked this 2nd Place, a decent, casual quaffer.
Rogue Irish Style Lager
- An easy choice for 1st Place in all judging criteria (appearance, aroma, body, flavor, etc.) as far as I was concerned.
The judges' weighted verdict: T
he Rogue Irish Style Lager handily took the prize
.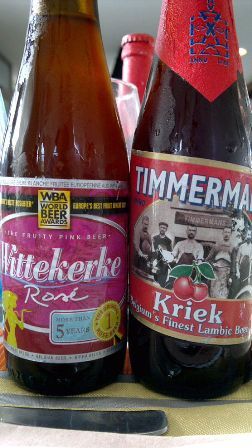 Round 2: lambic (spontaneously fermented beer) mano-a-mano.
Wittekerke Rosé
- Vinous, light, and straightforwardly fruity. Very casual, pleasant, quaffable.
Timmerman Kriek
- Scents and flavors of candied cherry (its scent reminded me of Cherry Coke). A couple of judges opined that it bore a medicinal quality. Heftier than the Wittekerke Rosé, it also had more of a mid-palate presence. Swiss-French drinking buddy, Richard Joye, later on told me he used to drink a lot of this easy lambic during his high school days.
The collective decision (as well as my own) went to the Timmerman Kriek
.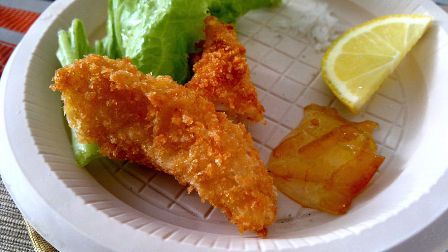 In the meantime, Theo served us, among others, some excellent Dory Fritters which were crisp on the outside, clean and moist inside, not at all oily, and perfectly seasoned. Jim and I had several platters of this...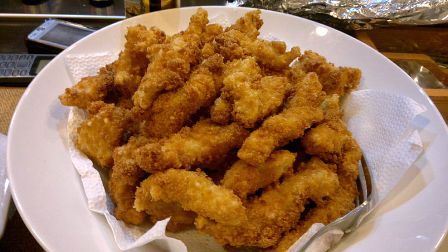 ...from a very generous pile.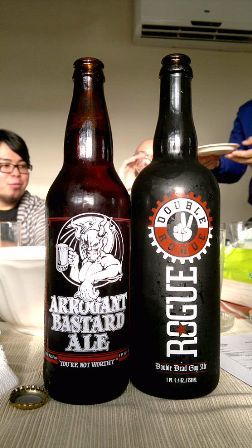 Round 3: match play of American Strong Ales.
Rogue Double Dead Guy vs. Stone Arrogant Bastard
- This being an old favorite of mine (I've enjoyed countless bombers of this with various dishes - from Elbert's hand-chopped USDA prime steak burgers, pizzas to crispy tadyang ng baka at home, Mamou's dry-aged rib-eyes, and even fresh oysters at the now-defunct Gustavus), it took extra effort to remain objective. Though I also liked the Arrogant Bastard, its hammering, kilometric, super-charged finish threw it off comparative balance for me. Thus, mainly in terms of over-all balance, I gave my nod to the Rogue Double Dead Guy (
nb
: Jim, and, as I recall, Kiyo, who favor more powerful ales, preferred the Arrogant Bastard).
The judges' weighted decision:
Rogue Double Dead Guy took this round
.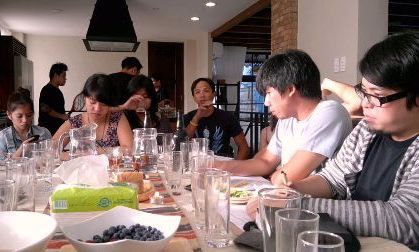 Team Juice.Ph was in full force by this time...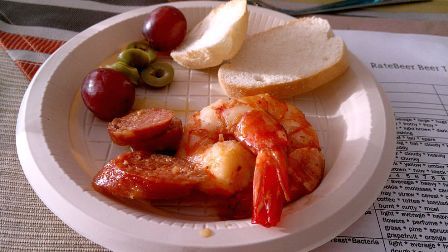 ...as well as some of Theo's spicier pica-picas, very fitting for a beer event. The shrimps were very fresh and perfectly cooked - just done as they should be.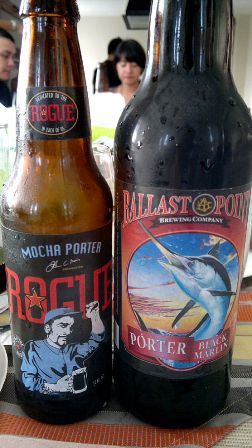 Round 4: A Tale of Two Porters.
Rogue Mocha Porter vs. Ballast Point Black Marlin Porter
- Both very good, this was a very tough choice for me. I found the Rogue Mocha Porter comparatively more approachable, accessible and readily pleasing - something I would choose for a wider range of sessions; while the Black Marlin was more masculine, deeper, and had drier, intriguing dark chocolate notes. My respective scores added up with the Rogue Mocha edging the Black Marlin out by 1 point (
nb
: Jim and Mario favored the Black Marlin).
The judges' weighted decision:
Ballast Point Black Marlin Porter won by a split decision with a 2-point margin
.
A bonus Imperial Porter.
As a treat for the judges, Jim then opened a bomber of
Ballast Point Victory at Sea Imperial Porter
("imperial porter" is a more powerful type of porter). Intense, very muscular on the palate, much greater depth and complexity, this kicked proverbial ass. It would not have been at all fair to include it with the regular porters as it is a different animal altogether. Gracias, Jim.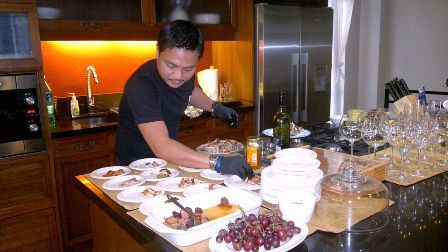 Theo in action at his chic kitchen...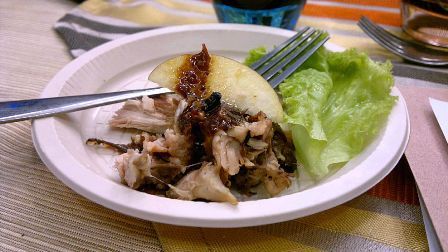 ...this time serving up some Roasted Chicken with Apples.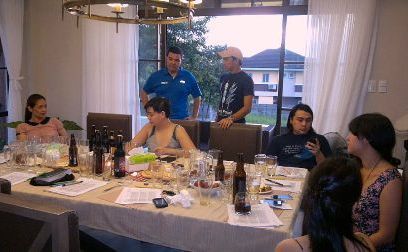 The judges take a short break as Kate Santos (center) catches up...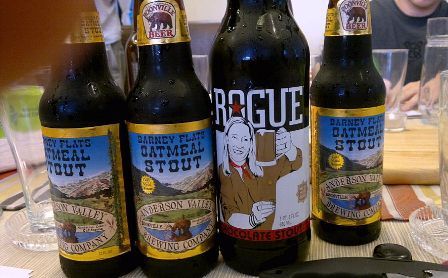 Round 5: Battle Stout.
Anderson Valley Barney Flats Oatmeal Stout vs. Rogue Chocolate Stout
- Yet another tough call for virtually all the judges. The Oatmeal Stout's creamier, more widely appealing texture and mid-palate heft made the difference for me; though the Chocolate Stout was of a more serious cut (
nb
: I recall Mario and Jim favored the Chocolate Stout).
The judges' weighted decision was
a draw, at a dead even 6 votes each
.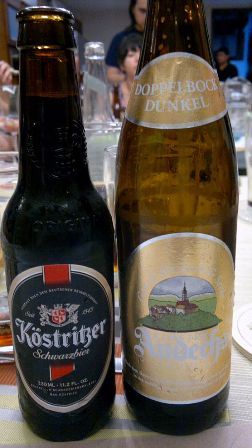 Round 6: The Dark Side.
Köstritzer Schwarzbier vs. Andechser Doppelbock Dunkel
- Again, though both dark beers were quite pleasant, and I certainly wouldn't refuse an offered glass of either, the Andescher Doppelbock Dunkel (nb: while both competitors are dark lagers, a doppelbock is an inherently more powerful type) was an easy choice in terms of depth, complexity, mouthfeel, and finish.
The judges' verdict was virtually unanimous:
the Andescher Doppelbock Dunkel took the prize
.
Round 7: A 4-Way San Miguel Match.
A beer tasting couldn't really be complete without the beers of the Philippines' own San Miguel Brewery, so a
4-Way Match involving SMB's Cerveza Negra, Red Horse, Pale Pilsen, and SMB Lite
ensued. With this group of beer magistrates, spoiled by the choices of, among others, American, Japanese, Canadian, etc. craft beers, not to mention the famous Belgian trappist ales now locally available, it was unsurprising that
the Cerveza Negra, with its comparatively deeper, underlying torrefactive and caramel notes, and inherent greater heft and body, won the judges' votes by a landslide
.
Thus ended Battle Beer; but Team Juice.Ph and Theo were not done with us yet.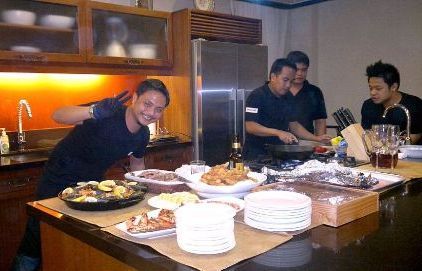 A celebratory dinner was served to close the event.
Paella de Mariscos (nicely moist with a toasty/crunchy crust underneath that Mags and I competed scraping for).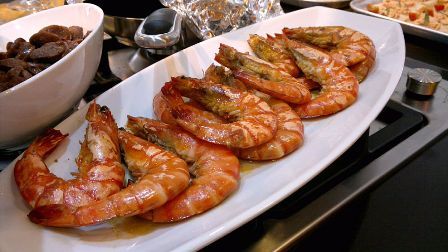 Prawns.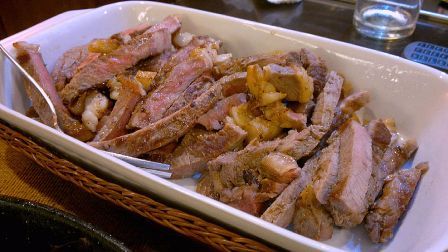 Pan-Grilled Rib-Eye Steaks.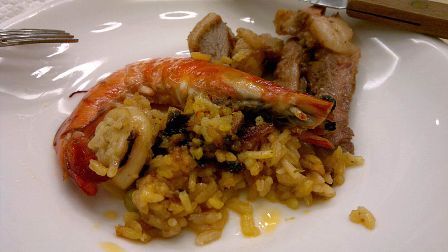 What a nice way to end a beer tasting.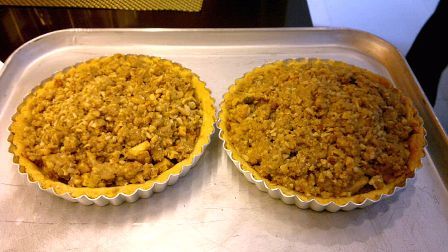 We had Home-Made Apple Pie à la Mode for dessert as well.
Many thanks again to Juice.Ph and Jim Araneta for including me in the panel of judges; and, of course, to Theo & Sam for having us all over at their charming home and feeding us all so generously. Until the next!