Last night, Friday the 14th September, was Lorenzo's birthday. Around a week before, he had already told me that he'd like
Chef Cyrille Soenen
's cuisine for his birthday dinner and so had chosen
Impressions
as the venue for his birthday dinner. It was a simple matter of a couple of brief Facebook messages and a confirmatory SMS message or two with Cyrille, and our reservation and menu were good to go. We were six in all as Lorenzo invited one of his best buddies, Rafael, to join us in the celebratory dinner.
2002 Dom Pérignon for the Crabmeat amuse bouche...
...and fresh French oysters flown in the same day:
Fine de Claire oysters
and no less than the designer
Gillardeau oysters
from Normandy. I cannot say enough how wonderful they are. Definitely beyond comparison to our local ones. I've had fresh ones from Arcachon and elsewhere in France while in Bordeaux, Paris, and the Loire, and these were every bit as good and even better than many of those.
As regards the above-depicted champagne, I refer you to
my notes on the same from a few weeks ago
:
As regular readers may have noticed, I've lately been pulling out the

2002 Dom Pérignon

as a champagne of choice. I've found it to be, though barely 10 years from harvest, quite an openly pleasing, precocious charmer. With some breathing time in bucket, it shows moderately creamy and toasty nicely ripe chardonnay, slight brioche, a developing biscuit nuance, and discreet underlying white chocolate (the pinot noir influence I'd say). It's medium-bodied to me as far as champagnes go, with a pleasantly rounded mid-palate. Not a particularly deep or notably complex vintage of DP (well, not yet anyway), but definitely readily pleasing. Very enjoyable.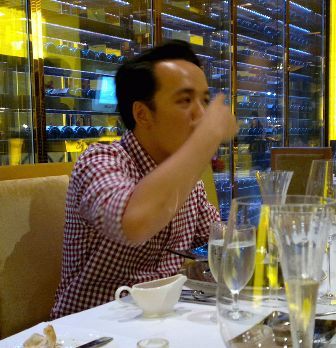 Renzo loves fresh oysters and ordered a second round of the same.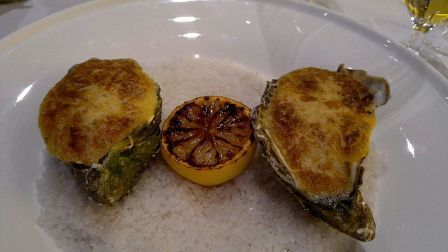 Catha isn't fond of raw oysters, so Cyrille quickly whipped up some cooked ones for her.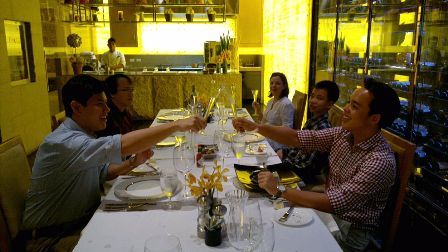 A champagne toast to the birthday boy.
Special mention again must be made about Cyrille's mini baguette, my favorite baguette in the country by far. When in Impressions and Brasserie Ciçou, I cannot help but eat at least three of these before anything else is served. With its delicately flaky crust, beautifully moist, soft middle, I find them absolutely irresistible...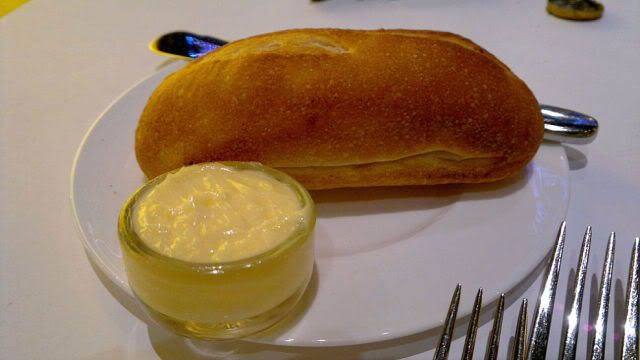 ...especially with their excellent French butter.
Next was a
Duo of Foie Gras de Canard Terrines
: one was the
Marbled Terrine of Pan-Seared Foie Gras & Unagi with Teriyaki Glaze
(an old favorite from Cyrille's former Restaurant Ciçou in Makati), and the other was
Foie Gras with Ox Tongue
. Both were excellent, as well as a feast for the eyes. They tasted every bit as good as they look.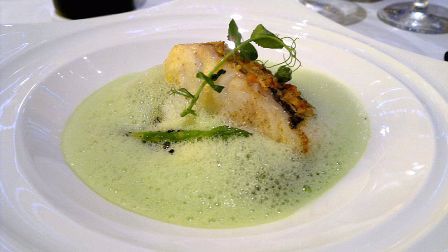 The fish course of Seared Cod on Spinach Risotto followed.
Meanwhile, the night's red had been breathing in bottle...
The
1985 Château Pichon Longueville Comtesse de Lalande
is not a birthyear wine for Lorenzo, but it is most significant for him and our family nonetheless. Though Catha and I knew each other before then, we were just friends/groupmates and I'd hang around more with her brother, Joey, back then. Sometime in mid 1985, though, Catha and I started dating, wound up going steady - and remained together since. If not for 1985, I explained to the boys, none of them may have been born. It can't get more significant than that, to my mind.
The wine itself was not as masculinely robust as several previous bottles over the years since I first had it. This bottle was markedly more refined, leaning to the feminine side, with a discreetly truffled bouquet of violets, warming cassis, deep dark molten damson, cedar, and touches of pencil lead shavings and sweetish pipe tobacco. These notes were mirrored on the palate on a silken, halfway from medium to full body. The finish was moderately long. Beautifully balanced, elegant wine. Lovely stuff...
...which paired wonderfully with our main course of earthy, succulent, perfectly medium-rare
Seared Magret de Canard with Foie Gras & Chanterelles atop Roasted Pumpkin Purée, Carrots and Brussel Sprouts
. Superb. Bravo, Cyrille. Of course, we sent Cyrille a glass of the celebratory red as a small token of deep appreciation.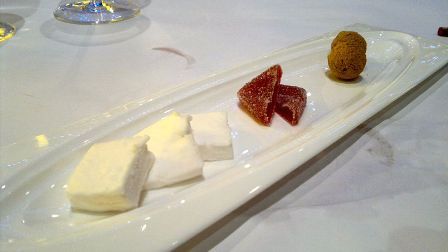 Mignardises after a while...
...followed shortly by dessert. Cyrille knew that Lorenzo is very fond of lemon soufflé, and so presented us all with
Lemon Soufflé with Vanilla Sauce and a Trio of Fresh Berries
(gooseberry, blackberry, and raspberry). Delicious. I finished mine in a trice.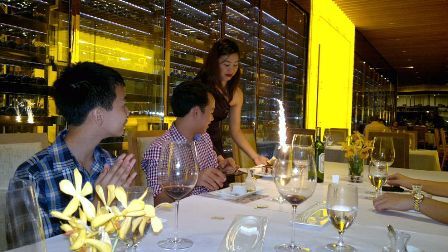 Cyrille, however, was not done yet...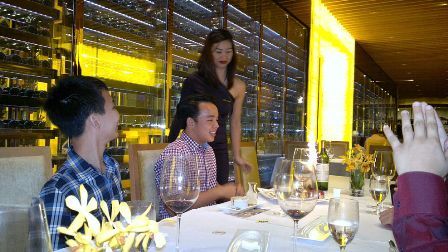 ...and had sent, adorned with a sparkler as a candle...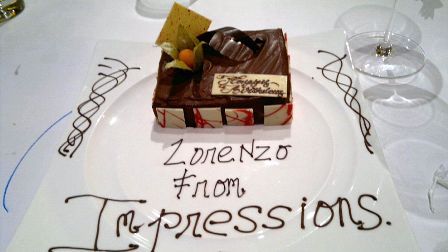 ...a luxuriously rich Chocolate Mouse Birthday Cake for Lorenzo.
Happy birthday again, Renzo, and, of course, many thanks again to Cyrille for making my son's birthday dinner as memorable and wonderful as it was. Until the next!