Dinner this past Thursday, the 30th August 2012, was at
Kashmir Indian, Malaysian, & Middle Eastern Restaurant
for the
Indian Event of l'Ordre Mondial des Gourmets Dégustateurs
("OMGD"), which I think of as the SWAT (Special Wines & Alcohol Team) unit of
La Confrérie de la Chaîne des Rôtisseurs Bailliage de Manille
.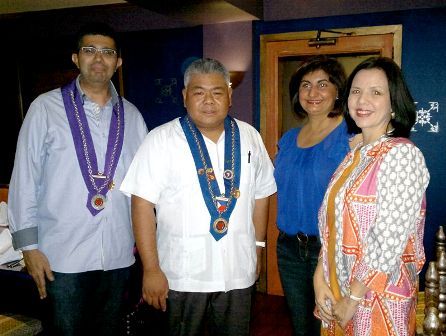 L-R: Sanju Gopaldas, J-Lab, Cutie Gopaldas, & Catha.
Honestly, I know next to nothing about Indian cuisine, but, since drinking and dining buddy Sanju Gopaldas was in charge of the menu, ably aided by OMGD honchos/Usual Suspects J-Lab & Arnie, I didn't think twice about signing on for it. Besides, Catha likes Indian food and the event was BYOB, which I especially enjoy for so long as wino friends are in attendance - which was certainly the case that night with Cyrene de la Rosa, Alicia Sy, Alex "El Demonio" Tiu, Catha, my brother Tad, and myself, among others, at Sanju & Cutie's long table.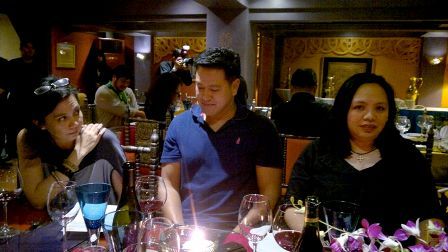 Alicia, Alex, & Cyrene during a rare pensive (read: hungry and thirsty) moment.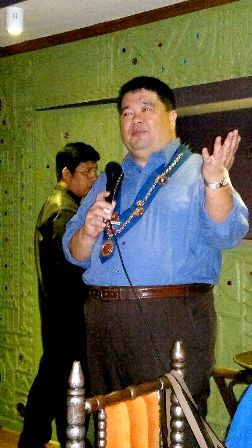 Arnie delivers the opening statements, and then discussed the Chaîne's history.
In the meantime, Alex, thirsty as always, couldn't wait to commence imbibing and so popped and poured the first of the evening's many bottles...
2009 Le Clos du Caillou Les Quartz Côtes du Rhône
- Actually, neither Catha nor I have ever been particularly fond of the wines of the Rhône region (save, in my case, for a handful such as those of Château de Beaucastel for Châteaneuf du Pape, Domaine J-L Chave for Côte Rôtie, etc.), but we both liked this one, as did the rest of our little group.
What struck me the most about this youngster were its poise and balance - no over-ripeness, over-bearing alcohol, over-sweetness of fruit here - everything seemed properly in place, well-rounded, nothing jutting out. Its ripe, smooth, precisely concentrated, nicely ripe, spicy red cherries, dark wild berries, slight pepper and dark mineralty,
garrigue
, suggestion of cedar and underlying worn leather, were harmoniously presented on a body halfway from medium to full. Very nice. I should get me some of this.
Most of us quickly finished our shares (Cutie, in the photo above, preferring her wine over Arnie's spiel), and regretted not having saved some for the mutton course. Cyrene and Catha, the only two who exercised restraint, got to have some with the mutton and they both said the pairing was spot on.
Arnie then turned over the floor to Sanju who explained that, for the night's menu, he had selected Punjabi dishes, particularly from the Sindh province, wherefrom most of the Philippine-Indian families have their roots. The dishes themselves were old, traditional ones, such as those his grandmother used to cook for his family. All courses came in dishes of three, three being, as Sanju informed us, an auspicious number in the Indian culture - a very nice touch indeed.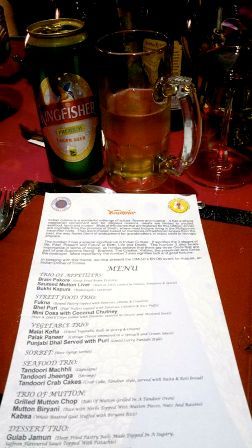 The Menu, which included India's well-known Kingfisher Beer.
J-Lab then made additional remarks and wished everyone a good meal.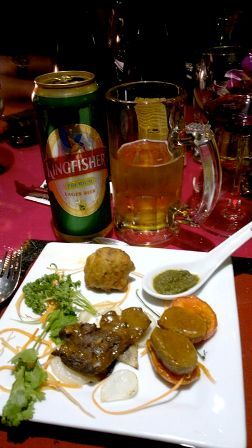 The 1st course.
Appetizers: Brain Pakore, Sautéed Mutton Liver, & Bukhi Kapura (Deep Fried Brain Fritters; Mutton Liver cooked in Onions, Tomatoes & Spices; and, Maharajah's Surprise). Though
I do always make it a point to try out regional pairings, and the
Kingfisher Beer was pleasant enough, I found it a bit too straightforward and simple for me; so I started pouring some...
Unibroue La Fin du Monde
- I've written so often about (and enjoyed so many bottles of) this deservedly famous, highly praised Belgian
tripel
style ale from Canada that I no longer need to repeat myself. Suffice it to state that its spicy fruitiness and lifting citrus notes made for an infinitely more entertaining pairing with the appetizers. That's one of the reasons I especially enjoy BYOB nights - one can experiment freely with pairing beverages. Not everything will be successful, but, in this case, it certainly was. Everyone I poured for enjoyed this and preferred it as a pairing beer (distributed locally by Jim's
Global Beer Exchange
)...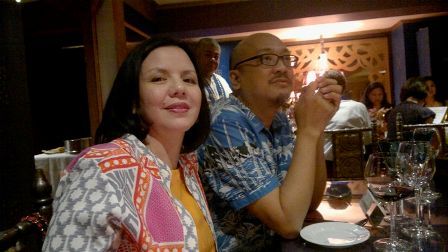 ...especially Tad.
Cyrene really loved the Maharajah's Surprise (lamb testicles). We've suspected she likes her balls spicy ever since our recent riesling dinner at People's Palace - and now we know it to be true.
J-Lab checking on his table.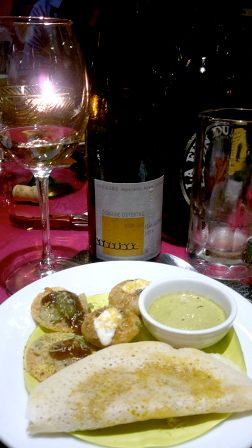 The 2nd course.
Street Food Trio: Fukna, Bhel Puri, & Mini Dosa with Coconut Chutney (Round Pastry topped with Potatoes, Onions & Cilantro; Flat Wafers topped with Potatoes, Cilantro & Rice Puffs; & Rice & Lentil Crepe folded with Potatoes sautéed in Onions and Mustard Seeds). This was my favorite and most memorable course of the evening. Lovely stuff. I feel like having some right now as I write and hope this is on Kashmir's regular menu.

With this delightful trio, I opened a 2009 Domaine Ostertag Riesling Clos Mathis (from Jerome Philippon

's

Sommelier Selection

). Excellent, its evident purity, neatness, marked focus and food friendly versatility made for a fine pairing.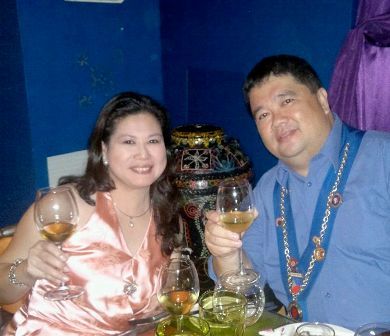 Helen & Arnie
The 3rd course.
Vegetable Trio: Malai Kofta, Palak Paneer, & Punjabi Dhal Served with Puri (Diced Vegetable Balls in Gravy & Cream; Cottage Cheese simmered in a Spinach and Cream Sauce; &
Punjabi Style
Lentil Curry). I finished everything greedily.
For this course, I opened my bottle of 2009 Domaine Ostertag Pinot Gris Zellberg - a spicy, hefty, curvaceous, peachy, lightly citrusy, almondy, leesy/oaky, slightly over medium-bodied lovely with alluring, youthful complexity and a brightness that lent the dishes a fruity lift. Notable purity, neatness and focus. It was a definite hit with everyone as a pairing wine - the ladies especially (also distributed by
Sommelier Selection
).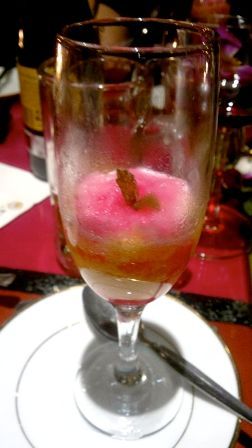 The palate cleanser was a graceful Rose Syrup Sorbet.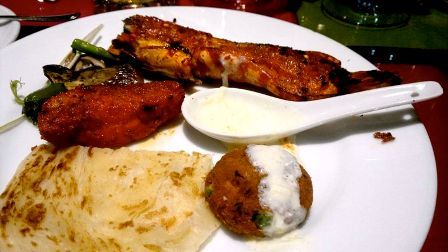 The 4th course.
Seafood Trio: Tandoori Machhli, Tandoori Jheenga, & Tandoori Crab Cakes (Lapulapu, Prawn, & Crab Cakes Tandoor Style, served with Raita & Roti Bread). Loved the smoky, deeply flavored/spiced prawn especially.
Alex opened a 2009 Ferrari-Carano Chardonnay for the seafood course, which was pleasant enough on its own, but seemed to lack the "oomph" for the complexly spiced dishes.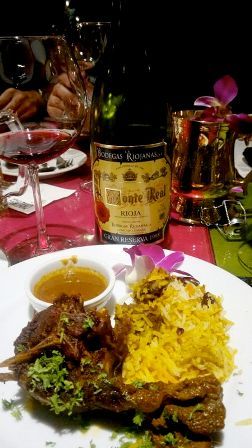 The 5th course.
Trio of Mutton: Grilled Mutton Chop, Mutton Biryani, & Kabsa (Ribs Of Mutton Grilled In A Tandoor Oven; Rice with Herbs Topped With Mutton Pieces, Nuts And Raisins; & Whole Roasted Goat Stuffed with Biryani Rice).
With this, I opened a bottle of 1998 Bodegas Riojanas Monte Real Gran Reserva - a mature, concentrated, full-bodied, notably extracted tinto gran reserva which presents deeply-veined, red-spiced, balsamico-touched, moltenly ripe black & red cherries, dark plum, leather, tobacco, hint of dark chocolate, cedar and violets.
Cutie was very vocal about liking a lot, for which I am most appreciative. I chose this wine as a pairing for the mutton course because of its spiciness and concentrated, somewhat dense, hefty fruit.
The
Kabsa
was particularly memorable because, not only was it the "cleanest" goat dish I have had locally, but also because it was so tender and melt-in-your-mouth moist and deeply flavored. The accompanying Biryani rice stuffing which absorbed the little goat's and its spices' flavors was simply to die for. Loved it.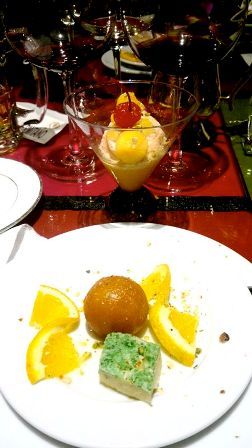 The final course.
Dessert Trio: Gulab Jamun, Mango Kulfi, & Coconut Barfi (Deep Fried Pastry Balls Made Dipped In A Sugary, Saffron Flavoured Sauce Topped With Pistachio; Mango-flavored Indian Ice Cream; & Coconut Balls).
By then, though I did finish my dessert course, I was too overwhelmed to make note of all specifics. What I do recall, however, are three fleeting impressions: (1) unlike the deeply, complexly, exotically spiced savory dishes, the desserts were materially less forward in flavor; (2) are flavored delicately; and, (3) are possessed with a general lightness on the belly that belie their respective looks and English descriptions.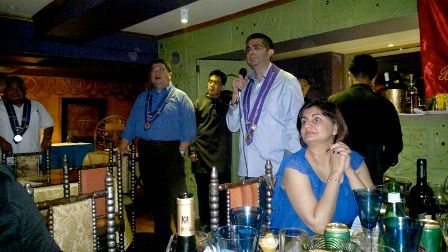 Shortly thereafter, Sanju introduced...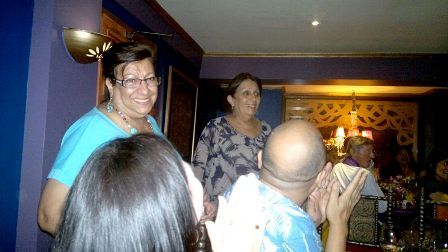 ...Kashmir's proprietresses who received a well-deserved, enthusiastic round of applause...
...from a most appreciative and sated crowd.
Alex, however, was not yet done with the drinking. Taking on the aspect of
Shiva
(the Hindi god of destruction), he zeroed in on Sanju's bottle of...
Amrut Fusion Single Malt Whisky
- I've heard of Amrut many times, but, until that night, had never had the opportunity to try it - I don't think anyone at the table, save for Sanju and Cutie, had either.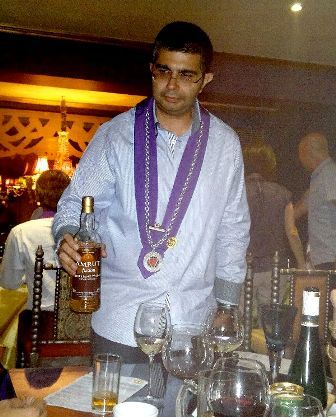 Sanju, however, remedied that in a trice.
I found it moderately peaty, smoky, and woody - not unlike the barely a handful of Islay single malts I've had in the past. It was nice enough and lent a comforting warmth to the all-too-familiar feeling of gastronomic over-indulgence. Tad, though already tipsy, refused to go home without finishing his share of it.
As for myself, feeling all the night's alcohol's effects (I had prudently brought a driver that night), and having a meeting the next morning as well, I resisted Alex's temptations for "just a cigar at Kipling's" (sure enough, I learned from Cyrene the next day that they wound up having more single malt thereat until 3am).
It was a memorable night indeed. Congratulations again to Sanju for such a fine, delicious, and educational dinner, one we all enjoyed immensely and would certainly not mind having a second crack at. Until the next!