Three weeks ago, Wednesday the 5th September 2012 to be exact, some of The Usual Suspects got together for dinner with Keiichi who was in town from Tokyo. Keiichi had requested dinner at
Brasserie Ciçou, Greenhills
for Cyrille's roast capon as main course. Remembering an IWFS Burgundy-themed dinner with the same pairing main course from some years ago (at then Restaurant Ciçou, Makati, which Keiichi attended and enjoyed), I figured he had red Burg on the mind, and, suggested that as our evening's theme.
We were 7 in all that night: Bernie, Keiichi, J-Lab, Richard, Greg, myself, & Henry (a very nice fellow, and a colleague of Keiichi with the Lazard Group - they were both in Manila on business). I had earlier on coordinated the reservations and the roast capon with Cyrille.
Richard and I arrived together with J-Lab & Greg following not 10 minutes after. Hungry, we ordered ahead and waited for the others to turn up. In the meantime, we started off with some
Champagne Billecart Salmon Brut Réserve
- My bottle, an old reliable non-vintage champagne marked, to me, by slight brioche, a nicely rounded mid-palate heft, and a somewhat leesy character. Creamier, riper, more accessible in general and more substantial in the mouth than most non-vintage champagnes, with the IWFS discount Bacchus grants (bringing a bottle to approximately P3500), it has been one of the group's go-to champagnes for the past few years.
I also kept a glass to go with my first course of
Grilled Scallops, Fricasée of Mushrooms, & Duck Liver Cromesqui on Squash Soup. Heavenly. Richard and I had this and agreed that it was superb. I do not know if this is on the regular menu - I vaguely recall it was not - but one can surely request that it be made a couple of days ahead of time (with a decent number of orders of course, to make it worth the restaurant's while). Go for it; I promise you will not be disappointed.
A second bottle of bubbly was opened when Keiichi and Bernie arrived:
2007 Domaine Huet Vouvray Pétillant Brut
- J-Lab's bottle. A zippy, clean, nervy, spicy chenin blanc bubbly from the jewel of Vouvray showing citrus, lemon, pear, peach, bit of quince and peach pit with nuances of cold limestone. Lively acidity. A pretty chenin blanc bubbly for sure.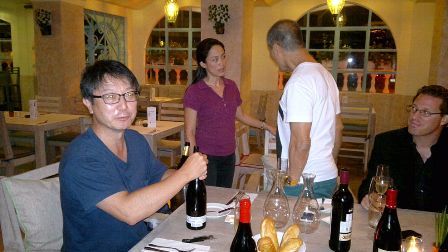 Keiichi opens a red Burg to breathe, as Anna checks in on us.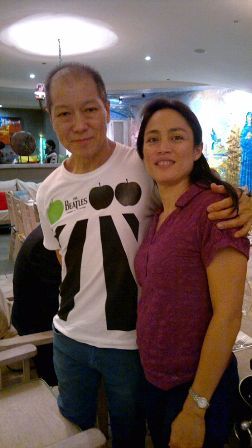 Bernie Sim & Anna Soenen
2003 Domaine Ostertag Riesling Grand Cru Muenchberg
- Bernie's bottle. Wow. Talk about complexity in nose and on the palate.
Goût de pétrole
, white minerality, the faintest suggestion of oxidation in the green apple, bit of not-quite-ripe peach, slight orange peel, leesiness, hint of pineapple. Richard and I kept thanking Bernie for sharing this with us.
I tried it with some fresh oysters, but, for me, the wine lacked freshness, brightness, and acidity for said task..
Keiichi's white, a
1996 Nicolas Joly Clos de la Coulée de Serrant
(recommended by and sourced from a friend of his who is in the wine business), was, unfortunately, damaged (flat, smelled of rubber and petrol - the latter not in a good way). This was given time, revisited a few times, and, in the end, set aside. Oh, well, it happens.
Lazard Asia's & Japan's Big Potatoes: Henry Choon & Keiichi Miki
As Keiichi requested, as the night's main course was Ciçou
's Whole Roasted Pamora Farms Capon with Assorted Vegetables & Gravy; the Leg Stuffed with Duck Liver, Chestnuts, Mushrooms and Truffle Oil. Many thanks to Cyrille for accommodating the special order on relatively short notice. It was excellent: moist, clean, flavorful, the stuffing lending a rich earthiness. Richard eschews pork, so I happily switched white for dark meat with him.
My first helping of the capon. So moist, and the stuffing was delicious. As J-Lab put it, "Yung patatas pa lang masarap na!". I totally agreed.
There was this
1999 Domaine Richaud Côtes du Rhône Villages "Les Estrambords"
opened, I believe it was Bernie's. I first tried this over 2-½ years ago,
on the 11th February 2010, at an 11+ hour lunch
(a personal record for me). My notes from then state:
Bernie's bottle, of course. Surprisingly youthful and concentrated considering, per Bernie, '99 wasn't a notable vintage for the Côtes du Rhône. Seemed a bit modern in style to me (not that I know much of the wines of the area) with dense, jammy, dried black fruit, prune, cherry, kirsch, some herbiness, all buttressed by oak notes of chocolate and espresso. There is a bit of heat on it as well, but, after pinot noirs and Burgs, the subject wine's abv was probably emphasized thereby.
The subject night, 2-½ years later, also juxtaposed with some red Burg, it doesn't at all seem to be fading. It was still a comparative bully-boy on the nose and palate - modernly bold, unabashed, spicy, dense, and jammy. Quite a bit too much for the capon for me.
With my main course, I pretty much stuck to the
2002 Louis Jadot Pommard Premier Cru Épenots
- My bottle, purchased at Bacchus Int'l. for approximately P3300 (including my IWFS discount). This had been breathing in bottle (given extra space by a couple of experimental pours in glass) for well over an hour before I got to it. Though I normally look to Domaine Comte Armand for wine from this sloped Côte de Beaune
premier cru
commune (Jadot's vineyards border Beaune to the north), the subject bottle caught my eye because of the vintage (which was comparatively much more ready to drink at this point than the others available).
In a nutshell, I was quite satisfied with this purchase. While it can use more years in bottle to truly mature, with material aeration, I could already detect the beginnings of roasted meaty, mushroomy, compost-esque Burgundy decay in this masculine, slightly rustic, over medium-bodied nicely ripe, mineral-touched, darkly-fruited (ripe, dark plum, dark raspberry, black cherry, mere hint of kirsch) wine. Good structure. Nothing to jump up and down about, surely, but it acquitted itself admirably with the capon. Solid. Notable typicity. Nice. I bought more after.
Keiichi also opened a
1991 Domaine Jacques Cacheaux Grand Cru Echézeaux
which was, unfortunately, quite past its prime. Some took a glass of it. I took a bit, sniffed, tasted, gave it more time, repeated, and set it aside. It wasn't terrible, but I didn't see any point in continuing with it.
Richard also opened a bottle of
2007 Pintia
(Vega Sicilia's Toro venture) which I forgot to photograph. Since I was carefully watching my alcohol intake (lest my blood pressure spike anew), and, because it was a working day the next day, I didn't have any of it.
Chowhound Cyrene de la Rosa and IWFS Manila Ladies Branch head Bunny Fabella happened to be at Brasserie Ciçou that same night, and Richard and I sent a glass each, blind, of the Pommard and tinto de Toro. When I asked Cyrene which she preferred (before identifying either of the wines), she said she preferred the second red - which was Richard's. She later on mentioned that she really prefers tempranillo-based wines to those of pinot noir.
Pretending to be miffed, I teased her that I would tell JC (who distributes Vega Sicilia's wines in the Philippines) that she chose her Coke as her favorite drink that night.
The last red, but certainly not the least by far, was a
1998 Château Trotanoy
- Bernie's bottle, which Keiichi picked out to bring at Bernie's behest. I'd not had this in quite a long time, but it was as I know Trotanoy. Smoothly and roundly muscled, concentrated, quietly powerful, profoundly deep, ripe midnight plum, cherry, pipe tobacco, bit of new leather, violets, cedar, discreet dark chocolate and vanilla undertones. This easily blew all the other reds away as wine of the night. Thanks again to Bernie for this bonus treat; and thanks, too, to Keiichi for picking it out of Bernie's vast collection.
As at any testosterone filled table heavily laden with fine food and wine, some appreciative, brotherly fist-bumping is inevitable.
Naturally, we couldn't leave without some orders of Cyrille's cult status
Kouign Amann with Salted Caramel Ice Cream
. Fantastic as always. I never miss this dessert when in Ciçou - and neither, I feel, should anyone else. This we paired with J-Lab's bottle of
2001
Chapoutier Les Coufis de Paille d'Ardeche
, the specific notes of which are lost in alcohol-addled memory. I do recall we did enjoy it though and it did nicely with the
Kouign Amann
.
I also made sure to take home a bagful of Ciçou's
cannelés
(both vanilla and chocolate), assorted
macarons
, and
pain au chocolat
for Catha and the boys to have for breakfast the next day.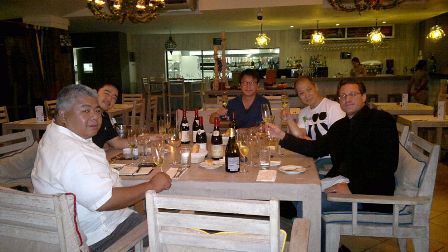 L-R: J-Lab, Greg, Keiichi, Bernie, & Richard
There were other bottles on deck, but, since we were all busy the next day (except Richard who was still on the tail-end of vacation mode), we prudently called it a night. Wonderful to spend time drinking and dining with Keiichi as always. Visit us again soon, my friend! Until the next!