Last night, the 15th September 2012, Rene & Aimee Fuentes treated Miguel & Ria Vecin, and Catha & I for dinner at
The Goose Station
, in commemoration of their 20th year together (not quite a 20th wedding anniversary as they are still too young for that). We took the opportunity to try out Rob Pengson's new Rizal Menu, the dishes revolving around significant phases of the Philippine national hero's life.
The Rizal Menu
Our little party of six dined at the restaurant's cozy, private Wine Room, one of the walls of which is adorned with framed plans and sketches of Rob & Sunshine's current and intended restaurants.
The evening started off with some
Champagne Krug Grande Cuvée Brut
from our gracious hosts. Young, vibrantly fresh, citrusy, slightly bready, still a bit linear and tightly-wound. There is something underneath, however, that suggests it will flesh/round out and gain some weight and depth with more years in bottle.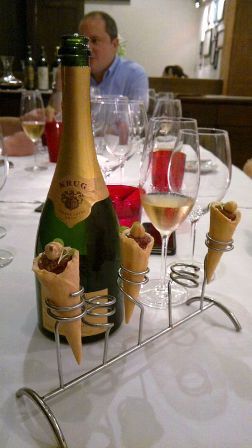 Nice as an apéritif and with the signature Foie Gras Cones.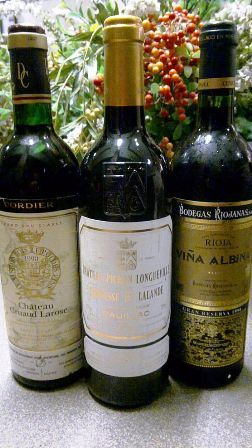 The night's reds wait patiently.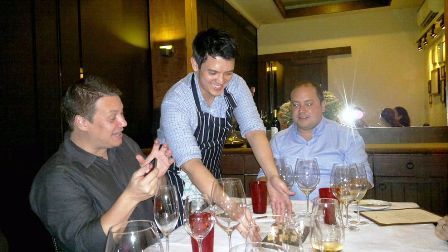 Rob personally helps serve every course...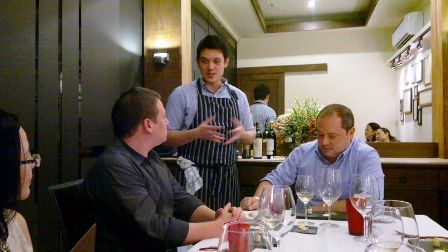 ...with a concise explanation of each...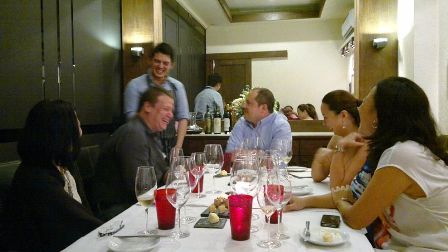 ...and a playful touch of humor as well.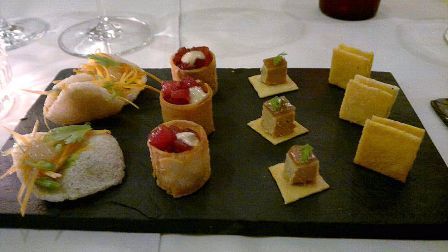 Bacalao, Tuna, Coffee, Hearts of Palm...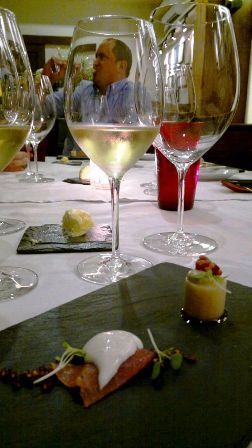 ...Green Olive, Jamón.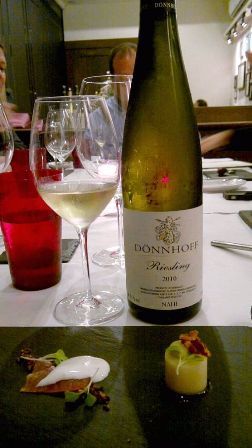 ...with Rene's zippy, bright, super pure and focused 2010 Dönnhoff Riesling Qba.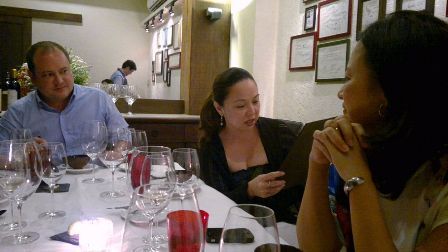 Aimee dutifully read out Rizal's quotes that corresponded with each course.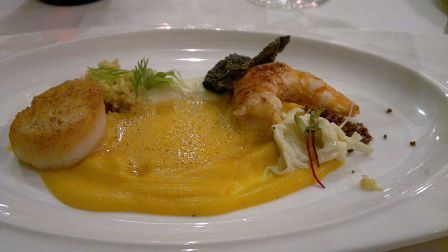 Scallop, Shrimp, Pumpkin, Fennel, Spiced Bisque, Squid Ink, Cauliflower, Peanuts.
Delicious, a virtual menagerie of flavors skilfully tied in and balanced. I could easily polished off three of these.
By then, we had moved on to some 2010 Dr. Loosen Wehlener Sonnenuhr Riesling Spätlese from me (the bottle of which I forgot to photograph) - typical light-footed, lean, dancing, light-bodied, slatey, peach, tangerine, sweet yellow apricot. Nothing exciting, but it did its job well enough.
Foie Gras Taho, Pedro Ximénez, Tapioca. A dish that symbolizes Rizal's being more than "just a simple" Filipino during the Spanish era - like the dish, his modest facade belying a wealth of inner talent and merit. Have this with some nice German riesling kabinett or spätlese for added lift and brightness.
Squab Inasal, Kadyos, Beetroot, Dragon Fruit, Atchara "Russa". With this we paired the traditional, leather-lined, cedar, violets and balsamico-laced 1998 Riojanas Viña Albina Gran Reserva. A dramatic, darkly thought-invoking rendition of a dish foreshadowing Rizal's demise, which, because of the squab and beetroot interplay, to me, brought to mind traditional Burgundian cuisine.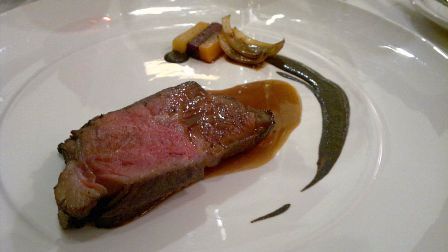 Bistek, Bitter Onion, Dinuguan Black Pudding, Carrot, Sweet Potato...
...paired with Miguel's 1990 Château Gruaud Larose. This dish is grounded in Rizal's Dapitan incarceration, the slightly bitter nuances of which were brought out in charred onion - the dinuguan black pudding adding depth and complexity to the distinctively local bistek flavors. This, amongst the others, was, to me, the most intellectual. The wine has smoothed out over the years, still decidedly masculine and savory with distinctive sanguine and meaty nuances in its slightly over medium-bodied, midnight fruit, slight asphalt, ceps, cedar, and violets. Evidently leaner than the 1982, but with a somewhat similar firm/rigid structure as well.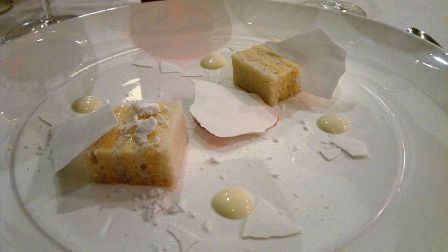 Tres Leches, Sampaguita, Raspberry, Rhum...
...the initially hidden raspberry sauce bleeding out into the serene whiteness, symbolizing Rizal's dawn martyrdom. The beauty of this dish lay not only in its successful and well conceived and crafted flavor interplay, but also in the visual, historical and symbolic aspects.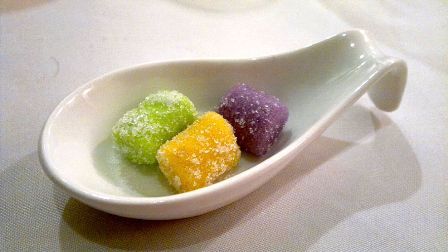 Petits fours
Pastillitas de Leche of Pandan, Queso and Ube
. Brilliant. I normally eschew pastillas de leche, but these I liked very much. I love how everything was given an extra local touch.
Rob joined us for a brief glass of red and a chat before heading off to meet some people. If I had to distill the menu into a few words, I would use "intellectual", "inspired", "dramatic", "precisely and well-executed". Many thanks again to Rene & Aimee for such an enjoyable and stimulating dinner.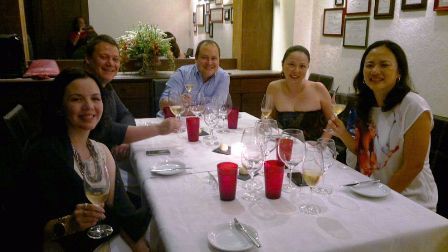 ¡Adios cena adorada! ¡Hasta la proxima!