Dinner last night, Saturday the 29th September 2012, was at home, for my regular Saturday golf group that jokingly calls itself
"Los Golfos"
(Castillan slang for "bums" or "layabouts" since, save for a few - myself included - they are men of leisure). Always such a fun bunch of guys. I don't get to play with them on Saturdays so regularly these days, so this was also a good way to spend more time with them.
We were 10 for dinner, just us guys: Sal Lacson, Quito Moras, Tito Chito Legarda, Tito Linggoy Araneta, Tito Reynoso, Henry Hagedorn, Jos Moraza, Raffy Villarreal, Chicho Haurie, and myself. Unfortunately, Miguel Moras, Bobby Paradies, and Mackie Cui were out of town and so couldn't join us.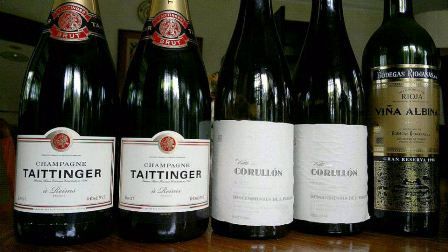 By around 6pm, while waiting for everyone to arrive, we started off with some flutes of Champagne Taittinger Brut Réserve - Nicely fresh, with charming white florality and very pleasant and lively white fruit. The toastiness is mild and discreet, making for a nicely balanced nv bubbly. For welcome drinks, apéritifs, cocktails, it is a solid choice for bubbly.
I must note that, in the late '90s, I stopped buying this champagne because the bottles I used to get from Säntis back then seemed to me a bit too tart, its citrus way too obtrusive. However, around 2 years ago, champagne aficionado and drinking buddy J-Lab told me Säntis' stock of this bubbly was much nicer and fresher - so I gave them another try and have been buying them again since then.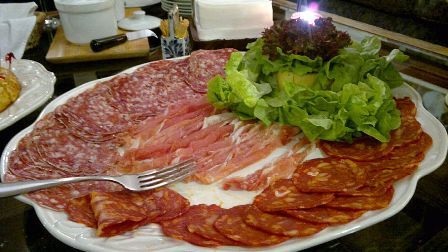 Assorted deli for pica-pica.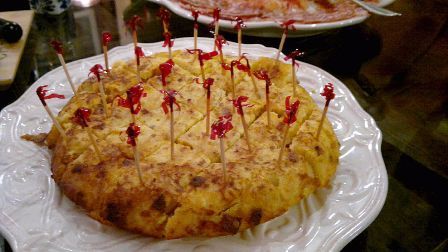 Chicho brought a couple of excellent Tortillas de Patatas (a favorite comfort food of mine, and his are always so much better than I can make myself): this one was the one with chorizo. The other one was with onions, but I, unfortunately wasn't able to take a photograph of it. The tortillas were quite large and so good that the guys were concentrating pica-pica efforts on them. Chicho and I noted that maybe we'd better slow down or we could easily get too full for dinner proper.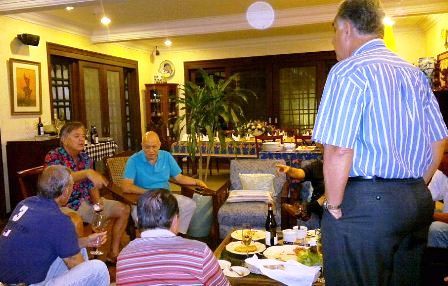 Tito Linggoy made it by the midst of cocktail hour(s).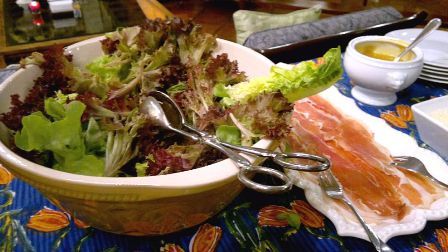 Catha made a nice Salad of Greens, Tarragon, Pine Nuts, Parma Ham, & Parmesan w/ Honey - Mustard Dressing...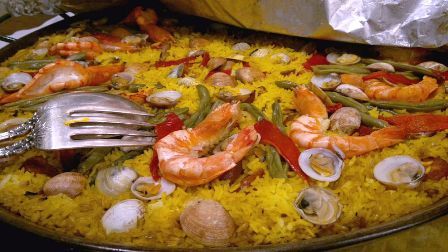 ...some really good Paella...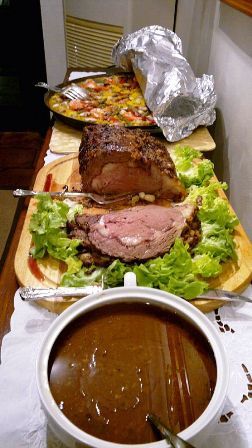 ...and arranged for my in-laws' cook to make us our main course of Roast US Black Angus Roast Beef with Red Wine & Mushroom Gravy. I liked this menu; it was simple, hearty, but good. Though Catha wanted to serve separate seafood and vegetable courses, I dissuaded her, saying that the salad would be fine for our greens and the paella already had enough seafood in it. Besides, us guys would likely concentrate on the roast beef anyway...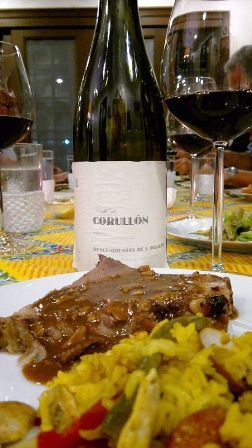 ...which is exactly what happened.
With the main course, I paired mainly the
2003 Descendientes de José Palacios Villa de Corullón - I've had this several times before, but had not tried it again for around 3 years. At this point, it is
nicer than ever. The notably ripe and deeply-veined fruit is softer and mellower than before, the tannins now velvety, blueberry notes now lead the black cherry, raspberry and blackbe
rry. Its minerality and oak-realted spiciness are now more subdued and finely-knit into the fruit. More rounded and harmonious than before. I opened two bottles of it and they were both finished easily.
We also had some 1998 Bodegas Riojanas Viña Albina Gran Reserva - This is one of my most favorite wines that Aaron and I bring in. I don't want to say too much about it now since I am seriously considering bringing more in, but suffice it to state that of all the wines we bring in, this refined, Bordeaux-reminiscent beauty is one I make extra sure I have a good number of for my own personal stash. Tito Linggoy, a confirmed Rioja aficionado, Quito, and, as I recall, Henry too, though they also enjoyed the preceding tinto del Bierzo, favored this wine last night.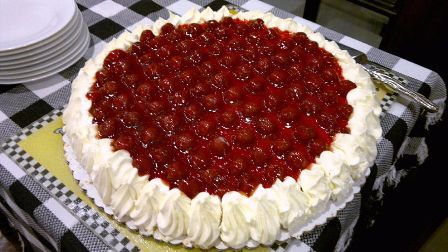 Dessert was Cuerva's Cherry Torte, an old family favorite...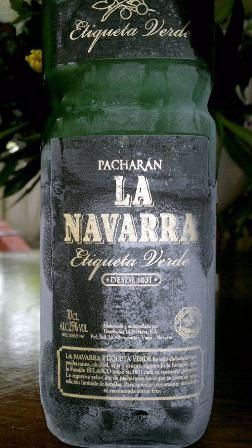 ...followed by shots of well-chilled La Navarra Etiqueta Verde Pacharán.
Thereafter, some of us moved outdoors for a smoke, Jos and Tito Linggoy enjoying a puro each of Cuban H. Upmann No. 2, while Raffy and I stuck to our Marlboros. Most of the guys started trickling off slightly after 10:30pm, leaving Henry, Quito, Jos, Tito Linggoy, and I lingering until around midnight on the patio listening to old songs. Such a fun and relaxing evening. Lots of stories. Lots of laughs.