Last night, the 23rd November 2012, was at
Brasserie CiÇou
for a special dinner featuring visiting Chefs
Christian Tétedoíe
(1 Michelin star for his self named restaurant in the Fourvière Heights, Lyon;
Meilleur Apprenti de France
&
Meilleur Ouvrier de France
awardee) with Gilles Troump & Eríc Hubert.
We were 10 in all at our table that night: Catha, niece Nicole, JC & Mari de Terry, Alex Tiu, Richard Joye, Cyrene de la Rosa, Guido d'Argensio, Othmar Ober, & yours truly.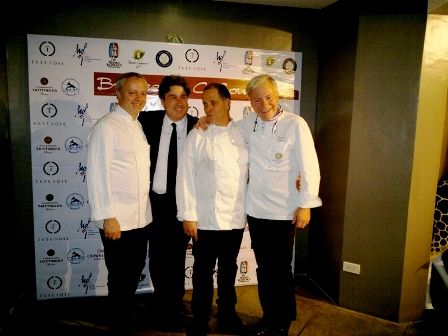 Chef Tétedoíe on the far right.
The night's special menu came with wine pairings, all of which came to P6000/person, or, roughly equivalent to just under 100€/person. Not being familiar with the pairing wines (except for the ubiquitous Champagne Taittinger Brut Réserve), I brought along a magnum of Bordeaux rouge to share at table. Richard also brought along a bottle of red - the more, the merrier, after all.
Amuse bouche
Welcome bubbly was, as mentioned,
Champagne Taittinger Brut Réserve
- a very reliable, fresh, lively, white-fruited, slightly whitely floral champagne which is always a pleasant way to kick off an evening.
Since Richard, Guido, Alex, and Cyrene had arrived early (to beat rush hour traffic), they had already gone through over a bottle (maybe two) of the night's bubbly, and, thus, were hankering for some red. So, Richard opened and served his bottle of
2007 Gabriel Meffre Hermitage "Laurus"
- chosen by Richard particularly because the main featured chef is based in Lyon (the capital of France's Rhône-Alpes region).
2007 was, I've read, a "superb" or "excellent" vintage for northern Rhône (where Hermitage AOC vineyards are located). The wine was slightly rustic, very ripe, a bit smoky, intense, viscous, somewhat candied cherry, raspberry, infused with discreet minerality and slight pepper. Fullish in body and with good intensity and balance.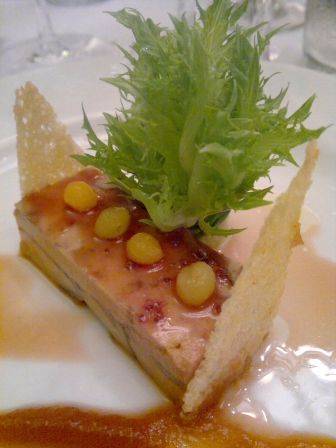 Homemade Duck Liver Terrine, Red Wine Glaze,Pear Compote au Poîvre Szechuan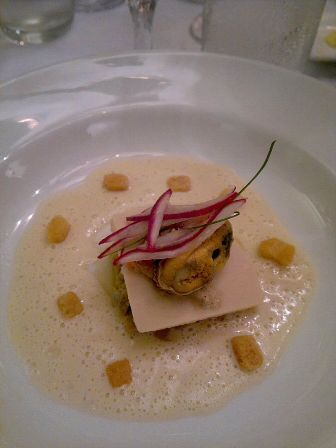 Crab, Mussel & Oyster Soup, Royale of Mushrooms
The
Sautéed Britanny Lobster, Velvet Risotto with Bouillabaise Foam
followed, the flavors of which were on point, but, honestly, and I wasn't the only one who commented on this, the risotto was gummy and ponderous.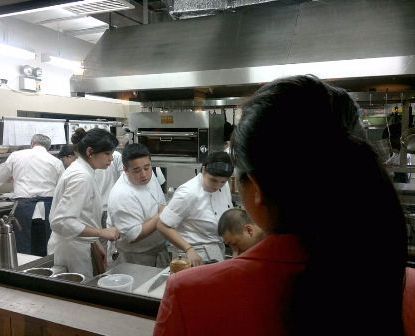 Nicole, formerly of CiÇou's kitchen crew, watches from the other side of the glass.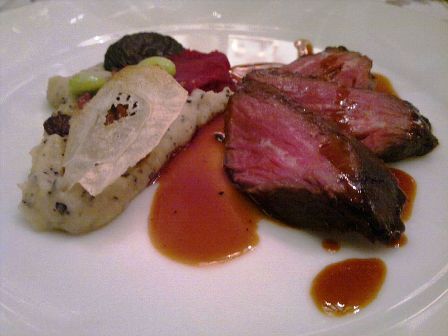 Slow-Cooked US Black Angus Onglet, & Parsnip Purée, Mushroom Medley, Sauce Beaujolaise
For the meat course, I had breathing a
1988 Château Haut-Bailly (Magnum)
- I've long appreciated the wines of Haut-Bailly as I've found them to be consistently typical of Pessac-Léognan/Graves,
sans
, to my mind, the modern designer over-ripeness, concentration, extraction, and seemingly concerted immediately-ready-to-drink character that seems to pervade Bordeaux nowadays. The wine itself possesses a silken charm in texture, precise heft (a notch or two over medium-bodied), typical flavors (JC, without knowing what it was, immediately identified it as being from Pessac-Léognan), and admirable balance. Lovely, old school wine.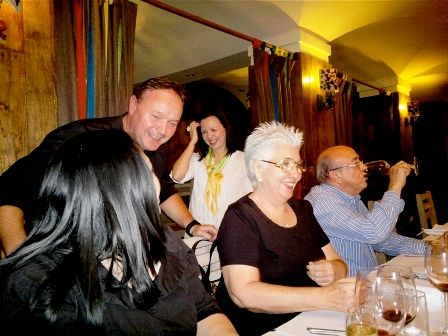 Cyrille makes his appearance.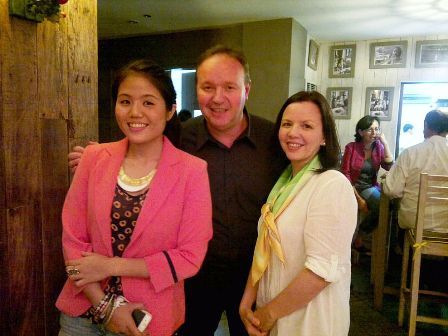 Nicole, Cyrille, & Catha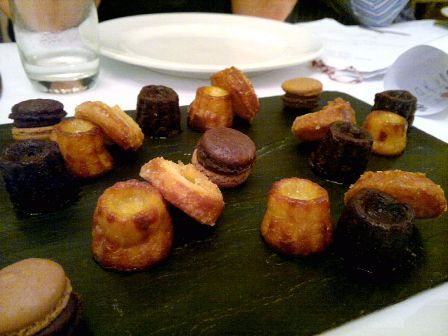 Mignardises
I was very happy that JC & Mari de Terry, ever busy with their restaurants and specialty delis, were able to make time to join us for the dinner that night.
Dessert was
Tart, Emulsion of Crème Brûlée, Tuile, & Ice Cream
. Unfortunately, when mine got to me, the emulsion of crème brûlée which was supposed to be served flaming, was, among others, bereft of fire, and the ice cream was melted.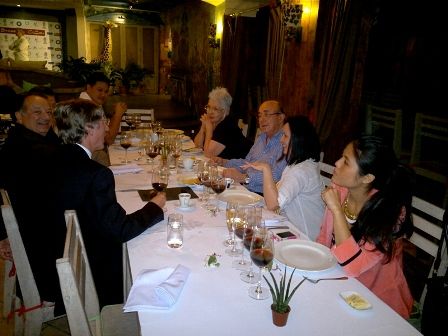 Awaiting Dessert Part II...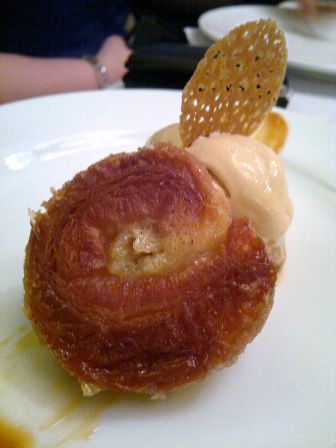 ...CiÇou's famous Kouign Amann w/ Salted Caramel Ice Cream - I can never leave CiÇou without having some of this Breton delight.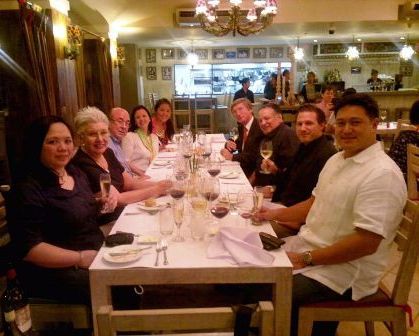 Cheers! Until the next!