Catha suggested dinner with the kids at
Hanakazu
(108 Aguirre Avenue, BF Parañaque) this past Friday, the 2nd November 2012, and I immediately agreed as we hadn't been back there for quite a while. We were only four for dinner, though, as Mauro had a previous dinner commitment.
The usual complimentary appetizers. I love the Baby Squid so much...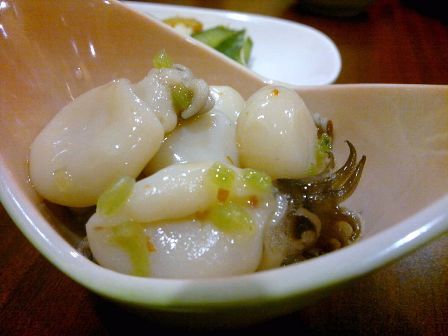 ...I got an extra side order of them.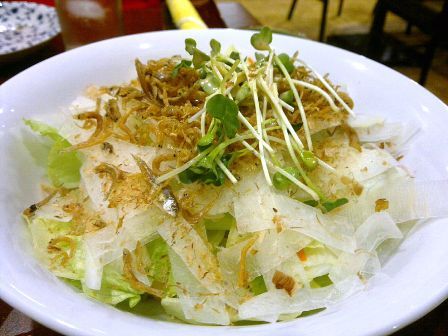 Daikon Salad with Goma Dressing (para healthy, of course).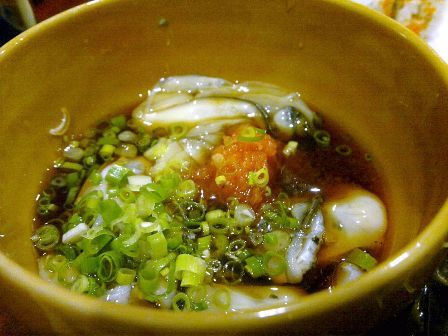 Fresh Japanese Oysters in Ponzu Sauce
Catha doesn't really enjoy raw oysters, so ordered some of the above-depicted Japanese oysters breaded and deep-fried (
Kaki Furai
). I find it a waste for such fat, fresh imported oysters to be cooked in any manner, but, to each one's own.
By way of
sashimi
, we had,
Toro
(fatty tuna belly),
Uni
(sea urchin), and
Sanma
(Pacific saury), all of which were flown in fresh from Japan that morning. Delicious as usual, and materially less expensive than the same dishes in Tsukiji.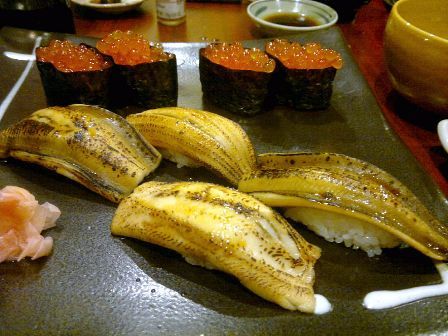 By way of sushi: Anago (sea eel) & Ikura (salmon roe).
With the foregoing, I opened some bottles of Kiuchi Brewery's
Hitachino Nest White Ale
- I first tried this flavorful and refreshing Japanese craft beer hailing from Japan's Ibaraki Prefecture back on the 4th August 2011, and, from the first couple of sips, thought of having it with some sushi, to wit:
The lightest of the bunch was the

Hitachino Nest White Ale

- Very fresh, eminently gulpable, mildly hoppy, citrus, orange peel noted ale with suggestions of sake. This goes down very easily...surely a crowd pleaser for those who will want to go on all night. It's dry brightness made me crave some sushi...
I've bought and consumed tons of this since then (my teenagers, brother, father, sister, and sister-in-law like it too), and written about this delightful ale several times already, so, suffice it to state that, for me, no Japanese meal is complete without it.
Drinking buddy Jim Araneta's
Global Beer Exchange
is the local distributor of Kiuchi Brewery, and brings in a very good array of Hitachino Nest Ale, as well as Ibaraki saké. Although the subject ale is materially pricier than most local and imported beers in the local market, it is by no means out of reach. In fact, though it is also pricier than other craft beers Jim carries, the
Hitachino Nest White Ale
has become his best selling/fastest moving beer. Enough said.
Joaqi had to have his usual California Maki...
...just like I had to have usual my Ebi Tempura.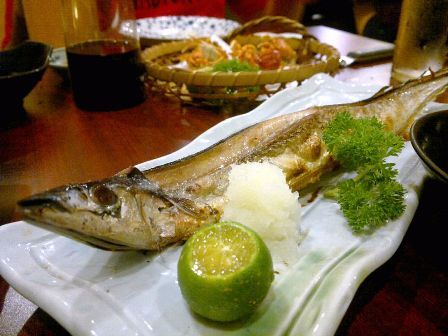 Lightly Grilled Japanese Sanma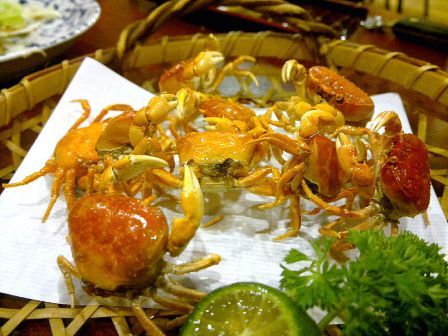 Deep-Fried Crablets (dipped in Macha Salt as Alex Tiu taught me).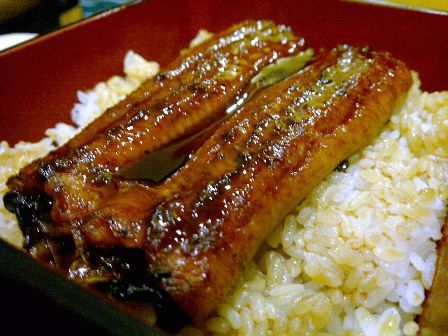 Joaqi & Lorenzo shared the above Unaju.
With the above cooked dishes, I broke out some
Hitachino Nest Japanese Classic Ale
- I first tried this over a year ago (the same time as the above-discussed White Ale) and have also grown very fond of it. My first notes on it were:
Next up several notches in weight class that night was the

Hitachino Nest Japanese Classic Ale

- deeper and more complex with hoppier dried fruit flavors (if not as playful and easily gulpable as the previous ale), this is heftier (just about medium-bodied) and packs a more potent, though quiet, hoppy punch.
With its added depth, heft, punch, and complexity with slight caramel and nutmeg notes in its nose and past mid-mouth, into the finish (as Lorenzo also noted), it is better suited with the fried and grilled dishes. Nicely rounded mouthfeel too.
For dessert, out of curiosity, I ordered one of the packaged Japanese products available - a
Japanese Cream Puff
. It was quite good as far as packaged desserts go; and the kids certainly liked it.
Catha and I, however, stuck to fruit for dessert - the above
Japanese "Fuyu" Persimmon
. Very nice. Although I prefer the Japanese "Hakuto" Peaches, I understand those are no longer in season, and, thus, were no longer available. The Fuyu persimmon, however, was fine. Great to have been back to Hanakazu. Until the next....