The Fuenteses and Vecins joined us at home last night for a casual Halloween's dinner. It was just us 6 adults last night as the three boys had their respective parties to attend.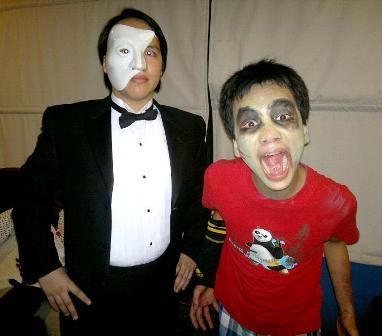 Mauro & Joaqi as The Opera Ghost and a Zombie, respectively.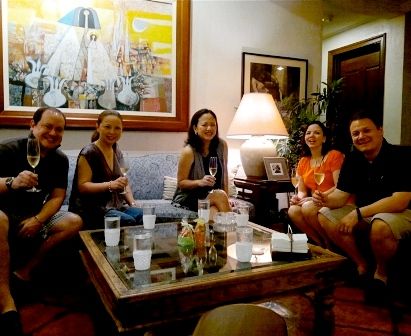 Rene, Aimee, Ria, Catha, & Miguel.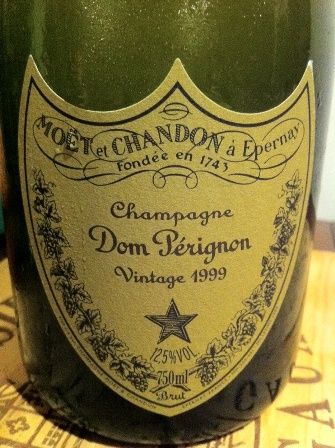 (Photo by Rene Fuentes)
With the Vecins' assorted pica-picas that Miguel brought back from a just-concluded working trip to Spain, we enjoyed some 1999 Moët et Chandon Cuvée Dom Pérignon - Rene's bottle. I've had this at least a couple of times before (not long after release, I believe) and recall it as being very tightly-wound, lemon/citrus at the forefront, linear, and simply way too young to enjoy. Now, popped-and-poured, it shows very amiably with pillowy pear and apple, bit of lemon cream, pastry, and an underlying marzipan nuance. Notable freshness and palate-presence. Drinking nicely now, and a lovely way to kick off a Halloween dinner.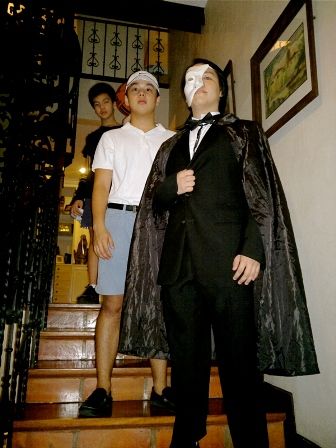 The boys on their way out.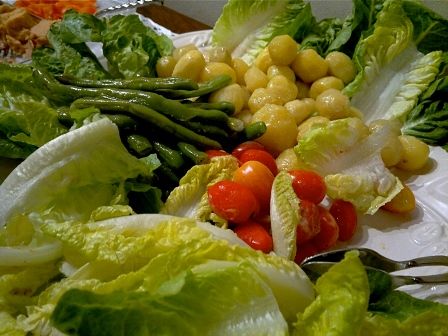 Catha's Salad Niçoise...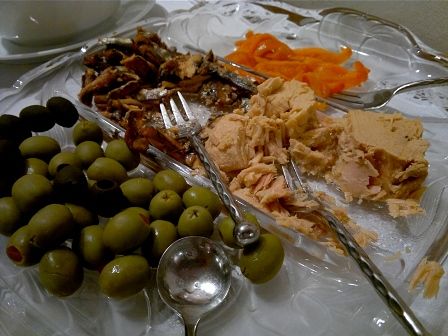 ...and its other condiments.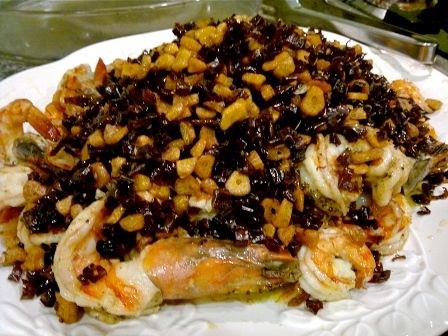 My Chili-Garlic Prawns...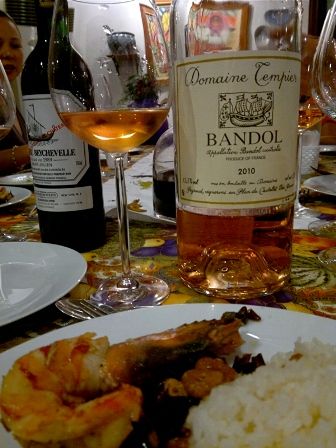 ...for which I served a magnum of 2010 Domaine Tempier Bandol Rosé - My favorite rosé in the world, and I've had most all of the most famous out there. This is an always graceful, typically garrigue-touched rosé I confidently load up on year in and year out. I've written often about their 2010, so there is no need to repeat myself anew. Many friends who love Tempier's rosé bewail its relatively "high" price (rosés are typically cheap, excepting the famous ones such as Tempier's, Ott's, and d'Esclans), but would happily drink it nonetheless.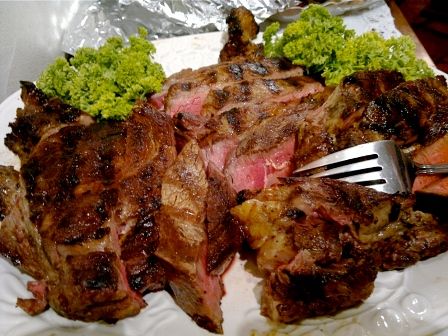 My Grilled US Angus Rib-Eyes.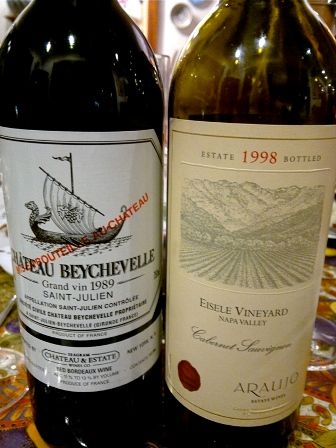 The night's reds:
The subject wine re-confirmed my preference for the Araujo style of Napa cabs: mellow, deep, markedly good depth, balance and harmony. Not at all in-your-face. This is a few shades under legitimate Napa cab full body, notably smooth, warmly supple mid-mouth, soft-fruited, precise ripeness, with grace and poise. Faint minty topnote, cedar, violets, mildly earthy dark fruit, sweetish red berries, just a pinch of underlying tobacco and wood spice with slight red spice in the finish. Lovely wine, probably the most poised and elegant Napa cab I have had. Very different in character compared to the darkly serious, masculine Montelena and the Bordeaux-esque Dominus (two of my favored Napa cab producers). A great treat indeed - and it was fantastic with the steaks.
Now, almost 2 years later, it is richer in over-all character and notably creamier in texture, showing more vanilla bean infusion and more of the region's unmistakable/typical ripeness and full body. Notable girth and structure. This drinks very youthfully at 14 years from harvest; and I believe will continue to improve in years to come. It stood effortlessly with the steaks, running with the latter's richness.
1989 Château Beychevelle
- My bottle. In (many) years past, Beychevelle (a fourth growth in the 1855 classification) was, admittedly, not one of my favored wines St-Julien (read: I bought a few and did not like them). However, in recent times, especially after being recently very impressed with
Keiichi's 1928 specimen
, I've been more open to purchasing some. This bottle of Beychevelle's 1989 shows why, though my palate may stray years on end, I always come back to Bordeaux.
A classic, firmly structured, masculine, typical St-Julien of notable harmony and good balance. A notch or two under legitimate full-body, earthy, cedar and violets-infused blackcurrant, touch of gravel/asphalt, hint of worn leather and ceps, good acidity. At 23 years from harvest, this is very enjoyable now, but can hold for many more years. It also provided a most entertaining pairing comparison (cut and contrast) vis-à-vis the above-mentioned Araujo and steaks (running with the ball)..
...and a Rum Cake ordered by Catha.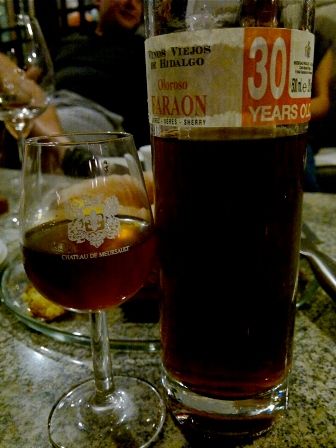 Bodegas Hidalgo Oloroso Faraon 30 Years Sherry on the patio.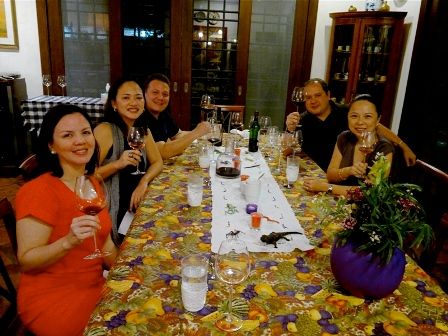 ¡Salud! Happy Halloween! Until the next!