The 20th November 2012 was long and tiring, having started with a morning meeting at the law firm (contrary to what some people may think or have heard, I am still active in my firm as a private practitioner), thence, back to Alabang to attend the wedding of Tito Reynoso's son. Thereafter, back to Makati for a dinner at
The Tempranillo Room
(Terry's Salcedo Branch), the entire menu conceived and executed to pair with a vertical of
Château Siran
's wines (AOC Margaux).
A challenging task it was, indeed, as the wine, though naturally possessed of Siran's hallmark Margaux terroir traits, and higher than typical merlot content round/fleshiness and petit verdot spice, differs from vintage to vintage. Capturing each distinctive nuance would be tough enough, but envisioning and creating each pairing dish was a task herculean that only JC could successfully take on. To add further degrees of difficulty, JC determined to execute only French dishes, and none from his mother Spain.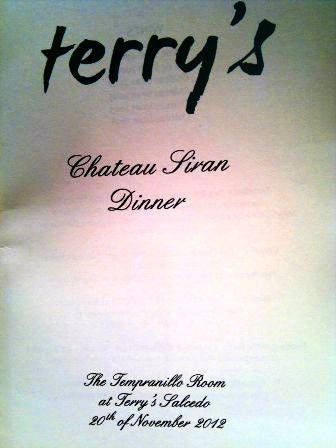 The Menu
As I arrived, with a salvo of addictive
Terry's Pâté with a Touch of Banyuls topped with Fricasseed Gherkins Pickled in Coriander Vinaigrette
, there was free-flowing
2009 "S" de Siran
- Château Siran's second wine, also from the Margaux
appellation
, of fruit from younger vines than that of the
grand vin
, from a Bordeaux vintage widely recognized as outstanding. Although
I normally have some bubbly or white before diving into reds, this wine made for a surprisingly enjoyable pre-dinner drink, showing off Bordeaux vintage 2009's renowned merits, while being very accessible and welcoming, and, as such, a perfectly acceptable apéritif.
Although wine from younger vines are, at times, marked by notably lesser structure, depth, and body, I perceive that the vintage came through, giving admirable heft, concentration, body, and, yes, even depth, and, I would say lushness, to this second wine. Per Edouard, this is not yet available in the local market, but I believe, at a second wine's lower price than a
grand vin
, this would receive a warm reception in Metro Manila.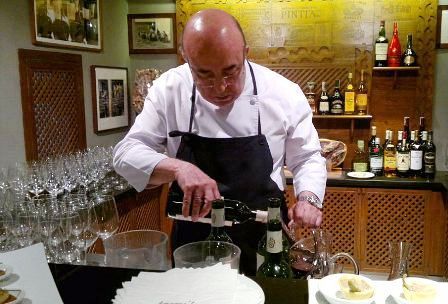 Ever meticulous, JC decants the grands vins for dinner proper.
The pass-around of Pan-Seared Diver Scallop on a Bed of Seafood & Cognac Cream was absolute heaven - the deeply charred red peppers in the Cognac cream making great interplay with Siran's trademark petit verdot red spiciness.
The Deep-Fried Cauliflower Floret in Fresh Tarragon & Black Truffle Villeroy Sauce was perfectly executed - clean and crunchy, the batter coating not at all oily, the cauliflower perfectly tender and romanced by the tarragon and truffle nuances.
The
2008 "S" de Siran
showed vintage traits of being lighter in body, with less warming ripeness or concentration as its 2009 counterpart, but confidently displayed clean lines, firm backbone, and notable purity of fruit - a choice for those who prefer older-school, properly austere Bordeaux, to my mind. With the
Mini Crêpes filled with Lima Bean Cream and Bayonne Ham Crisps
, it was fine.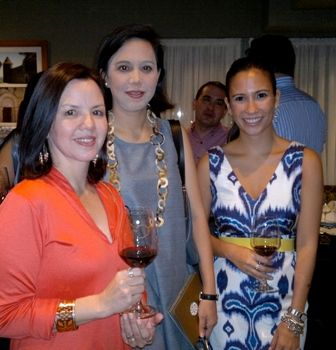 Catha, Alicia Sy, and Stephanie Zubiri.
Yuan "Paella Boy" Ongpin & Siran's Edouard Miailhe.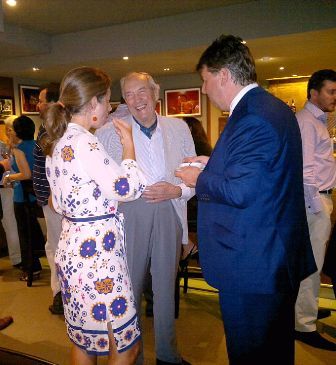 Edouard's father, Alain Miailhe, currently in town, also graced the event.
As an added treat, there was a sneak peek at the unreleased
2011 Château Siran
- Medium-bodied and will most likely put on a bit more weight later on, this shows notable refinement and poise even at this very early stage. Pleasant red berries over cassis with a nice touch of spice and hints of violets at the end. Nice balance in this. I quite liked it. This, per Edouard, will probably hit Philippine shores no earlier than 2015, so it was a good opportunity to taste it without having to travel to Bordeaux.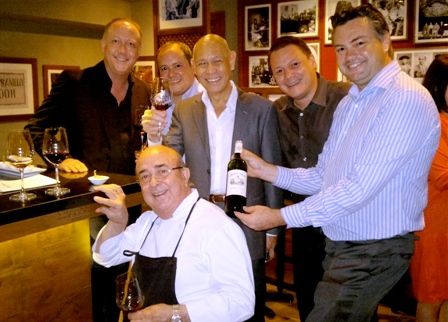 JC, Edouard, Colin Mackay, Rene Fuentes, Jr., Freddie Pio de Roda & Miguel Vecin.
This array of Crunchy Duets of Boudin Noir & Diced Apple Compote was wiped out in a trice. At a dinner the next evening, Catha, Miguel and Rene were still talking about this dish.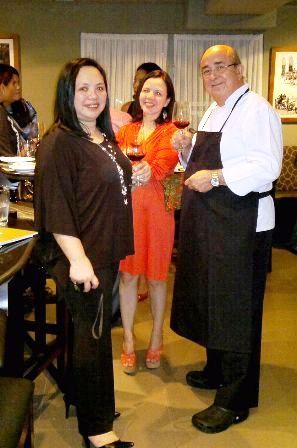 Cyrene de la Rosa, Catha, & JC.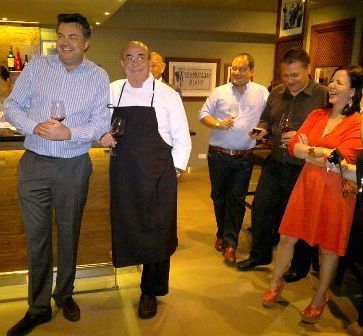 Edouard gave a brief talk on Siran's history and wines...
...emphasizing the passion behind the night's wines and dishes.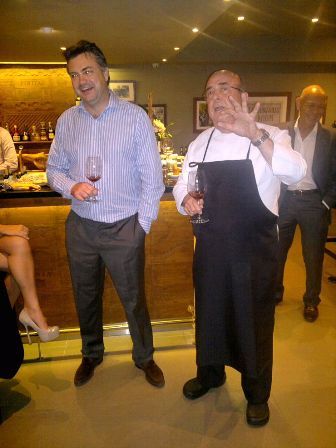 With JC in tandem, there was passion enough and more...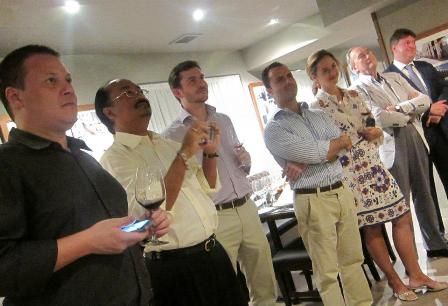 ...to which everyone paid close attention. (
photo by Cyrene de la Rosa
)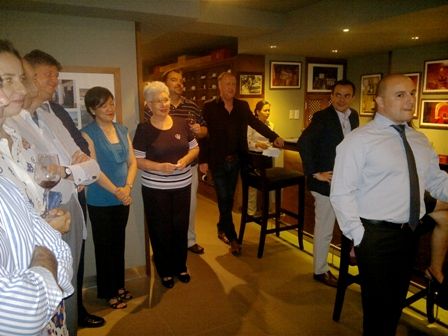 Movers and shakers of Metro Manila's fine wine & dine scene.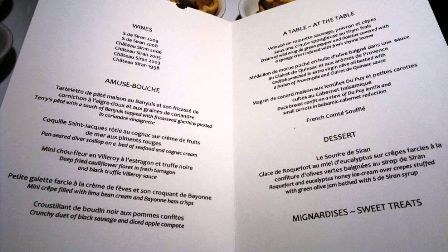 The dishes and pairing wines at table.
On to dinner proper.
Cream of Wild Arugula, Green Pepper, and Boletus under a Thyme-infused Spongy Crust. With this complex soup course, we had the 2006 Château Siran
- with some coaxing, this yielded nuances of licorice and tar underneath the cherry, plum, blackcurrants, and trailing, red-spiced raspberry. Medium-bodied at this stage, aspiring for more heft. The tannins are quite noticeable, but fine enough, and should soften with age. There seems to be more cabernet sauvignon and less merlot in this than usual, but that's just a guess.
With the Codfish Poached in Extra Virgin Olive Oil, bathed in a Fusion of Provençale and Clairet de Quinsac Sauce, we had the 2005 Château Siran
- I've followed this wine since it was in barrel in July 2006, and have had it and written about it many times throughout the past 6+ years. From July 2006:
Chateau Siran

- Big, chunky black fruit, cassis and some leather over mild black coffee and violet notes. Lots of weight and rolling muscle in this wine. A powerful, tannic bully-boy now. I think this may mirror their '82 now in around 15-20 years. Yet another with great ageing potential from Siran.
My last two blog notes on it have been from
26th May 2009
:
2005 Château Siran

- I've had this many, many times, beginning with a barrel tasting at the château in July 2006, so I have been able to closely monitor how this deeply colored and flavored, muscular youth has progressed over past nearly 3 years.
From its initial, hugely rounded, muscled and burly character back in mid-2006, this still very palate-stainingly youthful wine has smoothed out and gained depth quite well. The confident dark fruit, cassis, iron, violets and leather are highlighted by the typically Siran spicy red berry notes that follow through the long, strong finish.
Tannins are big and are still in the process of smoothening out nicely. This is a legitimately full-bodied wine, showing the strength of the highly-acclaimed 2005 vintage, yet still very much in balance - the spiciness adding to the acids lift, to my mind.
Since this is still quite young, Edouard wisely made sure to have this double decanted for aeration. I would have expected nothing less.
...and from 31st March 2010:
I've been following this wine for almost 4 years - since before it was bottled. It's calmed down a lot since its big, burly, muscled dark and spicy fruit youth. This bottle came off notably less full and warming than at

a Siran dinner on the 31st January 2009

but showed better focus and purity of fruit. Siran's distinctive red spice in the violet finish (from the petit verdot most likely) was unmistakably there.
As of two nights ago, I can say that the 2005 Siran still exhibits the bold, powerful, deep, darkly ripe fruit and rolling muscle from whence I first tried it - but has a smoother, quieter, more serious character - no longer an overt bully-boy of a Margaux - rather, it has put on a bit of refinement. There is an emerging meatiness, and its cedar, violets, and oak spice are now more apparent, especially in the finish. Though drinkable now (Yuan named this his favorite of the night), it has many, many years ahead of it. I still believe it will grow up to be like the 2000 Siran (which is still my favorite recent Siran vintage, but let's see what 2005 and 2009 have in store for the future).
With the main course of Magret de Canard Confit on Stewed Du Puy Lentils with Young Carrots in Balsamic-Cabernet Reduction, we had the 2003 Château Siran
- Personally, despite all the high ratings, praise, and so forth of professional reviewers, I'm no big fan of vintage 2003 Bordeaux as I've found the ones I've had generally overly ripe and alcoholic - a stylistic preference really. Thus, I've avoided buying any, and perforce, may have missed out on some good ones (which, with all the Bdx wines, is both very possible and even highly probably).
In any event, the 2003 Siran was more open and giving than the 2005 at this point, with generosity of concentrated, dark, ripe cherry, hint of kirsch, plum, dark raspberry, a dose of crème de cassis, bit of licorice, smoke, and a breath of creamy vanilla/oak. Full-bodied. JC and several others thought this
grand vin
showed the best that evening.
With the
French Comté Soufflé
, we were served the
1998 Château Siran
- I've had this only twice before, my last notes on it being
from a magnum on the 31st March 2010
:
1998 Château Siran (Magnum)

- I first tried this almost a year ago during

a dinner at I am Angus on the 30th May 2009

(in regular format though) and liked it well then. This vintage was one of those under the watch of Michel Rolland. My notes then were as follows:
"Popped and poured, no decanting at all. At around 10-½ years from vintage, this wine presented an emerging bouquet of cedar and damson and cherry fruit over violet-infused dark berries.
"In the mouth, it mirrors its aromas on a body halfway between medium and full, with an added dose of cassis flecked with vanilla/oak, underpinned by some leather and minerals. Shows a very pretty feminine side of finesse over-all."
This time in magnum, also popped-and-poured, the wine seems more expressive, shows more blackcurrant than before, more depth and slightly more minerality in its dark fruit, leather, violets and cedar. Siran's hallmark red spice notes in the finish (the petit verdot) are now apparent. Again, slightly on the feminine and more easily approachable side - a trait which I've noted in their '98 and '99 vintages under Rolland, but not the '00 and '01 which were more the old-school, muscular, masculine Siran. Very admirable wine for the vintage.
On the subject night, Catha and I favored the 1998 for current drinking. It was medium-bodied, could have had more heft in the middle, and was comparatively austere and nowhere close to as concentrated or ripe as the 2003 or 2005 (but that is the vintage). The flavors are there, the distinctive red spice at the end too, touched with licorice and a bit more cedar and a saline topnote. Dry and food-friendly. I'd drink this now and within the next 2-3 years unless it's in magnum format.
The incredibly complex dessert of Roquefort & Eucalyptus Honey Ice Cream over Crêpes Stuffed with Green Olive Jam bathed in "S" de Siran Syrup I had alone. Another stunning masterpiece of a dessert by JC.
Bravo!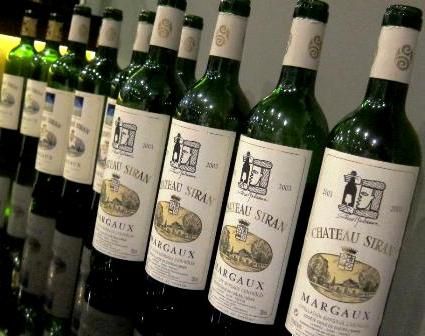 The Siran grands vins (
photo by Cyrene de la Rosa
).
Very fun night of incredible food as usual from JC. I know of no other chef who can create specific wine pairing menus so accurately and meticulously nuanced as he, taking account not only particular regions or grapes, but specific producers and vintages as well. It was also good to re-taste the several vintages of Siran, as well as to try the 2008 & 2009 "S" de Siran and the 2011 Siran grand vin, which I've not tried before. In addition, I've not seen Edouard in several months, so it was a nice opportunity to catch up even for a little bit.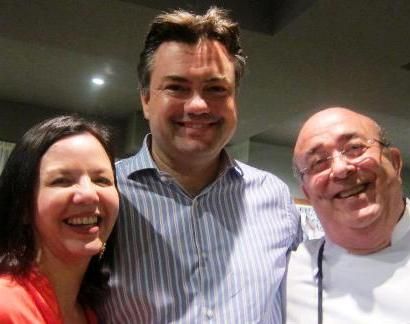 Until the next! (
photo by Cyrene de la Rosa
)