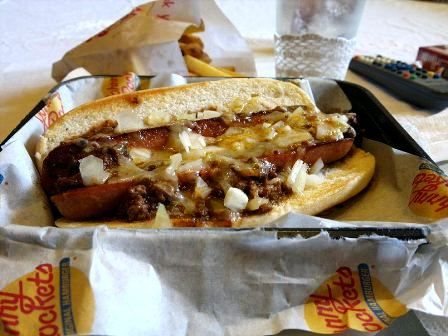 Passed by Johnny Rockets (ATC) to take out a chilidog (one of my rare, simple/guilty pleasures) - purposefully didn't dine in because of the hideous, nerve-scraping dance routines diners are subjected to.
As I was reading the one newspaper available to guests, as luck would have it, the music suddenly blared and I was treated to the staff's gyrations to Chic's "Dance, Dance, Dance". I gritted my teeth and sank into the financial pages, suppressing the desire to grab the cook by his whites, screaming into his face "Go cook my f*cking chilidog!!!"
Thankfully, my order arrived shortly thereafter. I quickly paid and headed home, walking out the door to the staff's management-mandated cheery chirping of "Bye, guys!!!" (though I was alone).
The chilidog is, in a word, awful. The hotdog utterly characterless, the bun soaked in grease, the chili watery and salty beyond belief. As I sadly munch, I console myself with daydreams of driving back and forcing this pitiful excuse of a chilidog down the throats of those vacuously grinning dancing fools.
~ oOo ~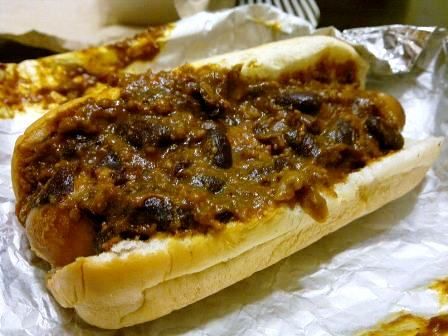 A few days later, from the weekend bazaar at the village, I tried the above chilidog by Karina's Kitchen which was quite good - certainly light-years better than the monstrosity churned out by Johnny Rockets. I was happy with it. Unfortunately, I also tried out a cheeseburger by Burger Cartel, the patty of which was hard, dry and had the texture of sawdust. Bleah.