Last Thursday dinner, the 15th November 2012, was back in
Impressions
(3rd Floor, Maxims Tower, Resorts World Complex, Pasig, Metro Manila), through Executive Chef Cyrille Soenen's kind invitation. The menu was a special "Gibier Wine Dinner" featuring in season game and mushrooms flown in from France for the event ("
gibier
" is French for "game").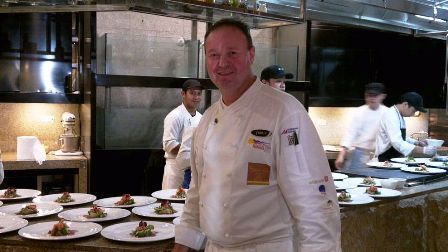 Cyrille Soenen at Impressions' helm.
All the pairing wines were by Beringer Vineyards courtesy of
Happy Living Wines
through the charming and industrious Kathy Yao Santos. The evening's special guests included Beringer's Brand Ambassador, Nicole Carter, and US Ambassador, H.E. Harry K. Thomas, Jr.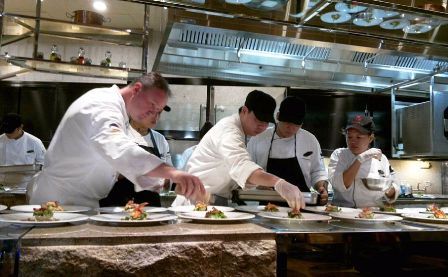 Cyrille hands-on at the kitchen, preparing the 1st course.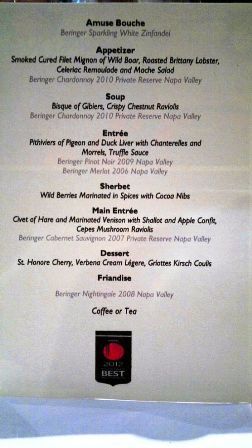 The Menu & Pairing Wines.
I noted the presence of several friends and fellow winos there, among whom were Alex "El Demonio" Tiu with two of his brothers, Cyrene de la Rosa, IWFS stalwarts Bill Stone, Fil Juntereal, and Freddie Pio de Roda, and, from the Wines & Spirits Club of the Philippines, Wil Lee, Gino Garcia, and Elizabeth Tan.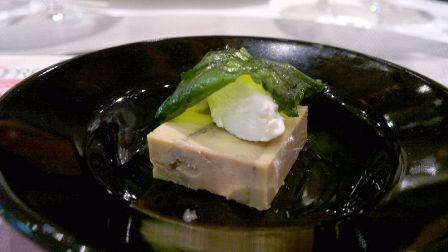 Foie-based Amuse Bouche.
The salad course was a luxurious
Smoke-Cured Filet Mignon of Wild Boar, Roasted Brittany Lobster, Celeriac Remoulade & Mâche (a.k.a., "Lamb's Lettuce") Salad...
...paired with
2010 Beringer Chardonnay Private Reserve
- quite nice with the dish, it is a polished and quietly stylish Napa chardonnay, a shade over medium-bodied with soft, slightly tropical chardonnay flavors, nice discreet butter notes, moderate toastiness, minerality and vanilla/oak, with a hint of nutmeg to the back and in the finish. Pretty good, actually; not loud or bombastic or obtrusively oak-laden - I made a note to order some for Catha who favors Napa chards.
The soup course followed:
Gibiers Bisque with Crispy Chestnut Ravioli which had some intriguing, deeply caramelized bits of game in it - hare?
The fowl course was, hands down, my favorite dish of the night:
Pithiviers of Pigeon & Duck Foie Gras with Chanterelles, Morels & Truffle Sauce.
Absolute heaven in its moist, tender, earthy, subtle gaminess. This was paired with two reds, namely,
2006 Beringer Napa Valley Merlot
&
2009 Beringer Napa Valley Pinot Noir
.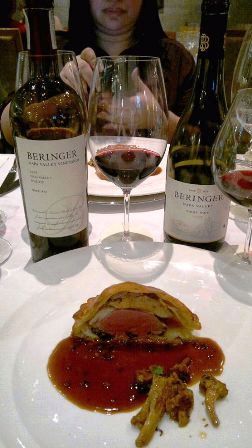 It did not escape me that the wines poured in proper stemware. Noted and appreciated.
The
2006 Beringer Napa Merlot
seemed proper, correct and typical enough in a rather straightforward Cali merlot fashion, but what, to me, constituted the pairing of the night was the
2006 Beringer Napa Pinot Noir
. Roast pigeon is a typical and especially favored dish in the Côte d'Or, typically and traditionally paired with its pinot noir based reds. Poured in a proper Burgundy glass, paired with a traditional Burgundian dish, it had me at "Bon Appétit".
As to the subject pinot noir itself,
California pinot noirs are generally/markedly richer, more concentrated and extracted, warmly riper, heftier, and more alcoholic than Burgundy reds, with a telltale candied character to the cherry, raspberry dominant flavors, with distinctive cola notes. This one's ripely sweet, lightly spiced red fruit served as a nice complement to the robust, earthy pigeon with foie - my favorite dish and pairing of the night by far.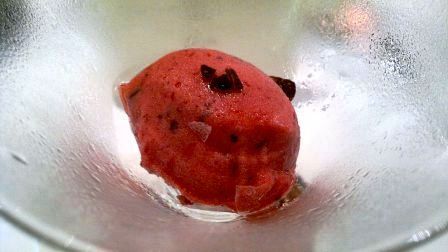 Wild Berries Marinated in Spice with Cocoa Nibs
I usually take no note of palate cleansing sherbets, but this one was particularly noteworthy. Not only did it cleanse the palate, priming it for the following cabernet sauvignon, it also was an event in itself for me as I'm a sucker for cherries and/or raspberries with chocolate.
The meat course was Civet of Hare and Marinated Venison with Shallot & Apple Confit & Cèpes Ravioli, paired with 2007 Beringer Cabernet Sauvignon Private Reserve - a manly dish and pairing wine - robust, earthy, deeply and complexly flavored, no shortcuts here - the apples providing a refreshing sweetish note of contrast. Lovely venison.
I've had the subject wine once before from Alex, during
a long, wine-filled steak lunch with Alex & Jim at Mamou Too! back on the 9th April 2012
. My notes from then are still applicable, thus:
The 20

07 Beringer Cabernet Sauvignon Private Reserve

was, as I recall, only the second or third 2007 vintage Napa Cab I'v had. Seems to me that vintage 2007 was a very impressive one for Napa. Alex had it decanted for aeration probably half an hour and then poured us some to breathe in glass. This is a very well-balanced, full-bodied Napa cab, presenting concentrated, not over-ripe or over-extracted crème de cassis, blackberry, bit of black cherry, slight dusty cocoa, touch of licorice, bit of violets. Nice mouthfeel, the tannins are smooth and molten. Focus and structure are good. Not surprisingly, this is something good and reliable for the cellar.
Beringer's Nicole Carter with yours truly (photo by Cyrene de la Rosa).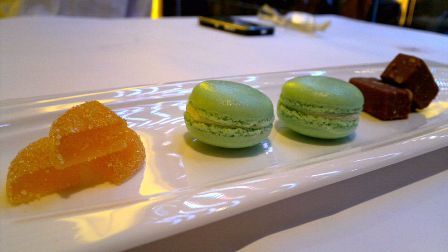 Firandises
(file photo from 2 days earlier)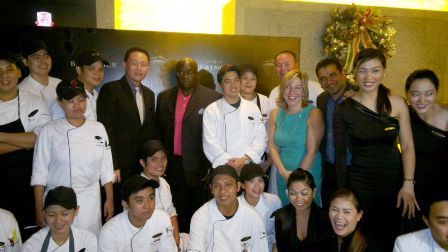 Cyrille & crew w/ Nicole Carter & US Ambassador, H.E. Harry K. Thomas, Jr.
The dessert course and pairing wine were a delightful, yet light on the palate and belly
St. Honoré Cherry, Verbena Crème Légere, Griottes Kirsch Coulis paired with 2008 Beringer "Nightingale" - Beringer's take on Sauternes composed of botrytis-touched sémillon and sauvignon blanc. Not bad at all, light on its feet, more like a Barsac.
Excellent event! Congratulations and many thanks to all!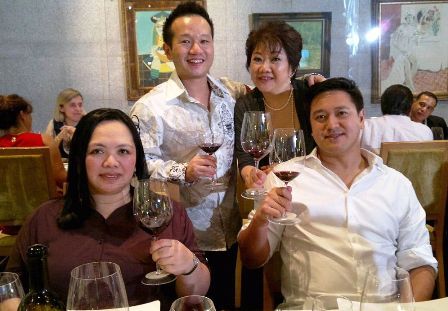 Cheers from Cyrene, Vernon, Kathy & Alex! Until the next!