Around a month ago, upon receiving Henry's text message scheduling his annual birthday tournament for the 12th November 2012 at
The Country Club
, I was surprised that it seemed to come again so quickly. Has it been a whole year since the
2011 H. Hagedorn Cup
? Time really does fly by me as of late.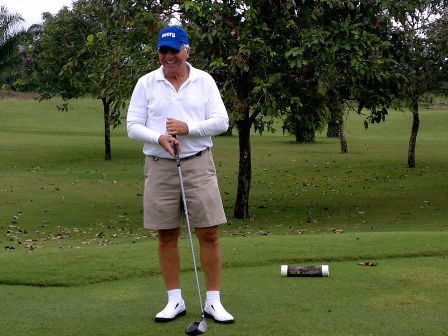 Our generous host & birthday boy, Henry Hagedorn.
I immediately confirmed my attendance of course. Henry's birthday tournaments are always so much fun, I don't miss them if I can at all help it. Though I am number of college batches below everyone else, and from the arch-rival alma mater to boot, they make me feel welcome, the camaraderie always warm and comfortable. If memory serves, I've missed but one of Henry's tournaments since 2006, and that was only because I was out of town at the time.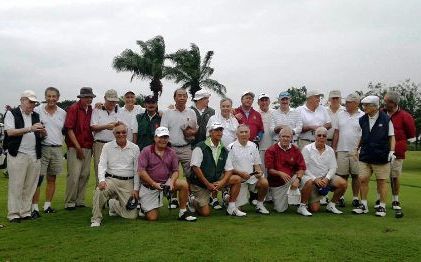 Everything that day (i.e., green fees, golf carts, caddy fees, snacks, drinks, merienda-cena, and even more drinks, etc.) were all courtesy of Henry. All we lucky guests had to do was show up, play, eat, drink, and enjoy - a lot - and that we all did.
Henry tees off at the 1st Hole.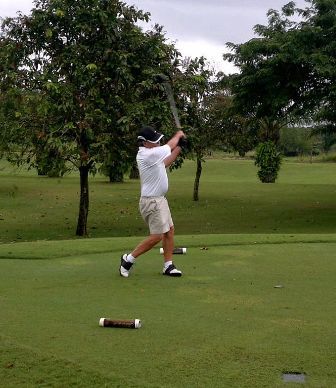 Bobby Paradies (last year's champion)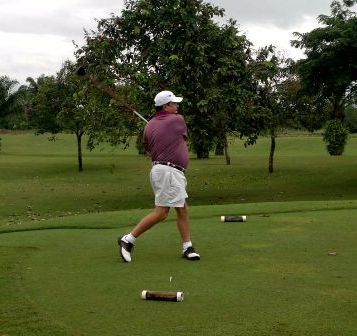 Paco Gonzalez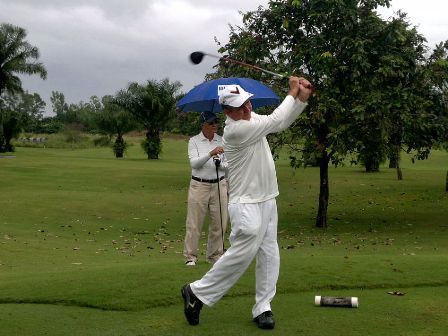 Rafa Cacho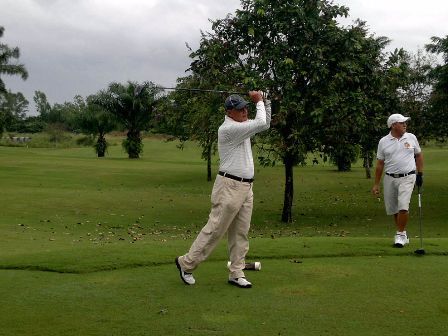 Tama Ng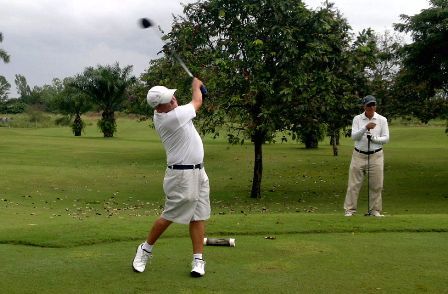 Art Zuluaga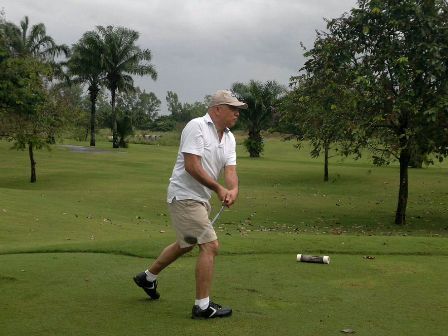 Sal Lacson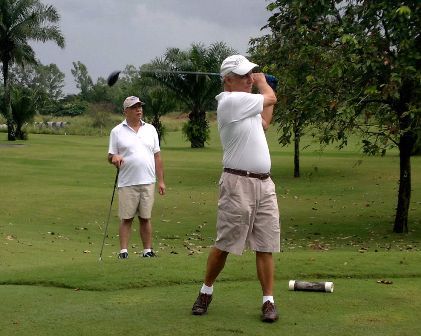 "El Kimo" Quito Moras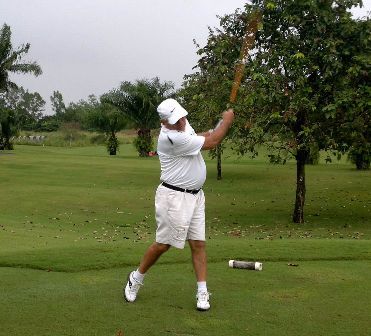 Pinggoy Mañosa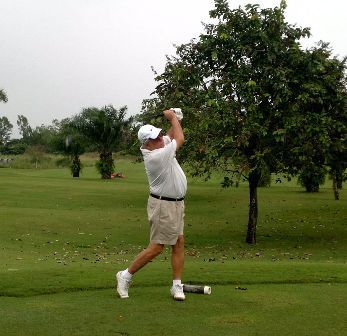 Jimmy Alba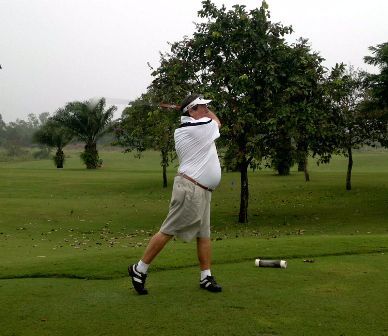 Jaime Ugarte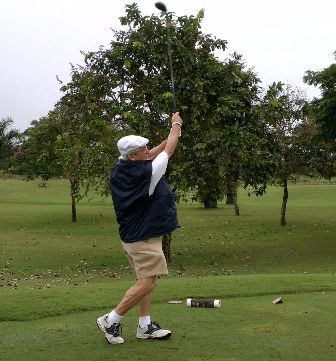 Johnny-Mike Llamas
Douglas Rodriguez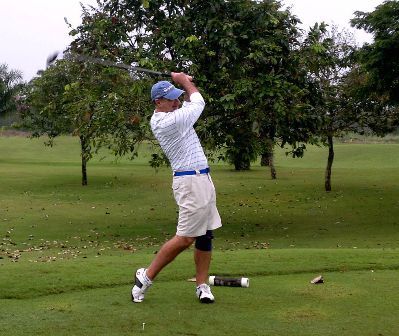 Joselu Romero-Salas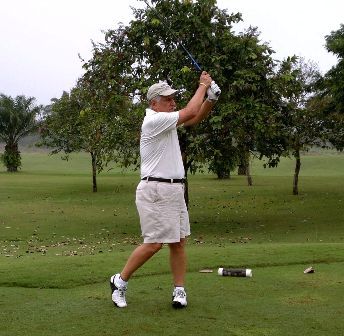 Jos Moraza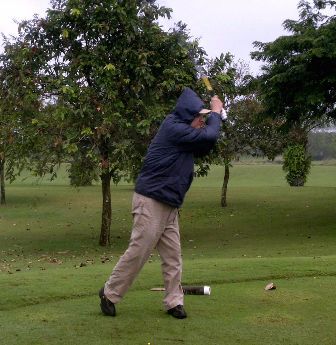 Vince Revilla
Mari Cacho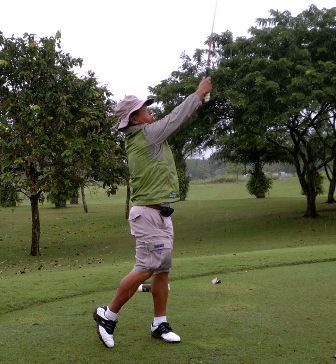 Tito Reynoso
Because I had to take a couple of calls and chat with some of the others there, I wasn't able to take everyone's tee-off photos.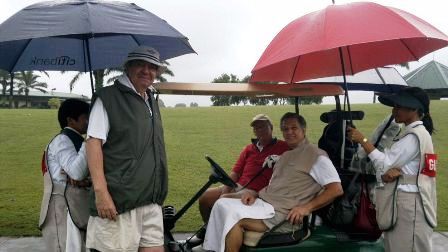 Above are Louie Zabaljauregui, Tito Chito Legarda, & Miguel Moras. Since I was on the flight ahead of them, I couldn't take their photos either, so I just got a group shot of them. It was, as can be seen above with the umbrella-bearing caddies, quite a rainy day - but, although a handful stopped playing later on for fear of catching the bug that's been making the rounds, a great majority completed the 18 holes.
Though I three-putted four times and screwed up 3 or 4 easy, straightforward chips, I played decently enough for myself. Anyway, I figured from the start that the perennial llamados such as Jimmy Alba, Bobby Paradies, not to mention Joselu Romero-Salas, among others, would place as usual (Tony Olbés, another of the llamados wasn't able to join this year).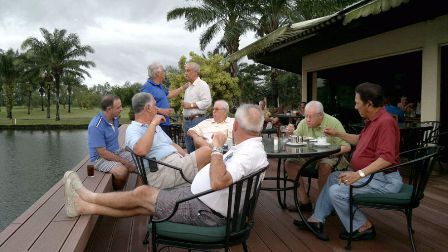 Since I was on the penultimate flight, most of the guys had already bathed and were eating, drinking, and relaxing in general at the clubhouse when Tito and I checked in (our flightmates Mari & Vince stopped on the 7th hole). It was good to see Romy Davila there (the fellow seated in a green shirt) as he's not been joining even the Los Golfos tournaments lately.
The buffet table was heavily laden, but, since, as stated, I was on the second to the last flight to come in, I couldn't take proper shots of the food. Suffice it to state, however, that everyone enjoyed and was more than full. I loaded up on the Pancit Palabok and Binaggoongan Baboy and dealt with the blood pressure issue the following day. It was well worth it. Delicious. I had the first of a few tall, double rum-Cokes to go with my meal.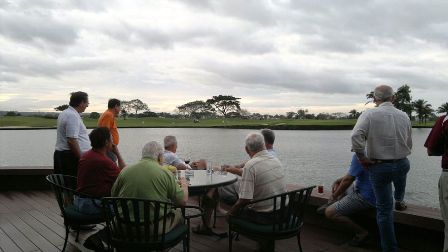 ¿Buscando los cocodrilos? Yes, indeed, there are 2 crocodiles at The Country Club...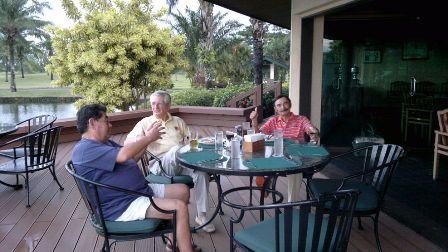 ...but, obviously, Douglas, thumbs up, wasn't worried about them.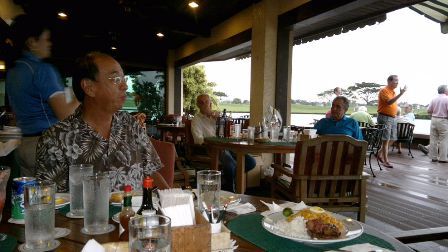 Chowing w/ Tito; that's my 1st plateful on the right.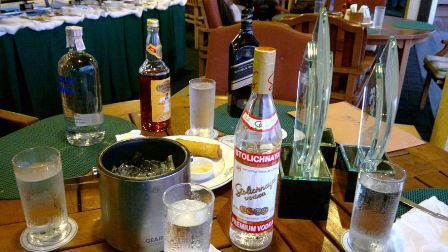 Tons of vodka, rum, Double Black, and then some for the taking.
The last flight checks into the clubhouse.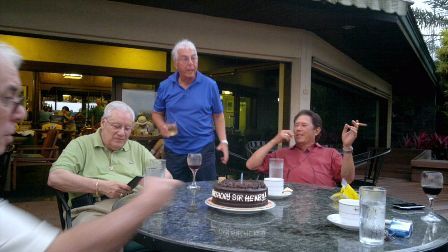 Tragically, the photo I took of Henry blowing out his birthday candle on the cake was much too blurred to use. I know Mari Cacho was able to take a nice one though, so I hope he e-mails me the copy I asked for.
Happy Birthday, Henry!!!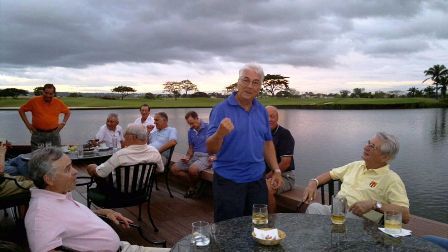 As young as ever!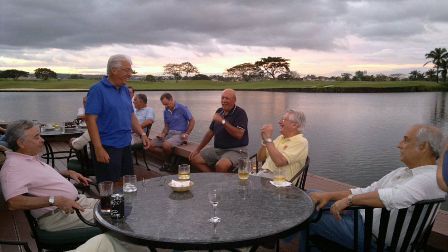 Henry's always happy, smiling, laughing and surrounded by friends. That must be his fountain of youth.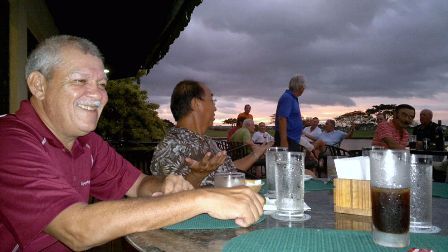 It just so happened that Art, Tito & I who settled at the same table...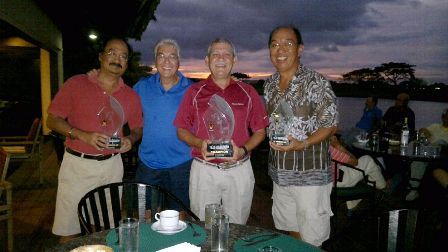 Thanks to Bobby Paradies who took this photo for me.
...all placed in the tournament and were awarded our trophies by the event's host. Art was the champion with a gross 80 for a net 66. I was fortunate to have made 1st runner-up, followed closely by Tito as 2nd runner-up.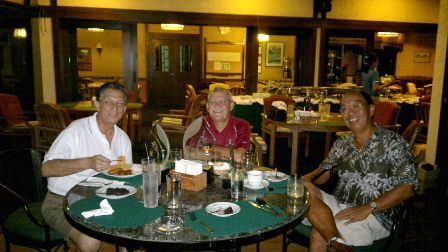 Miguel joins our table.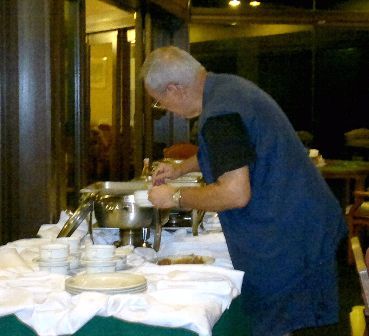 There was still way too much food for the last flight to finish.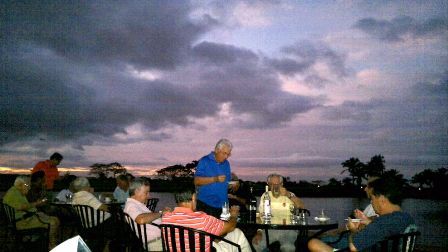 The drinking continues...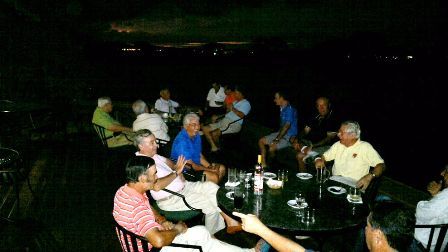 ...though the day yields to night.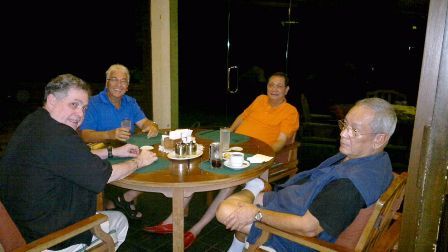 Mari, Henry, Vince, & Tito Chito.
More double rum-Cokes, more scotch, more everything.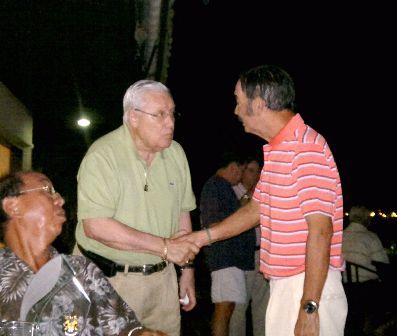 Romy eventually takes his leave...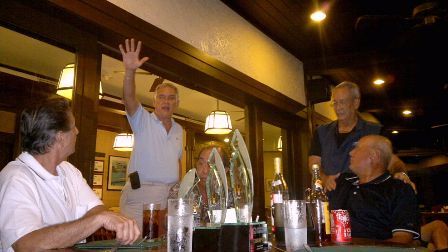 ...followed by Jos much later on...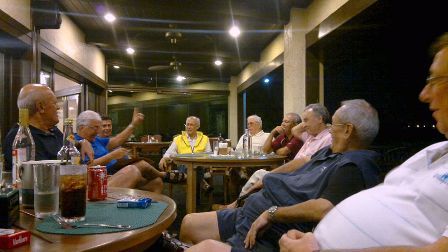 ...yet we continued.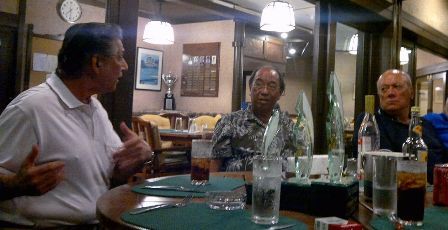 Miguel started teasing Tito Chito about alleged slow play...
...well, among other things.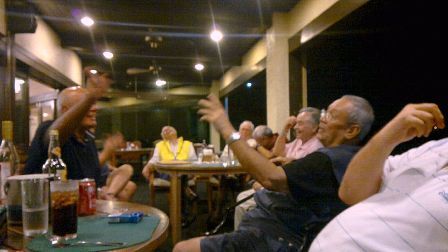 Marceling Ayesa seems to be asking Tito Chito if he'd let Miguel get away with that; and, of course, Tito Chito never would - and commences to fire back.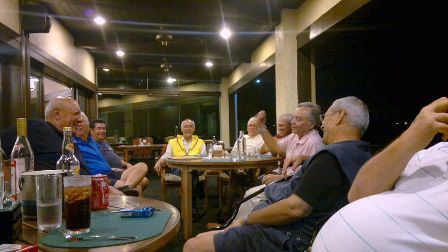 Bobby amiably mediates amidst the chuckling...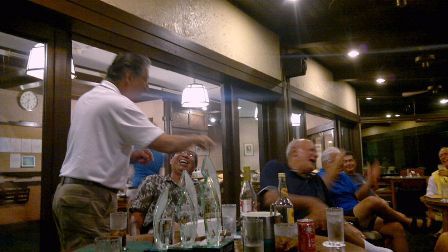 ...to no apparent avail...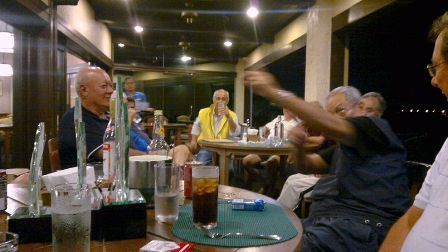 ...as the convivial banter and laughs continued.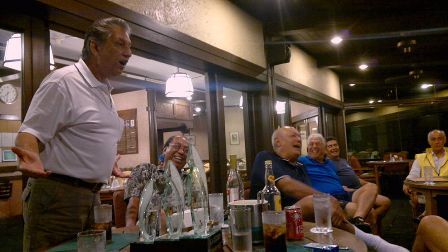 With the last few digs, bursts of laughter, and a couple of well-placed, emphatic "¡Coño!"s later on, we called it a night and gave heartfelt thanks and scotch-filled well-wishes to our generous host.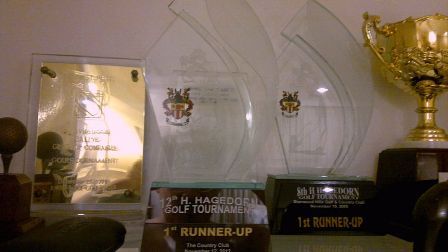 When I finally got home, I nestled my trophy beside the other 1st runner-up trophy I received four years ago at the 8th Annual H. Hagedorn Cup (2008). It was yet another most enjoyable day. Thanks again, Henry...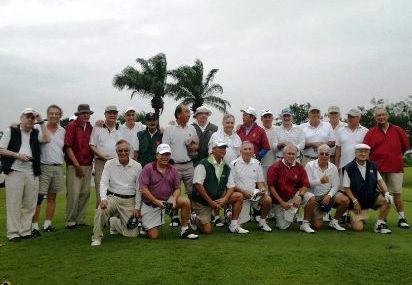 ...and, health, (more) wealth & happiness for many, many years to come!