The past couple of weeks were a bit more taxing than usual (due to both work and wining/dining), so, when regular drinking buddy Jim confirmed that his
Global Beer Exchange
's
(GBeX)
"The Bottle Shop"
would be (softly) open for business this past Friday (16th November 2012), it went without saying that I'd be there and thirsty. Jim said he'd see me there at around 5:15pm.
GBeX's Bottle Shop: G/F, Tritan Ventures Bldg., Paseo de Magallanes.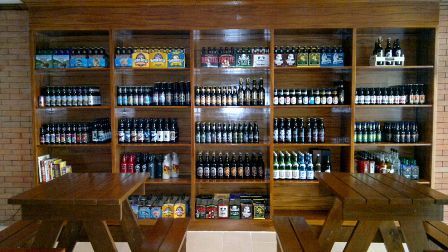 The Bottle Shop's wide array of craft beers...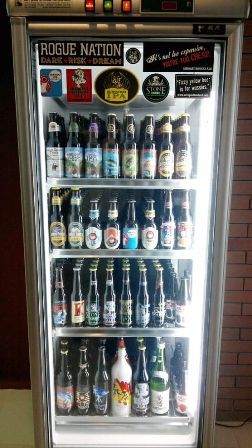 ...with many chilled and good to go on-site.
The Bottle Shop is a retail shop where one can browse, learn about, choose, purchase, and take home meticulously selected craft beers from the USA, Japan, and Canada to heart's content. In addition, customers are also welcome to pop open a bottle or five to enjoy with some great beer-pairing chow from a number of nearby restaurants - my personal favorites being the Chorizo Sisig and Buffalo Chicken Wings from Kublai's Rock.
Arriving around 40 minutes early, Jim wasn't there yet, but his friendly and well-trained staff immediately settled me in and I took the opportunity to order, and, thereby, finally get to try the
Katipunan Craft Indio Pale Ale
- a locally brewed craft beer that's been the buzz of Metro Manila's craft beer community, selling out extremely quickly wherever it is available.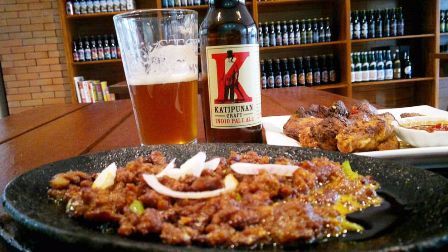 With Kublai's Rock's Chorizo Sisig & Buffalo Wings.
Though it's name may initially lead one to think that it is an India Pale Ale ("IPA"), it is actually a pale ale, so not anywhere near as hoppy as an IPA. That said, it is a worthy effort, and certainly nice enough with my above-depicted
pulutans
-of choice - mild fruit and malt in the forefront and middle, a gentle hoppiness emerges towards the back and plays with the then caramel-nuanced malt into the finish. I love it that the Philippines now has its own commercially available craft beer.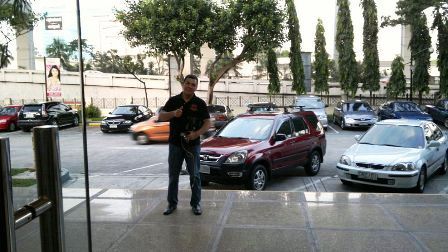 GBeX Beertender Jim Araneta arrives at around 5:15pm...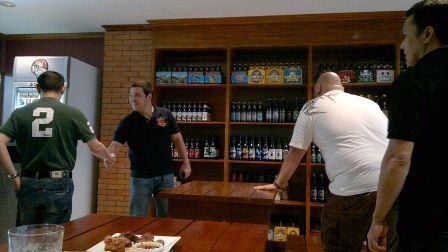 ...and personally attends to walk-in customers.
Though busy that day with the final set-up, attending to early customers/guests (I heard young craft beer aficionado, Pato Casabuena, waited for an hour until The Bottle Shop opened at 11am), etc., Jim took time to sit and share a
Stone 16th Anniversary Imperial/American IPA
- a rounded base of slightly off-dry (i.e., vaguely sweetish) malty fruit, mild citrus notes, all with the expected lashings of hops. Not as stylish (or as initially challenging for newcomers to craft beer) as Stone's Cali-Belgique - this is one of the more friendly/accessible Imperial IPAs I've had - a nice follow-up after the Indio Pale Ale, and, in my opinion, a good introduction for craft newbies to the joys of IPAs.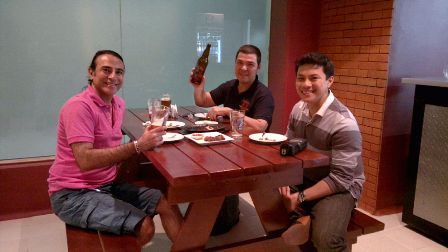 Jim with Kailash Ramchandani & Ray Reyes.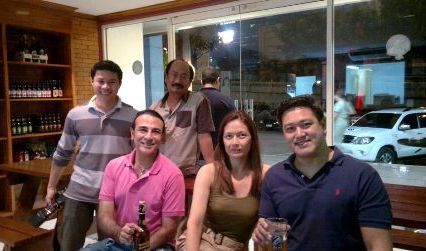 The early birds (Alex, far right, more of a bat).
I tried out Jim's new
Gordon Biersch Braumeister Selekt IPB
(i.e., Imperial Pilsner Brau) - a one he recommended I check out since he knows well how much I favor the Rogue Morimoto Imperial Pilsner. The subject IPB is a robust fellow, with notable freshness and a good dose of hops, but not at all over the top. Refreshing, clean lines, very moderately priced, it went very well with the
chorizo sisig
and
chicken wings
. At an amiable 6.5% ABV, one can pretty much drink this all night. Try it out with some spicy pica-pica, why don't you?
By then,
Eli
, still recuperating from the recently-concluded bar exam, had finally checked in with a bottle of
Ibaraki IPA
- Jim's first batch of his own signature IPA, blended and brewed by him at the Kiuchi Brewery (the producer of Ibaraki saké and the famous Hitachino Nest line of craft beers) in Naka, Ibaraki Prefecture, Japan. My very brief notes from a
yakiniku
dinner at Urameshi-ya on the 24th October 2012:
Masarap siya!...and the very first Filipino-made craft beer brewed in Japan to my knowledge. Honestly, it is a more than meritorious IPA, smooth, approachable, refreshing, gracefully and well flavored and oh-so-easy to drink. I'd buy this anytime (even if he weren't a good friend). Itaga mo sa bato!
Of course, I had to also have some of the fresh
Ballast Point Sculpin IPA
- My favorite IPA which I have written about repeatedly, so I need not belabor the issue now. Suffice it to state that, for me, especially when fresh, I prefer Sculpin over the legendary Russian River Pliny the Elder Imperial IPA.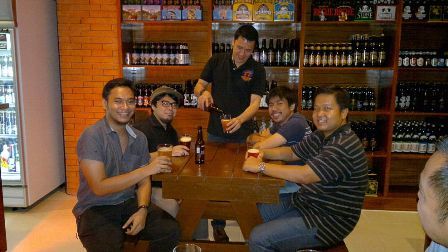 Eli with the Katipunan Craft Boys: Kiyo Miura, Raffy Taruc, Miguel Buling.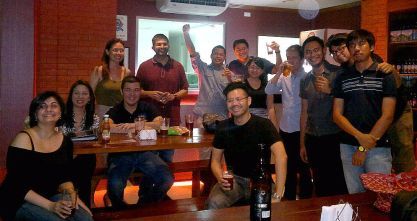 Craft beer time, baby!
I had earlier posted a photo on Facebook of my Indio Pale Ale with
chorizo sisig
&
buffalo chicken wings
, which prompted longtime friend, Tonji Ramos (middle, fist jubilantly raised), to zoom over from Alabang to join the fun - not surprising at all as he'd been into craft beers years before I. Actually, it was Tonji who first introduced me (and the rest of the Alabang Group) to Jim's beers several years ago.
Many other drinking/dining friends showed up as well, such as, but not limited to, Sanju & Cutie Gopaldas, Paul Syjuco (co-member with Sanju and, below, Kate Santos, of the popular blog
Table for Three, Please
), Alex "El Demonio" Tiu, Nicole del Rosario, and Bryan Zarzuela.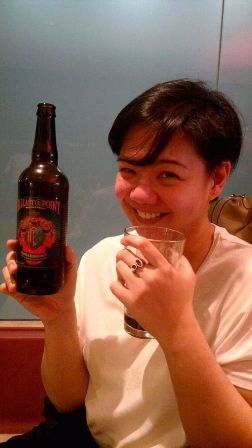 Cookie Mistress Kate Santos enjoys her Ballast Point Indra Kunindra Curry Stout.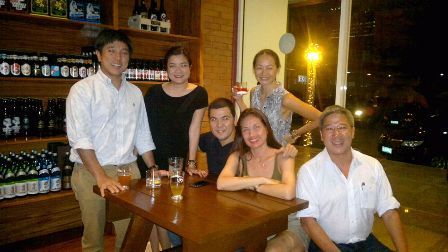 Jun & Myla Villanueva, & Tommy Villanueva check in as well.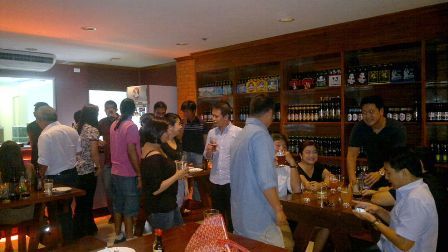 For a soft opening, the house was certainly packed.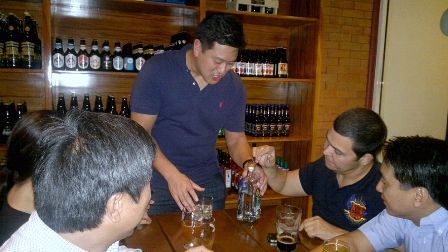 Alex up to his usual tricks, spiking beers with hard stuff (gin, vodka, etc.).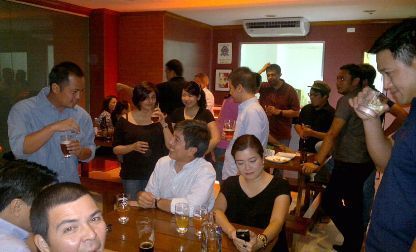 Tonji prudently covers his glass as Alex quietly plans a sneak attack..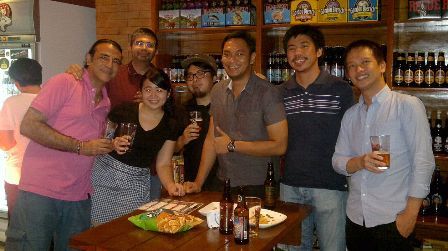 Kailash, Sanju, Nicole, Kiyo, Eli, Raffy, & Bryan.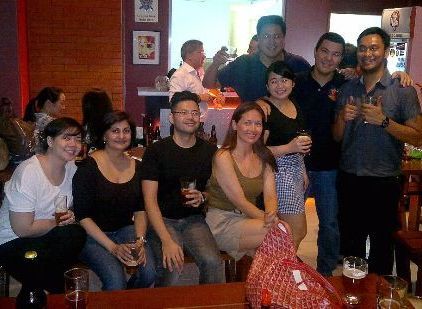 Everybody happy to have a dedicated craft beer hangout again!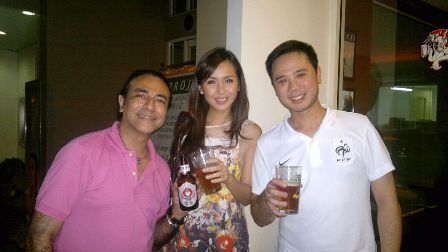 Kailash with Janina Garcia & Carlo Santos.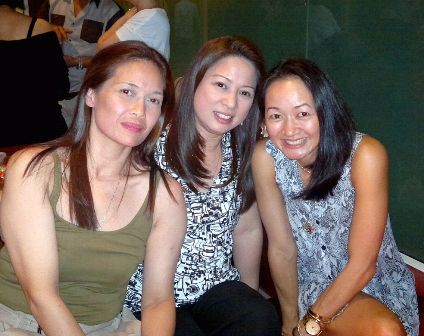 The Ladies Who Craft.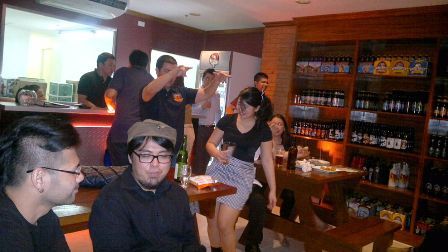 Sanju locked in & spun '80s tunes as Jim spun Nicole.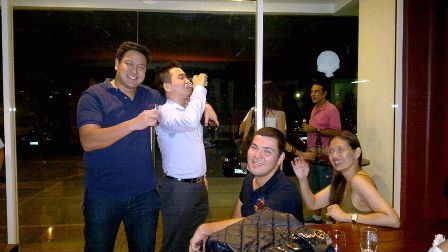 Mags Villafuerte in the house! Alex makes sure he catches up...
...heating up the endless toasting.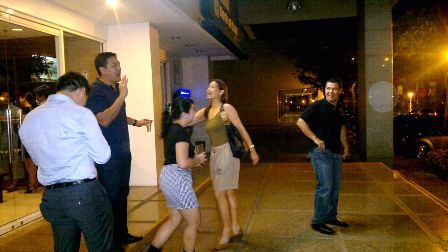 Tired from a long day, Jim calls it a night as Alex vigorously objects.
Past midnight, Sanju takes leave for his pre-planned Korean dinner...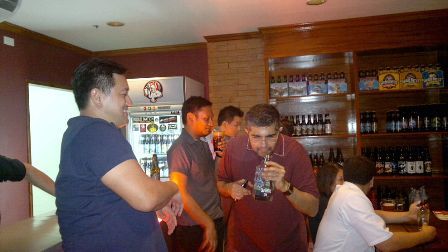 ...and complies with Alex's mandated "exit visa" of a big gin slug.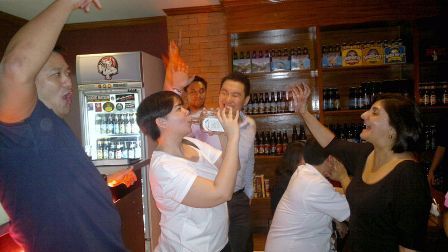 Kate, joining the Gopaldases, jams it as well - much to Alex's delight...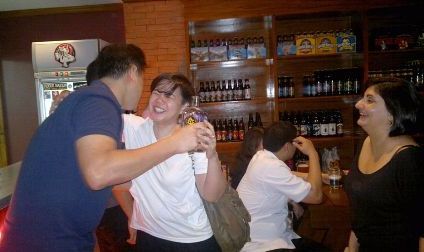 ...and receives an appreciative beso del demonio for being so game.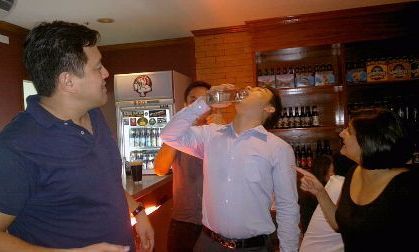 Mags, though not leaving, ably assists in the "Iki" efforts.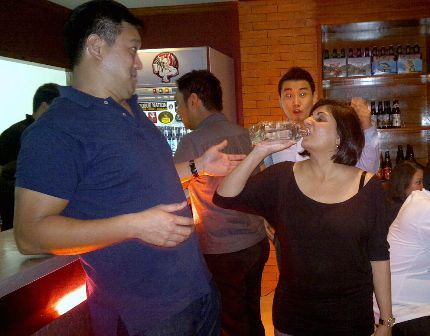 Cutie shows the big boys how it's done.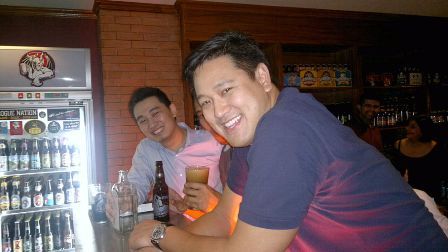 Alex is happy. Another bottle down. Mission accomplished.
Seated in his chef's whites, chatting with his attorney-fiancée, Ian Padilla relaxes after completing dinner service at his
La Girolle
. Chefs, lawyers, philosophy teachers, computer dealers, computer programmers, club owners, wine & spirits distributors, jewelers, local craft beer brewers, businessmen...you name it, they were all there having a beery good time - united in and by their appreciation of fine craft brews.
Cheers again! And again, and again!
Mags with one of a few double magnums (3 liter bottles) of
Chimay Grande Reserve
that I had ordered from his
Gilmore Wines & Spirits
(through which he also distributes GBeX beers, aside from a huge variety of beers from Belgium, Germany, etc., as well as Italian wines, single malts, and a host of other products).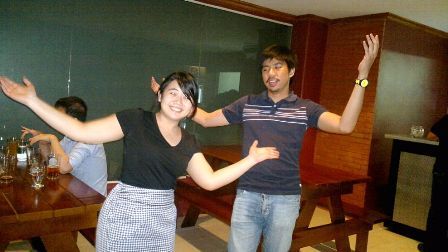 Nicole and Raffy display their dancing skills.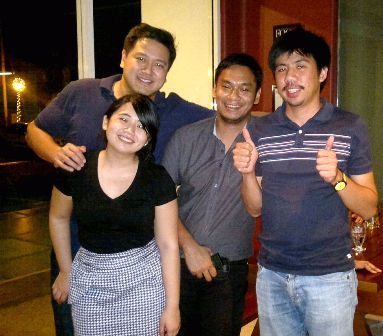 Two thumbs up!
We, the not-so-few and very persistent, stumbled out of
The Bottle Shop
past 2:30am. Knowing all too well how fun these sessions are, I prudently brought a driver that night - and promptly fell asleep as soon as I poured myself into the car. It was a hell of a fun night. Join us if you dare, and, for those who will...until the next!