Saturday night, the 24th November 2012, was
La Commanderie de Bordeaux Manila's Château Palmer Gala Dinner
at the
Peninsula Hotel Manila's Old Manila
, the induction of new members being held at the hotel's
Salon de Ning
.
The new members, led in a toast by
Maître
Felicia Atienza (5th from left), included French Ambassador, H.E. Gilles Garachon (far left), Freddie Pio de Roda, Richard Joye, and Ricky Delgado (4th, 7th, and 8th from left, respectively).
Commandeurs Richard, Freddie, Juan Carlos, & Romy.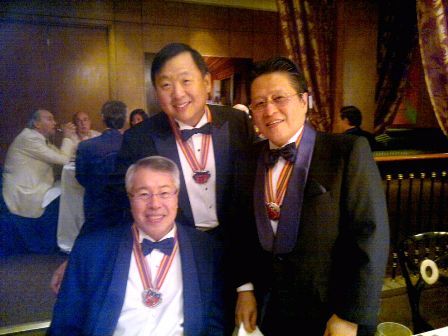 Standing: Alex Lichaytoo & Cecilio Pedro.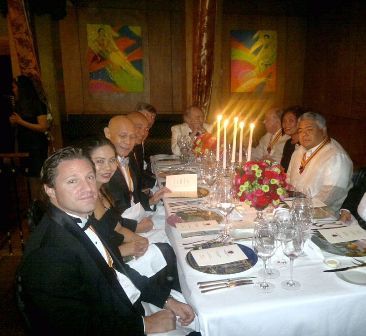 La Commanderie-IWFS Table.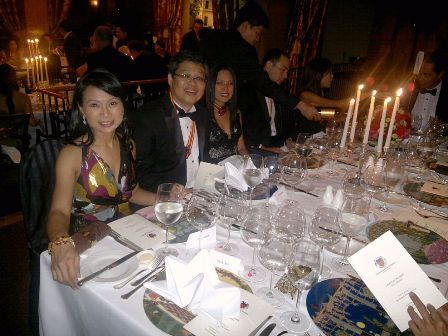 Sheila Ramos et al. at La Commanderie-EO Table with...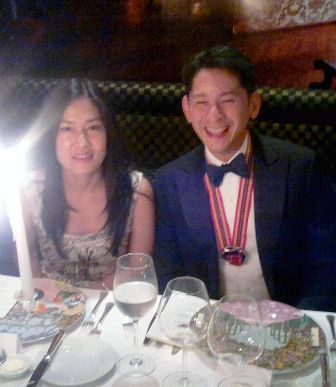 ...Don & Dorothy Santos.
Karen Davila & Anton San Diego.
Above,
Vice Maître
Edouard Miailhe introduces the evening's honored guest, Château Palmer's Director for Marketing & Communications Bernard de Laage de Meux.
Bernard gave a brief talk on Château Palmer's history, terroir, & philosophy, with special mention of the Miailhe family's past part-ownership of and involvement in the château.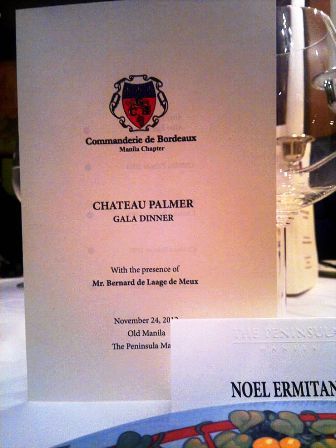 The Menu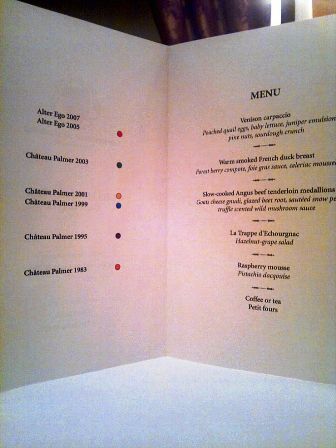 The evening's dishes & wines.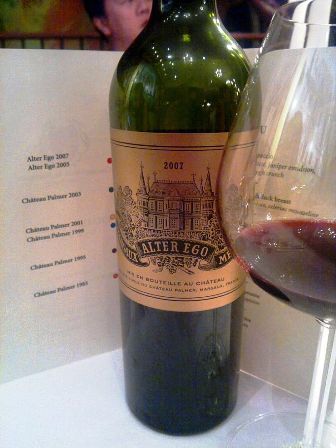 An amiable 2007 Alter Ego de Palmer to start, with...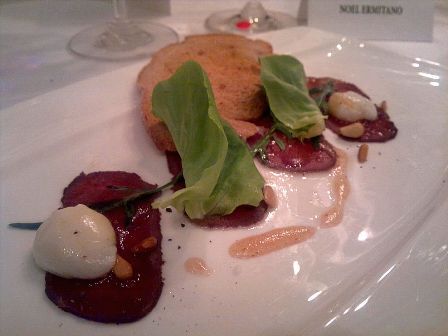 Venison Carpaccio, Poached Quail Eggs, Juniper Emulsion, Pine Nuts & Sourdough Crunch.
Our table above; the Old Manila staff took great efforts in dressing the place up like Château Palmer.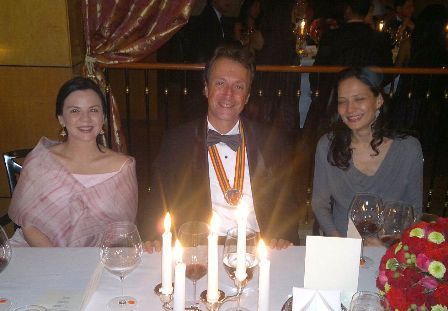 Catha, Ambassador Gilles Garachon, & Barbara Aboitiz.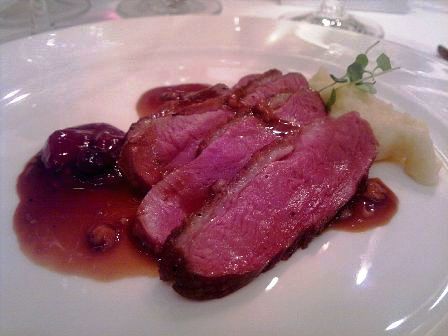 Smoked Magret, Forest Berry Compote, Foie Gras Sauce, Celeriac Mousse...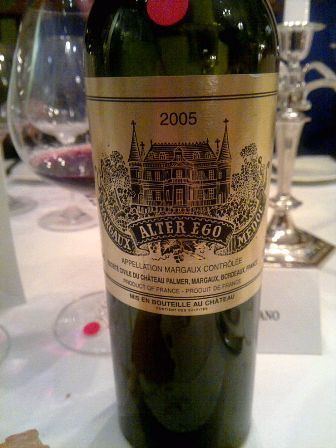 ...with a more substantial 2005 Alter Ego de Palmer.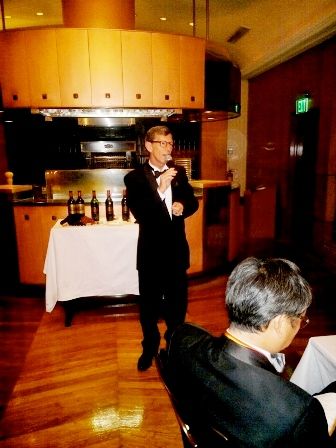 Bernard then discussed each vintage in detail.
2003 Château Palmer
- The most open of those served, warm, richly ripe, concentrated - typical of the vintage, yet with a notable soft earthiness, and markedly better over-all balance than most all other 2003 Bordeaux that I've had. I also paired this with the
magret de canard
, and the wine did very nicely; its warm earthiness running with that of the duck and celeriac mousse, its deep red fruit playing nicely with the forest berry compote.
2001 Château Palmer
- Named by many as the one that showed best that evening, with quietly serious, commanding, yet suave palate presence, remarkable structure, pensive depths, and striking balance. It seems like the 2001 has it all. I've followed this since around 2006 or 2007, and was impressed from the start. This, to my mind, should continue to improve and will last for many, many years.
1999 Château Palmer
- Fruitier and feminine compared to the 2001 and 1995, with brighter acidity and more pronounced violets on the nose. This is no lightweight, though, as it is possessed of proper heft and structure together (see:
my last notes on the 1999
) with its comparatively more amiable, charming character. I'd say this will plateau much sooner than the 2001.
1995 Château Palmer
- As when I had it last
on the 14th March 2012
:
The

1995 Palmer

, in contrast (referring to the 1995 Gazin), was already nicely open, with notable typicity in nose and on palate. Nice ripeness in its more-than-halfway-to-full body, deep, dark, well layered fruit (cassis, dark plum, cherries, bit of raspberry) infused with notes of slight licorice, truffle, cedar, violets and underlying warm asphalt. Warm, familiar and comforting. Very nice and will surely improve in years to come.
Last night, the '95 was good, a bit rustic compared to the 2001, but still seemed to have to "come together" for me - such that I can't yet, even at this point, get a good handle on it.
As discussed with Bernard and Richard later in the evening, though there are some 1995s that seem to be delivering the vintage's hype (e.g., such as the 1995s of Châteaux Pichon Lalande, Grand Puy Lacoste, and, with hours of decanting for aeration, La Mission Haut Brion), most seem to be either still be deciding what to be when they grow up or so closed and ungiving that I wonder if they will ever come around (the 1995 Ducru Beaucaillou immediately comes to mind in the latter case, and, to a certain extent, the 1995 Mouton Rothschild).
I mean, I know well that top growths need time to show their proverbial stuff, but, at 17 years from harvest, I do not think it is entirely unreasonable to expect to see even a glimpse of light at this stage.
The meat course was
Slow-Cooked Angus Beef Tenderloin, Chèvre Gnudi
(i.e., ricotta dumplings),
Glazed Beetroot, Sautéed Snow Peas, & Truffle-Scented Wild Mushroom Sauce
.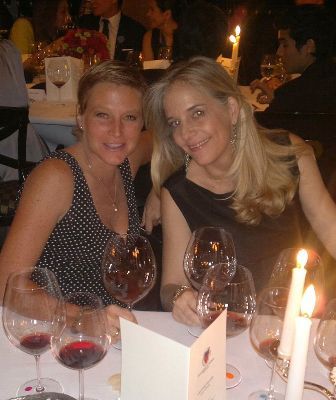 My seatmates Gaille Marquet & Sevrine Miailhe.
The cheese course was
La Trappe d'Echourgnac with Hazelnut-Grape Salad. La Trappe d'Echourgnac is a walnut-reminiscent, pasteurized, cow's milk cheese made by Cistercian Trappist nuns in Echourgnac (approximately 70kms north-east of Bordeaux), in France's Dordogne Department of the Aquitaine region. I understand that only approximately 30% of this cheese makes it out of the Dordogne area, so Edouard really exerted special efforts (or caused others to exert such efforts, more likely) to get this to Manila.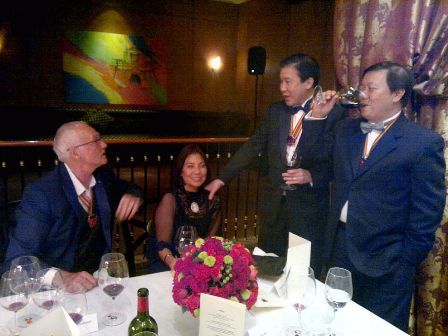 The Heussaffs chat with Romy.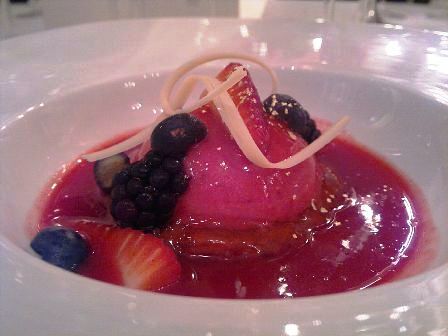 Dessert of Raspberry Mousse on Pistachio Dacquoise.
All the bottles of the
1983 Château Palmer
were generously provided by Edouard's father, William-Alain Miailhe de Burgh. Quite light on the palate with lots of bottle-age sweetness to the red berry essence, vaguely walnut-skin like nuance, cedar, violets. Discreet sherry-reminiscent notes in a clipped finish. Drink up, Commandeurs.
Bibamus, moriendum est. Deus nos omnes benedicat
.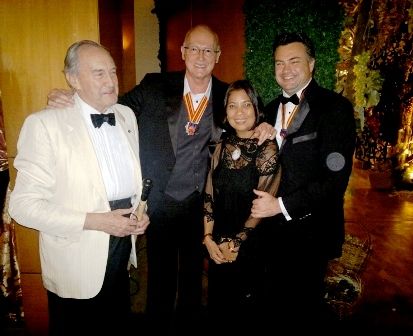 Alain & Edouard Miailhe with the Heussaffs.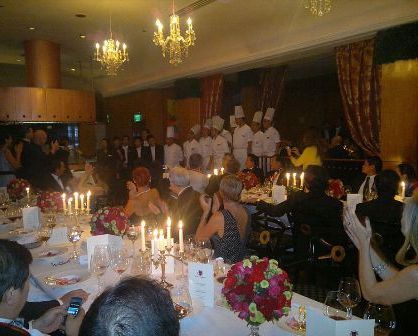 Applause for the Old Manila staff.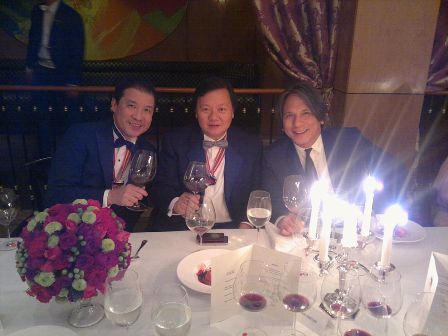 Bordeaux, toujours Bordeaux!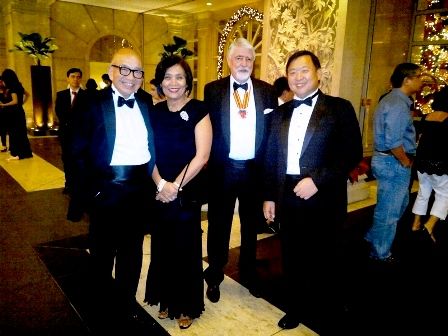 Until the next!