Dinner of 28th July 2011 was back at
La Tienda
for more of Chef Javi Lecumberri's authentic Spanish cuisine. Apple is in town from California and had been wanting to try Javi's cooking. Of course, Catha and I were more than happy to oblige. With us that evening were Michelle and hubby Tom. Coincidentally, Apple found out that day that her mom is a regular La Tienda customer.
Traffic was pretty bad coming from the office, so we barely made it on time. Apple arrived shortly thereafter, so we started of with some glasses of...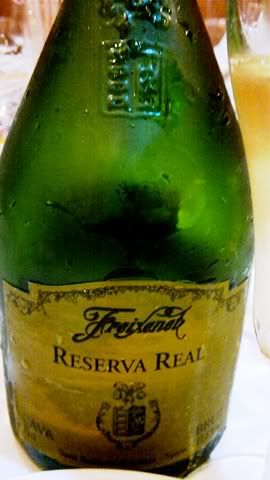 Freixenet Reserva Real Cava
- a higher-end bottling of the gigantic Freixenet of Catalonian Sant Sadurní d'Anoia west of Barcelona. This cuvée, blended with select vintages in the style of Champagne, was created to commemorate the King and Queen's visit to the winery in 1987. It is no secret that this is my favorite cava as I have enjoyed and written about it countless times. This is locally available, but in small quantities and only by order from Aaron's
ADP Industries
.
Having gone through my stock at home, Aaron was kind enough to have some bottles delivered to the restaurant in short notice...and it's a good thing he did. There is no cava I enjoy more with Javi's pica-picas: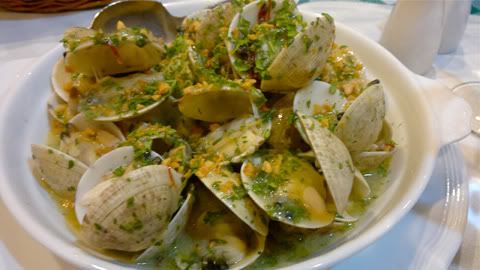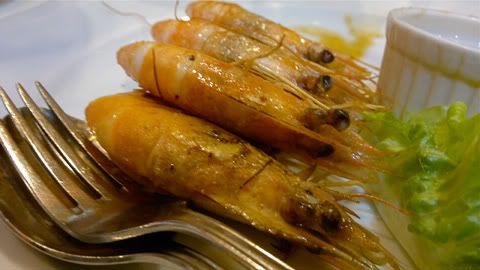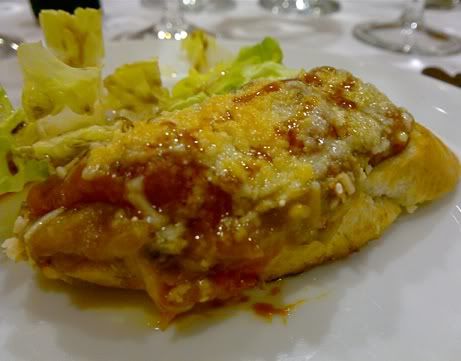 Michelle (also a longtime close friend of Catha) and hubby Tom (recently retired from a few years cooking at NOBU, NY, and an old family friend of Apple) had arrived in the meantime and joined in further livening up the conversation - chef and foodie, what a fine pair they make.
After catching up with each other, leisurely enjoying the tapas and, eventually, going through the two bottles of cava, the main dishes started making their way to the table: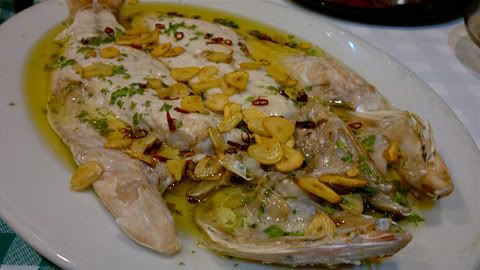 Besugo al Horno
in the typical Basque style.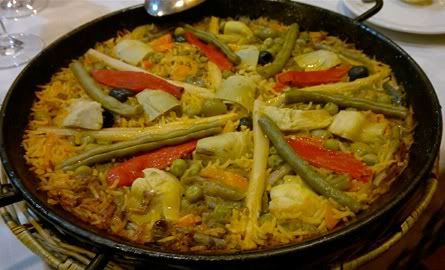 Basmati Paella de Verduras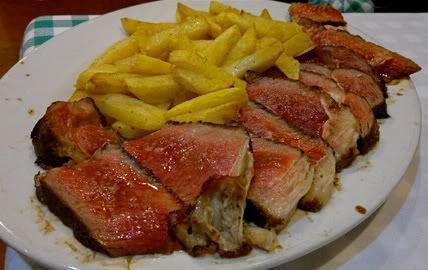 Chuletón Vasco
. With the foregoing, I opened: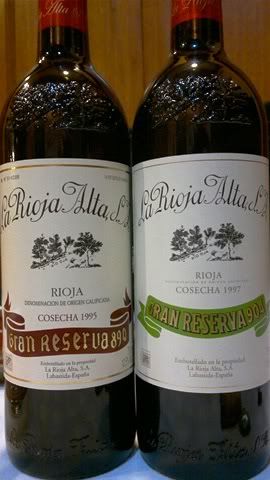 1997 La Rioja Alta Gran Reserva 904
- Last of this I've opened was almost a year ago during
a dinner at home for Miguel's mom, Tita Rose
. My notes then were as follows:
Of all the times I've had this wine, this was by far the best bottle. The perfumed scents of balsamico and cedar sweetly permeated the red and dark spice-touched pure, dark cherries, strawberries, raspberries and violets. A firm balancing acidity as a backbone kept things interesting throughout. The poise, structure and balance called Médoc to mind, yet I also had to agree with Beto's comment that its flavors were Burgundian in nature (something the Stockbroker, Doc, Eric and I have, in the past, noted in fine, aged Riojan tintos - particularly the 1976 López de Heredia Viña Bosconia Gran Reserva and the 1974 Contino Reserva).
A year later, the wine, consistent in the above flavors and scents, shows firm structure and good acid cut, making it very food-friendly and a good contrasting match for the chuleton. At the same time, it was not so powerful as to bowl over the besugo. Nice eating wine.
1995 La Rioja Alta Gran Reserva 890
- Last bottle I opened was in late April 2011, paired with rack of lamb
during dinner at Sala
. I've had very many bottles of this and have enjoyed every single one of them:
I had it decanted for about 45 minutes to an hour before service and it showed quite differently from when it is just popped and poured. After decanting, the otherwise explosive aromas of creamy oak, dill, licorice, black cherry, mocha and kirsch are more self-possessed/circumspect and show quiet depth. In the mouth, more leather, violets and herbs make their presence felt more; and the oak/vanilla and dill are more subtle and seem better integrated. What remains constant, however, is that it is undeniably an alluring wine. Loved it as I always do.
Consistent with the above notes, side-by-side the '97 GR 904, this is evidently heftier, more rounded and with a creamier-fruited feel as well as richer - but well-integrated - oaken vanilla and spice. This never fails to please the people at table. Beautiful wine.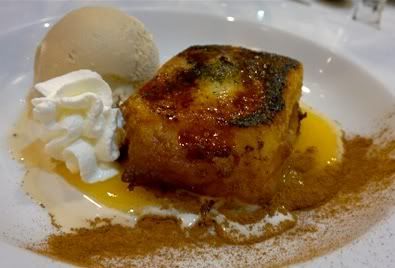 Dessert was one if my favorites:
Leche Frita w/ Cardamom Ice Cream
Coffees, double espressos and many stories later, we said our goodbyes and headed off home around midnight. Lovely evening. Thanks so much to Javi, and to Aaron as well, without whose help and indulgence the evening would not have been possible.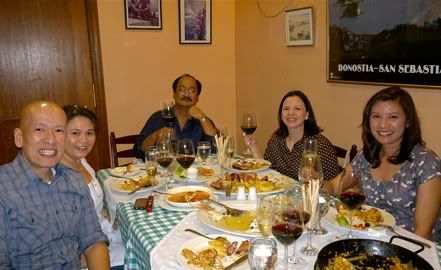 Until the next!