Friday, 15th May 2009, was a long one (wine-wise) starting off with a pinot noir themed lunch at
Sala Fine Dining
for just 4 of us (the Stockbroker, J-Lab, Miguel and I, as the Doc was busy and Santi and Rene are out of the country). The rest of the day's vinous activities will be subject of a separate post.
As planned, we brought a bottle each of pinot noir based wine. Miguel and I were the first to arrive, and it was only when we settled down in the cool, elegant environs of Sala that I realized we didn't speak of anyone bringing a white, bubbly or even rosé to start with. Thankfully, the Stockbroker thoughtfully brought a very nice one along for us.
Thus, to go with old favorite
Twice-Baked Prawn & Goat Cheese Soufflé with Dill
, we enjoyed...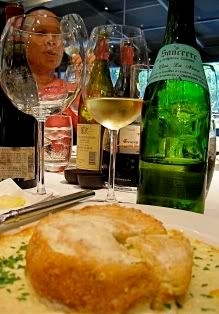 2001 Edmond Vatan Sancerre Clos La Néore
- As mentioned, this was the Stockbroker's bottle. I've tried only a handful of single-vineyard Sancerres, so this was a real treat.
It is difficult not to gush too much over this excellent wine. The bouquet and flavors were sharply defined, displaying toasty/leesy notes, small, white blossoms, cool steel, flint, limestone, cold/wet stone, dewy morning grass and demure white grapefruit, light green apple, slight ripe gooseberry and just the barest hint of white peach.
Laser-focused attack, precise expansion mid-mouth, funneling to the finish. Exquisitely dry, yet with healthy fruit, incredibly fine, bright, crisply acidic all the way to the finish. Superb balance, brightness and purity.
As a pairing with our prawn and goat cheese soufflés, it was no-brainer correct and excellent - both a regional and traditional pairing for shellfish and chèvre - can't really get better than that. I absolutely loved this wine, the soufflé, and the both together.
For the main course, I wanted another old favorite:
Duck Breast with Duck Fat Roasted Potatoes, Spiced Red Cabbage, Roast Pears and Cranberry Jus
. Though it wasn't on Sala's lunch menu, old and good friend,
Chef Carl Miguel
, came over from nearby
Sala Bistro
to make some for us (except J-Lab, who opted for what looked to me like a nice roast pork loin). With this, the reds poured.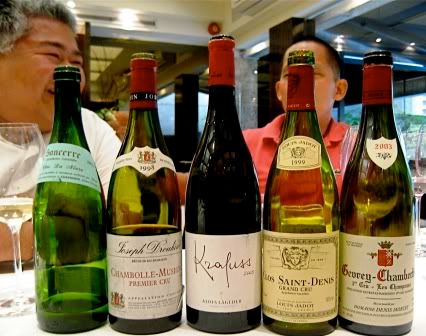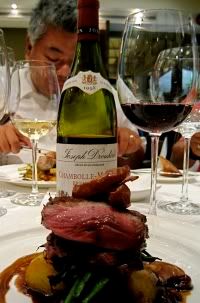 1998 Joseph Drouhin Chambolle-Musigny Premier Cru
- J-Lab's bottle. Chambolle Musigny is a town in Burgundy's Côte de Nuits; its red wines famous for being ethereal, graceful, elegant and never cumbersome or heavy - comared to, say, the generally more masculine, richer, heavier wines of nearby Morey-St-Denis (situated slightly northwest).
The absence of a specific vineyard designation is, as J-Lab explained, because the fruits used come from different premier cru vineyards wherein Drouhin owns very small portions. A very good example of Chambolle-Musigny - lithe, barely medium-bodied, light on its feet, dancing with fine, silky, correctly ripe red cherry, slight raspberry/dried cranberry and violets.
There is a slightly sweet, delicately candied general character to the fruit - but nowhere even near dense, syrupy or cloying. Very refined, elegant, silky and excellently balanced with acidity. Without a doubt, this was my favorite red in itself of the lunch. As a pairing with the rich duck, this was too delicate, but, no matter - it was an absolute pleasure - even a bit contemplative - to drink alone.
1999 Louis Jadot Clos St-Denis Grand Cru
- My bottle, a wine I hadn't tried before and wanted to test since I've enjoyed quite a number of '99 Burgs last year. Though previously untested, I was pretty confident opening it over lunch since Jadot is a pretty reliable maker and I happen to like the generally earthy, rich, somewhat rustic, masculine wines from Morey-St-Denis.
Clos St-Denis is a grand cru (the highest rank in Burgundy, followed next by premier cru) enclosed/walled vineyard (i.e., "clos", pronounced "kloh", the ending "s", as in many French words, is silent) west of center in Morey St-Denis, across the road from the town's larger, better known grand cru, Clos de la Roche.
I've driven through Morey-St-Denis a couple of times, through the narrow vineyard roads once, just exploring, but never stopping, on my way to Gevrey-Chambertin from Vosne Romanée. It's a sleepy little place. Interestingly, Chambolle-Musigny's reputedly deepest fruited, richest and most masculine wines (usually, they are more feminine, lighter and graceful) come from grand cru Bonnes Mares - which, incidentally, borders Morey St-Denis - a strong argument of those who champion the deep significance of
terroir
.
The subject wine was quite high-toned upon opening so I decanted it - something I haven't seen anyone do in Burgundy, the Loire and Alsace in the times I was there
*
- because I figured it was pretty young for a grand cru, especially one from Morey St-Denis. In around 40-45 minutes, it opened up with more typical earthy, slightly meaty, truffled fragrances. At that point, in the mouth, it had admirable heft, depth of fruit, earthiness and a clearly masculine, serious, somewhat severe character. I must admit I then neglected refilling my glass of this wine until after my main course was finished (and I eat quite slowly, mind you). When I returned to it, it had been sitting in my decanter for over 2½ hours and had noticeably tightened, thinned and become very crabby - grudgingly handing my palate a mouthful of dark, tart cherries touched with violets.
I absently complained about my wine, prompting both the Stockbroker and J-Lab (who disagreed with my somewhat precipitately harsh assessment) to gently chide me for decanting this wine at all, moreso for so long. Ok, ok, mea culpa, we'll re-taste this in the near future without decanting. Judgment reserved.
*
nb
.
Decanting is more de rigeur in aristocratic Médoc (attributed by many to the deep shared history with and consequent influence of the wealthy English) and cosmopolitan Paris.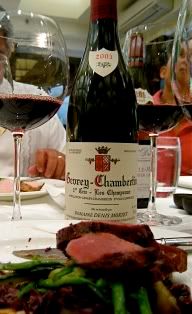 2003 Denis Mortet Gevrey-Chambertin Premier Cru Les Champeaux
- The Stockbroker's bottle, he started buying from this maker ever since Château Latour's president, Frédéric Engerer, during the Latour Vertical Dinner that we attended (14th November 2005, RED, organized by Bacchus Int'l.), told the former that he favors Mortet's wines.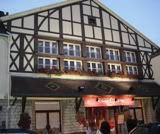 I stopped by the town of Gevrey a couple of times, the longest was when my wife and I walked around the area around the Place de Mairie and the old church, stopping by at Domaine Heresztyn's and Leclerc's shops, before having an early dinner at Chez Guy, well-recommended to us by Anne Gros.
The premier cru vineyards of Les Champeaux are situated at almost the northernmost tip of the appellation, bordering Brochon, south-southwest of Dijon.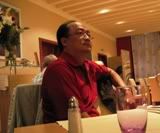 As many know, 2003 was a roasted-hot vintage for most of France's wine-growing regions - many producers struggling to make balanced wines. This wine was very open, forward, approachable and easy to enjoy though young - with soft, sweet, ripely plummy, somewhat candied, succulent red cherry, raspberry, a bit of craisin, baked red beet, touch of cola and a dose of vanilla/oak. A touch modern in style to me, with designer extraction, indulgent ripeness, barely adequate acidity and, quite noticeable, though well-integrated and not at all over-bearing, new oak.
In texture, if the Chambolle-Musigny was fine silk, this was a luxurious satin. Very immediately pleasing. I don't know if this possesses material ageing potential, but, who cares? It is certainly plenty lovely to enjoy right now. This was Miguel's pick for wine of the day.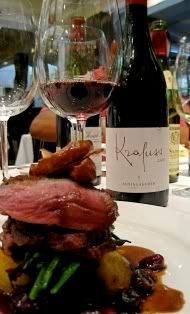 2005 Alois Lageder Krafuss Pinot Noir
- Miguel's bottle, an Italian pinot noir from northern, mountainous Alto Adige, one he specifically purchased and brought home for this lunch during a recent business trip to Italy. I don't think any of us had ever tried an Italian pinot noir until this one, only J-Lab was familiar with the maker.
The flavors were decently focused, slightly sweet, roasted-ripe dark cherry, wild raspberry, cranberry, touches of cola, spicy vanilla/oak, hint of underlying dark chocolate. Shows good harmony in its lithe body but definitive flavors. I like the way J-Lab put it: "New World flavors in an Old World body".
I had this wine mostly with my meal, liking the way the slightly stewed cranberries and duck-richness played with it. Though barely medium-bodied, this wine's flavors and drive made it, for me, the best match with the main course.
Main courses done, we still had quite a bit of wine left, prompting J-Lab and the Stockbroker to request for a cheese platter to share. Since the restaurant closes at 3pm, we broke up at the appointed time, with me, slightly, though pleasantly buzzed.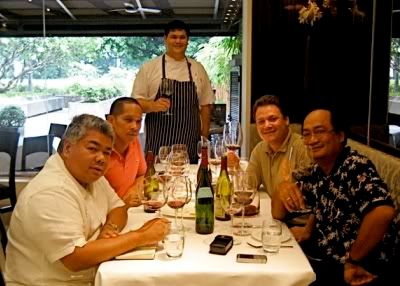 Superb lunch all around. Thanks, Carlo, for arranging our reservation and accommodating our requests; and, to the guys, of course, for generously sharing such good wines, as well as stellar company. Until the next.