The journalistic mission officially began for us on the cold and rainy evening of 21st March 2010. Sandra Chan rounded us up by 7:30pm at the hotel lobby, introduced us to several ICEX representatives and, thereafter, we walked to the nearby
Restaurante Fernandez
along Passeig de Gràcia, the kitchen of which is headed by Chef Mariano Citterio.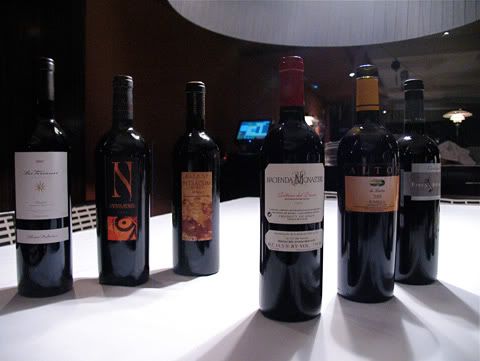 The restaurant itself is rather large at 760 square meters divided into 2 floors, the interiors upscale, modern, and, somehow, familiar and comforting. Here, at the lower floor, we attended a short lecture on Spanish wine with formal wine tasting conducted by wine consultant
Sra. María Antonia Fernández-Daza
("María"). Dinner proper followed.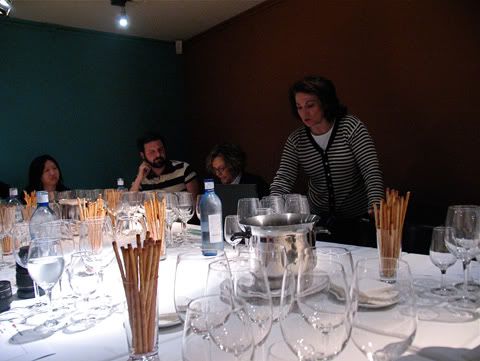 María's lecture pretty much spanned all the major and new Spanish wine regions, D.O.s and D.O.C.s, giving us an overview of the respective wines, grapes, geography, climates of the Rioja, Ribera del Duero, Rueda, Priorat, Galicia (particularly Rías Baixas), Bierzo, Somontano, Toro, Castilla La Mancha, Jumilla, Jerez, etc.
Though I was already quite familiar/experienced with and have often written about the subject matter, I paid close attention anyway because one may always learn something new. María's presentation was well-organized and it is to her credit that she was able to give a clear, basic overview of such varied wine-producing regions in a relatively short period of time.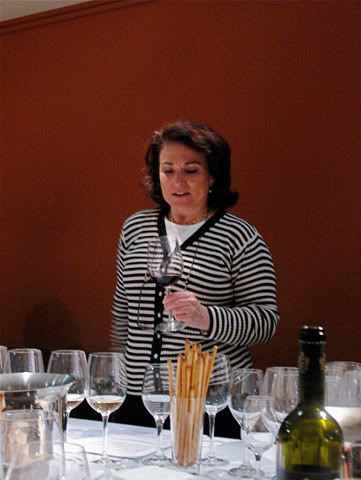 With each region she touched on, we tasted a representative wine chosen by her, as follows:
Rías Baixas - 2008 Fillaboa Albariño
, typical, dry, fruity, slightly minerally, good tension and acid balance. Both a natural and regional pairing for shellfish and fish dishes that Galicia is famous for.
Rueda - 2008 NAIA Rueda Verdejo
, I've had this exact same wine/vintage before at
The Usual Suspects' Pre-Christmas 2009 Lunch
at La Tienda (I paired it then with Escalivadas and Gambas a la Plancha). My previous notes are still applicable:
Miguel's bottle, one he brought home from his most recent trip to Spain. Attractive with a nice nose that reminded me of honeysuckle over peach and green apple with a touch of freshly-cut, dewy grass, it was vibrantly mirrored on the mouth with white grapefruit hints. Fruitier middle than other Rueda verdejos I've tried. Very nice indeed, I really liked this and got several pours.
Somontano - 2007 Enate Chardonnay Fermentado en Barrica
, I've honestly had very little experience with chardonnays from Spain, barrel fermented or otherwise. The only one I really remember well is a
2003 Torres Milmanda
which I had with foie gras poele in late September 2006. The 2007 Enate Barrel Fermented Chardonnay was comparatively dialed down in the oak department (a good thing for me) and had brighter fruit for it.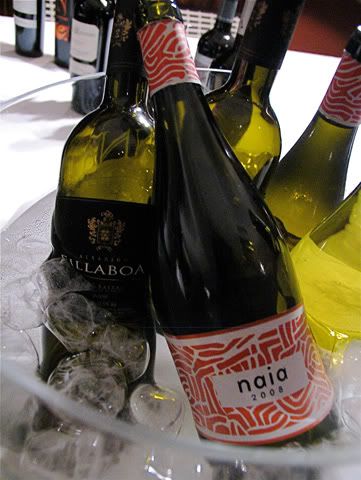 Priorat - 2007 Alvaro Palacios Les Terrasses V.V.
, I've had the
2005 Les Terrasses
a few times and have always considered it a very good value-for-money Priorat - so I was happy to be able to try the 2007 version. Confidently full- bodied, luxuriously smooth, richly textured, deeply-veined fruit. Notes of wood spice and minerals. You can note the 14.5%abv (not unusual in Priorat) but it is not at all obtrusive. Very nice in itself and, again, excellent value-for-money. I have been a fan of Alavaro Palacios' wines ever since JC de Terry introduced me to them - especially their Moncerbal from Bierzo and Finca Dofí from Priorat (the 2001 is particularly good).
Toro - 2007 Numanthia
, curiously enough, it was a château owner from Margaux who made me try my first wine from Toro back in late 2006. I recall the
1998 Numanthia
(100% tempranillo) from sometime in September 2006 that was quite impressive in a modern/international way and made me take note of the wines of Toro. The 2007 shows a smoldering power and notable richness of fruit buttressed by oak. Hints of chocolate and French oak spice underneath when "worked" in the mouth. Nice, but will be much more complex in, say, 3-4 years from now. I'd re-check it in 2.
Bierzo - 2006 Pittacum Aurea
, from the steep slopes of Bierzo in northwest Spain. I'm familiar with this area's sheer, donkey/horse drawn-plowed vineyards through pictures JC de Terry and Oscar Alegre (of Team Alvaro Palacios) have sent me. As earlier stated, I am a fan of the area's mencia-based reds. This particular wine is sleek, stylish and readily pleasing, with creamy vanilla/oak notes that indicate the use of probably 100% new French barrels for ageing. Dried fruit notes mix with rosemary, a topnote of rose petal, some lemon peel and wood spices of vanilla, slight anise, cinnamon and a bit of chocolate. This seems designed to do well in blind tastings.
Ribera del Duero - 2006 Hacienda Monasterio
, we're back in tempranillo country here. Notable power, but with good self-restraint in its moderately muscled frame. Nice acidity, notable balance and structure. Quietly confident. This is my preferred style of wine, from Spain or otherwise.
Jumilla - 2005 Finca Luzon Altos de Luzon
, another of the quiet and confident style that I appreciate (a second bottle was opened later on as there was a problem with the first). Intense, but not loud. There is a good deal of monastrell in this that imparts a slight suggestion of complexing earthy-gaminess that I like to the healthy berry and dark fruit. Cabernet sauvignon adds to a decent backbone and structure. Very nice, the lush fruit does justice to the famed vintage. Hopefully, I can find some of this locally.
Castilla La Mancha - 2005 Finca Antigua Crianza
, has a rustic character to it and shows its vintage in slightly jammy, somewhat baked/sweetish dark fruit and considerable show of alcohol. Dark red fruit dominates black with undertones of plum and black cherry.
Jerez - Añada 1990 Emilio Lustau Oloroso Abocado
, this, for me, was the treat of the night. Its sweet perfumed bouquet followed me all the way back to Manila. Lustau (of the Grupo Caballero), of course, is a highly and deservedly respected producer of Jerez, so I expected a lot and the wine was up to the task. Graceful, ethereal. Excellent, excellent stuff. An absolute must for sherry aficionados. I will definitely search for this to buy for myself. Hopefully, I find some.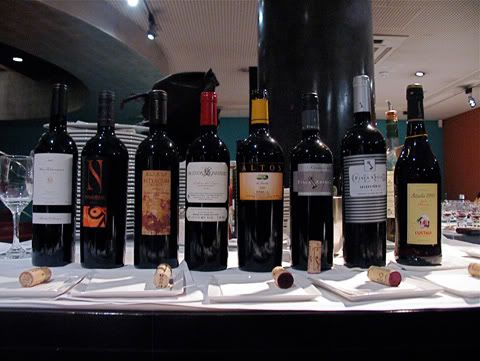 We then moved to a long table across the restaurant's wine cellar where we had dinner proper.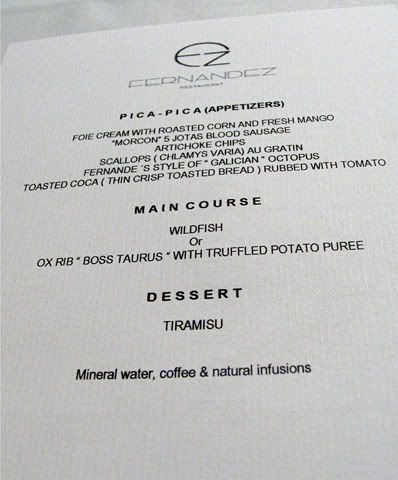 The night's Menu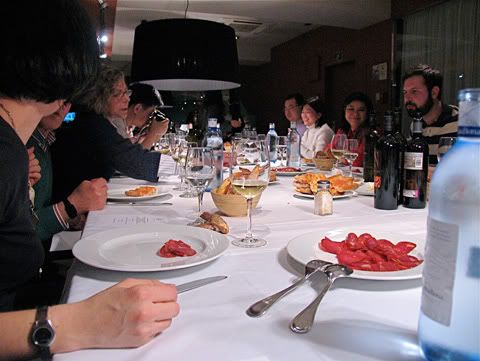 There were more pica-picas actually on the table than were listed in the menu as I recall platters of pimientos de Piquillo and heart-stoppingly good jamón de Jabugo as well.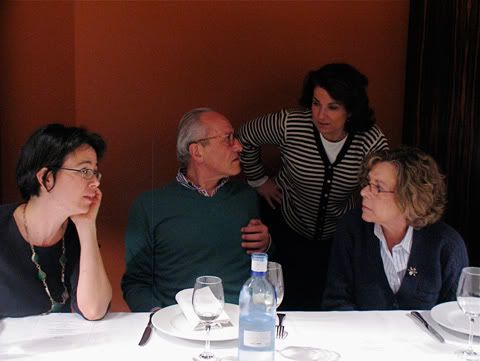 Our hosts, the ICEX representatives and María in a huddle.
Because there were many more reds than whites, I, naturally, chose the Ox Rib "Boss Taurus" with Truffled Potato Purée as my main course, though, with the appetizers, I drank mainly the
2008 NAIA Rueda Verdejo
which went very well with the artichoke chips (artichokes were in season at the time) and pulpo à la Gallega.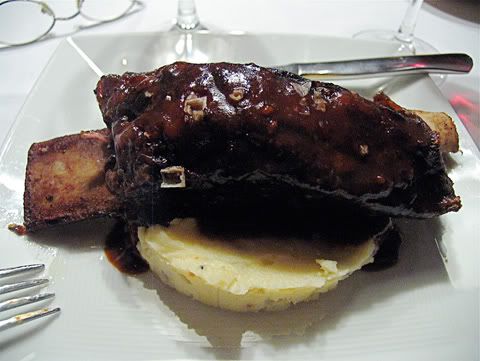 This was tender, juicy and enormous. I finished only 3/4ths of it. The flesh at the bone was the best part. Though I had a few glasses of various reds, I paired my main course mainly with the
2007 Alvaro Palacios Les Terrasses V.V
. as I appreciated its full-bodied depth of fruit and richness with the beef and its sweetish-spicy glaze.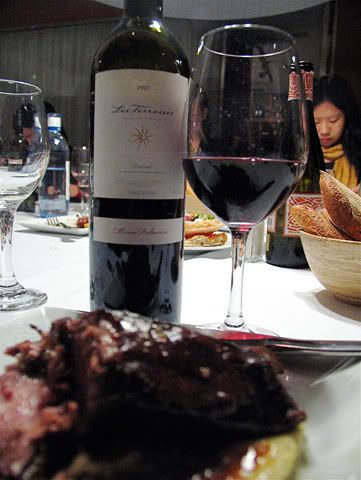 I had my Tiramisu and double espresso alternating with furtive puffs in a small side hallway with the ICEX reps. Good thing they smoke too as nobody in our journalists' mission does aside from myself.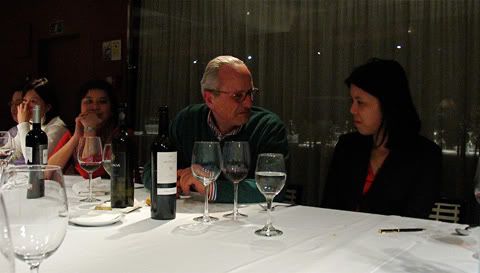 The Big Boss got to sit with and entertain the ladies, naturalmente.
Throughout the dinner, María continued to answer many questions as regards Spanish wines and cuisine...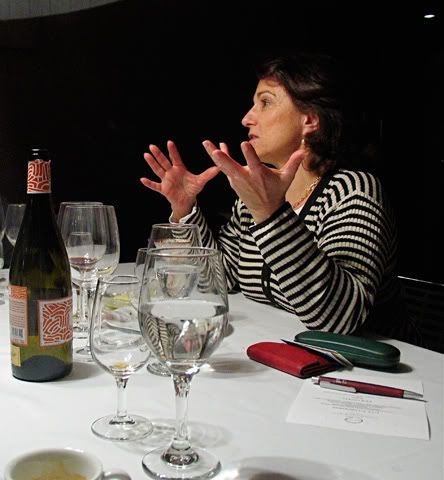 ...and generously treated us to more pours of the mesmerizing
Añada 1990 Lustau Oloroso Abocado
. I simply could not stop from inhaling its sweet, seductive perfume - it's graceful flavors on the palate ensuring a warming, sweetish finish to a lovely and enlightening evening.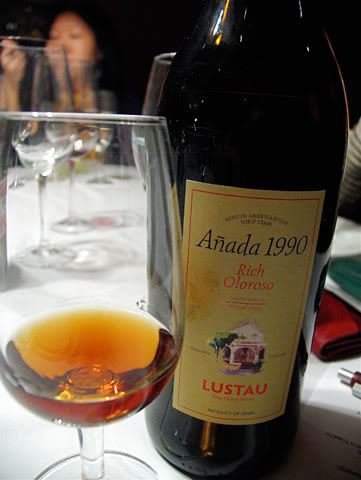 Next, a post on Alimentaria 2010.