Up bright and early on the 22nd March 2010 for breakfast...well, early, anyway. I'm never bright nor cheery at 6:30am. In any event, I was up. That day was the first of our scheduled two days at the
Alimentaria
- a huge and important biennial Spanish food and wine fair where Spanish producers of food and wine related products show off their wares to around 150,000 buyers, sourcers, importers and journalists from all over the world. Our journalists' mission's electronic badges were given to us a day ahead - and that was most fortunate as the crowds lined up for registration looked thousands deep.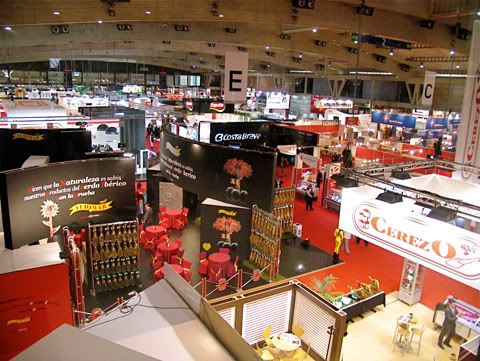 Miguel and Catha also had invitations courtesy of regular drinking buddy Aaron Palileo whose family company, ADP Industries, represents the giant Freixenet group in the Philippines (thanks again, Aaron!). They went around mainly looking for a Txakoli producer for a friend of ours in the local wine business in view of importing some into the Philippine market. Currently, there is no txakoli locally available. After tasting through many, they eventually zeroed in on Bodegas Itsas Mendi - a producer whose wines we've had and of which
I've written about several times
.
Led again by the capable María Antonia Fernández-Daza, we dropped briefly by the ICEX booth...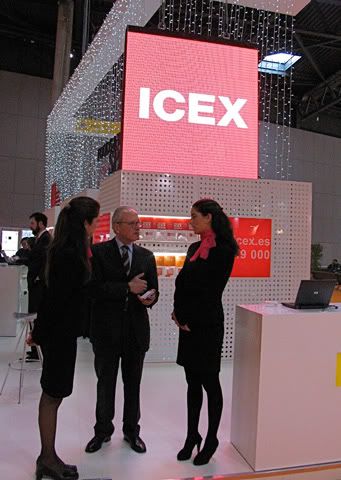 Sr. Aktham Habbaba, Trade Director, ICEX Barcelona Office.
...and then proceeded to the
Rías Baixas
area where we met Sr.
Ramón Huidobro Vega
, Secretario-Gerente del Consejo Regulador de la Denominación de Origen Rías Baixas, who showed us around, giving a detailed background on the terroir, nature, character and styles of the albariño-dominated D.O. (since 1988) which retains material plantings of treixadura and loueira used mainly for blending.
I listened for a while, but, since I am already very familiar with the albariños of Rías Baixas (after all, I and Miguel were the ones who thought up and organized
the very first locally available albariño challenge here
), I took the opportunity to take more photos and taste some albariños not locally available. I recall the notable ones to be those of:
Bodegas Lusco,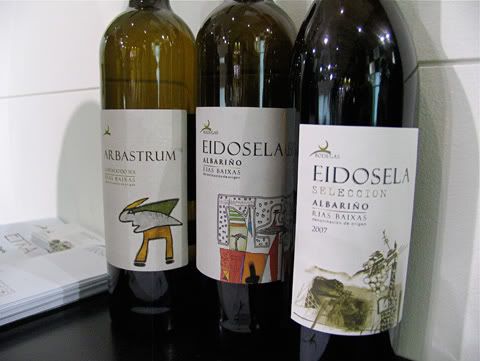 Bodegas Eidosela, and, of course,...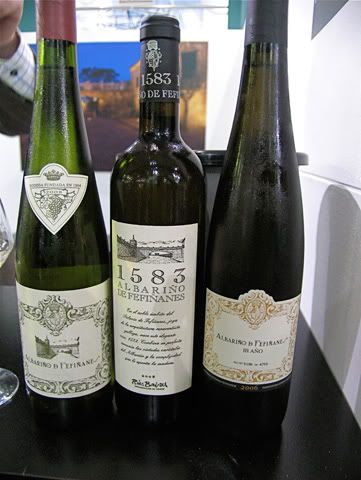 ...the pioneer Bodegas del Palacio de Fefiñanes.
I've only ever had one albariño by Fefiñanes before, namely, the basic bottling
2008 Bodegas del Palacio de Fefiñanes Albariño de Fefiñanes
which I recall as laser-focused, very pure, tense, lip-smackingly dry and nicely minerally. Fortunately, María asked them to pour us some of the higher bottling...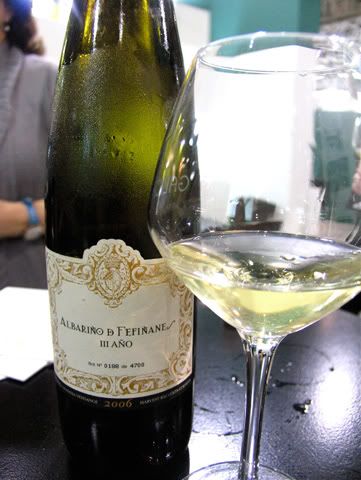 2006 Albariño de Fefiñanes III Año
- If I recall properly, the Tercer Año bottling sees extended ageing in steel vats (around 3 years, hence its name) with a number of months on lees with stirring (battônage). Thus, this 2006 must be their latest release. I normally prefer my albariños as young and fresh as can be, so this wine was a real eye-opener for me.
Though the lees ageing and battônage are easily apparent, and the fruit has more of a softly baked/lightly honeyed character, the wine surprisingly manages to present good freshness with faint notes of anise and, towards the rear and in the finish, a hint of peach pit. Quite nice indeed.
We then visited the booth of
Bodegas Hermanos Pérez Pascuas
of Pedrosa de Duero, Burgos (highly elevated vineyards in D.O. Ribera del Duero, one of the pioneers in fact), that produces its wines under the brand
Viña Pedrosa
. Winemaker and part owner,
José Manuel Pérez Ovejas
himself hosted and poured for us.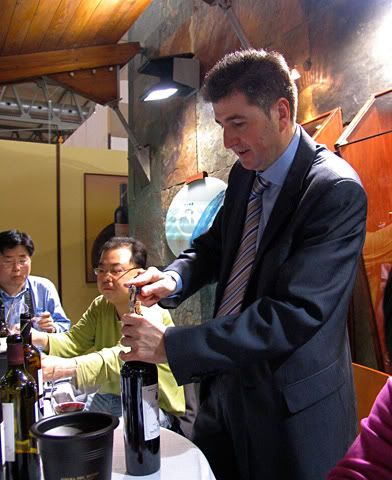 Though relatively young (founded in 1980), this tempranillo-centric winery's commitment to quality has earned it an enviable reputation and distribution both in Spain and international markets. Viña Pedrosa ageing is typically half in French and half in American oak, except for the single plot Finca La Navilla which sees only French oak.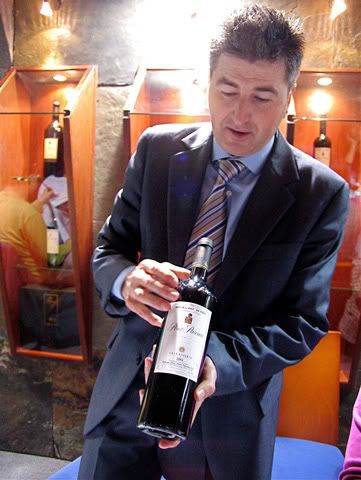 We tasted through pretty much the entire line of Viña Pedrosa and even the pricey top-of-the-line
Pérez Pascuas Gran Selección
(only fruit from vines over 50 years old in a single plot named "El Pago de Valtarreña" ). In sum, I can say that this is a consistently and carefully crafted line of wines, all exhibiting typicity, notable push on the palate and hallmark masculine yet suave structure and definition. Even the Roble bottling shows comparative power and richness in fruit, but, as in all lines, approachable and rounded. Something to watch out for.
Next visit was to the booth of
Bodegas Antonio Candela e Hijos'
Yecla (the province of Murcia in southeast Spain, across the Mediterranean Sea from north Algeria) based
Señorío de Barahonda
whereat
Alfredo Candela Belda
entertained us and answered our questions. I never tried any of their wines before, although I've been coming across their winery's written accolades for quite a while.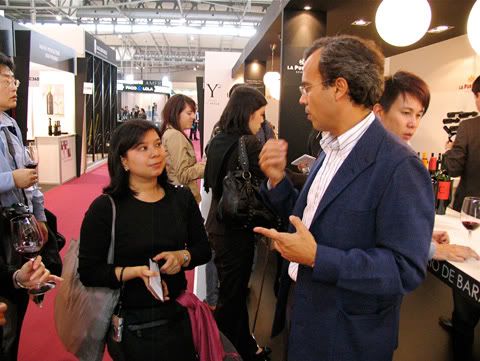 Nana Ozaeta with Alfredo Candela Belda
Founded in 1925, the Candela family company owns approximately 340 hectares of vineyards in Yecla, planted mainly to monastrell (a.k.a., "mourvèdre" elsewhere) with some portions planted to syrah, cabernet sauvignon, merlot, tempranillo, petit verdot and macabeo. I tasted through some of their wines, but what, to me, really made me stand and take special notice was the...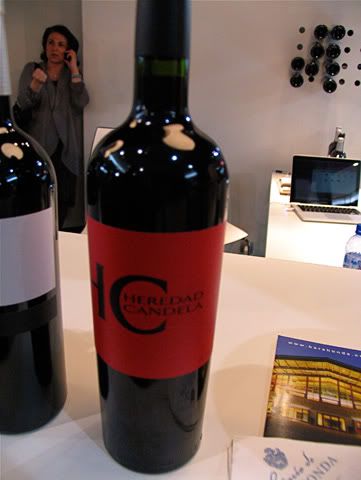 2008 Heredad Candela Monastrell
- Though my photo doesn't show the vintage, I do recall it to be 2008. The hot, arid weather of Murcia would possibly lead one to expect extremely over-ripe wines with elevated alcohol and low acid levels. Not so, however, for vineyards with good elevation as cold nights alleviate the day's heat, thereby helping preserve acidity - or so it is said. The proof, of course, is in the drinking.
This is definitely an immediately pleasing wine to me. Lush, well-ripened, round dark fruit with hints of meatiness and dark spice, a pliant - almost chewy - texture, no angles and smooth, supple curves. I could eat and drink with this all day. Admirable balance and tons of charm; there is power in this to be sure - but as I exclaimed to Alfredo upon tasting this, "Se puede ser fuerte
y
elegante", to which he replied "Exactamente." I'm now a fan. I'll look out for this to buy for sure.
Thereafter, we proceeded to our appointment with the
Osborne Group
, a huge conglomerate with vast interests including wine, brandy (including the ever locally popular Carlos I), sherry, ham (the world renowned 5J "Cinco Jota" Jamón, no less) and bottled water, among others. I particularly looked forward to this appointment as I, my brother and sister-in-law really like the
Conde de Osborne Brandy Solera Gran Reserva de Jerez
which is no longer distributed in the Philippines - I just wanted to know the reason why. As we were entertained by
Rocío Osborne
, I knew I'd get a definite answer.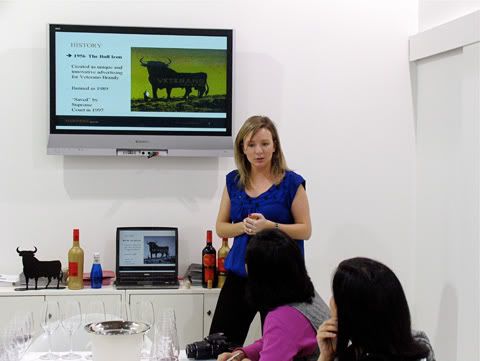 Rocío Osborne gives her talk...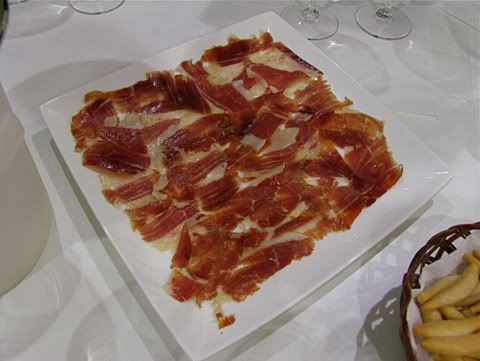 ...interesting and informative as it was though, I couldn't help but get a bit distracted by this platter of glistening and succulent-looking Osborne 5J jamón bellota de Jabugo - but, hey, it was lunchtime by my stomach clock already. Tasting through many wines does build an appetite after all.
We tasted through the wines - I must admit I failed to take notes since I was too busy trying to pay attention to the lecture while attempting to ignore the ham. What did stick to mind, however, were the Osborne fino and pedro ximenez sherries - particularly when I had the
Osborne Fino Quinta Jerez
(D.O. Jerez) with the ham - the sherry's charming/disarming dryness, coupled with the luxuriously fatty, silky jamón just made me crave for more food (good thing there was some bread on hand as the others also attacked the ham).
The
Osborne Pedro Ximenez 1827 Sweet Sherry
(D.O. Jerez, non-vintage) was an obvious hit with the group as well - its velvety texture and flavors of candied dates, caramel, raisins, slight licorice candy and chocolate easily won everyone over. Sweet, yes, but not overly so. Very nice, and, happily, both sherries are quite inexpensive. I just hope they are locally available.
Speaking of which, I did get my answer from Rocío with regard to the dearth of Conde de Osborne Brandy Solera Gran Reserva in Manila. Apparently, the relevant distributors of our area determined that it and their Carlos I were cannibalizing each other's markets, so they decided to just stick to the faster-moving Carlos I in the Philippine market. Oh, well. Too bad for me.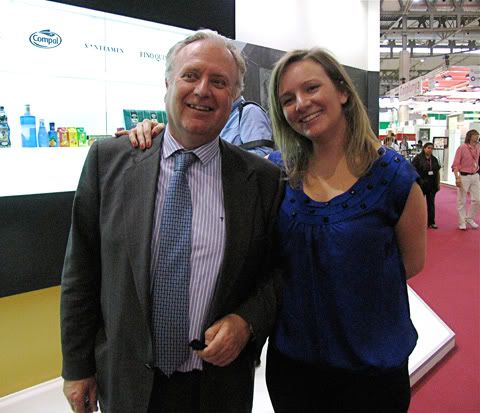 Rocío and her father, the current Conde de Osborne
Our meetings done, the group parted ways as our lunchtime and afternoon were free until 7:45pm. I recall Nana went cheese hunting while some others went on a search for more ham. Me, I located my wife and Miguel then we stopped by the
Bodegas Protos
showroom for a quick sip of their Rueda Verdejo and to say hello to
Protos CEO, Carlos Villar Bada,
who we had
dinner with together with JC and many others at Terry's 2º Piso in Manila on the 5th September 2008
(I've stayed in touch with him via e-mail since then).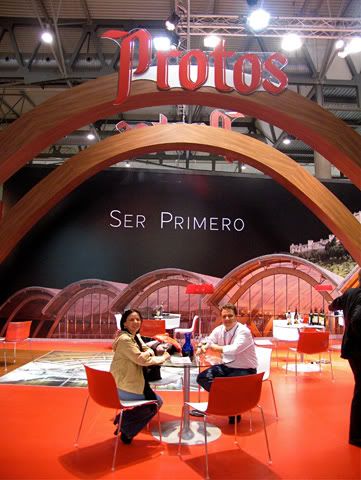 We drink quite a bit of Protos' Rosado in Manila (distributed by Terry's Selection) - a tempranillo based rosado with notable depth and complexity for a rosé. We've also been able to enjoy certain vintages of their gran reserva, the most memorable of which was the
1990 Protos Gran Reserva
from the Stockbroker.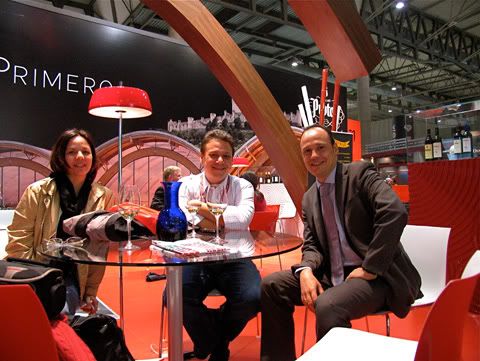 We chatted for a while, but since Carlos was obviously very busy, we said our goodbyes after around 20 minutes or so and headed back to the city center for a late lunch. But that's another story.