From Bodegas Miguel Torres, we had a very long ride (dinner at a roadside diner) to
the Rioja region
- Logroño in particular, where we were billeted at the
Hotel NH Herencia Rioja
(Calle Marqués de Murrieta 14, Logroño, La Rioja). After an early breakfast the 25th March 2010 (well, all breakfasts during the MITYC/ICEX-sponsored week were early for me anyway), we proceeded to the office of the
Rioja D.O.Ca. Regulatory Council
(
Consejo Regulador de la Denominación de Origen Calificada Rioja
), where we attended a very clear and concise lecture by
Tomas Perry
(link to his personal blog), an American who has lived and worked in Rioja for the past 30 years.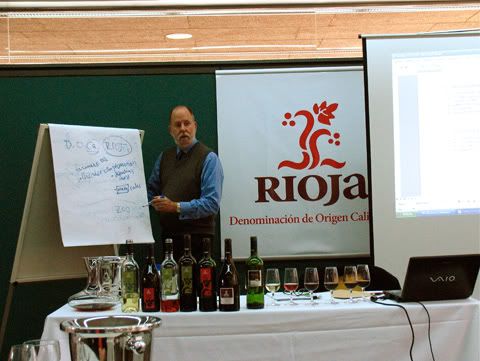 From an administrative point of view, the entire Rioja wine region (63, 593 has. of vineyards) is divided into 3 main parts: La Rioja, Alava and Navarre. La Rioja itself is the largest containing 43,885 has. of vineyards and is divided into the
Rioja Baja
on the eastern side,
Rioja Alta
on the west with a middle portion dividing the northwestern
Rioja Alavesa
above it into two separate parts (for more detailed information on the geography, soils and climate, click
here
).
Though more famous for its tempranillo-dominant reds ("tintos", which are normally blended with small percentages of graciano, garnacha and/or mazuelo), La Rioja also produces increasingly good white wines ("blancos") which are predominantly made of viura grapes, though malvasia de Rioja and garnacha blanca are also permitted, grown and blended (click
here
for more detailed information on the grape varieties). The tintos are classified into the following categories:
Young wines
: Wines in their first or second year (e.g., jovenes, robles), which keep their primary freshness and fruitiness.
Crianzas
: Wines which are at least in their third year, having spent a minimum of one year in casks and a few months in the bottle. For white wines, the minimum cask ageing period is 6 months.
Reservas
: Selected wines of the best vintages with an excellent potential that have been aged for a minimum of 3 years, with at least one year in casks. For white wines, the minimum ageing period is 2 years, with at least 6 months in casks.
Gran Reservas
: Selected wines from exceptional vintages which have spent at least 2 years in oak casks and 3 years in the bottle. For white wines, the minimum ageing period is 4 years, with at least one year in casks. (Click
here
for more details on the categories.)
Thereafter, we proceeded to
Bodegas Juan Alcorta
(owned by the giant Domecq-Pernod Ricard group)...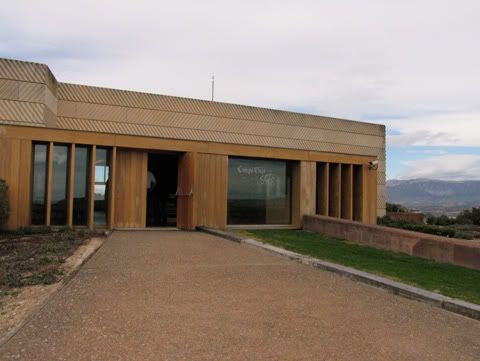 ...where a single fellow was working the vines just outside...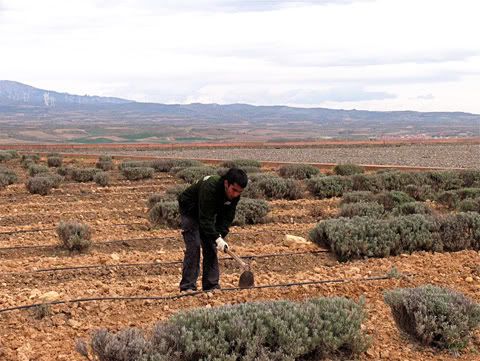 ...and were welcomed and toured by the very suave and distinguished-looking
Javier Elizalde
(International PR Manager).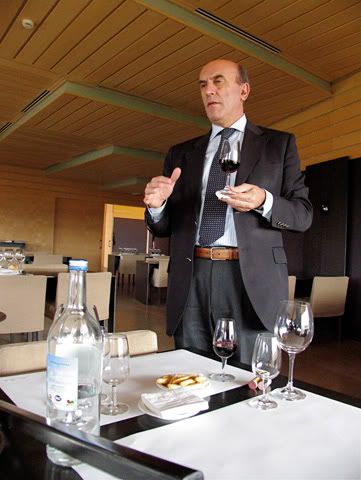 The winery itself is an architectural showcase with its incredibly high ceilings...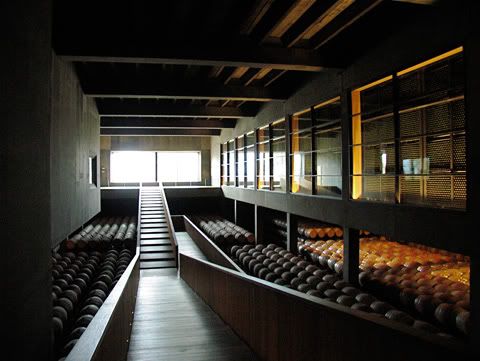 ...and 20+ foot high wooden doors.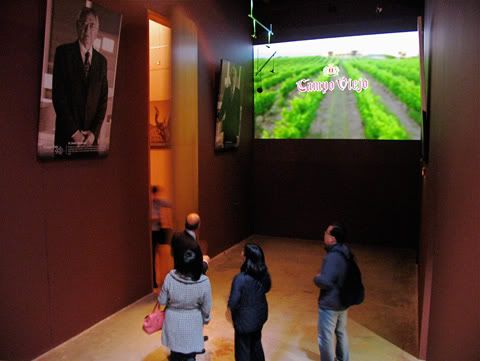 Bodegas Juan Alcorta's flagship winery and brand is
Campo Viejo
. The winery uses modern techniques and equipment...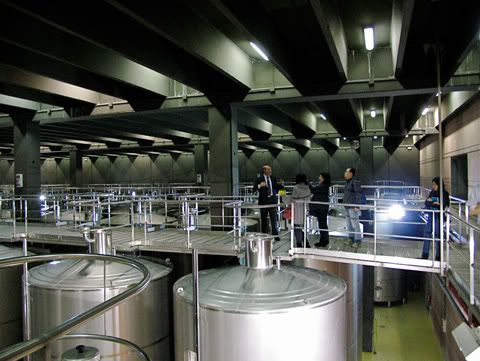 The enormous all-steel vat room that can accommodate millions of litres at any given time.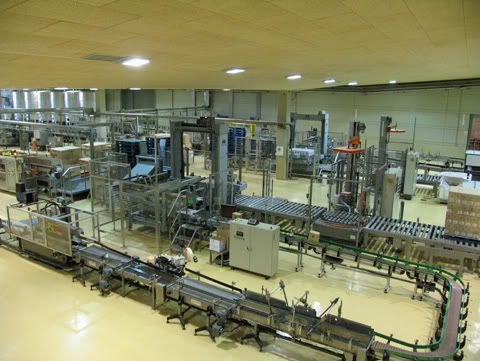 ...with a huge bottling section that, itself, takes only 4 persons at most to operate...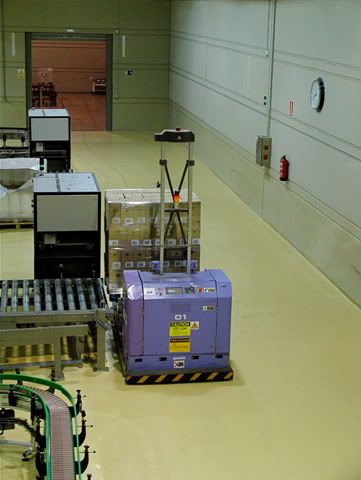 ...with the help of little purple-colored robots that carry away and store the crated bottles. The ladies got a big kick out of these little robots since, as they maneuver, they emit a little tune very similar to those made by ice-cream trucks.
Despite all the high-tech modernity, the producers, especially winemaker of Elena Adell (since 1998), make it their mission to express the character and typicity of Rioja in their wines in, among others, using gravity alone to move the wine about, staying with the traditional tempranillo/graciano/mazuelo blend, using much more American oak barrels (70%) than French (30%) and not emphasizing new oak (average barrel age is 7 years).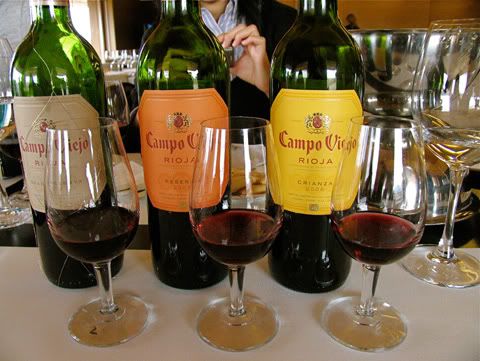 Of course, we did get to taste the wines for ourselves right before lunch at the winery's own restaurant. Knowing that total annual production hits a staggering 25 Million bottles, 45% of which is exported to 60 countries, I wanted to see for myself how typicity and Riojan character is preserved given such volume.
The 3 wines we tried were:
2006 Campo Viejo Crianza
,
2005 Campo Viejo Reserva
and
2002 Campo Viejo Gran Reserva
. I must honestly say that all these wines did, indeed, possess the Riojan character. Even if tasted blind, one could pretty easily detect what they were - I like that in wines. Though the Reserva and Grand Reserva were undoubtedly weightier, deeper and more complex, I recall several sharing my appreciation for the freshness, purity in fruit and vibrancy of the crianza. For their
very
reasonable prices, They should be ideal for having at home and serving at parties, weddings, corporate functions, etc. Pernod Ricard has a Philippine importer, Pernod Ricard Philippines (Tel No. 632 5566598), but I don't know if they actually bring in Campo Viejo wines.
We all, thereafter, settled down to lunch.
Of course, there is always nice hot bread on the table. This was followed by platters of
Guindillas Verdes
...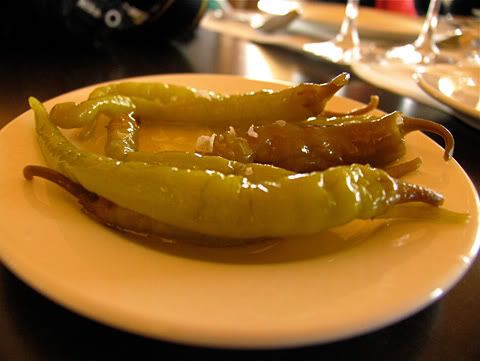 ...which I promptly started snacking on.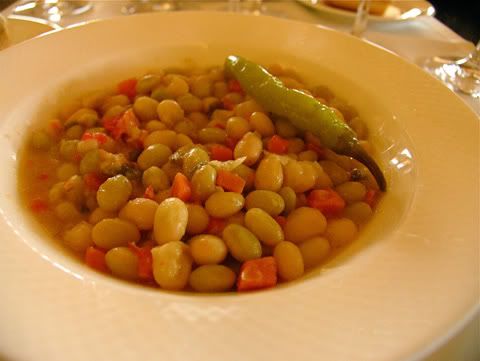 Bowls of
Pochas
(made from a type of ripe Spanish string beans) then followed, which we topped with some guindillas and I absolutely loved. A hearty dish such as this was most welcome on such a cold and windy day.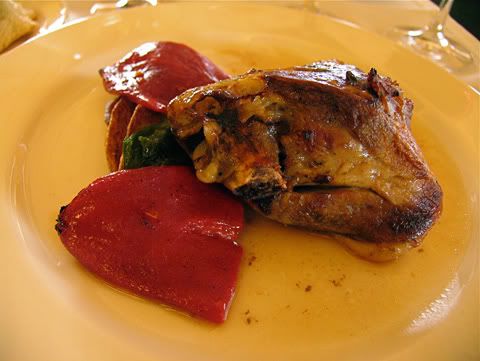 Platters of
Cordero Asado con Pimientos del Piquillo
were then served. I worried about there being too much to eat, but I wound up cleaning my plate anyway.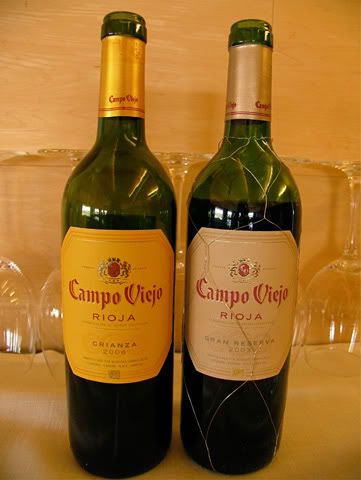 Naturally, Campo Viejo tintos flowed freely. As pairings, I had the 2006 Campo Viejo Crianza with the
pochas
, and the 2002 Campo Viejo Gran Reserva with the
cordero
. Both were very good eating wines. Actually, even the crianza went well with the lamb and seemed to pick up on the sweetish red peppers.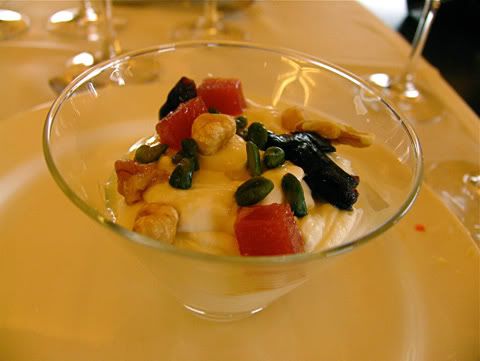 Dessert followed. I can't remember what it is called, but it reminded me of a particularly dense and sweetened type of fromage blanc I had in Gilles Lafontaine's Le St. Etienne Restaurant in Vézelay
sans
the fruit and nut toppings.
We then proceeded to
Bodegas Herederos del Marqués de Riscal
in Elciego, Rioja Alavesa.
Entering the grounds, one is almost immediately greeted by...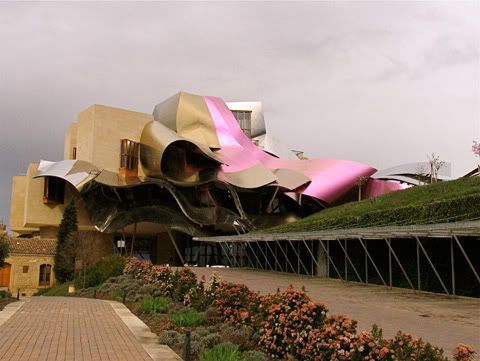 ...the famous Marqués de Riscal hotel designed by Frank Gehry.
This visit in particular interested me as there seems to be some confusion in discussions in Manila about what really constitutes traditional and modern Rioja wine
vis-a-vis
length/intensity of oak ageing and the use of French (vs. American) oak. We were welcomed and toured by the very charming and knowledable Manager of Export Sales,
Javier Ybañez Creus
. (we swapped some stories and cigarettes walking to the winery itself - him giving me a Spanish Camel in later exchange for one of my USA Marlboros). Where better to get the information than from the pioneers of the Bordeaux methods of wine-making in Rioja?
*
The story begins over 150 years ago, in 1858, when Bordeaux-based diplomat/journalist and Elciego vineyard owner Don Guillermo Hurtado de Amézaga, the Marqués de Riscal, was requested by the Diputación Foral de Álava to, on the latter's behalf, identify and engage the services of a wine consultant from Bordeaux to teach Alava winemakers French winemaking techniques. The man chosen was Jean Pineau of Château Lanessan. In the same year, the Marqués imported 9,000 assorted Bordeaux vines, including cabernet sauvignon, merlot, malbec and pinot noir into the Rioja Alavesa.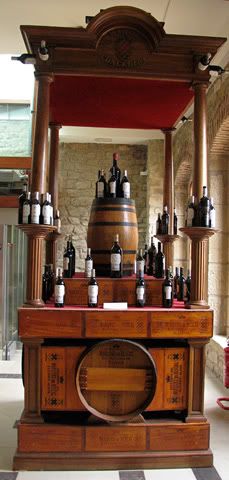 Things didn't really work out between the local winemakers (who were reluctant to re-learn their craft) and Jean Pineau; so, after 2 years, the Marqués hired the latter's services for the Bodegas Marqués de Riscal. Within 5 years, Pineau's work earned the bodega's wines several international awards, including, in 1895, becoming the first ever non-French wine to be awarded the coveted Diploma of Honour in the XIIIth Bordeaux Exhibition. The rest is (more) history.
These are the older buildings on the bodega's grounds.
*
The information was sourced from Javier Ybañez and Bodegas Marqués de Riscal's official website.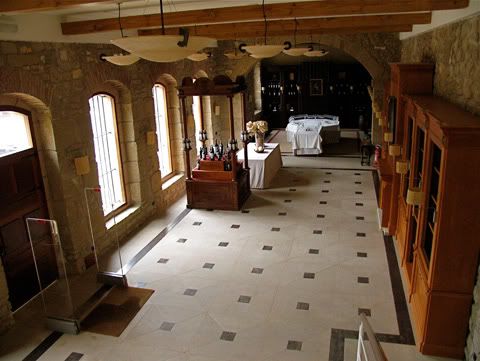 The receiving room where we later on had a very good tasting.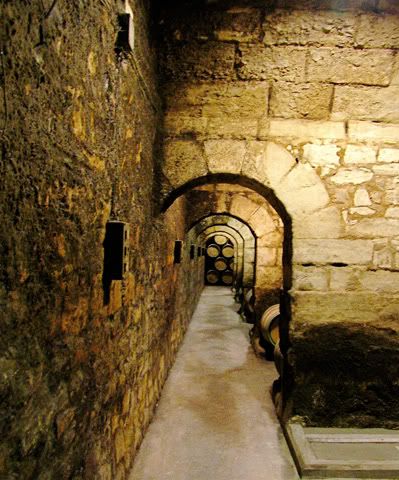 An old wine-press stands at the end of one of the wood vat rooms.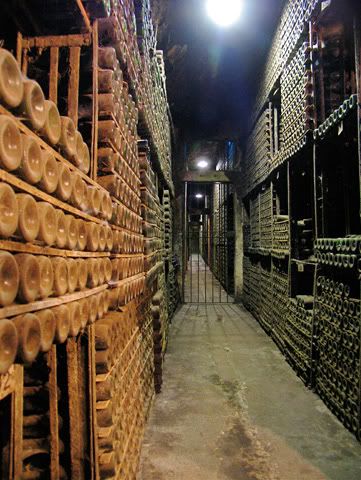 Old vintages sleeping peacefully.
It is rumored that Frank Gehry initially declined Riscal's hotel project, but, after being plied one night with several ancient vintages of their wines, he subsequently relented.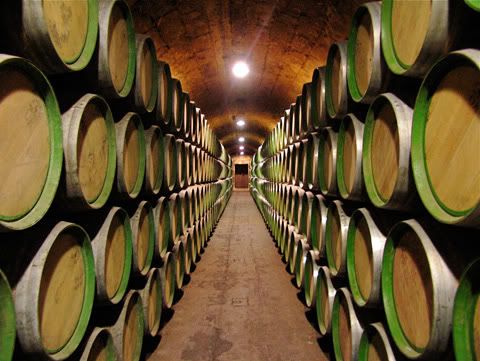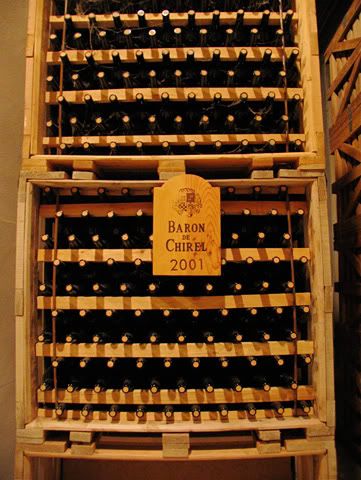 An unreleased batch of 2001 Baron de Chirel - Keiichi-san's wine at our past Una Noche Riojana.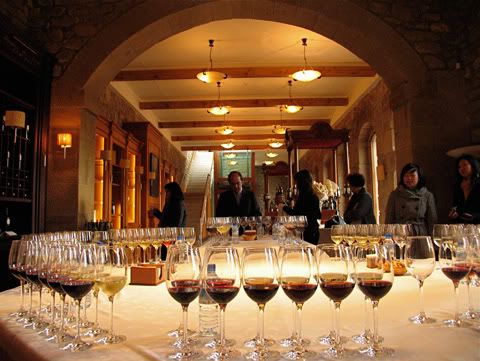 We went through 9 wines in all: 3 whites (all 100% verdejo) and 6 reds, namely:
2009 Marqués de Riscal Rueda Verdejo
- This is a decidedly intense, well-ripened and aromatic verdejo blanco - the vintage traits shining through. Picking was earlier than usual due to the August to mid-September heat. From the wine's light, zippy floral freshness, bright acidity and healthy fruit, this would be great as an apéritif (some warm almonds please) and with fresh fish/shellfish dishes simply prepared and some pasta dishes involving the same - spaghetti vongole comes immediately to mind.
2008 Marqués de Riscal Finca Montico
- Fruit from a low-yielding, highly vine-stressed single vineyard in Rueda's Montico district; gentle whole cluster pressing, no crushing or de-stemming; 4 months on lees with once-a-week stirring. The wine is bigger, more alcoholic and viscous, heftier, with a touch of creamy leesiness to the peach, pear and unsweetened marzipan notes. The floral and fruit aromas are more intense as well. Still, the freshness is there though and high acidity props the heavier fruit up keeping things very interesting. More of an eating wine than one for apéritifs given its girth. Could pair with richer seafood dishes like lobster thermidor or parmesan baked chicken.
2008 Marqués de Riscal Limousin Cask Fermented Blanco
- I believe this is the first oak-aged verdejo I've tried. I've tried a few oak-aged Riojan viura blancos, (e.g., from Marqués de Cáceres and Campillo) but never any Rueda verdejo. There is a pervasive honeyed character to the ripe, somewhat deeply-veined fruit, creamy/toasty vanilla/oak with sweet, whitely floral and faint minerally notes. Definitely a bigger white than Finca Montico, the leesiness of which may lead one to wonder if any oak was seen. In this wine, there can be no doubt at all. For those who favor rich, vanilla/oak-tinged whites.
2008 Marqués de Riscal Rosado
- A 100% tempranillo rosado made in through the French
saignée
method (a.k.a., "cap and drain" where after the "cap" of skins, stems (unless de-stemmed) and pips from crushed grapes has formed above the juice; instead of punching the cap down or pumping the juice over to intensify color/encourage extraction, the juice (pink or rosé) is "bled" (i.e., drained) off and fermented in steel or barrel and the natural grape sugars are allowed to be "eaten up" by the yeast).
Light, crisp, very approachable, dry cherry, strawberry and minor raspberry and red currant notes. Nicely fresh and fruity with good purity - this saw no oak. Dangerously drinkable, I could drink this all day with spicy gulas, gambas al ajillo, chorizos, etc. This would be nice with some paella too.
2007 Riscal 1860 Vino de la Tierra de Castilla y León
- This is the first time I've seen and tasted this Riscal bottling. From Toro, it is made up of 85% tempranillo (called tinto de Toro in Toro), the rest of merlot and syrah, aged 6 months in new American oak barriques.
Ripe black cherry, blackberry, raspberry with minor plum, blackcurrant, touches of black pepper wit underlying chocolate. The new American oak is very apparent in the tell-tale coconut cream, cinnamon/toffee notes. Casual, straightforward, readily pleasing, if a bit simple. Will do well for large parties, paired with roasted meats.
2006 Marqués de Riscal Finca Torrea
- Fruit-forward, well-ripened, almost confited, round black cherry and raspberry wit mildly toasty oak and related spice notes. Modern and notably mouth-filling, the acid is lowish but the wine still manages good balance.
2005 Marqués de Riscal Reserva
- This couldn't have been released too long ago. Though not quite 5 years from vintage and still quite young, balsamic and underlying leather notes already peek through the correctly ripe fruit and oak/baking spice. Admirable balance and finesse here. I love how consistent and distinctive the wines of Riscal are.
2001 Marqués de Riscal Gran Reserva 150 Aniversario
- Notable depth, drive and push from the smoothly muscled confited dark fruit, black cherry with juicy blackberry and some blueberry in the finish. Toasty oak notes, spice, hints of balsamico and cedar finely woven in. This will get better and better with age. Despite its heft, it glides on the palate. Nice wine. Get some if you can. I already very much liked the
1998 Marqués de Riscal Gran Reserva
paired with steaks at my father's house - but this 2001 was even much better.
2004 Marqués de Riscal Barón de Chirel
- I lit up when Javier mentioned we'd be having this. I had mentioned to him before tasting that Victor de la Serna recommended to me the 2001 vintage of Barón de Chirel for
Una Noche Riojana
Miguel and I organized in Manila a while back. JC de Terry created and personally executed the pairing menu (Javier told me he's spoken to JC on the phone several times but has never met him in person, and Victor happens to be a very good friend of his).
Alongside a powerhouse cast of aged traditional Riojas (e.g., '85 López de Heredia Viña Tondonia Gran Reserva, '85 Marqués de Murrieta Castillo Ygay Gran Reserva Especial, '89 La Rioja Alta Gran Reserva 890, '95 CVNE Imperial Gran Reserva, etc.), the 2001 Marqués de Riscal Barón de Chirel held its own and was pretty much unanimously chosen as the wine with the greatest future and potential.
Full-bodied, concentrated, well-extracted (but not over-the-top), like the 2001, this has an immediately commanding palate presence. Admirable complexity and depth in its layers of black cherry, strawberry, slight raspberry liqueur, balsamico, cedar, bit of crème de cassis, underlying leather, licorice, espresso, cinnamon, nutmeg, vanilla, etc. Again, all this while maintaining precise balance, focus, harmony and grace which I find a consistent trait of Marqués de Riscal's wines.
¡Olé!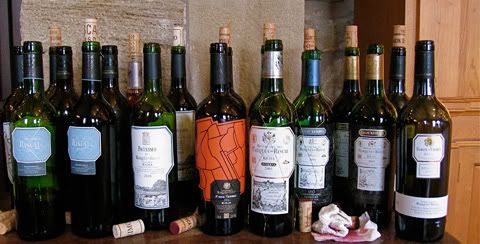 In the meantime, platters of jamónes, chorizos, pan, etc. had made their way to the table. I wouldn't have thought I could eat anything even a few hours after our lunch, but I couldn't resist some bites of jamón.
This was one of the highlights of my trip. I do occasionally purchase Marqués de Riscal's wines here in Manila (Terry's Selection is their distributor). I believe I will purchase more.
~ oOo ~
We then made our way back to the hotel in Logroño, I was already dreading the dinner lined up for us that night as I didn't think my stomach could take anything more. It's a good thing dinner starts very late in Spain. A couple of hours or so later, we were walking to the old part of town and entered a small establishment simply named
"8-20"
(Calle San Agustín 11, Logroño). It is a by-appointment only restaurant and one has to book it for a minimum of 8 to a maximum of 20 persons; hence, its name.
Little did I know that this restaurant is a branch of the brothers Echapresto's highly-acclaimed
Venta de Moncalvillo
that Oscar Alegre (Export Manager of the Alvaro Palacios group) recommended to me before I left Manila for Spain. I only discovered this connection over a week later when I was back in Logroño with my wife and looking over Oscar's e-mail.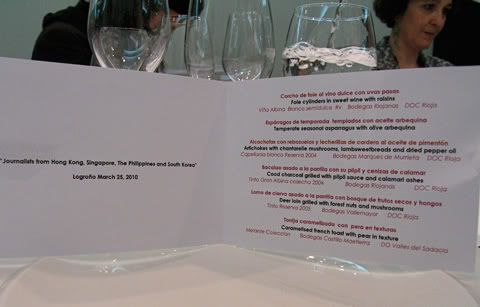 The Menu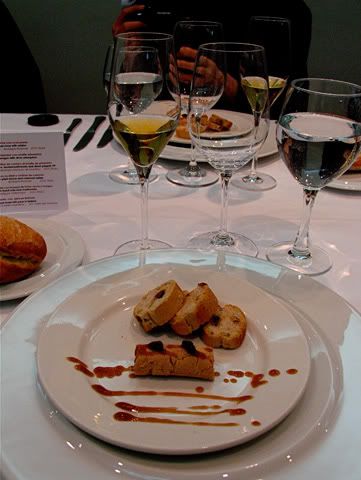 Corcho de Foie al Vino Dulce con Uvas Pasas
(Foie Cork in Sweet Wine with Raisins), paired with
Bodegas Riojanas Viña Albina Semidulce
. The dish was so much more interesting (the chef shaped it into a wine cork) than the semi-sweet wine. Though I like pairing foie dishes with sweetish whites, I personally thought the subject wine was, though pleasant enough, too lackluster and simple - it was overshadowed by the dish - the raisins of which brought all sweetness it needed.
Espárragos de Temporada Templados con Aceite Arbequina
(In season Asparagus Flavored with Arbequina Oil - arbequinas are special little olives usually from Catalunya, but also grown in Aragón and Andalucia). No wine paired with this dish.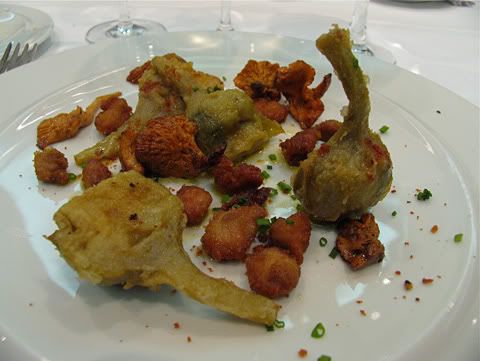 Alcachofas con Rebozuelos y Lecherillas de Cordero al Aceite de Pimentón
([In Season] Artichokes with Chanterelles, Lamb Sweetbreads and Dried Pepper Oil), paired with
2004 Marqués de Murrieta Capellania Blanco Reserva
which, as a pairing, honestly, I felt too rich, honeyed and oaky for my taste. The wine is interesting enough (an oak-aged viura), but I would have preferred just a little bit more lift and dryness.
Bacalao Asado a la Parilla con su Pilpil y Cenizas de Calamar
(Charcoal Grilled Cod with Pilpil Sauce and Calamari Ashes), paired with...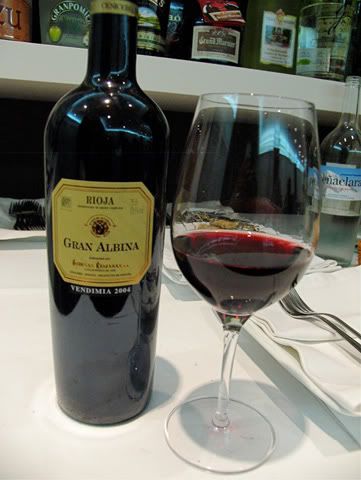 2004 Bodegas Riojanas Tinto Gran Albina Vendimia
- I loved the dish and the pairing as well. The wine itself is a bit modern in style, but I liked the contrast brought to the somewhat rustic, "meaty", smoky fish dish. There was a short discussion with the chef about Pilpil sauce (an pan-emulsion of the fish's own juices with olive oil). Of course, I couldn't help but speak up as Javi Lecumberri prepares
Kokotxas al Pilpil
for us in La Tienda every so often.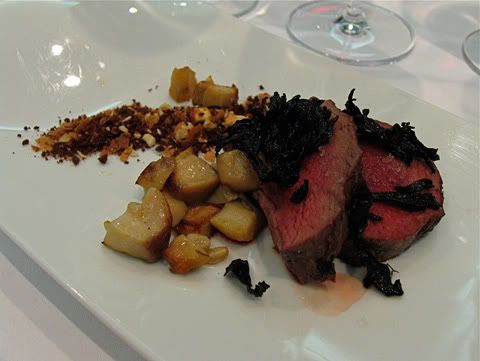 Lomo de Ciervo Asado a la Parilla con Bosque de Frutos Secos y Hongos
(Deer Loin Grilled with Forest Nuts and Mushrooms) with which was paired
2005 Bodegas Vallemayor Tinto Reserva
- Nice, comfortingly warm, earthy tinto with moderate oak and a friendly feel about it. With touches of tobacco, cedar and spice, it was a very good match with the venison loin and mushrooms. The forest nuts had a sweetish note that, though pleasant in itself, I (and 2 others) felt could have been left out. Still, I enjoyed the dish and the pairing.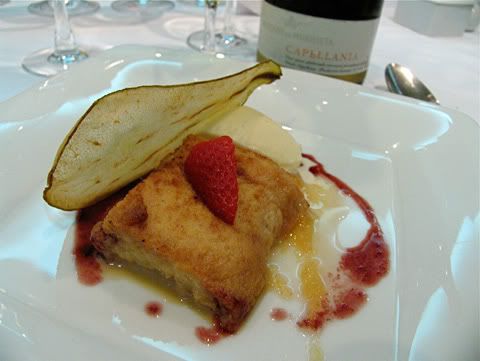 Torrija Caramelizada con Pera en Texturas
(Caramelised French Toast with Pear in Texture) with
Bodegas Castillo Maetierra Melante Colección (D.O. Valles del Sadacia)
- I most always enjoy torrijas, and this was no exception, especially this one accented with fruit compotes. The semi-crispy slice of pear added to the presentation, if not much else. Made with late harvested muscat blanc à petits grains and aged in French oak, this has a lightly spicy-wild honeyed grapiness to it, with vanilla from the oak, of course. Harmonious enough, it has a moderate viscosity and good freshness. "Cute" is how I can describe it. Maybe even "pretty". Won't find any in Manila though, I'd bet.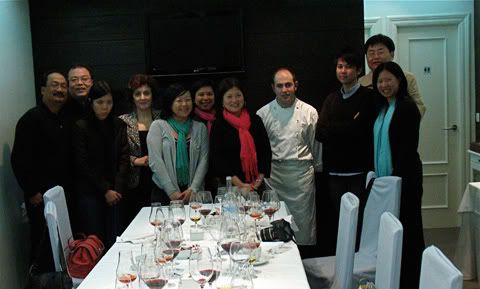 The group with Chef Ignacio Echapresto.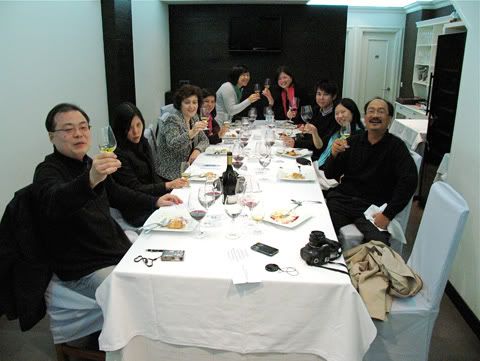 ¡Salud!
NB:
As to the traditional vs. modern Riojas, let's just say that it depends on what one means by the said terms. If what is "traditional" is taken in its ordinary historical meaning, then Riscal (and the others who eventually followed suit) would fall under "modern" because it is heavily Bordeaux influenced. However, I believe that after over 150 years - Riscal's tintos should already be considered traditional. In my book, anyway.