Dinner of the 30th March 2010 was at
Château Prieuré-Lichine
(an 1855 Classified 4th Growth from Margaux). We were approximately 16 persons including the Vigneron, JC and Mari de Terry, my wife and I, several winemakers/chateau owners of Margaux and few wine journalists from the USA and Belgium.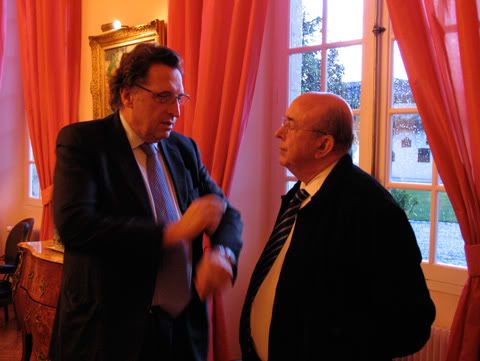 Justin Onclin, Chargé d'Affaires of the Ballande Group (owner of Prieuré-Lichine) and JC de Terry.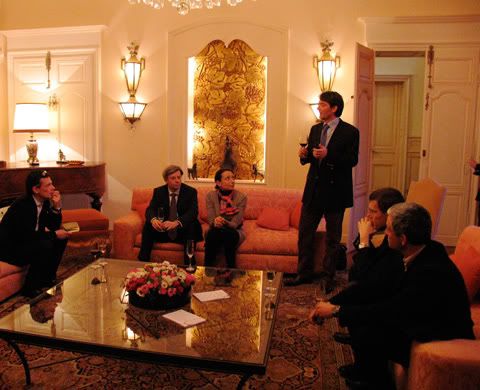 Over pours of crisp, dry and citrus-forward
Roederer Champagne Brut Premier NV
, Prieuré-Lichine's new, young winemaker, Etienne Charrier, regaled us of the efforts that went into their 2009 (garnering a rating of 92-94 by Wine Enthusiast Magazine). We eventually were ushered into the dining room where a long table was set with place cards (I'm getting to really appreciate the use of place cards these days, especially at large tables).
The Table
Anne-Françoise Quié (proprietress of Rauzan-Gassies), host Justin Onclin and Mari de Terry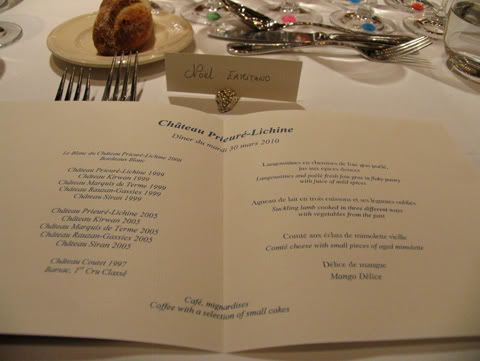 The Menu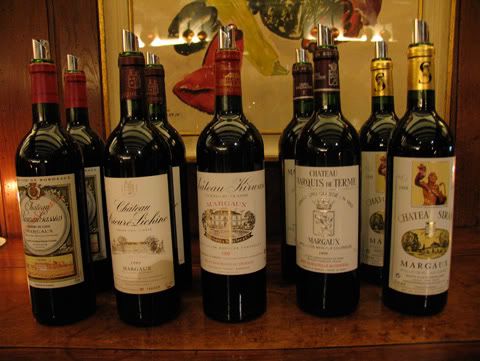 The night featured vintages 1999 and 2005 of five Margaux stalwarts, namely, Rauzan-Gassies, Prieuré-Lichine, Kirwan, Marquis de Terme and Siran.
Langoustines en Chemises de Foie Gras Poelé, Jus aux Epicés Douces
...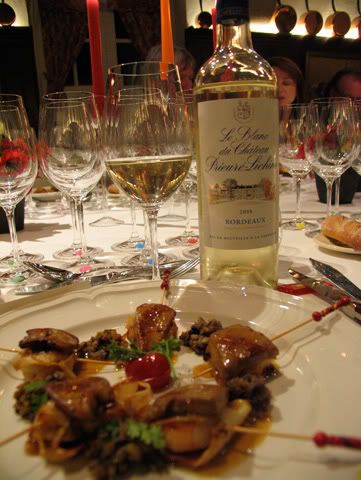 ...with the pairing wine.
2008 Le Blanc du Chateau Prieuré-Lichine
- This is a pretty, vaguely tropical Bordeaux blanc (typically sauvignon blanc and semillon) with notes of ripe pineapple, creamy lemon custard, citrus and just a hint of leese very mild oak (a good thing for me) and just enough acid to keep things interesting. The tropical ripeness of the lemon and pineapple notes, plus its leesy/mild oak underlay and acidity gave pleasant contrast, cut and lift to the rich foie and fresh, juicy langoustine combination. Nice. I had a second pour.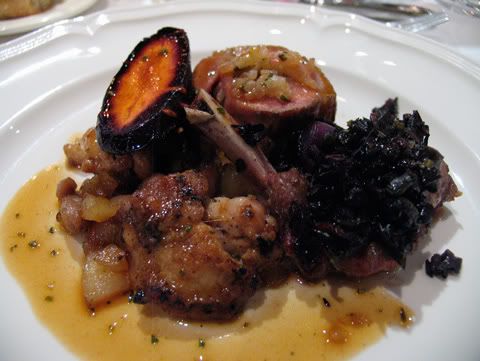 Agneau de Lait en Trois Cuissons et ses Légumes Oubliés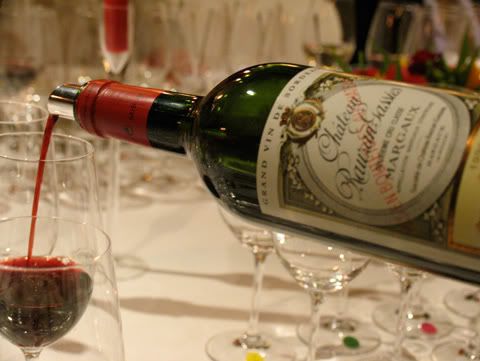 1999 Rauzan-Gassies
- I really like the balance and harmony of this wine. Medium-bodied, the smooth mildly earthy dark fruit, underlying fine tobacco and minerals, violets and cedar show remarkable harmony. Very nice performance the vintage notwithstanding.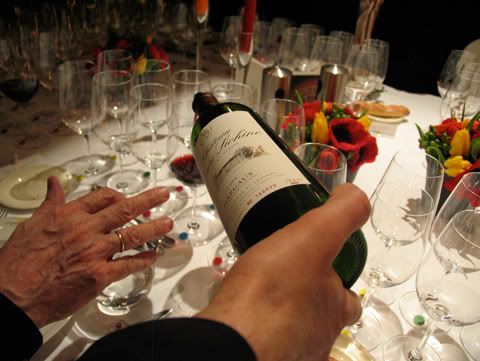 1999 Prieuré-Lichine
- Lighter-framed than the preceding wine, this shows more of the vintage traits in its leanness. The flavors speak of Margaux. Notable focus and purity, but I believe it is better paired with lighter dishes as the lamb over-powered it a bit.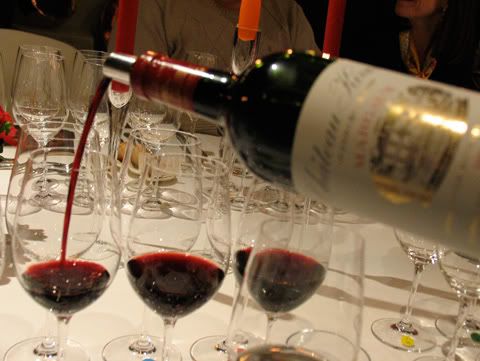 1999 Kirwan
- Showed some charm and a bit of greenness in its neat tobacco-and-dryish-wood- laced lean dark fruit. Would also have been paired better with a lighter dish.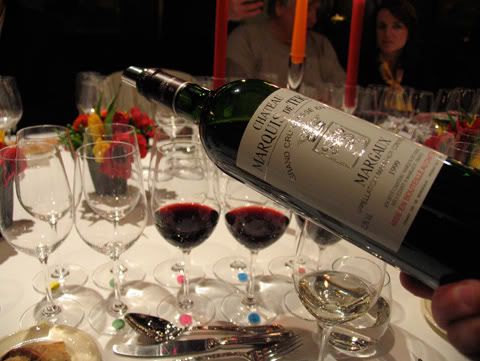 1999 Marquis de Terme
- Notable body, heft, concentration, roundness and ripeness considering the vintage. Nice depth as well. This stood out to me. Very nice.
1999 Siran
- As mentioned in my last post, I've had this many times. Sleek, light on its feet with nice focus and fruit vibrancy in a friendly style. A vintage that fell under the watch of Michel Rolland.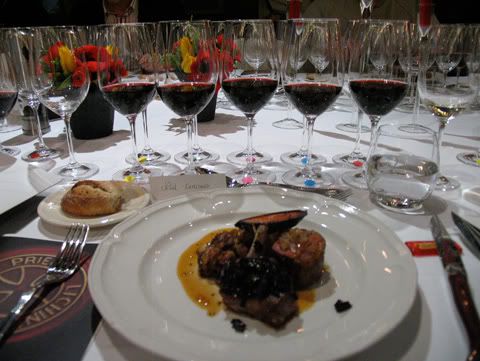 The 2005s then started pouring...
...accompanied by a brief talk on the vintage by Kirwan's Directeur Philippe Delfaut.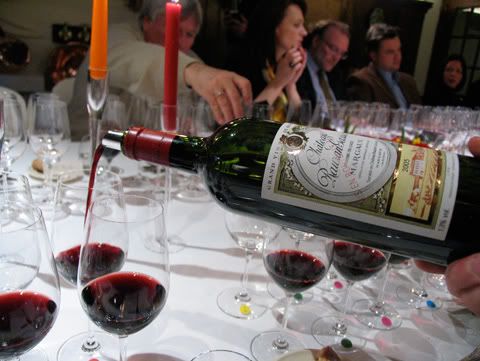 2005 Rauzan Gassies
- Vintage shows in the riper, softer, lusher, warmer fruit, cassis, violets, leather, cedar. A couple of notches over medium-bodied, moderately broad. The oak is there, but decently integrated. Comes off a bit modern, but openly pleasing.
2005 Prieuré-Lichine
- Same comparison to the 1999 in that the vintage shows in the greater heft, density and concentration of fruit. Its medium body again displays clean lines and, with the 2005, finely woven flavors of blackcurrant, dark plum, black cherry, bit of asphalt underneath, slight spiciness. Nice typicity and notable freshness. A very correct wine which my wife liked quite well.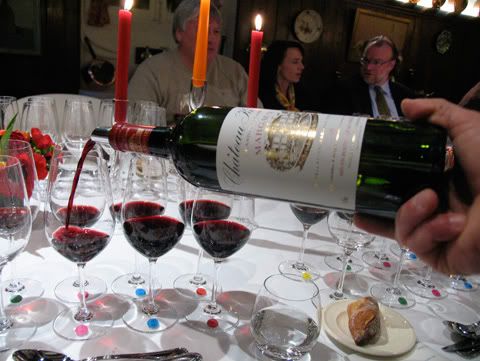 2005 Kirwan
- Over all much more expressive, concentrated, well-balanced and harmonious than their 1999. The vintage shows in the fruit but the acidity is likewise healthy. Nice enough.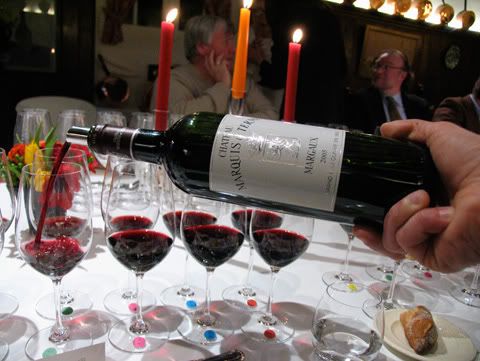 2005 Marquis de Terme
- Like its 1999, this is another good showing from this producer. The fruit has a bit of a confited character to it and the wine comes off in a more modern style, but it is presented nicely enough. Perhaps not as pure or focused as the others, but I found it rather pleasing.
2005 Siran
- I've been following this wine for almost 4 years - since before it was bottled. It's calmed down a lot since its big, burly, muscled dark and spicy fruit youth. This bottle came off notably less full and warming than at
a Siran dinner on the 31st January 2009
but showed better focus and purity of fruit. Siran's distinctive red spice in the violet finish (from the petit verdot most likely) was unmistakably there.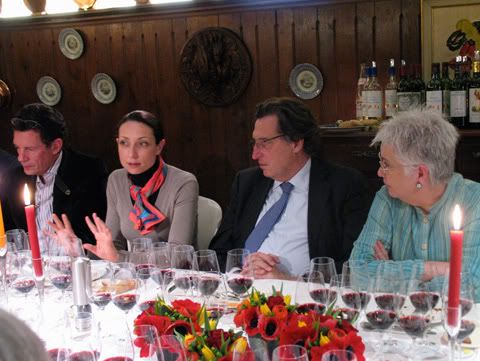 Anne-Françoise Quié describes vintage 2009 as Mari de Terry and Justin Onclin listen. GJE permanent judge and wine critic Jacques Perrin is on the left.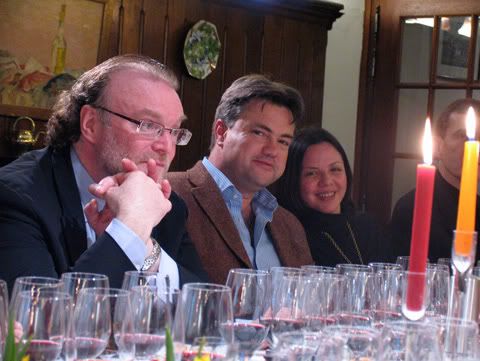 Little did I know that Edouard and Catha were making fun of my obsessive picture taking. US wine critic John Gilman is with them.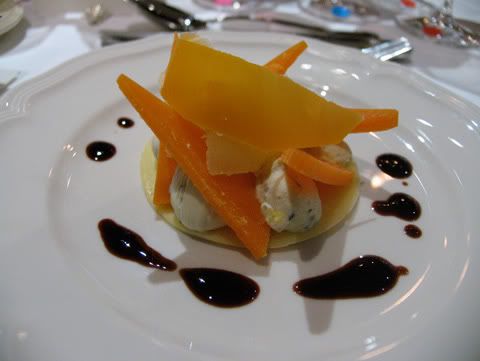 Comté au Éclats de Mimolette Vieille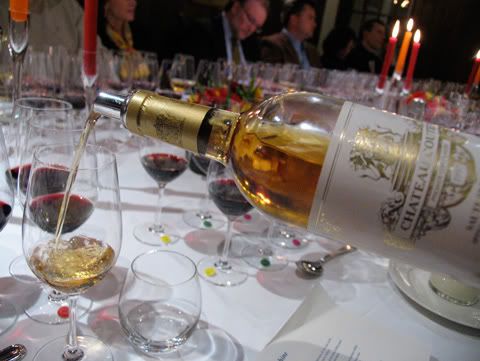 1997 Château Coutet
- This was a real treat as 1997 is a good year for Sauternes/Barsac. Bright, light on its feet, almost zippy honey, light sugar syrup crammed with peach, bit of dried apricot, slight orange rind, lemon cream, vanilla bean. Sounds heavy, but it really isn't. Very pure and it glides on the palate. I'll have to buy me some of this.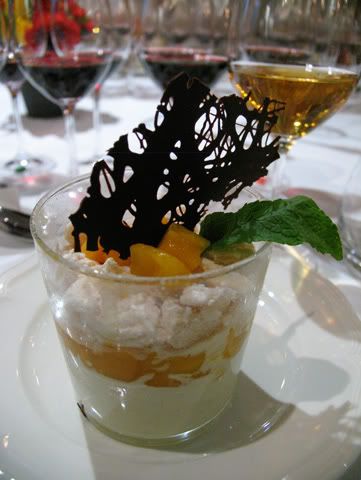 I don't know where the mango is from. JC and I were wondering about the same thing and agreed with Mari that no country on earth produces mangoes as delicious as our Carabao mangoes. Still, it was about as good a mango dessert one can get in France. A memorable dinner indeed. Many thanks to all, especially Edouard, our gracious host and the château owners and representatives who shared their wines, knowledge and company.
NB
: For those visiting the Haut Médoc in the next year or so, Edouard and the chef who prepared the dinner are joining forces in a restaurant in the Labarde/Margaux area. Construction is underway. I've had 2 dinners by this chef, and both were memorable; so I look forward to dining at their new place when it opens for business.