After almost the whole day at Alimentaria, at around 4pm, Catha, Miguel and I took a cab back to Hotel Condes de Barcelona and looked around for a quick place to eat. This would be lunch for me and dinner for Miguel as he had a very early trip northwest the next morning (business in Santander and wining and dining in San Sebastian). I had a dinner with the journalists group that night while Rina would pick Catha up for dinner and drinks with her friends.
Not wanting to stray far, we chose the first interesting tapas bar along the cross-street Carrer de Mallorca. This one caught our eye from outside.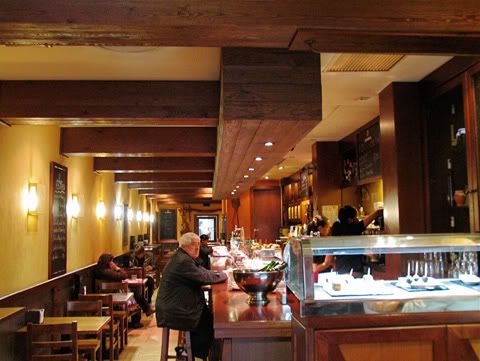 This place was called
Lizarran Tapas Selectas
, one of a world-wide chain of similar bars (USA, Italy, Germany, even China!). We entered, looked quickly at the pintxos displayed at the bar (per Miguel, pintxos is a Basque tradition similar to tapas - the difference being pintxos are almost  always served on top of a piece of bread while tapas are mainly plated dishes), took a table near the door, ordered a bottle of txakoli, chose some pintxos and ordered some tapas from the menu.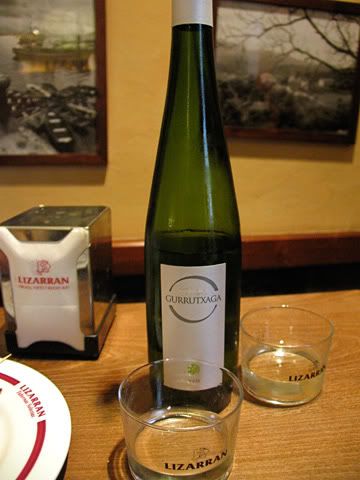 2008 Gurrutxaga Txakoli (Bizkaiko Txakolina)
- simple, pleasantly crisp, very dry, fresh with slight lime, seaside notes and a bit of spritziness. Nicely refreshing and cleanses the palate well between bites.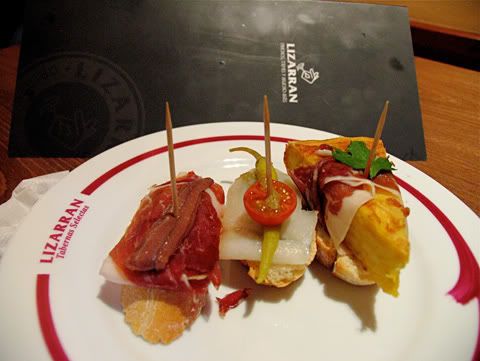 Some of the pintxos: ham with anchovy, bacalao with pepper, and torta de patata with ham.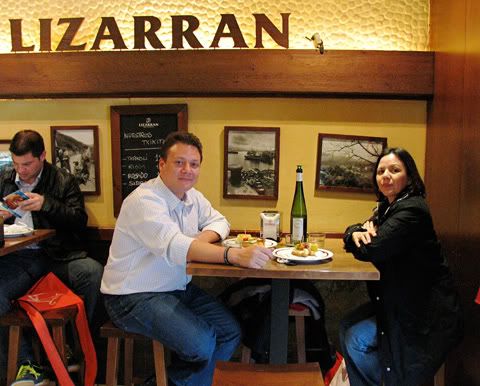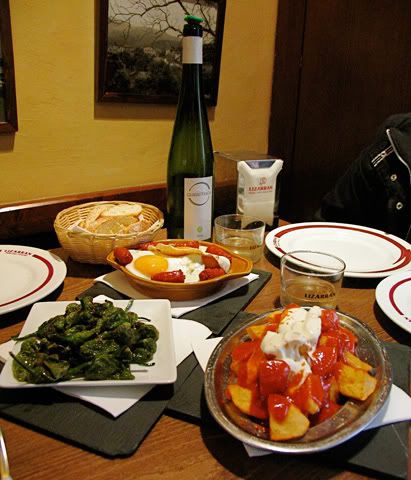 Pimientos del Padron, Patatas Bravas and a delicious plate of Chistorras with fried eggs on potatoes. The last dish was by far my favorite here as it was so hearty and comforting; the Pimientos del Padron were also very nice.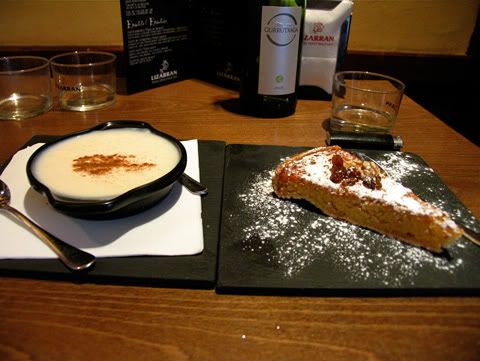 For dessert, we had a very watery and not-at-all pleasant arroz con leche (which we did not eat and weren't charged for) and a decent enough pecan pie. After a round of espressos, we walked back to the hotel and bade farewell to Miguel. I wouldn't be seeing him again until back in Manila, though he and Catha would still see each other in Barcelona before she meets me in Bilbao and he flies back to Manila to catch the latter days of Holy Week.
My assessment of Lizarran? Decent and cheap. Good enough for a quick snack before a real dinner, but not much else.
By around 8:30pm, the group gathered at the hotel lobby with the ICEX reps and trooped to
Asador Sagardi
along Carrer de Muntaner - one of a successful international chain (per a Russian friend, they have a branch as far as Buenos Aires). Patterned after Basque cider houses and taverns, Sagardi boasts of serving authentic Basque cuisine...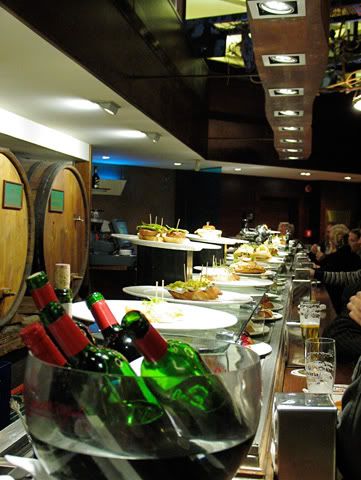 ...and a long, well-stocked bar.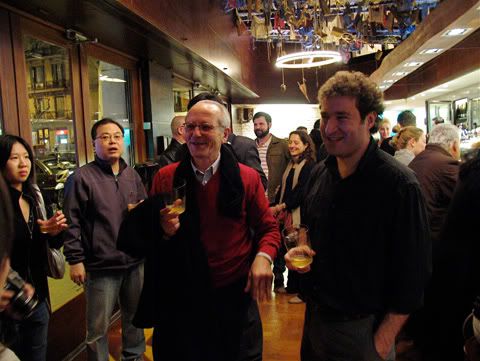 The fellow on the right was introduced to us as the owner of Asador Sagardi. He hosted and joined us for dinner (I don't recall his name though). We started off with glasses of cidra and assorted pintxos when we arrived.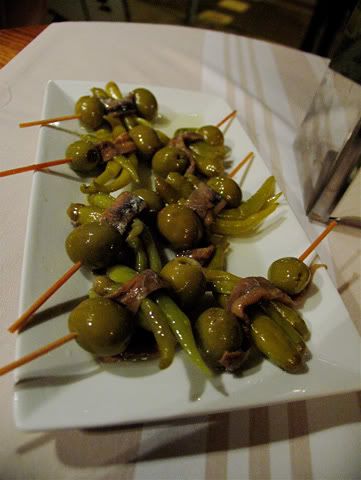 Little skewers of olives and peppers tied up with an anchovy ribbon.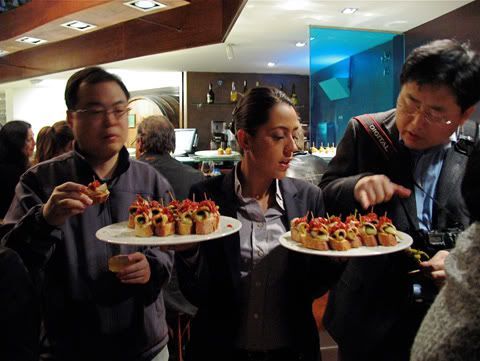 Team South Korea digs in.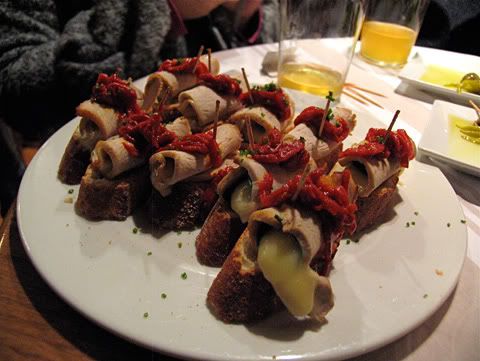 Rolls of beef stuffed with red and green peppers.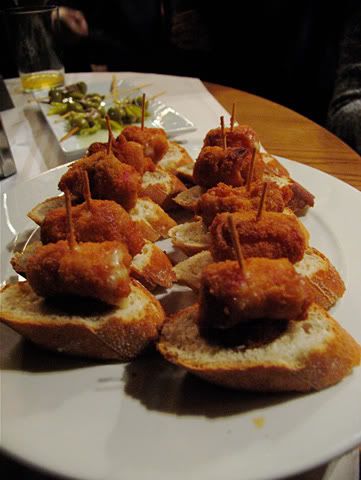 Some kind of Croqueta, I no longer recall what of.
After probably 45 minutes, we moved upstairs to a private room, sat ourselves at a long table and continued with platters of the best chistorra I've ever eaten (tragically I forgot to take a photo of it) and some nice morcilla as well.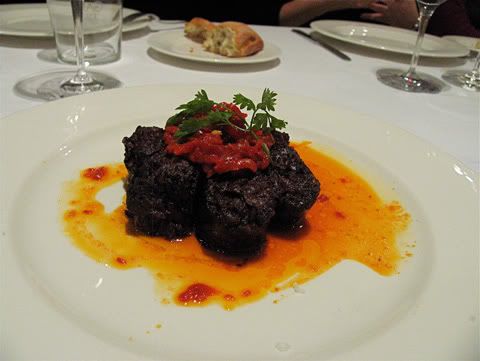 After the chistorras and morcillas, we were served a nice, crisp salad. Healthy fare, constituting a set-up for the knockout punch of gut-expanding (but very appreciated) hunks of...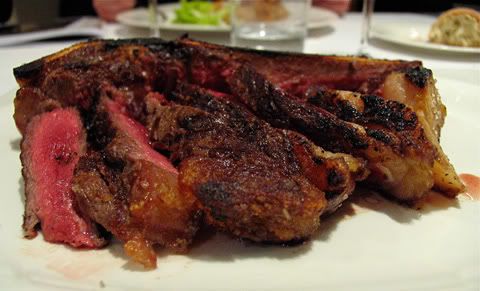 ...Chuleton. I saw how these were grilled downstairs. The griller throws heaps of salt over each side of the slab while grilling. Per the owner, the salt layer locks in the juices during cooking. I recalled reading about this method decades ago in Esquire Magazine, but I never mustered the courage to try doing it myself.
The wines served were...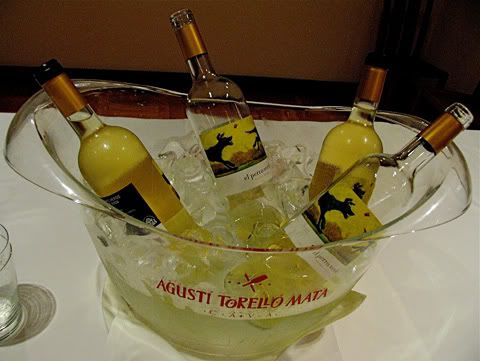 2009 El Perro Verde Rueda Blanco
 - Curiously named "The Green Dog" (I get the "green" part, but not the "dog"), this is the current release Rueda Verdejo (no wood ageing) of Bodegas Ángel Lorenzo Cachazo located in Pozaldez (withing the D.O. Rueda). With a few minutes in glass, this shows a tropical character with vaguely creamy passion fruit, citrus and a hint of unsweetened almond paste. Richer than most any other unoaked Rueda verdejo I've had - not that I've had that many. Still, it has nice freshness and a hint of minerality in its soft, curvy fruit. Quite pleasant.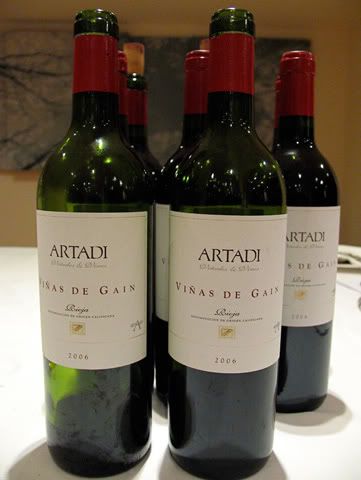 2006 Bodegas Artadi Viñas de Gain
- This is only the second wine I've had from Bodegas Artadi, the first one being the
2003 Bodegas Artadi Pagos Viejos
of Miguel that we had with the Broiled Boneless Beef Ribs at Tita Bella's Kaiseki Dinner. From these two wines, my impression is confirmed that this producer has a decided flare for the dramatic. In the flamboyant style of the Pagos Viejos, this wine is notably dialed down a few notches, but still with a modernly commanding presence.
Rich, though not as deeply-veined, very ripe to the point of moderate jamminess, it has a nice touch of dark minerality and oaky chocolate notes underneath. There is an obvious touch of new oak, but the fruit can take it. I wouldn't drink this on its own, but, with the chuleton, it was very good indeed.
In fine, dinner was a great close to a long and
very
tiring day. I was about ready to turn in, but, after a double espresso, could have gone a couple of more rounds. Looking around, obviously one end of the table was in better condition...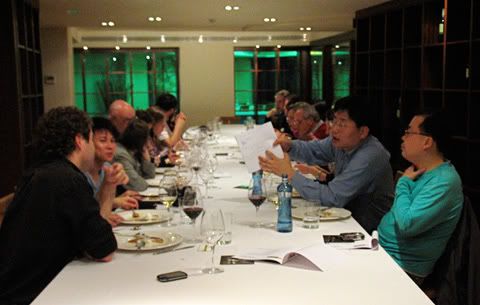 ...than the other.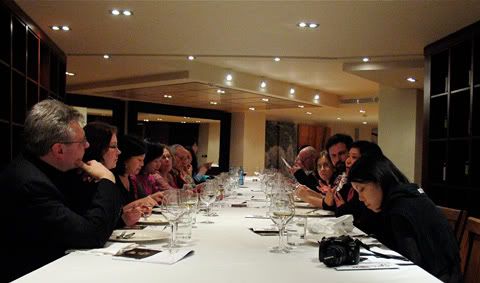 No, she wasn't scrutinizing something on the table.