Jetlag finds me sleepless at past 4:45 am Manila time. I swear it affects me more the older I get. Anyway, I may as well continue chipping away at the severe and increasing backlog that threatens to totally overwhelm.
The MITYC/ICEX sponsored journalists' mission to Spain mentioned in my previous post formally began 7:30 in the evening of the 21st March 2010 in Barcelona. That left my wife and I virtually the entire 21st free - so Tita Amen Hernandez (Miguel's aunt) kindly made lunch reservations for us at
Restaurante El Asador de Aranda
, a Castillan cuisine restaurant that specializes in serving roasted 21-day-old baby lamb - so tender it is cut with a small plate.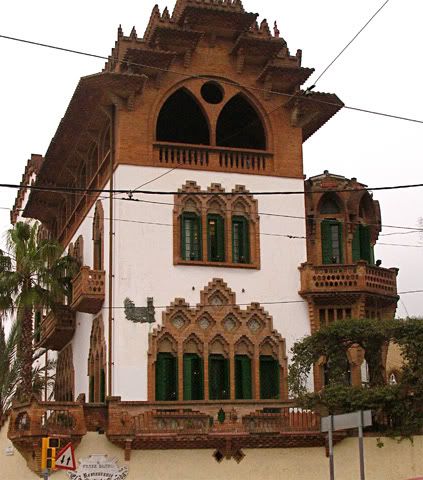 There are several branches of this restaurant throughout Spain; we went to the one located at
Avda. del Tibidabo 31 08022 Barcelona
, a short taxi ride from the Hotel Condes de Barcelona where we were billeted. I've been wanting to eat here ever since I read Miguel's blogpost about it. He assured me it was my type of restaurant.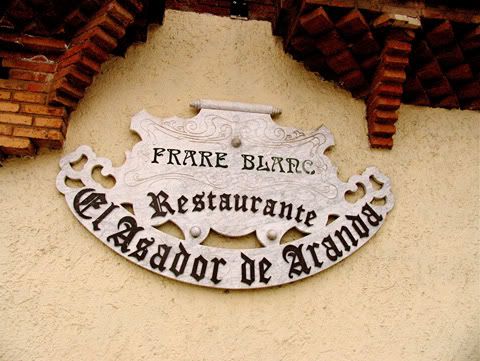 Located along a formerly residential area, the large, beautiful houses that line Avda. del Tibidabo are now either owned and used by or rented out to embassies and private businesses.
There are 4 set menus to choose from, we got the Menú Selección that stuffed both of us to the gills - but in a good way.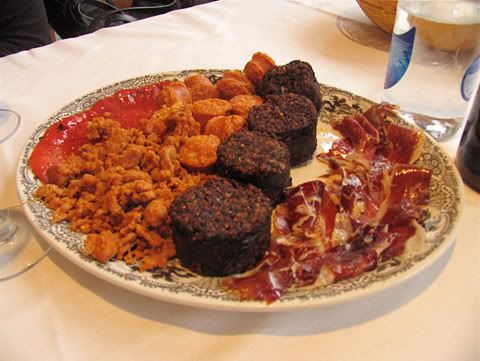 L-R: Pimientos del Piquillo, Picadillo & Chorizo de la Olla, Morcilla de Burgos (arroz y cebollas) and Jamón de Jabugo.
Apparently, this menu came with a bottle of wine - though I asked only for a half bottle since I knew I'd be having a lot of wine for dinner that evening. The waiter asked if I'd like to try a red from Catalunya, and I figured to try whatever the house recommended.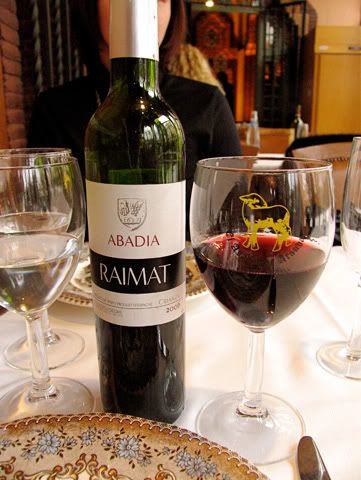 2006 Raimat Abadia
- A very approachable, easy to drink, slightly over medium-bodied red that readily shows soft dark fruit, cassis, very ripe plum, bit of raspberry, licorice with underpinnings of tobacco and creamy oak. No real depth to speak of, but it is eager to please and gets its job done - especially with the lamb. A few days later I saw a bottle of this in a shop and it only costs around 7€. Not bad at all at its low price.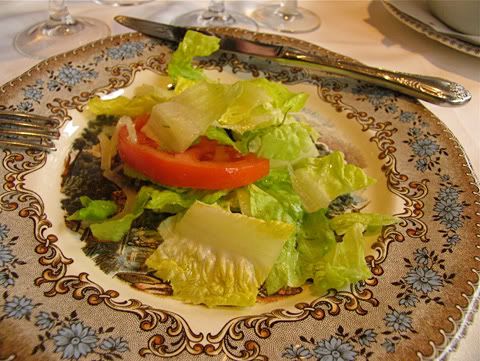 Next was a simple but large and very fresh bowl of green salad that we shared (but could by no means finish). The Chuletillas a la Brasa (barbecued lamb ribs served in a small brazier with live embers) followed shortly.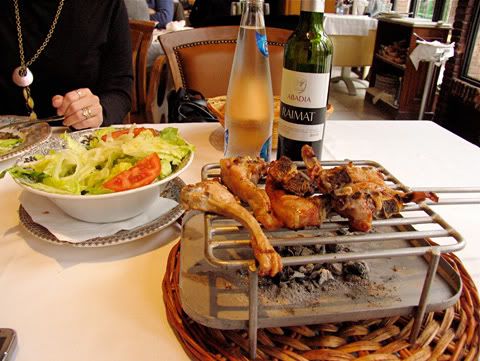 I ate chuletillas de corderito almost everywhere I went during this trip, in many different restaurants in Barcelona, Logroño, Ezcaray and Bilbao, but this was my favorite - so much so that I promised myself I'd eat here again before I returned to Manila. Simple, hearty, honest, good ingredients done well - that's my type of food.
Then came the star of the show.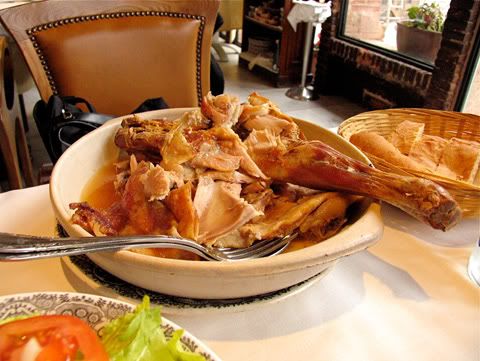 Lechazo Asado en Horno de Leña (Suckling Lamb Roasted in a Wood-fired Oven). This was as tender and juicy as the picture shows - yet there were delectable crispy bits of skin to be had as well. Note that the flesh is very white, indicating that this young lamb was, indeed, milk-fed.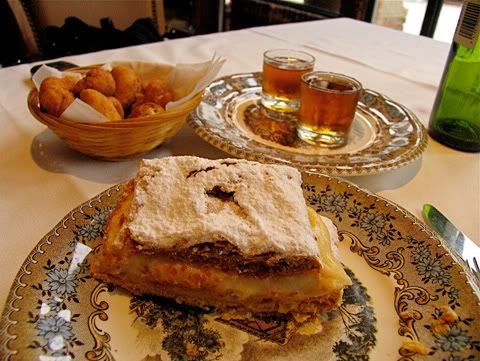 Dessert followed in the form of the Hojaldre de la Casa - layers of puff pastry sandwiching a type of custard, topped with powdered sugar. Nice and comforting. At the back are Rosquillas that I dipped in my shot glass of Orujo con herbes y miel - a liqueur/digestif made from the residue of crushed grapes for winemaking. This particular orujo was flavored with herbs and honey and its amber color indicates that it was aged in oak barrels making it an orujo anvejecido.
Of course, after having my fill of orujo-dipped rosquillas, I downed the shot of liqueur. Waste not, want not.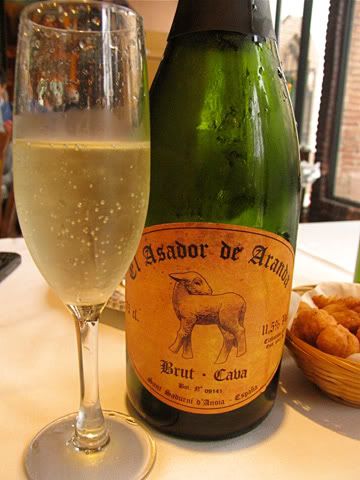 Somewhere in between dessert and coffee, they served us a glass each of their house cava - a pleasantly dry, light, fresh, nicely frothy cava with notes of lime, citrus and white grapefruit.
A double espresso later, Catha and I walked down the steep avenue to the corner taxi stand, flagged down a cab and returned to the hotel for a rest. She was to go out with our friend, Rina de Luca, that night while I was to attend a wine lecture/tasting/dinner with the rest of the journalists' mission and the ICEX representatives.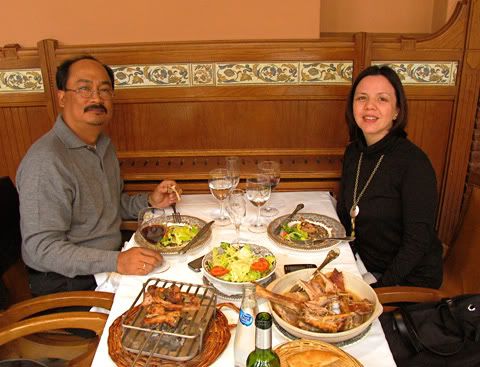 Oh, and all this came up to a very reasonable 93€ for the both of us. With the quality of food, service and ambiance, you just can't go wrong.