The morning of the 24th March 2010, the journalists' mission headed off to the
Rioja
region. My wife stayed in Barcelona at Mig's place for the next few days and would just fly Bilbao to meet me night of the 26th (we two would continue the next 12 days of the trip on our own from there).
Our first stop on the way to Rioja was still within Barcelona's outskirts, at the giant
Freixenet
winery in Sant Sadurni d'Anoia. Aaron, through his family company
ADP Industries Corporation
(Philippine distributor of Freixenet, among other household brands like BIC lighters & shavers, Gallo Pasta, PEZ Candies, etc.), had actually arranged a private and special tour for Miguel, Catha and I earlier on, but our schedules were just too tight. Thanks, anyway, Aaron - much appreciated.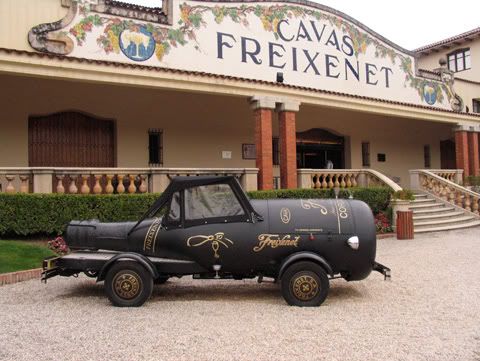 We were met and welcomed by the very able Xavier Flores Benítez of the PR department and thus began our tour.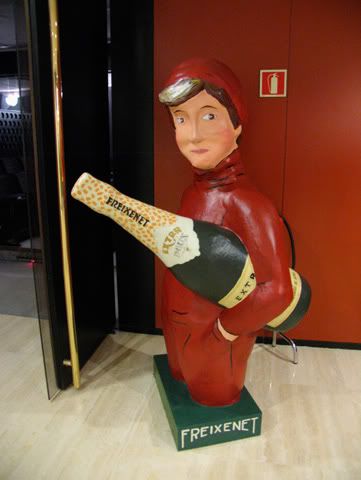 A statue of the iconic Freixenet boy that symbolized Freixenet' cava back in the 1920s.
At the plush company theatre, we watched a short film about the history of Freixenet - how the Ferrer-Sala family was engaged in wine export since the 1830s, how, in 1889, Pedro Ferrer Bosch and Dolores Sala Vivé founded the winery headquarters in its current location, how Freixenet started producing its now world-famous cava in 1914, and, how the current management manages its global strategies, etc.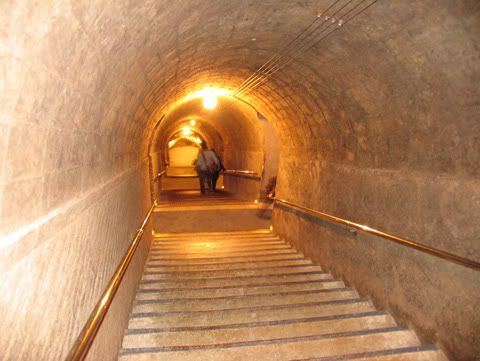 Down to the cellars...
...for a short lecture.
The pictures do no justice to the enormity of Freixenet's cellars where literally several millions of bottles are made and stored. We actually, at some point had to ride a small train to get around. It was truly a museum/Disneyland of a winery as Aaron told me back in Manila.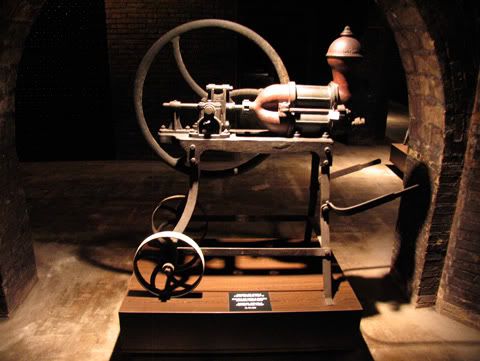 Old Manual Double Piston Wine Pump.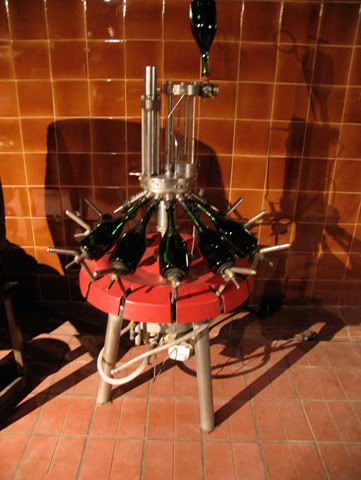 The underground cellar where the Reserva Real Cavas are aged.
Thereafter, on the train, we rode many, many levels back up to the surface, where we tasted through a series of cavas in a spacious and well-appointed tasting room (I use that term loosely as it was the size of a large auditorium).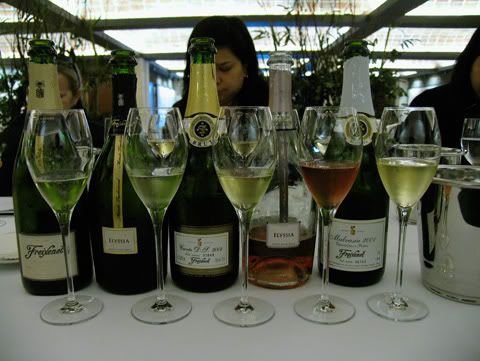 Freixenet Brut Vintage Reserva (2007)
- Dry, lively, thirst-quenching crisp green apple, citrus with faint suggestions of anise and red currant underneath. I recall having a vintage cava from Freixenet before (for sure from Aaron), but can't find any of my notes on it. Not unusual, though, as I don't really write about everything I drink.
NV Elyssia Gran Cuvée Brut
- A cava I am very familiar with as I've had this several times from Aaron (in fact, I had it again just last night at La Tienda). My
recent notes
are as follows:
By the giant Freixenet firm, this is a méthode champenoise sparkling wine which tastes and feels much more like a champagne blend than the usual cavas I encounter in that it is comparatively heftier, creamier, rounder on the palate and not "grassy", sharply minerally or acidic. The dominant, dry fresh apple, crisp pear and second-tier lemon/orange flavors have a very subtle white chocolate undertone mid-mouth and the merest hint of almond bitterness towards the back (but not in the finish).

Lively, bright and thirst-quenching, I'd say it would be more approachable to those not familiar with the more traditional cavas (I am assuming here that this is not a traditional blend of cava grapes). I made a mental note to save some of this for the Steamed Lapu-Lapu in Special Soy Sauce.
Freixenet Cuvée D.S. 2004
- Another I've had during
Aaron's lunch at Café Ysabel on the 30th April 2009
, where I described it as
"clean, roundly fruited and brightly crisp"
. This cuvée is named after a former president of Freixenet, Dolores Sala, and is made only in exceptional years. This 2004 is the 17th bottling since 1969. Immediately deeper, more complex and slightly heftier mid-palate than the previous cavas, this shows notes of toast, biscuit and a bit of fig.
Freixenet Elyssia Pinot Noir Brut
- Yet another I've had several times from Aaron, the most recent being during a
Wine Lunch at Je Suis Gourmand on 2nd February 2010
organized by Keiichi-san for Team Panic, Tokyo. My notes were:
Aaron's bottle, of course, as his family's ADP Industries represents the Spanish giant in the Philippines. I've had this mainly pinot noir-based (85% pinot noir, 15% trepache) méthode champenoise bubbly back in mid-August 2009, during Aaron's dinner at La Tienda and remember liking it. Then as now, it shows off fresh strawberry, cherry with underlying suggestions of mildly spiced blackcurrants. Light mousse, nice heft, brightly fruity, rather straightforward. With a fun, easy-going character, it is approachable, easy to like and dangerously drinkable. Very reasonably priced too. I must remember to buy some of this for the coming summer at the beach.
Freixenet Malvasía 2001
- I noted then that this was the only bottling of the tasting that I've not had before. A cava dulce, this light-footed, brightly sweet bubbly with slight sherry notes is meant to go with desserts and is a curious one for me. The fruits I could discern were those of peach and apricot, yellow plum, a bit of melon (reminded me a little of moscato) - touched with unsweetened almond paste.
The next stop was at 17th century
Bodegas Can Ràfols dels Caus
in Avinyonet del Penedès, 600 meters above sea level on the Garraf Massif of the Catalan coastal mountain range.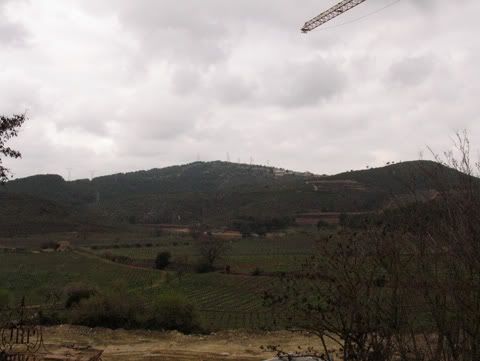 Part of the 450 hectare estate's vineyards.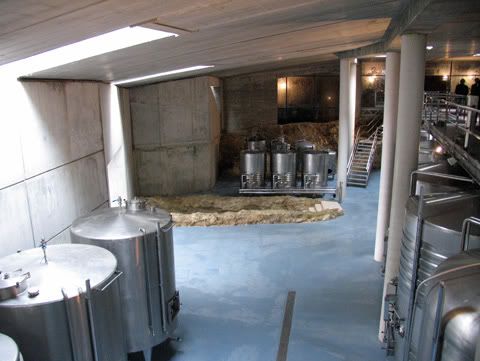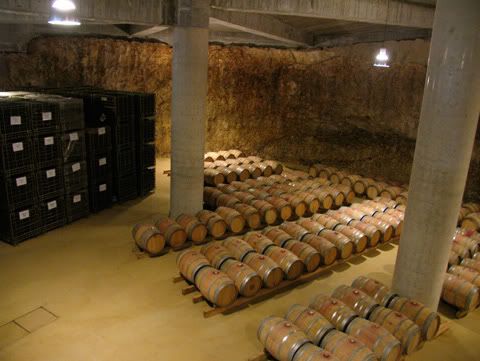 It just so happened that there was a party that day at the Can Ràfols manor whereat several other producers were pouring. I honestly tried to get to taste the Can Ràfols' wines, but there was just too thick a crowd at their table (where owner Carlos Esteva was holding court) every time I attempted. I gave up after 3 tries.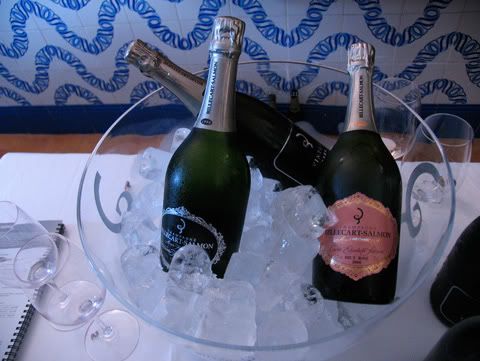 As I was having some flutes of
Champagne Billecart-Salmon
(I've written so many times about these already, there is no need to repeat myself here), at the far end of the room, I spied no other than...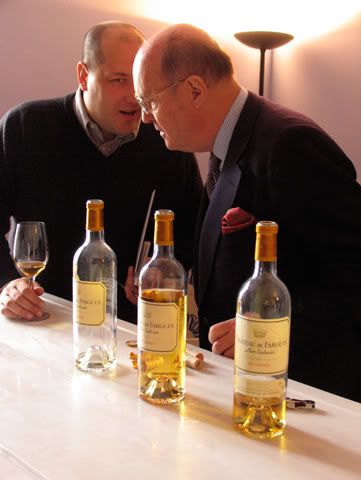 ...
Alexandre de Lur-Saluces
- the former owner of Château d'Yquem and still current owner of lesser-known but, to me, equally as fine Château de Fargues. I immediately made a beeline for his table and indicated that I wanted to try his 2001 Château de Fargues instead of the more numerous bottles of 2006 on the table (which I had tasted in Vinexpo Bdx in June 2007 anyway).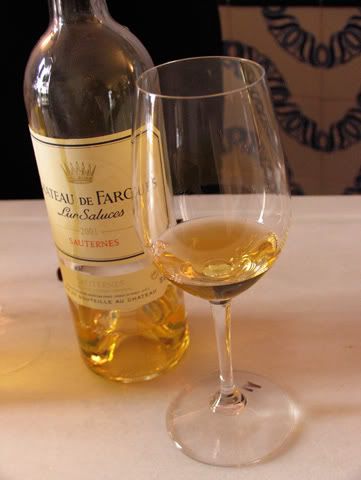 2001 Château de Fargues
- I've had, offhand, the '85, '86, '88, '02, '05 and '06 of de Fargues before, and, though the '01 is still quite young, its hallmark finesse, grace and quiet depth are already readily apparent. Quite ethereal, really, but with more weight, body and push than usual (the vintage for sure), though of a different style than the more opulent and heavier d'Yquem. I complimented Mr. Lur-Saluces on his wine's excellence and mentioned I had visited his (then) Château d'Yquem back in July 2006 with and courtesy of the Vigneron. Thereafter, I searched out the rest of the mission members to tell them to make sure to get to try the 2001 de Fargues as the last bottle was going fast.
I also tried a couple of Priorats of
Dominio Terroir al Limit
, namely, the basic
Torroja
and the higher-end
Dits del Terra
. Though the Dits del Terra was obviously bigger, bolder, more complex, darker in character with more minerality, the two shared a distinctive trait of
not
being anywhere near as over-ripe, over-extracted or overly-oak-infested as many more famous Priorats are these days. Instead, both wines, though earthy and robustly grapey with notes of dark minerals, licorice, tobacco and violets, were comparatively light-footed and flowed easily on the palate. Quite impressive, indeed.
I then moved on to the table across where
Carlos Falcó, the Marqués de Griñon
himself, was pouring his own wines.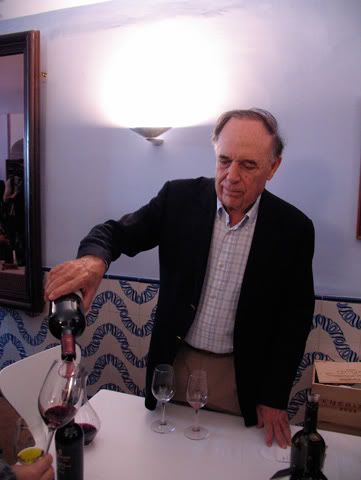 I tried only two of his wines: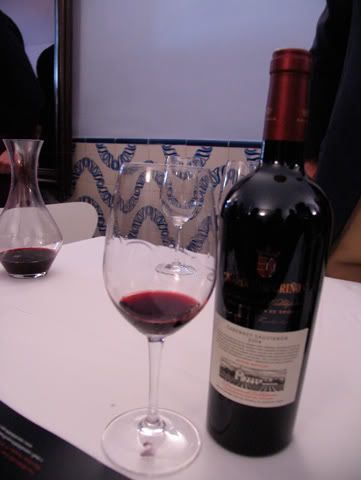 2004 Marqués de Griñon Dominio de Valdepusa Cabernet Sauvignon
- 100% cabernet sauvignon. A rich, lushly concentrated and ripe, quietly intense, cabernet sauvignon with some balsamico, licorice, bit of chocolate, vanilla/toasty oak spice notes and gravelly, charcoal undertones. The fruit is slightly soft and sweetish but notablyclean. I can't say anything about typicity as I've had barely a handful of 100% cab sauv wines from Spain. In balance, good structure, smooth, neat on the palate - it is very approachable, easy to drink and would go well with hearty roast red meats.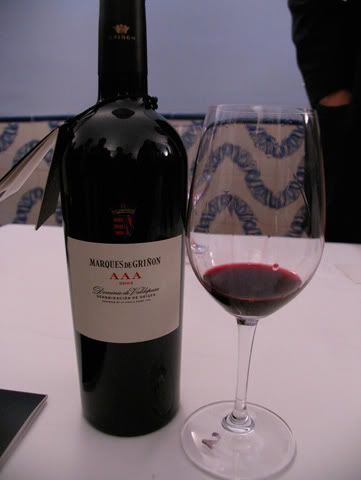 2004 Marqués de Griñon Dominio de Valdepusa AAA
- Sr. Don Falcó told us that this bottling's acronym comes from the names of his daughters (whose names, obviously, all begin with "A"). The wine shows of a very concentrated, extracted, meaty, sweetly truffled, lusciously fleshy, bold character; the rounded, dark, dark blackberry, minerally crème de cassis and black fruit confited/jammy to the the point of being virtually raisined. Some fresh herb/minty notes, and notable doses of pepper and alcohol.
Lots of signs of new oak treatment in the forward creamy vanilla and cinnamon notes, but healthy acidity balances the potential over-heaviness. Totally tongue-coating, teeth-staining, not at all a shy wine. Very modern in style, and immediately/readily pleasing. This wine is pedal-to-the-metal. 100% graciano, the first I've tried, but not the last - as I was to have some from Jesus Madrazo at CVNE's Contino the day after the next.
By around 2:00-2:30pm, we arrived at the iconic
Bodegas Miguel Torres
in Vilafranca del Penedès...
...where a beautifully flowering cherry tree garnered lots of photos from the group.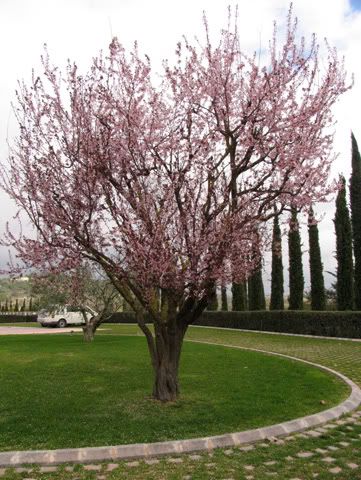 We quickly proceeded to
Restaurante Mas Rabell
the Torres family's vineyard-surrounded private restaurant...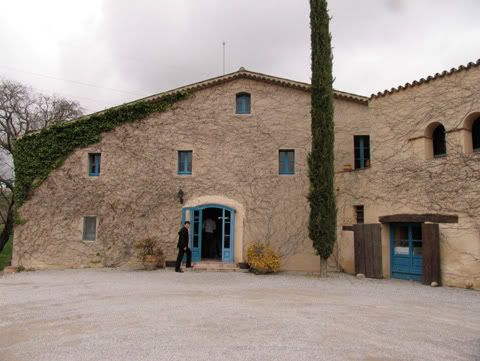 ...where Torres Tourist Promotion Manager, Marc Kolling, welcomed us in out of the cold.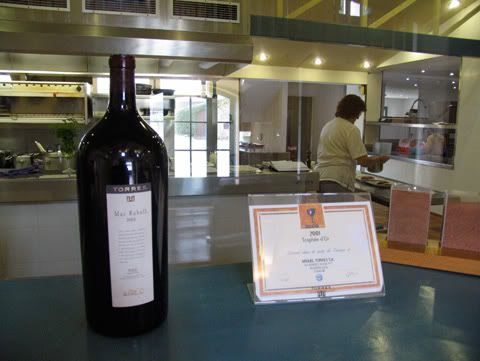 We then seated ourselves at one of the long tables for a quick tasting of what I immediately knew to be very basic bottlings.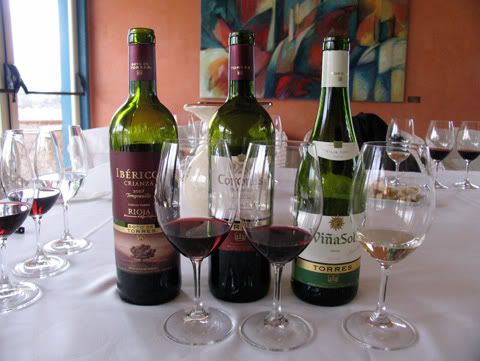 All three wines were widely accessible easy drinking, pleasant enough in their own ways, though rather simple. I breezed through them, mentioning that their Gran Coronas and Mas La Plana bottlings were quite popular in Manila. Shortly thereafter, we moved to the next long table for a most welcome lunch (I was starving by then, as, I suspect, was everyone else).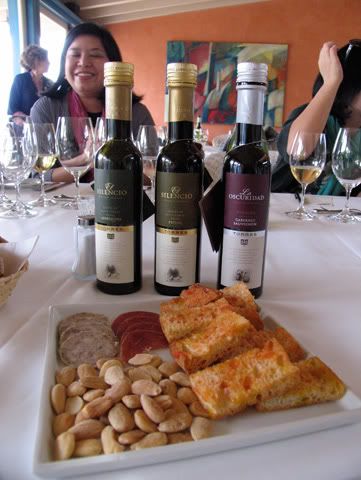 Appetizers (not that I needed to whet my appetite) with an assortment of Torres Olive Oils.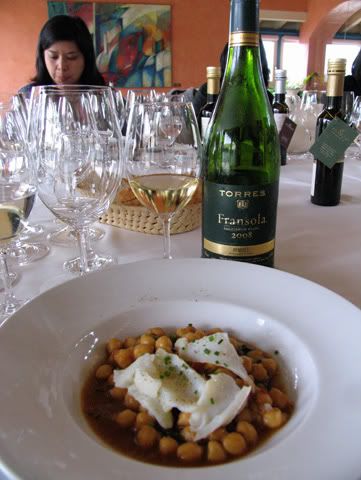 Garbanzos con Bacalao Confitado paired with...
2008 Torres Fransola
- A cold weather, high-altitude single vineyard, partially oak-fermented sauvignon blanc (plus a small percentage of parellada). This has a tropical slant to its plumpish sauv blanc fruitiness (bit of passion fruit in there). No aggressive gooseberry here. Nice freshness and moderate vivacity. As a pairing, it lent a nice contrasting lift to the earthy, robust garbanzos and "meaty" bacalao.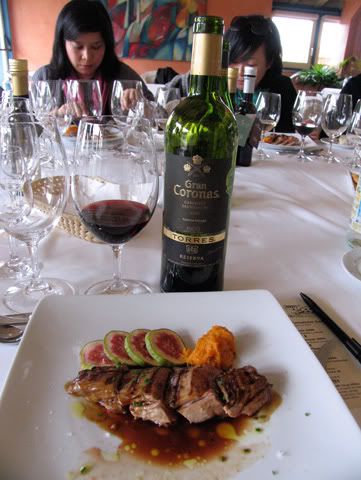 Solomillo de Cerdo Ibérico con Higos with...
2006 Torres Gran Coronas Cabernet Sauvignon Reserva
- Since this is a reserva, it is probably their latest (or, at the very least, penultimate release). 80% cabernet sauvignon and 20% tempranillo, aged 24 months in a mix of French and American oak. Again, very pleasant, very approachable, nicely concentrated, no edges, hints of cherry and raspberry to the blackcurrant, licorice, hints of fig, tobacco and mild oak. Very correct wine and should please many, if not particularly deep or complex - not at this point, anyway. Quite a good marriage with the pork sirloin and fresh fig (I'm sure the chef made a play on the latter) - that, to me, was more memorable.
A plate of
Quesos Catalanes
was then served with...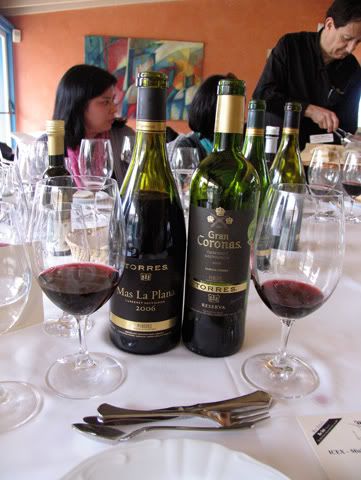 2006 Torres Mas La Plana
- single vineyard 100% cabernet sauvignon; I've had several vintages of this bottling in the past as many friends obviously favor it. As earlier mentioned, this is easily found in Metro Manila. Somewhat chewy blackcurrant, black cherry, hint of kirsch, underlying meaty-earthiness (which should develop more over time), touch of tar, hint of violets towards the back, moderate oak all around. Yet again, very accessible and easy to drink, if not yet very complex at this young stage. I mentioned to Marc Kolling that I had tried their Milmandas and Reserva Real bottlings before which I found to be quite memorable in their own ways.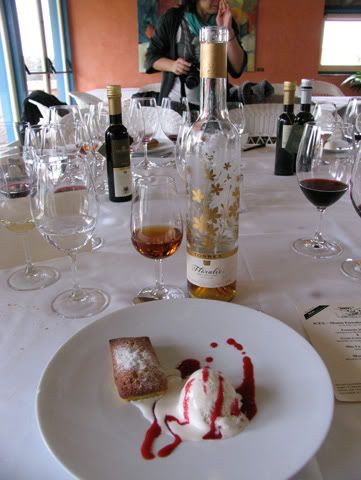 Bizcocho de Pistachos con Frambuesas
This was paired with the
Torres Moscatel Floralis
- a sweetly perfumed, floral non-vintage moscatel that lived up to its name. The honeyed nose was quite straightforward, certainly unabashed, yet quite stunning - to me anyway. I couldn't stop smelling it. In the mouth, it was slinky, sexy and eager to please. Honeyed white grape juice with notes of cinnamon, vanilla, candied orange rind, more than decent acidity maintains a good freshness. Very, very nice. It was certainly a hit with the ladies as well.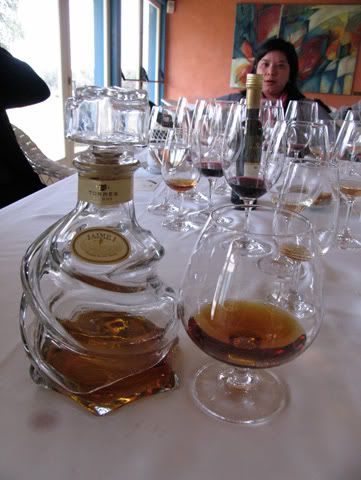 Marc then asked if anyone would care for some brandy and Team South Korea immediately raised their hands. It was certainly a good idea considering we'd be headed back out into the cold in a few minutes. Thus, a bottle of
Torres Brandy Jaime I Reserva de la Familia
was served. I initially declined since I expected more wine tasting; but, Marc assured me that only a winery tour followed, so I allowed myself a pour or three. Nice, smoothly comforting - just what I needed.
Back at the winery, it was another train ride for us, but, compared to Freixenet, this ride was more like Universal Studios than Disneyland - entering a long dark tunnel...
...with holograms accompanying the recorded narrative of Torres' history.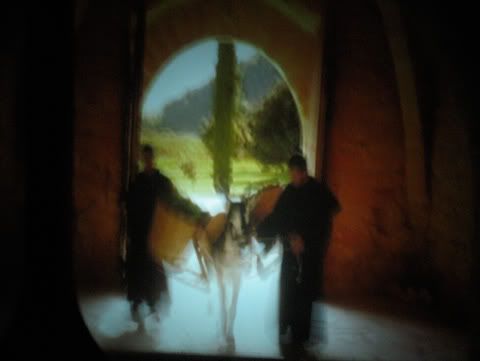 We did get to walk around a bit, though, and take some photos as well. Unfortunately, I was already quite tipsy and had problems focusing my shots. The only one I can leave you with is that of a commemorative barrel...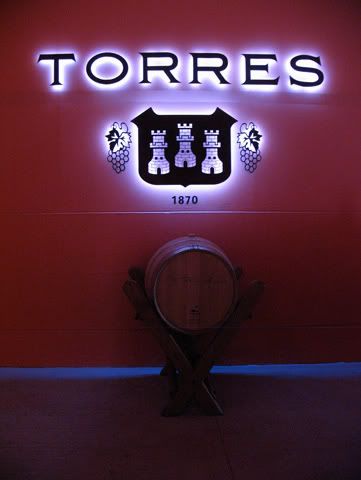 ...signed by King Juan Carlos during a visit in 2009.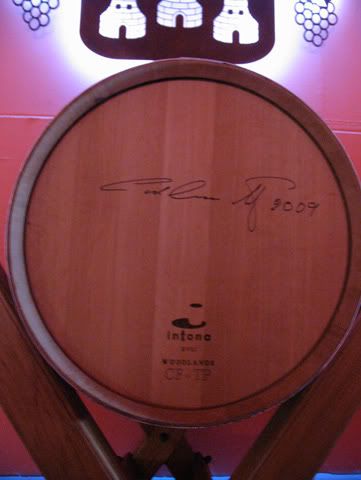 Next, la Rioja!