Had a lunch meeting at
La Tienda
with Aaron and James today, the 13th May 2010. More accurately,
they
had a lunch meeting, I was just there for the food and wine (well, not really).
Javi Lecumberri came over a couple of times to say hello and, later on, to see how we were doing. No special menu this time, we ordered old reliables from the menu:
chorizos
,
escalivadas
and
gambas a la plancha
to start, and, as there was no
chuletón
available,
solomillo de vaca
with a platter of
pimientos del Piquillo
for our main course.
The wines, both from Aaron, were: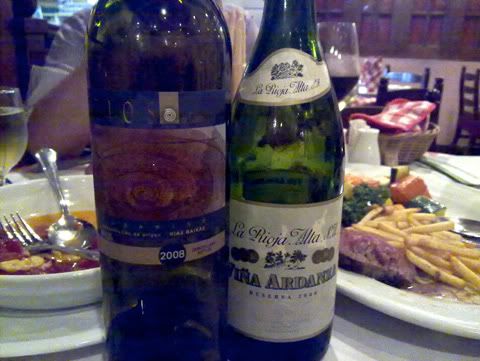 2008 Adega Pagos de Lusco "Zíos de Lusco"
- A 100% albariño that sees neither malolactic fermentation nor any exposure to oak. The winery, owned by Dominio de Tares, has 6 hectares of vineyards in Condado do Tea, Pontevedra (D.O. Rías Baixas). The average age of the vines is 20 years (fruit is hand-harvested and hand-selected).
I tasted through most all the participating Rías Baixas producers at Alimentaria 2010 in Barcelona and noted Lusco and Fefiñanes as the best of them
.
Lively, fresh and appetizingly dry, with flavors of ripe green apple, apricot, touch of herbs, mild unsweetened almond paste and slight white minerality. This is a bit eager, forward and plumply-fruited as albariños go, but with good acidity and balance. Everything works. We had it with the starters, but it would have been a nice apéritif as well. Nice. Very easy to drink; I had 2 glasses. I would have had more if I wasn't watching my alcohol intake.
2000 La Rioja Alta Viña Ardanza Reserva
- Just my second from Viña Ardanza; the first being
the impressive 2001 Reserva Especial at Bodegas La Rioja Alta on the 3rd April 2010
. The subject 2000 Reserva is made up of 75% tempranillo and 25% garnacha, decidedly masculine in character, notably sturdy in structure and with superior definition and focus.
A few notches over medium-bodied, the fruit (black cherry, hint of kirsch, dark raspberry, bit of blackberry) is quite ripe, well-concentrated and infused with moderate notes of red spice, slight licorice, moderate and very well-integrated oak, leather, cedar, loam and a suggestion of pressed violets. This is a very confident, unapologetic wine; and rightfully so as it didn't seem to have anything to apologize for. Very nice.
We thereafter shared an order of
Crema Catalana
over cups of espresso. It was a good lunch.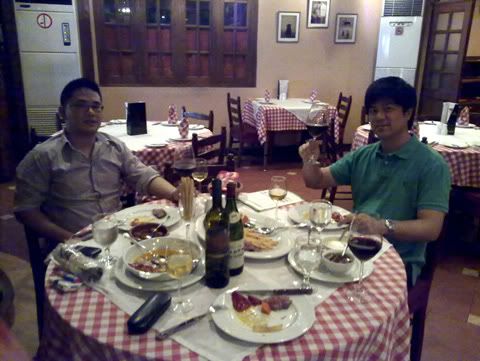 ¡Salud!