On the 3rd April 2010, we left scenic Getaria and headed back for la Rioja. I had decided to base us in Logroño again for the next 4 days as it is centrally located considering the places I wanted to visit. It was an easy drive along the motorways to Haro (la Rioja Alta) for my 11:45am appointment at
Bodegas La Rioja Alta
with PR Directress
Gabriela Rezola
and Technical Director/Winemaker
Julio Sáenz
.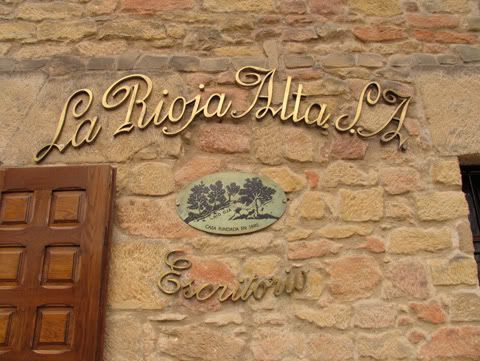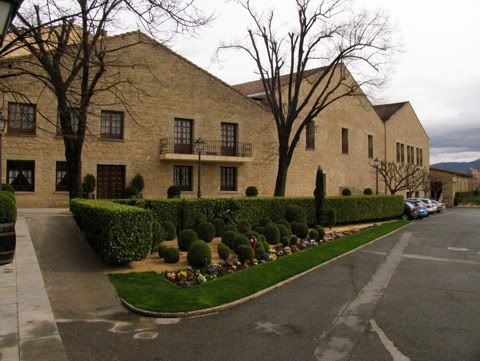 I made it with a few minutes to spare for a quick cigarette outside (it had been almost 3 hours since my last one after all) while my wife wandered in ahead.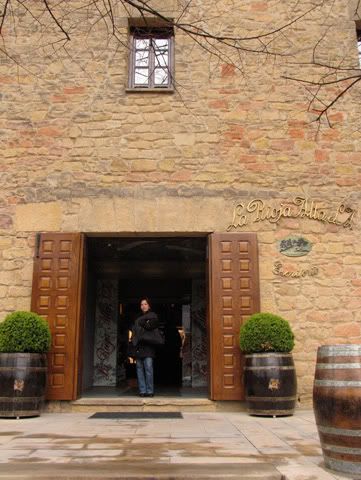 Almost immediately upon my entering, an attractive and smartly-dressed lady approached me and addressed me by my full first name (nobody ever called me "Luis Manuel" except a couple of old law professors many years ago). She quickly said something about my being in Restaurante Arzak a few days before, so I was a bit surprised and took a second or two to reply (Catha actually had to nudge me to answer).
It turns out the lady was Gabriela herself, an old family-friend of the Arzaks, she was
at Arzak the same date/time as I was
(at the large table behind me) and remembered me - not too surprising as I was the only Asian there at the time (Catha's mixed Asian and European descent makes her not quite typically Asian-looking). In any event, Gabriela introduced us briefly to Julio who would join us later for the tasting part of our tour.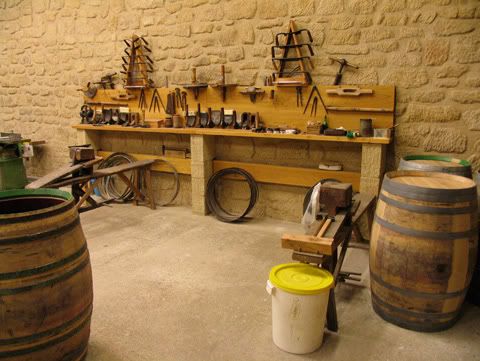 This is a showroom of the off-site cooperage of La Rioja Alta. Though they make a number of their own barrels from American oak, they also purchase French and Caucasian oak barrels for use in certain bottlings.
Gabriela and Catha in the old oak vat room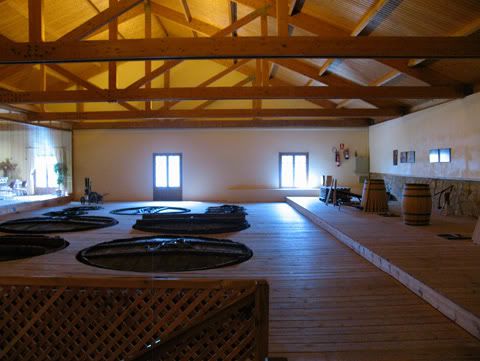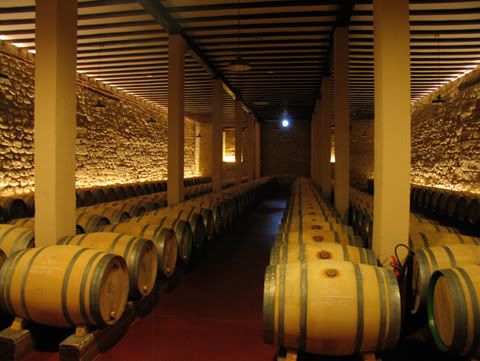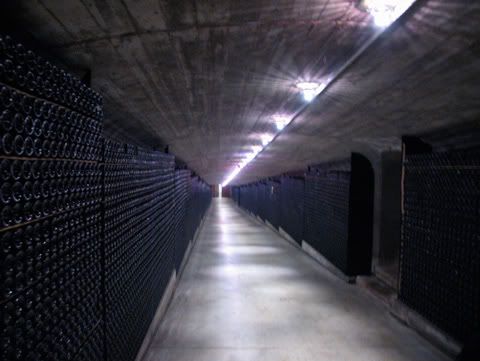 On the 10th July 1890, the same year electric lighting first brightened fair Spain, Don Daniel-Alfredo Ardanza y Sanchez, Doña Saturnina García Cid y Gárate, Don Dionisio del Prado y Lablanca, Don Felipe Puig de la Bellacasa y Herrán and Don Mariano Lacort Tapia founded a leading light in Riojan wine production in the
Sociedad Vinicola de la Rioja Alta
, the first bodega of which was located in Haro's Station District.
Don Mariano Lacort Tapia was the first manager of this joint venture and remained as such for 32 years. In 1891, its present name,
La Rioja Alta S.A.
("Sociedad Anónima") was adopted. In the meantime, a French winemaker, Alfonso Vigier, was tapped and guided the venture through the difficult years of phylloxera's destruction, eventually garnering for the wines some prestigious awards from international exhibitions and laying the basis for more in the future.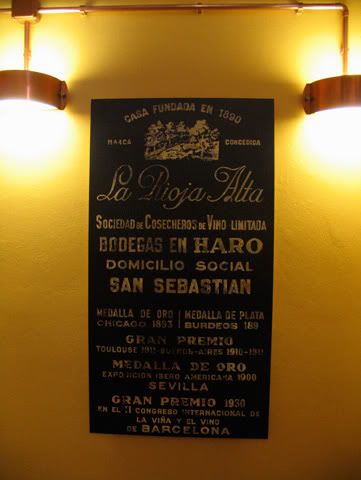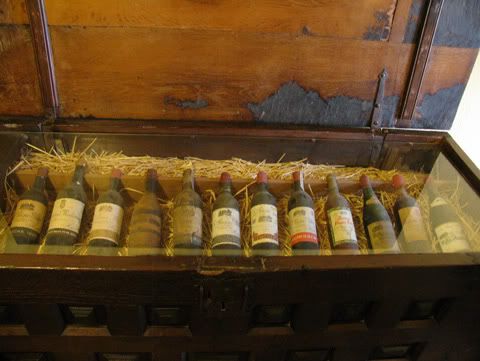 It is current (and long-standing) company policy
not
to enter any exhibition or competition for some reason, but they readily admit that they cannot help it if
aficionados
do so on their own. I, for one, am guilty as charged.
Having been impressed by the Stockbroker's bottle of 1982 La Rioja Alta Gran Reserva 890 over dinner in late February 2009
...
...I ordered some bottles from Spain and served a
1989 La Rioja Alta Gran Reserva 890
at
Una Noche Riojana
which I helped organize. It received votes as the best wine of the night (including mine, my wife's and that of a Spanish Phd in Oenology no less), as well as the votes (by veteran Rioja
aficionados
) as the best pairing wine with the main course of
Rabo de Toro en Chilindrón de Tempranillo con Arroz Bomba
.
Some of the bottles at Una Noche Riojana.
Rabo de Toro en Chilindrón de Tempranillo con Arroz Bomba.
In any event, after our tour, we returned upstairs...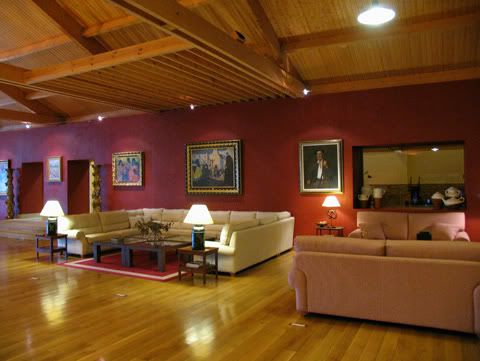 ...and met Julio in one of the large rooms for our private tasting. Everything was already impeccably set up by the time we arrived.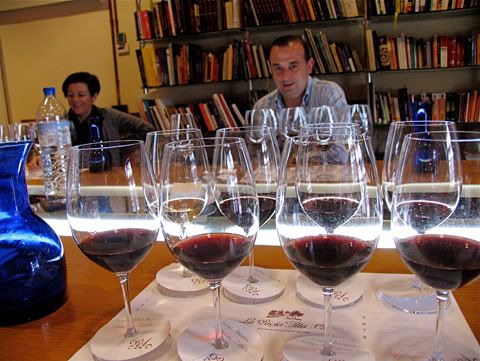 Julio is very friendly and has a humble yet open demeanor. He seemed a little more comfortable when Gabriela informed him he could conduct his tasting in Spanish with us; though I made sure to request him, at the outset, not to speak too fast especially when it came to technical matters. We managed well, thanks to Gabriela who easily bridged a couple of minor gaps in my comprehension.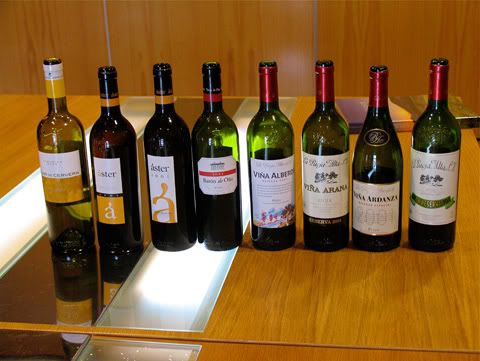 2009 Lagar de Cervera Albariño
- An investment in Rías Baixas beginning 1988, La Rioja Alta eventually took full control of Bodegas Fernández Cervera Hermanos and renamed it Lagar de Fornelos, S.A. This 2009 vintage is made up of 100% albariño from their 77-hectare O Rosal and Cambados vineyards.
Brisk, fresh and well-fruited albariño with roundish grapefruit, slight yellow apricot and a hint of peach pit towards the back. Very pleasant wine. I certainly wouldn't mind having some around home and the beach for apéritifs and fresh seafood - especially during summer.
2002 Áster Crianza
- Áster itself is a
relatively
new venture of the La Rioja Alta group - one producing wines from Ribera del Duero. It began with La Rioja Alta's 1990 purchase of land in La Horra and Anguix (Burgos). Planting began in 1991 and fruit was sold off until its first try at wine in 1999. They weren't happy enough with the result, so the 1999 was sold off as bulk wine. 2000 saw the first Áster vintage and construction of a new winery in Anguix.
I've only had one other Áster Crianza before: the 2001 back on the 1st June 2007 at a Spanish dinner I organized for the Manila Gentlemen's Club. Served with
Rabo de Toro con Arroz y Ajo
were 4 Spanish reds: 2001 Áster Crianza, 2001 Barón de Ley Reserva, 2001 Paisajes VIII and 2003 Celler Marti Fabra Masía Carreras (all ordered and flown in from Wine Exchange O.C., Ca.). My written notes state that the 2001 Áster Crianza was "enthusiastic, full of character", "sturdy, unapologetic" and showed "a fiery Spanish passion". My notes also state that this representative from Ribera del Duero "drew the most vocal compliments" from the predominantly British and Australian members and guests.
The 2002 Áster Crianza was one of the very few 2002s from Spain I've had (I recall now only the 2002 Marqués de Cáceres Gaudium which was nice enough all 3 times I've had it). Again, like the 2001, it has a nice somewhat polished, stylish character and intensity to it, the fruit is bright, pure and nicely ripe, balanced off with moderate, slightly toasty oak/spice and made lively with good acidity. An open, forward, eager to please red. Lots of charm in this and very approachable.
2001 Áster Reserva
- 100% tempranillo only from the El Caño vineyard of the estate's 76 hectares used in production at the time (there are now 95 hectares in all). The rest of the fruit was sold off as not being up to standards. French and American oak barrels were used, average age was 2 years, the wine casked in June 2002, racked every 6 months to fresh cask, then bottled in April 2004.
Well-concentrated, extracted and stylishly forward, very expressive nose and flavors of confited dark, deep fruit, oak spice, licorice candy, vanilla, slight cinnamon, clove, leather, sweet pipe tobacco with a bit of a rose/violet topnote. Lush, fruit like the yielding hip of a young woman, flirtatious, rounded curves. Very nice modern style, I thought.
2005 Barón de Oña
- In 1995, La Rioja Alta purchased Torre de Oña SA from Cuban businessman Leandro Vázquez and eventually re-named the estate/winery "Barón de Oña". Grapes that made up the 2005 vintage were 95% tempranillo and 5% mazuelo both from the San Martin estate in Páganos, Álava. 24 months ageing was done in 2 parts: 60% in new French oak and 40% 2-year-old American oak.
Slightly minty, herbal topnotes to rich, very ripe, moderately spicy macerated black cherry, raspberry, violets, slight balsamico, cedar, vanilla, licorice, chocolate, cinnamon and clove. Legitimately full-bodied, comparatively quite broad on the palate, it wants to coat the tongue with big, rounded, molten tannins. Bold wine, lots of push in this, quite hefty but with acidity enough to keep things interesting.
2003 Viña Alberdi Reserva
- Tempranillo from elevated vineyards of Briñas, Rodezno and Labastida; the wine spent its first year of ageing in new American oak cask and the next in casks averaging 3 years old.
Though from a roasted-ripe vintage, this wine was fresher and more vibrant than I expected. The medium-bodied cherry/strawberry-led fruit (with hints of orange peel) had a nice tension to it and the oak, though definitely there in the mildly coconut-creamy/toastiness was finely integrated. Sleek wine; acidity quite decent. Good for casual sipping and for lighter fare - I'm thinking Chilean sea bass, monkfish or seared scallops with risotto.
2001 Viña Arana Reserva
- The brand was introduced to the market in 1970, together with Viña Ardanza. The 2001 Viña Arana is 95% tempranillo and 5% mazuelo from Rodezno and Labastida. Aged for 3 years in 3½-year old American oak casks, racked cask-to-cask 6 times, it was finally bottled in September 2005.
Neat, trim lines on this refined, decidedly medium-bodied wine. Notable purity in fruit, complexed with light touches of balsamico, cedar, leather and oak-related baking spice. Doesn't
demand
attention, rather, it demurely invites the taster to come explore its layered veils. I'd hit it, and my wife said she'd join in.
2001 Viña Ardanza Reserva Especial
- This wine was one of the more memorable ones for me. Only the 3rd "Reserva Especial" produced (the others were 1964 and 1973) , the 2001 has a more commanding strike, middle and finish than all the other wines I tasted that day - as well as a notable modernish, forward character. Over-all, it showed remarkable complexity and palate-presence in its half-way to full-bodied, ripe, deep black cherry, raspberry liqueur, slight kirsch, balsamico, moderate coconut-cream-vanilla, orange peel-infused chocolate, cinnamon, toffee, new leather and licorice. Very confident, self-assured and long on the palate with a similarly commanding finish.
I, personally, prefer more austere and traditional types of wine, but this was an exception. I was very impressed indeed.
1997 La Rioja Alta Gran Reserva 904
- Back into familiar territory with this wine. When I first had it in Una Noche Riojana, it was the first wine served of the second flight (my 1989 La Rioja Alta Gran Reserva 890 was served in the 1st flight of older Riojan tintos).
I remember the '97 LRA GR 904 being slightly closed then (it was not decanted at all; I believe just popped-and-poured - not my doing, I wasn't in charge of service at that event) and all the wines of that second flight gave way to Keiichi's very young yet commanding 2001 Marqués de Riscal Barón de Chirel.
At this tasting, however, the '97 La Rioja Alta Gran Reserva 904 showed a very traditional, suavely elegant, Bordeaux-reminiscent character. It showed as a cool, medium-bodied Thai silk of mildly earthy black cherry, strawberry, bit of dark plum, pressed violets, cedar with comfortably-worn leather, light touches of licorice and red spice. Properly austere and dry, with good acid lift and cut, this well-bred wine has absolutely no trace of exhibitionism in it - one needs to pay proper attention to truly appreciate its many charms. I'd like the finish to have been just a bit longer, but that is a minor point. This wine is of the old-school, traditional style like López de Heredia and
simply must
be paired with roast racks of lamb.
This was my wife's immediate favorite of the tasting, so, of course, I had to pick some up in Barcelona the day before we flew back home. I served it on my recent birthday dinner with roast racks of lamb.
The tasting done, I promised Julio I'd contact Jérôme Francois to bring to the latter's attention the difficulties Julio had been experiencing in ordering the Francois brand oak barrels (which I actually did, by the way). Profuse thanks were given, and herein reiterated, for a most relaxing, enjoyable and informative tour and tasting. Muchisimas gracias, Gabriela y Julio.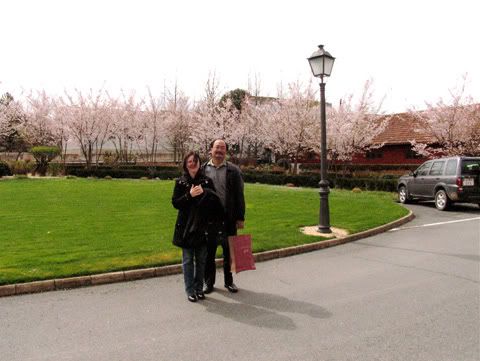 NB
: I am privy to the fact that the wines of La Rioja Alta will soon find a new home in Manila at
Premium Wine Exchange
. Fair warning is hereby given that I intend to give stiff competition in the allocations thereof. So, keep an eye out for these wines - because I surely will.