Early November 2010 saw the Grand Crew back in
Old Manila
for Manila Blind Bordeaux Challenge XVII. We most all arrived at the appointed time save for the Doc who would be coming in late from the hospital - the challenge couldn't begin without him of course, especially since he was the reigning King coming from a 2-peat victory from
the last Challenge
. Unfortunately, it turned out he was so busy that night, he just hopped in, had a quick steak and rushed back to the hospital way before the votes were all in and tallied.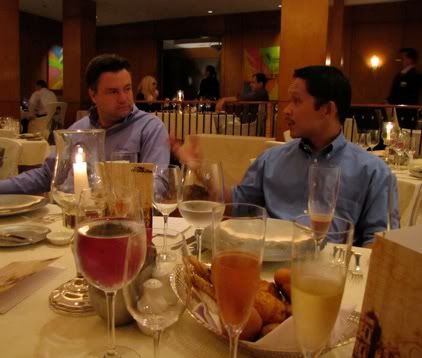 We did, however, start on the bubblies....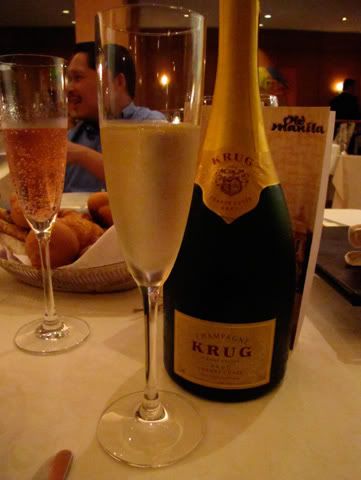 Champagne Krug Grand Cuvée Brut
- I'm not sure who brought this bottle, but I suspect it was Mrs. Doc as I've had this newish labeled bottling more than a few times before, mostly from Doc. Notably broader, rounder, creamier and marginally softer, with more heft in the middle than around 9 or 10 months ago when I had it last. Its strike is still pleasantly bright and well focused. Thereafter, the tense, minerally white fruit, green apple, tiny bit of citrus with nuances of mild milkiness, vanilla, brioche and slight ginger confit present themselves in a "pillowy" manner, gaining even more creaminess towards the back, funneling somewhat in a very pleasant, moderate finish. Very nice all-around. Having a couple of glasses of Krug is always a lovely way to start an evening.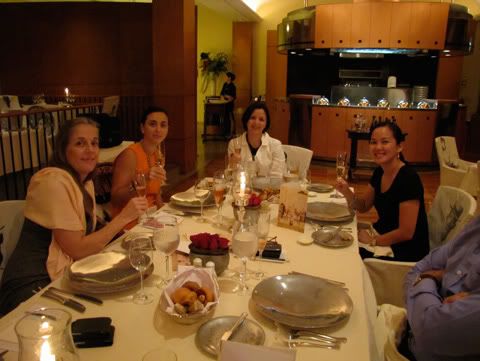 We also had another bubbly, one that all the ladies love, which I had with the specially-prepared appetizers that we all tried out for the coming event of
La Commanderie de Bordeaux Manila
, of which the Vigneron, Stockbroker and I are members of the founding board.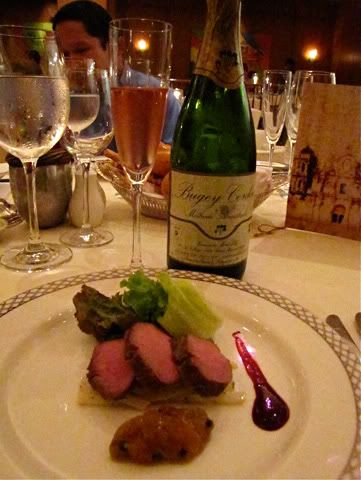 With Venison Loin, Marinated Celeriac*, Fruit Chutney, Garden Greens & Cassis Coulis...
Cerdon de Bugey Caveau de Mont St-July
- I'm pretty sure this bottle was from the Stockbroker as he gave another one to Mrs. Vigneron later that evening. This is a bubbly that I've repeatedly described before as "a simple and joyful strawberry-fruited bubbly from the Jura region composed of poulsard and gamay." I first tried Bugey Cerdon (not the same maker) at
Aux Lyonnais
in Paris back in June 2006 because I saw everyone else having it as their apéritif. Since then, I've ordered the subject wine from the US because it is such a delightful and inexpensive treat - perfect for casual evenings and the beach. I recall the first time I made the Stockbroker try this - he ordered 4 cases of it when he got home.
I had brought along a bottle of
1999 Domaine Etienne Sauzet Puligny Montrachet 1er Cru Folatières
, but the Stockbroker bade that I keep it for another day.
*
Celeriac is not the ordinary kind of celery as we know it. It is actually the root of a type of celery that is specially cultivated for its root, round and knobby-looking, and has a prominent parsley-esque flavor to it.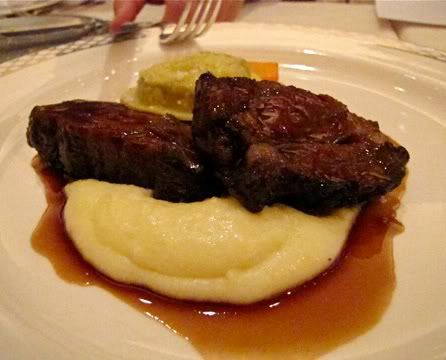 Platters of succulent, earthy and tender
Braised Veal Cheeks in Red Wine, Mashed Potatoes, Root Vegetables & Mushroom Ravioli
were then served for us to taste for the coming event - we all had earlier ordered, though, our respective main courses - I had a rare,
Grilled
US Black Angus Rib-Eye
, same as Doc. With these, the competing reds were served.
From my hand-written notes:
Wine # 1
- Minty topnote, red berries, blackcurrants, sweet fruit, seems a bit higher in alcohol; and, past mid-mouth and to the finish, slightly viscous. Slight iodine notes in the finish. Come off quite ripely. 1990 Pauillac?
My ranking:
3rd place
. It turned out to be
Doc's 1989 Château Grand Puy Lacoste
, which was a last minute switch entry for him - his "3rd choice" since he didn't want to open such a special bottle since he wouldn't be able to drink it since he knew he'd be very busy that night.
Wine # 2
- Nice middle, damson plumminess, well-integrated new oak, coffee/mocha undertones, caramelized/torrefaction notes in the fruit, long wild cherry finish. Definitely new oak here.
My ranking:
2nd place
. It turned out to be
my 1998 Château Beau-Séjour-Bécot
. This was also a last-minute switch from me - from a bottle of 1979 Château Pichon Lalande (another bottle of which managed to get me 2nd place in a past challenge, losing out to Doc's 1996 Château Cos d'Estournel).
Wine # 3
- Napa-esque. Very nice nose. The dominant wild cherry notes are a bit shrill (a bit difficult to drink at this stage).
My ranking:
4th place
. This was revealed to be
the Vigneron's 1996 Château Palmer
. I told him later on I thought the wine was much too young.
Wine # 4
- Supple. Good dose of merlot in this? Medium-bodied, smooth, silky, sleek, not terribly deep, but very good length and presence.
My ranking:
1st place
. This was the Stockbroker's 1990 Château Grand Puy Lacoste.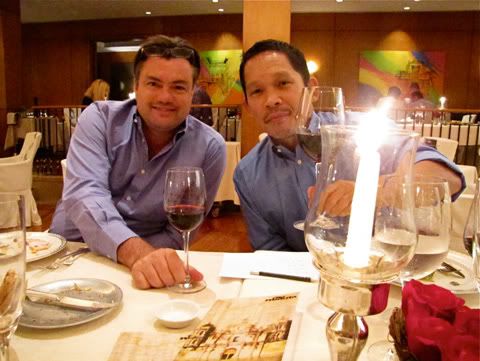 The votes, as usual, were tallied and the results announced by Mrs. Vigneron: two wines tied for 1st with 22 points each, while the other 2 were tied at 18 points each. Under our rules, therefore, the wine that costs less prevails.
Mrs. Vigneron, however, pointed out that one of the wines tied for top position received no less than 4 votes for 1st place (hers included), while the other received none. She then reiterated that the rule in case of a tie in points for 1st place should, therefore, be amended to being the one with more 1st place votes should prevail (a point she had first brought up in our
Blind Bordeaux Challenge XIII
where a similar tie for 1st resulted in my 1999 Latour taking 2nd place to the Stockbroker's 1994 Dominus).
We then decided to adopt such rule prospectively, i.e., for future challenges. Thus,
for purposes of this subject challenge
, the less expensive wine should still prevail, to wit: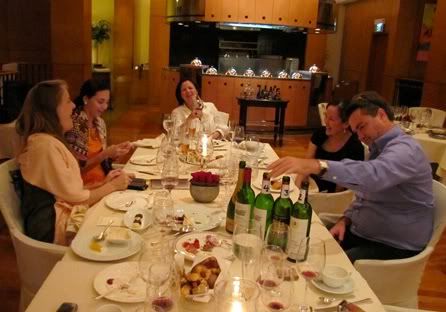 1st Place
- Wine # 1, Doc's
1989 Château Grand Puy Lacoste
with 22 points (0 votes for 1st, 6 votes for 2nd, 2 votes for 3rd and 0 votes for 4th) - resulting in a 3-peat for him, the first ever in our challenges.
2nd Place
- Wine # 4, the Stockbroker's
1990 Château Grand Puy Lacoste
with 22 points (4 votes for 1st, 0 votes for 2nd, 2 votes for 3rd and 2 votes for 4th).
3rd Place
- Wine # 2, my
1998 Château Beau-Séjour-Bécot
with 18 points (2 votes for 1st, 1 vote for 2nd, 2 votes for 3rd and 3 votes for 4th).
4th Place
- Wine # 3, the Vigneron's
1996 Château Palmer
with 18 points (2 votes for 1st, 1 vote for 2nd, 2 votes for 3rd and 3 votes for 4th).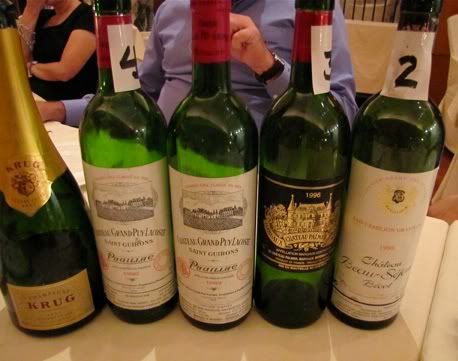 Of course, Mrs. Vigneron couldn't help but chide us for not listening to her back during the XIIIth Challenge and, in jest, wrote the Stockbroker a commemorative note therefor...
...which the Stockbroker gamely took home with him as a memento.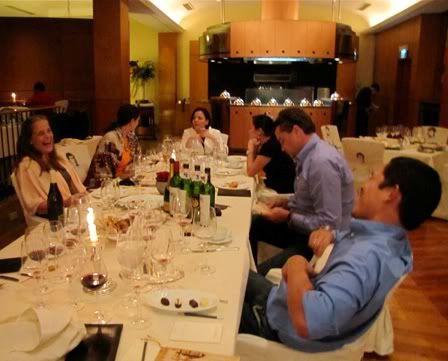 We then finished the rest of the reds with a couple of platters of...
Meli-Melo of Tomme de Savoie, Apple, Beetroot with Walnut Dressing.
Since the Doc left much earlier, he didn't know of the results yet, so Mrs. Doc and the Stockbroker sent him the good news and their congratulations. Desserts were then served....
Crunchy Pistachio Parfait with Raspberry Cream & Strawberry Marmalade
...followed by
petits fours
and some cups of coffee and double espresso. It was one of our more relaxing challenges for some reason. Most enjoyable. When I recounted the results to Rene, Jr. the next day, he noted that this is likely the first year the Vigneron isn't bringing the crown back to Bordeaux for Christmas. He was right, as I recalled offhand. All told, I did miss the Grand Crew's get-togethers with the wives. It's really been far too long.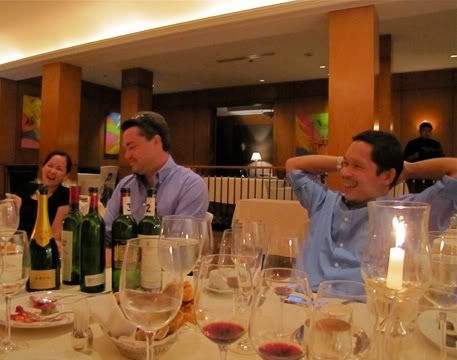 Until the next!