This past Thursday, the 18th November 2010, was back in
Old Manila
for an IWFS affair. Due to various reasons, I've not been anywhere near as active in the IWFS the past few years - attending around only 3 events a year. One event I make it a point to make, though, is the annual President's Dinner. Bernie is a good friend and has been a very hard-working President and Wine Master for the past 7 terms. I always have fun at these events and it is the very least I can do to support an event in his honor.
I arrived late due to the traffic and so missed out on the pass-arounds and glasses of welcome
Champagne Roederer Brut Premier
. I didn't much mind, however, since I've enjoyed Roederer's lines numerous times, and, anyway, it is readily available at Bacchus International. Shortly after I seated myself, Bernie made his opening remarks...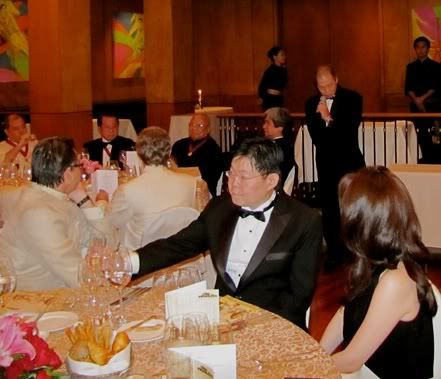 ...followed by Founding President Fil Juntereal's address...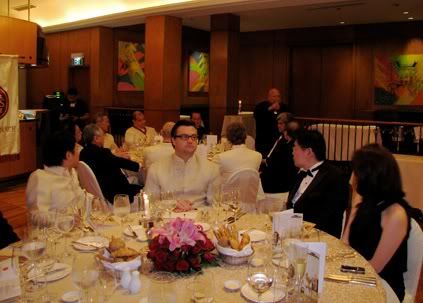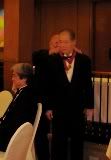 ...and, eventually, his passing on the President's Medal to Bernie. All we members know well how much time, effort and passion Bernie devotes to the IWFS, and we all are most appreciative.
Dong Puno, another past president, then gave a short talk and, thereafter, bestowed the André Simon Bronze Medal upon (past president) Rene Fuentes, Sr. (regular drinking buddy Rene, Jr. wasn't able to attend as he is currently dining around Tokyo with better half Aimee).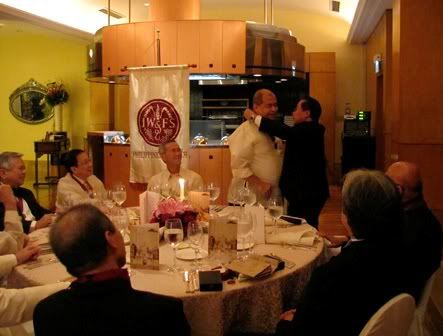 Rene, Sr. thereafter said a few words himself.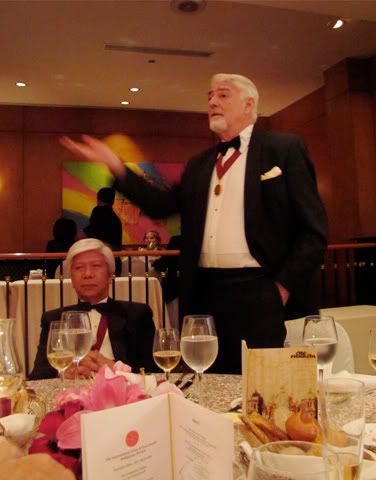 A dapper pair: Bill Stone, the evening's emcee, with Ernie Fajardo .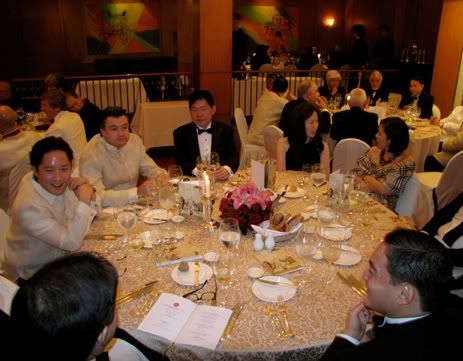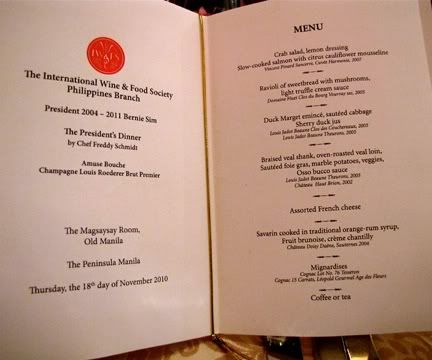 In the meantime, we were poured glasses of chilled
2007 Domaine Vincent Pinard Sancerre Cuvée Harmonie
- Sancerre, together with Pouilly-Fumé, both in eastern Loire (the former west across the river from the latter) are my favorite expressions of sauvignon blanc. AOC Sancerre spans no less than 15 communes including Sancerre, Chavignol, Verdigny, etc. Domaine Vincent Pinard, possessing 16 hectares under vine, is situated in Bué.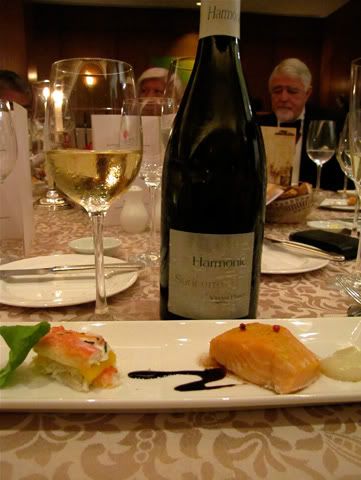 Served with the first course of
Crab Salad with Lemon Dressing, Slow-Cooked Salmon & Citrus-Cauliflower Mouselline
, the 2007 Pinard Sancerre Cuvée Harmonie itself is a markedly broad, lush, vaguely flowery, soft fruit-forward Sancerre underlaid by mineral and nervous cold limestone nuances. Quite hefty for a Sancerre, its soft-round-ripe (vaguely tropical), though nicely fresh fruit is buttressed with a good dose of vanilla/oak which emerged further as the wine warmed in glass. This was somewhat reminiscent of the late Didier Dagueneau's wines I have had.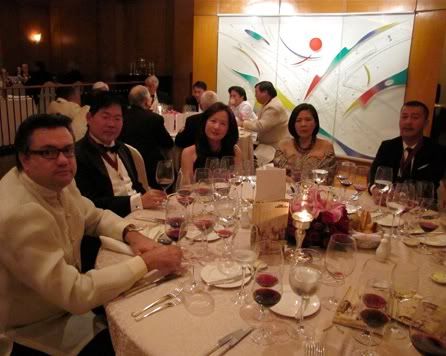 Edouard Miailhe, Johnson & Candy Uy, Maritess & Louie Lee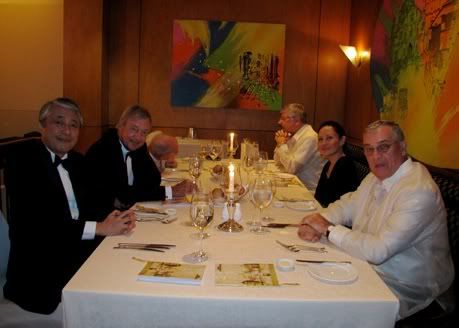 Kuni Munetomo, Manfred & Chinggay Rode, Hans Brumann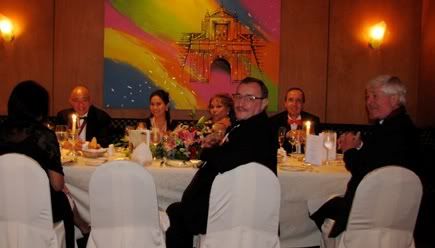 Robert & Jen Burroughes, Sunny & Bootsy Garcia, Dieter Lonishen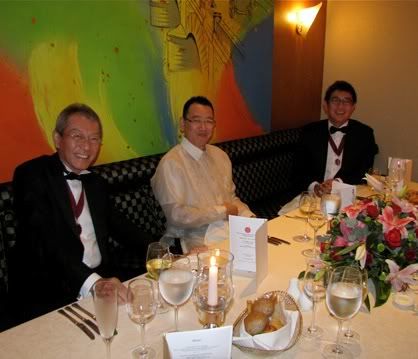 David Ong's Table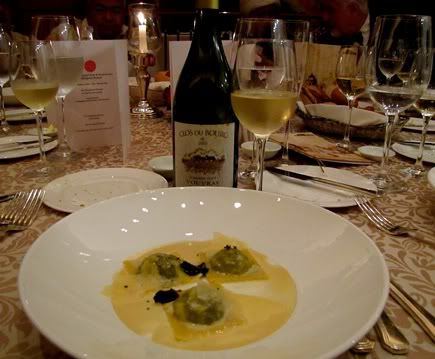 The next course was
Ravioli of Sweetbread with Mushrooms in Truffle Cream Sauce
paired with
2005 Domaine Huet Vouvray Clos du Bourg
. Firm, edgy, nervous, very clean lines and admirable purity. The fruit is solid with nervous minerality; the acidity most precise. Lip-smackingly good stuff. Loved it. It provided excellent cut to the discreetly earthy cream sauce and cleansed and refreshed the palate between bites. Excellent pairing. This is my kind of Vouvray.
Gene Gonzalez and Jay Labrador
Bill Stone, Edwin Ong and Cecilio Pedro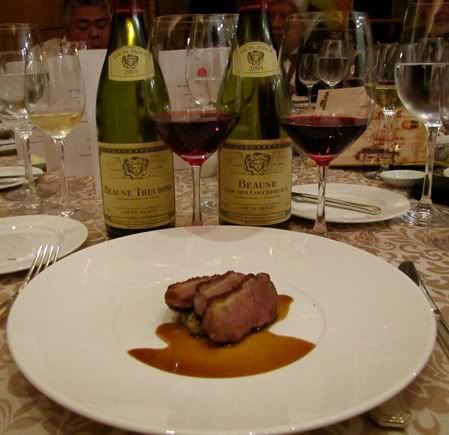 This was followed by
Duck Magret Emincée atop Sautéed Cabbage, Sherry-Duck Jus
with
a pair of 2005 Domaine des Héritieres Louis Jadot Côte de Beaunes
. Alex Lichaytoo, seated to my right, imported these wines at Bernie's request for the subject event and recommended that we have the
1er cru Clos de Couchereaux
before the
1er cru Beaune-Theurons
. Though I was too involved in conversation to pay proper attention to wither wine, I recall the Couchereaux presenting in a feminine, more delicate and lighter manner as compared to the masculine, more solidly structured and heftier Beaune-Theurons. Both, to me, while quite decent, seemed a tad young to fully enjoy at this point. I'd certainly like to have these again in, say, 4-5 years from now.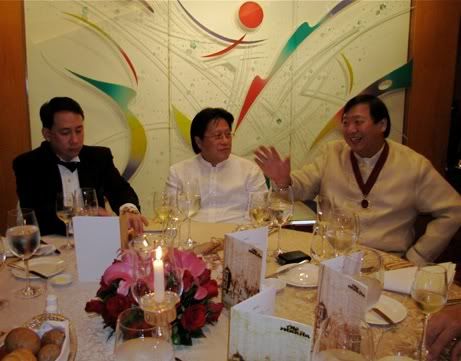 Alex Lichaytoo with Cecilio and Edwin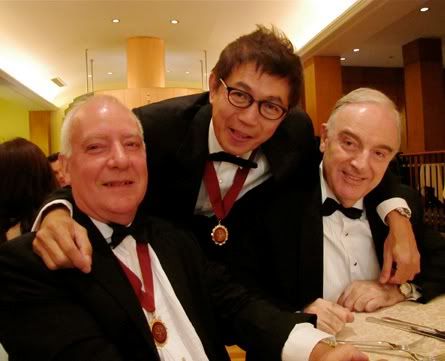 Lawrie Martin, David Ong and Brendan Egan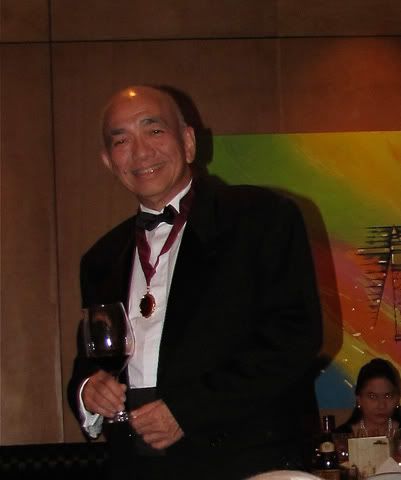 Sr. Don Sunny Garcia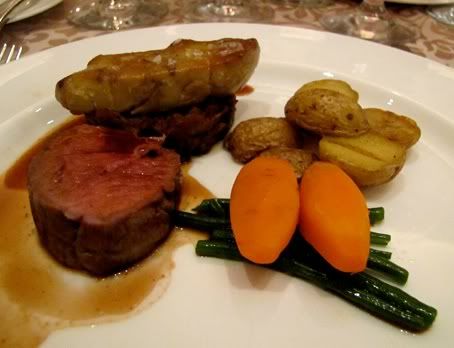 The meat course followed:
Braised Veal Shank Topped with Sautéed Foie Gras, Oven-Roasted Veal Loin, Marbled Potatoes, Vegetables & Osso Bucco Sauce
. I must mention that even my 17-year-old son who saw the above photo commented that the foie gras could have been better seared to make it look more appetizing and have more caramelized flavor. I did quite enjoy the veal lion though. With this dish we were served...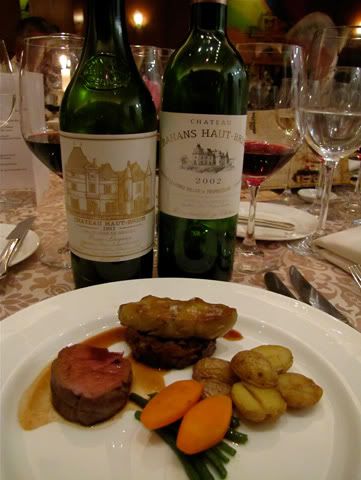 2002 Bahans Haut Brion
- In all candidness, albeit I adore Haut Brion's grand vin, I've never thought much of Bahans Haut Brion in general, so it is a bit of an effort on my part to describe it factually/objectively: this firm, medium-bodied wine is a correct, pleasant enough Pessac-Léognan that shows clean enough, typical blackcurrant, bit of cherry, raspberry, underlying plum and touches of tar, tobacco and cedar. It drank well enough with the food, though, to me, none too interesting by itself.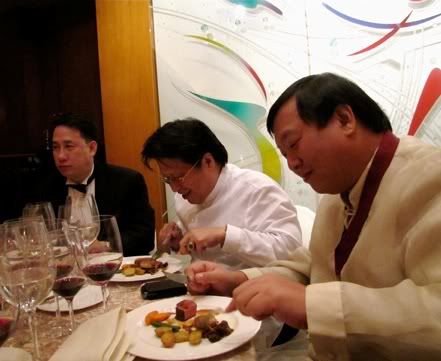 I took an experimental sip of the grand vin of the same vintage and set it aside for after the meat course (I believe Lawrie did as well) and either with the cheese course or by itself.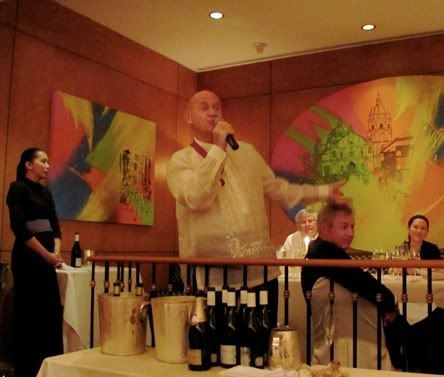 Meanwhile, Markus Ruckstuhl (whose birthday it was that day) had introduced his guest...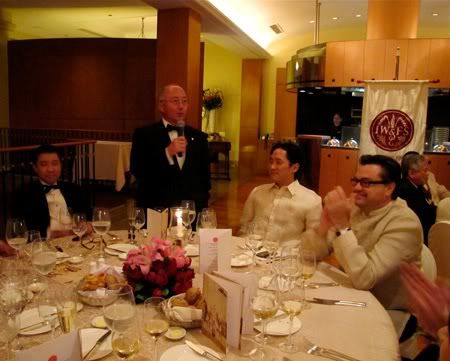 ...as had Robbie Delgado.
Earlier on, members Kuni Munetomo, Johnson Uy and Louie Lee received their official IWFS medallions from Bernie and Oscar Ong.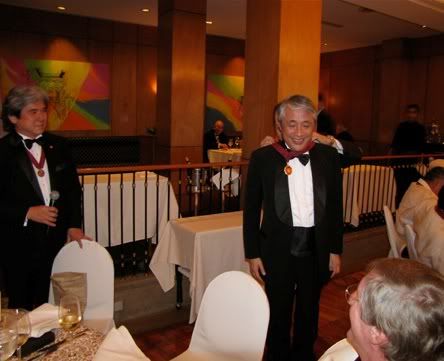 Kuni-san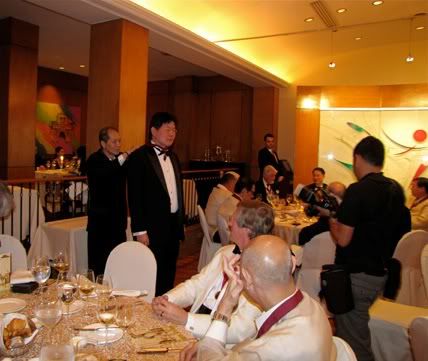 Johnson
Louie
I had some of my
2002 Château Haut Brion
with the cheese (drinking most of it by itself) - except for the bleu which I reserved for the following Barsac. In Bordeaux, rouges are typically served with pungent, creamy cheeses such as epoisses, reblochon and even chèvre. Personally, I've never gotten into that kind of pairing - much preferring having white Burgundy instead, Sancerre or Pouilly-Fumé with chèvre - but I do "as the Romans do" when there.
The subject wine was actually quite nice though young - by far the best 2002 Bordeaux I have had thus far (not that I've had many from 2002). With a deep, somber, serious but comfortably mellow character, it showed good, firm structure, cedary plum, some black cherry, blackcurrant, raspberry and dried herb highlights, slight tobacco and violets that trail with the cedar in the finish. Just a few notches over medium-bodied, it is possessed of proper reserve. Quite nice. I wondered if it would grow up to be like the 1994.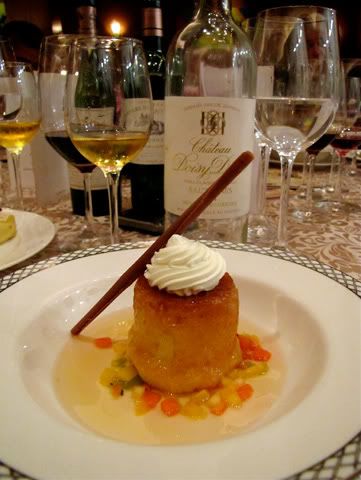 As mentioned earlier, I had the bleu with the sweet wine, continuing with the latter for the dessert course of
Savarin Cooked in Orange-Rum Syrup, Fruit Brunoise & Crème Chantilly
. The
2004 Château Doisy Daëne
I've had several times. As a matter of fact, this is the exact same wine we had with dessert
at last year's President's Dinner
. My notes then, still applicable now, were as follows:
This is actually a Barsac wine (due to archaic political squabblings, wines from Barsac may be labeled as Sauternes but the reverse is not allowed), generally known to be less unctuous, rich and opulent compared to Sauternes, but lighter-footed and with better acidic balance and lift (an exception that immediately springs to mind is Château Climens, e.g., 1986). I've had quite a few vintages from this maker and enjoyed them well enough, though was never impressed - and I'm sure many will question my judgment on that. I just have found them in the past a bit too simple and lacking in depth.

The 2004, however, seemed to me surprisingly heftier, fatter and more pleasing than older vintages I've tried (note that I haven't tried their 2001 and 2003). The acidity was slightly on the low side, but the wine as a whole was in good enough balance.
With the dessert, as well as the bleu, it made for a fine match indeed.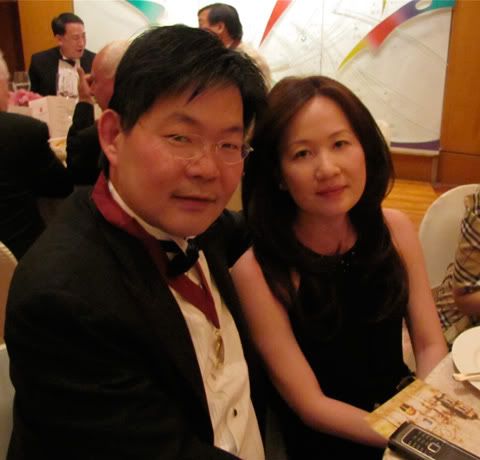 Johnson & Candy
Oscar Ong takes the floor.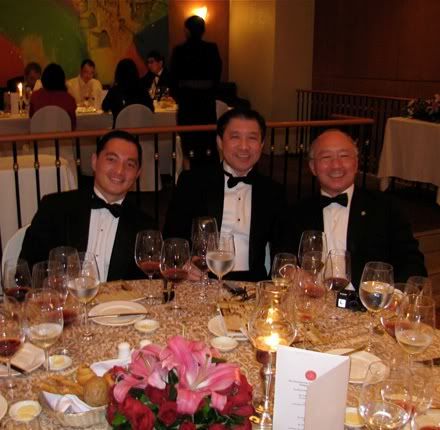 Alfred Wieneke, Romy Sia & Robbie Delgado
I then had a double espresso with the
Mignardises
while chatting with J-Lab and Othmar Ober (one would think Old Manila would use better plates than the rather shabby-looking one depicted below)...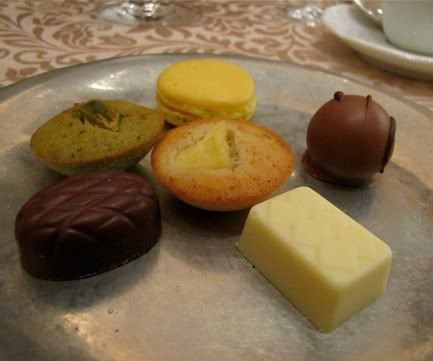 ...followed with some velvety deep, complex and warming Tesseron Lot Nº 76 Cognac.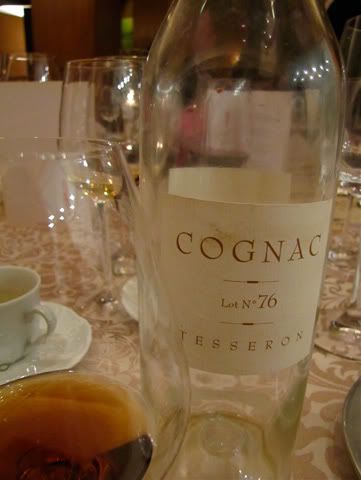 Luckily, this, as well as older versions, are readily available at Bacchus International.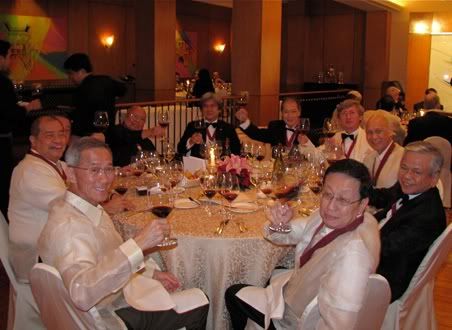 Cheers!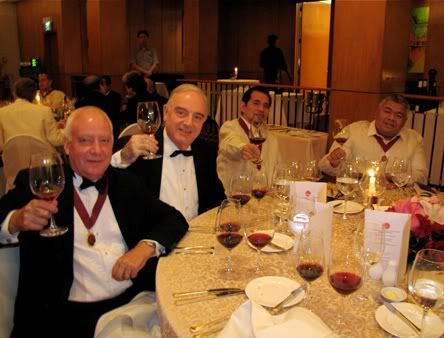 À Votre Santé!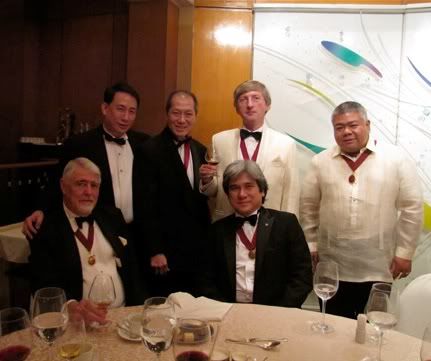 Until the next!