Last Friday, the 5th November 2010, the Manila Gentlemen's Club (MGC) held its final dinner of the year. As agreed during
the last dinner
(by Carlo Miguel at Aled's place), Cyrille Soenen's self-named
Restaurant Ciçou
was the evening's venue. Mike, as Food Master, arranged the menu with Cyrille, I, as Wine Master, chose and sourced the pairing wines, and John, as Cigar Master, took care of the stogies.
Traffic was bad coming that night, so the evening started off later than expected. John, Aled & I carpooled and arrived at approximately 7:20pm. The fellows already there were already enjoying cocktails. With pass-arounds of...
Beef Tartare on Garlic Toast & Pork Head with Mustard on Rye Bread
, we had glasses of...
2008 Domaine Laurent Tribut Chablis 1er Cru Beauroy
- This was easy to pair. I chose this wine as I've had successful pairings of Cyrille's beef tartare and pork head dishes with various whites from the Burgundy region (Côte de Beaune, Chablis, Viré Clessé, Macon, etc.). Typically clean, pure, vibrant, precisely balanced and well-focused, I always enjoy Tribut's Chablis. This was no different - showing the aforementioned traits with slight touch of chalk, talc-powdery seashells and well-integrated, slight oak - just enough to buttress proper 1er cru fruit against the hearty pork head and beef tartare pass-arounds.
Excellent Beauroy. Available at Sommelier Selection at around P2200/bottle, more or less (professional ratings: Tanzer 90+, Burghound 89-92, J. Robinson 16/20)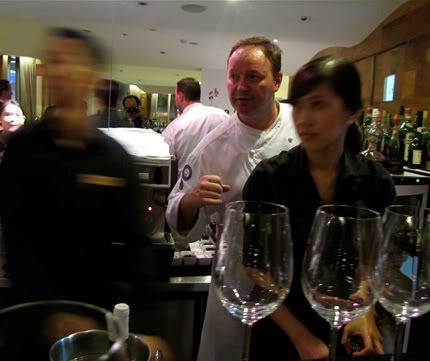 It was a very busy evening at Ciçou, the staff was in a tizzy, but Cyrille provided the dynamic, yet cool, calm direction leading to a successful evening's service. Though very busy himself, he still took time to welcome everyone and have a chat.
Cyrille & Robert
Mike, John & Aled with guest Richard Joye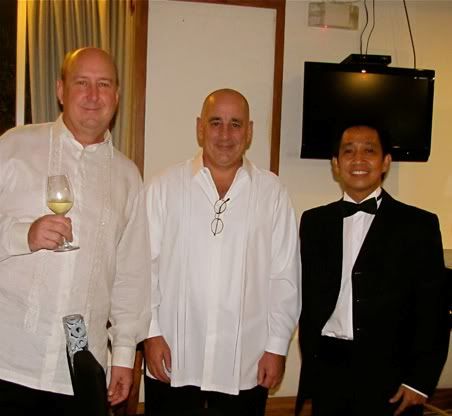 Dave, guest Bob Gust, and Bong
The bottles of Chablis were quickly drained though the pass-arounds streamed on endlessly. Not wanting us to get over stuffed so early, Aled, the MGC's current president, called for us to seat ourselves for dinner proper.
Aled then welcomed the evening's new guests, Richard Joye, Bob Gus and returning guest Roy Kasteel, and, with John and Richard's assistance, gave a brief introductory talk on MGC's history and goals. Mike then led the traditional toast to Lord Chesterfield.
Cyrille then came in to give us the broad strokes on the first course.
Terrine of Duck Foie Gras and Unagi with a Salad of Crispy Cabbage & Lemon Confit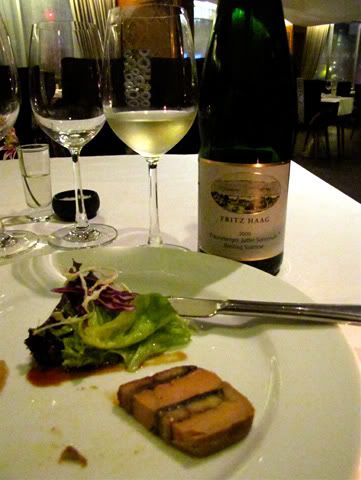 With this was paired the current release
2009 Fritz Haag Brauneberger Juffer Sonnenuhr Riesling Spätlese
- I've had this this past 6th October 2010 during
the Stockbroker's birthday lunch at Shang Palace
and described it as "Lush, more generous but with notable focus, purity, precision and refinement. Nice slate/minerality in this, as well as alluring honeysuckle notes." Still quite primary and with a notable bit of sweetness in it's medium heft (it is a spätlese - a late harvest - after all). In my never-so-humble opinion, it was a fine young riesling spàtlese and a fine match. This wine is available at Premium Wine Exchange for a very reasonable P2000/bottle full retail.
That said, as regards menu and pairing sequence, I would have preferred the dish and pairing in switched sequence with the next course, but since I received the menu too late, I didn't want to take the chance of meddling with Cyrille's timing in the kitchen by asking a change in sequence.
Richard Joye later commented that he wouldn't pair this wine even with foie during dinner proper but would have it as dessert. Fair enough comment and I somewhat agree with him myself. However, let me just point out that sweet wines such as Sauternes/Barsac, German riesling spätlesen/auslesen and Alsace riesling/gewürztraminer vendanges tardives/sélection de grains nobles, tokaji aszú, etc. are both traditionally
and
regionally paired with foie gras courses in various regions/countries. That one wouldn't follow suit is a mere matter of personal taste and, though a valid opinion/preference, is not determinative of the merits of the pairing
per se
.
The next course was
Roasted Prawn in Kadaiff and Fresh Herbs, Mashed Green Pea and Mint, Citrus Sauce
, which was paired with...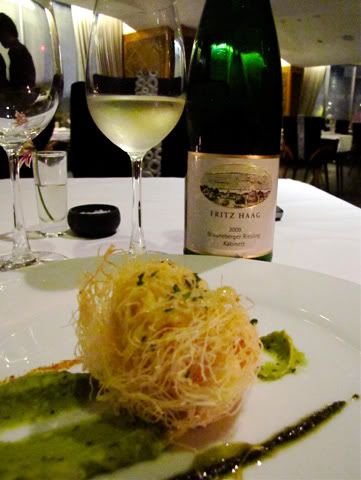 2009 Fritz Haag Brauneberger Riesling Kabinett
- Another I had during the aforementioned recent birthday lunch of the Stockbroker, described then as: "Comparatively (referring to the 2009 Willi Schaefer Graacher Himmelreich Riesling Kabinett) better structure, a few shades more in body, depth, suavitée and complexity than the immediately previous wine. This is the best locally available riesling kabinett I have had thus far, so I made a mental note to buy some to keep at home."
As a pairing, I found it reasonably successful, though Dave, who isn't into sweet wines, still found it too sweet despite it being a kabinett. To each his own, as Aled and Roy Kasteel mentioned that they enjoyed the riesling pairings. This wine is also available at Premium Wine Exchange for a mere P1400/bottle at full retail.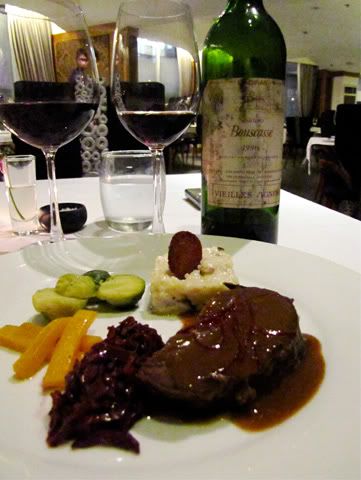 Next came the
pièce de résistance
, our main course of
Lièvre à la Royale
(Wild Hare flown in from France, stuffed with Duck Liver and Truffles),
with Mushroom Risotto, Red Cabbage Confit, Brussel Sprouts & Squash
. To my knowledge, only Cyrille makes this special, deeply-flavored, gamey, earthily rich dish in the Philippines. Not ever having it before at the time (though I had it again for lunch yesterday), I consulted good friend and 7-term IWFS president and Wine Master Bernie Sim on the pairing (he's had it before also by Cyrille and had gone through a range of pairings). Bernie told me aged Madiran would go best, as well as a good Chinon, or, even Provençal rouge.
There is no aged Madiran (powerful, rustically macho, inky, full-bodied reds from the same named AOC in southwest France, near the Spanish border, made mainly from the local tannat grape, a.k.a., auxerrois) locally available and I didn't have enough lead time to import any; so I asked Bernie if I could purchase a few from his vast collection and Bernie kindly agreed (many thanks, Bernie!). The mature Chinon (i.e., cabernet franc based red from the same named AOC in central Loire), I was fortunately able to source from Sommelier Selection - one I had before and loved as a pairing with venison.
The aged Madirans from Bernie
1996 Château Bouscassé Vieilles Vignes
- Pretty unanimously everyone's favorite red of the evening. Big, full, deeply-veined, powerful, lush, smoothly round-muscled. Quite suave in comparison to most other Madirans I've had. Slight black pepper in the deep dark fruit. Very nice indeed and wonderful with the
lièvre
.
1995 Château Bouscassé
- Notably less heavy and lush than the preceding wine. Very dry. The finish seemed a bit clipped; tannins a bit dry. Not bad, its flavors still blended well enough with the dish, but it suffered in comparison with the preceding wine.
1995 Château Montus Cuvée Prestige
- This is a wine I've always enjoyed with wild duck, venison, even a hearty
cassoulet
. I first tried this wine from Bernie during an IWFS function at
Alliance Française de Manille
almost 5 years ago - my wife loved it so much Bernie gave her her own bottle of it to take home that evening. Last time I had it was with the Doc and our wives
at La Régalade back on the 19th August 2008
. Aside from being a bit more warmly mellowed, it doesn't seem to have changed that much:
From Madiran in Southwest France, this is made up exclusively of tannat. This wine, typical of the reds from this area, is darkly intense (as you can easily in the picture), masculine and robust, with smoothly rolling muscle underneath earthy leather, dense, brambly dark fruit/blackberry, licorice, cedar and touch of violets and a dose of pepper (more in the bouquet - which subsided with aeration) and well-integrated woodiness.

The Doc had decanted it when my wife and I arrived and didn't tell me what it was. A quick sniff in the decanter yielded a blast of pepper and cedar over the fruit so I thought it to be a Rhône. By the time my steak arrived, I took my first sip and pronounced it to be a Madiran.

These wines don't fool around. They'd probably whack you on the head if you look at them the wrong way. I usually describe these wines, as well as the reds of Cahors, as "wines that put hair on one's chest". Massively tannic, but, in this case, the tannins were so smooth - one could say "molten". Great depth, superior balance and a kilometric finish.

Despite its apparent oversupply of testosterone, however, the wine was smooth mid-palate, albeit clearly concentrated and viscous. I believe this could probably hold its plateau for another 10-15 years. With the steak, it was superb. Truly a macho wine.
2006 Domaine Berthoumieu Cuvée Charles de Batz
- I figured I'd throw in a young, locally available Madiran as well just for everyone to get to try a young one. Per advice from the distributor, it was opened and decanted for over a couple of hours before service. Despite it being a bit tight and hard compared to the 14-15 year-old bottles, I found it surprisingly approachable and drinkable at this early stage (good focus and notable structure), especially when taken with the hare. Robert shared the same opinion as I on this. In this connection, Bernie told me a week later that, in his experience, the Charles de Batz wines mature faster than than those of Bouscassé and Montus. Available at Sommelier Selection at a very reasonable P1500/bottle more or less.
2000 Domaine Bernard Baudry Chinon La Croix Boissée
- Aled and Richard (Everingham), though neither familiar with Chinon, immediately noted that this was very different from the Madirans (i.e., in body, texture and flavors). I've had this wine a few times,
the first time in late 2008, also at Ciçou
, paired wonderfully with
Veal Rack en Cocotte with a Gratin of Pasta, Duck Liver and Truffle and Wild Mushrooms
. Then as now, the wines beauty emerges when paired with game, its lithe, slender, medium-body and blackcurrant, blackberry, cherry, violets, slight clean leather, mere hint of pepper, cedar fleshing out and expanding with gamey dishes. Very nice. Available at Sommelier Selection for around P2000/bottle more or less.
Richard, Bong, John, Aled and the others sharing some jokes.
Aled, Roy & Robert
Dessert was a simple, light and refreshing
Mixed Wild Berry, Dacquoise Biscuit and Crème Légère
. As Richard Joye noted later on, it would have been good to have a cheese platter before dessert as there were still quite a bit of red wine to finish after the main course. In any event, we then went to the roofdeck to have our Cuban Romeo y Julietas (I vaguely remember they were petit corona Mille Fleurs), mignardises and a bottle of Port.
Dinner jackets come off during cigar time.
Mention must be made that Cyrille designed special mignardises (served upstairs) to go with the cigars - the
Chocolate Ganache Macarons
were heavenly, as were the
Candied Orange Peel Slivers Partially Coated in Dark Chocolate
. It was, in all, a very fun evening for me with good food, fine wines and good friends. It was great seeing all the guys again, and having guest that night added even more fun to the evening. I look forward to the next one.