Been a bit busy lately, so a blog backlog has been building. Though I try to post in chronological order of events as much as possible, this will have to be an exception - mainly because this one is the easiest as they are mostly photos of food and just one wine note. Please excuse the poor quality of the photos as I forgot to bring my camera and had to use my phone's camera.
Today's lunch, 7th November 2010, was with my wife and children at Juan Carlos de Terry's jam-packed (it's a good thing I made reservations the day ahead)
Terry's 2º Piso
for a wide array of pintxos - mainly because my kids had been dropping hints that we hadn't been to Terry's in quite a while - well, that and because of Miguel's FB photos from his and Ria's current culinary escapades in San Sebastian. Sunday lunch is normally spent at my in-laws', but when they are out of town, we most always wind up at Terry's 2º Piso. The following are several of countless reasons why: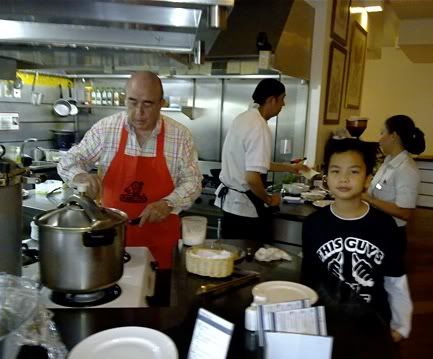 JC hands-on at the kitchen as the youngest looks on.
Not only is JC a dear friend, he is the master of all things Spanish in the Philippines: an extremely talented and creative chef with a treasure trove of knowledge of Spain's cuisine and wines (he is a Phd in oenology after all) who, being a former concert pianist as well, is forever composing culinary symphonies for all to enjoy. Today, aside from a couple of orders of
gambas al ajillo
(which I forgot to photograph), we had: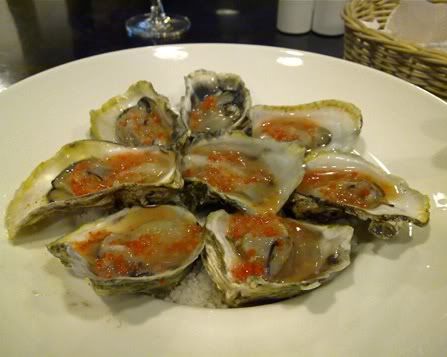 Gratin de Ostras en Crema de Manchego y Espinacas
(Oysters Baked in a Manchego and Spinach Cream)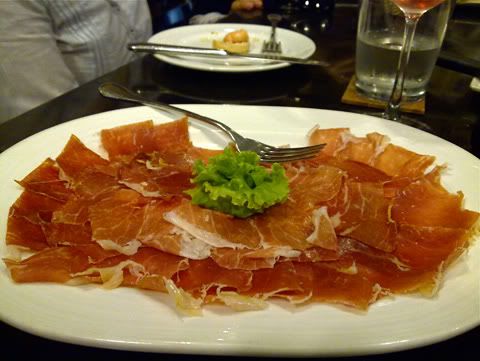 Josélito Jamón Gran Reserva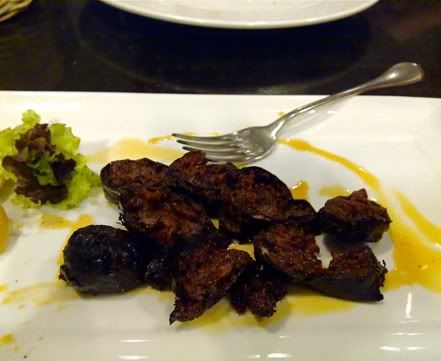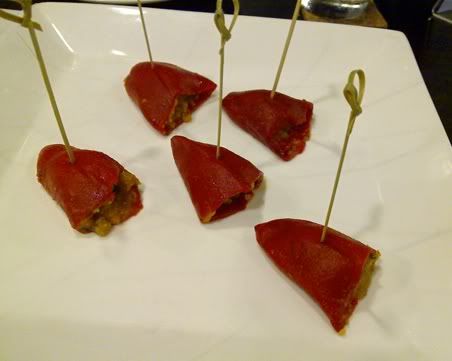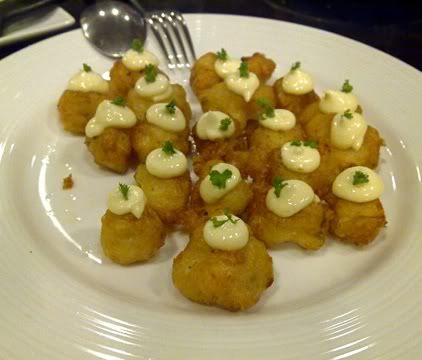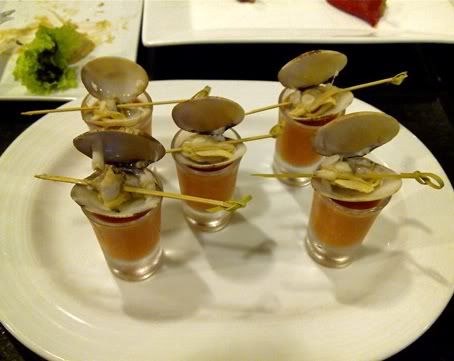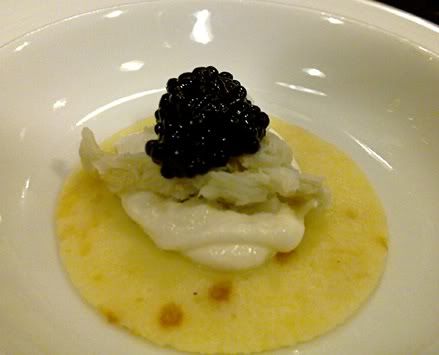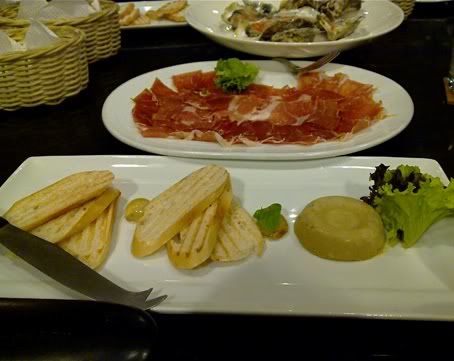 Of course, we had to have a couple of orders of
Foie Gras
.
Chistorra in Potato Crisp atop Manchego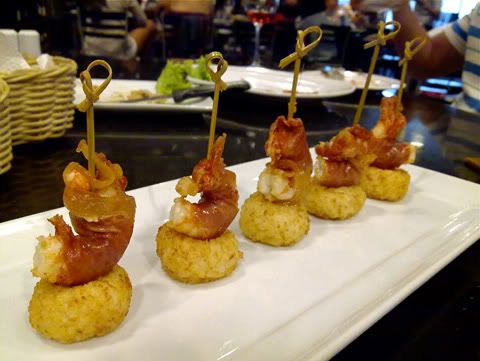 Prawns Wrapped in Jamón de Teruel atop a Croqueta of Mashed Bean
(I think the beans are
mongetes
, but I could be wrong).
Peaches & Pork Belly Perched on a Risotto Ball Drizzled with Balsamic-Truffle Oil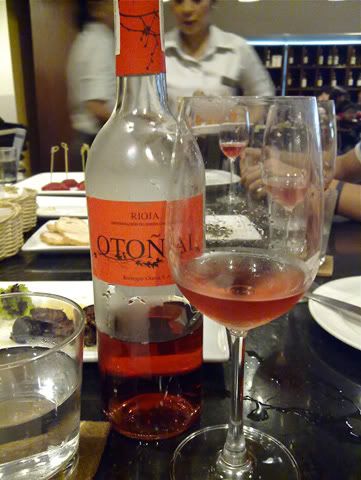 With all these we enjoyed the current release (I believe the 2009)
Bodegas Olarra Otoñal Rioja Rosado
- JC told me this is predominantly grenache (i.e., 80%, with 10% tempranillo and 10% viura). I noted it is not as hefty as the all-grenache Bodegas Marco Real Homenaje Rosado I am also very fond of. The subject rosado is very fresh, crisp, lighter on its feet, comes off (to me) as from cooler clime than the Homenaje, comparatively more compact and is obviously lower in % abv, very approachable and very easy to drink a lot of. Very nice on a Sunday afternoon. I believe it is only around P450/bottle at Terry's.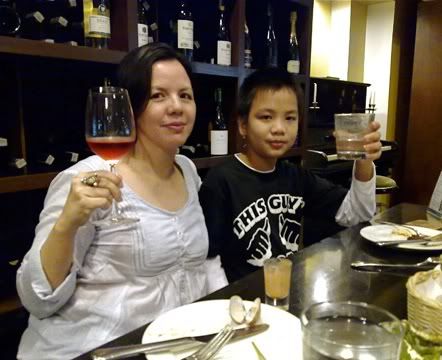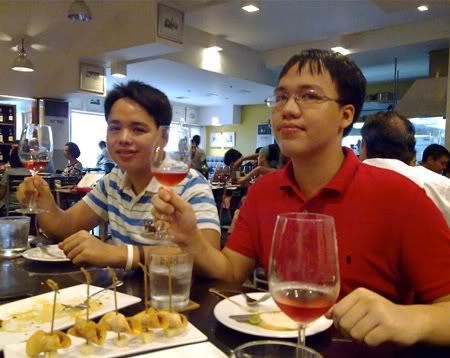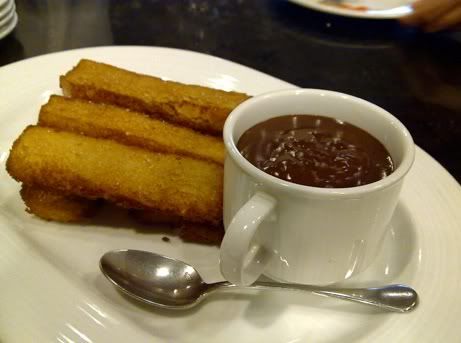 We were pretty much done in after all these, but simply had to have a couple of orders of the
Picatostes con Chocolate
to wind up lunch. Catha went to the deli to pick up some pears, peaches and cheese for dinner while I stayed with the boys and a double espresso. It was a little past 3pm by then and JC could finally sit down and have a bite to eat himself after what was undoubtedly an incredibly busy lunch service. We stopped by his table to say goodbye and thank him for yet another fantastic meal before heading home. Sunday lunches here are always a treat. Surely we'll be back at the next opportunity.